Green bedroom ideas - 10 interior designers offer ideas on how to use this verdant hue
Green bedroom ideas are rich, soothing and with this expert advice, easy to get right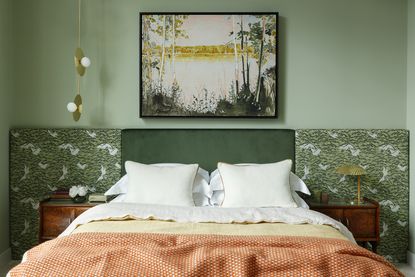 (Image credit: Studio Ashby)
The Livingetc Newsletter
For style leaders and design lovers.
Thank you for signing up to LivingEtc. You will receive a verification email shortly.
There was a problem. Please refresh the page and try again.
Green bedroom ideas are perfect for right now, as we're all looking to foster a deeper connection to nature in our homes. And as our experts will tell, what better way than to indulge in a palette of glorious greens? Suitable for all rooms of course, but especially perfect for a restful bedroom scheme - as far as bedroom color ideas go, green instantly inspires calm, tranquility and connectivity to the great outdoors.
Whether you're ready to commit to greener way of life, or simply looking for inspiring new bedroom ideas - prepare to be persuaded by these creative and clever ways of decorating with green from 10 of our favorite interior designers.
GO DEEP, DARK AND DRAMATIC
Dive straight into the deep end with abundant forest hues. Deniz Bayern, founder of Studio Kaya felt drawn to dark and moody hues for this bedroom scheme. 'I feel that a room painted in a rich colour gives the feeling of being warmly embraced,' she says, and the theory here is the same as that which goes with grey bedroom ideas. 'This particular shade of green, which is Norway Spruce by Valspar, injects drama into the bedroom while also providing a deep sense of tranquility through its direct connection to nature.'
As with anything that is so richly decadent, a delicate touch and moderation is key; 'Dark walls can sometimes feel overwhelming - so I pared back for the rest of the room, using neutral tones and natural textures across both furniture and accessories,' Deniz says. 'The prevalent use of white helps highlight the deep green even more while keeping the overall scheme fresh and calming.'
LAYER DIFFERENT TONES AND PRINTS TOGETHER
Don't feel you have to choose just one hue for your room - exploring the full tonal spectrum green has to offer across different textures and prints will make for a really dynamic and exciting look - the best green paint can truly elevate a space. Fiona Blanchot, Director at Studio Ashby, explains the process behind expertly combining different shades.
'Green is one of our favourite colors; it has the power to completely transform the mood of a room,' Fiona says. 'For the main backdrop of this scheme, we wanted something soft and chose this chalky grey-green for it's almost meditative and calming quality', says Fiona. 'This calm backdrop set the scene for introducing something a little bolder. As a Studio, we're drawn to patterns referencing the wild and this feels especially apt in a palette of natural greens. We chose a densely patterned nature inspired fabric for the headboard, and balanced it's busyness with a rich green velvet'.
'Splashes of ochre, brass and orange help to soften the contrasts between the green tones to build an enticing oasis away from everyday stresses. The beautiful landscape is by Ange Mullen-Bryan, the pendant light is Atelier Areti and the table lamp is Gubi'.
COMBINE GREEN WITH NATURAL, ECO FRIENDLY MATERIALS
'As consumers and designers, we have the choice to use natural materials and live in synergy with our surroundings,' says Louisa Grey, Founder of House of Grey. Committed to detoxing rooms from chemicals and toxins, House of Grey create serene spaces both in aesthetics and concept that have zero impact on the earth and conjure a feeling of grounding to their inhabitants, a fine example of sustainable living.
'With our design principles in mind, we often find ourselves utilising a variety of green in our interior design schemes for its instant evocation of, and deep connection to, nature,' Louisa says. 'In this particular project, the use of a forest green tone on the upholstery felt like a natural choice - designed in collaboration with Sebastian Cox, the bed is handmade and has been upholstered using a combination of rubberised animal hair, natural latex and 100% wool wadding. The mattress and bedding is made entirely from biodegradable resources so it can return to the Earth as nature intended'.
CREATE HARMONY BETWEEN YOUR PAINT COLOR AND ACCESSORIES
Every paint color has a range of subtle undertones at work. These will inform the appearance of the colour when seen in different light conditions, as well as how it will look when combined with other colours in the room. For a really cohesive look, be sure to firstly consider the aspect of your room and how your choice of green will fare in it's light levels. Next, observe the undertones within the paint and choose complementary tones to accessorize with accordingly. Beth Dadswell, founder of Imperfect Interiors, applies this logic masterfully for this gorgeous bedroom scheme.
'We choose a paint colour with lots of greyish blue undertones, and let this guide us towards window treatments and soft furnishings in pale misty blues and grey-toned pinks,' Beth says. 'The overall effect is tranquil, elegant and contemporary.'
'For a bolder look, a more vibrant shade of green on the walls could be matched with bold patterns on cushions and blinds in cohesive tones,' Beth adds. 'Little Greene have a great range of greens - Ambleside and Hopper are favourites of ours!'
UTILISE WOODWORK TO ADD DEPTH AND INTEREST TO YOUR SCHEME
Often overlooked, woodwork can be a wonderful canvas for bringing another element of color into a scheme, and an easy way to introduce a more layered approach to your green bedroom ideas. In this bedroom, Lonika Chande spotted an opportunity to create a connection to the rooms beyond, one of those great master bedroom ideas that work if you're trying to create the feeling of being in a suite.
'We used Botanist by Paint & Paper Library on the walls in the hallway just off the bedroom, so it gave a sense of natural continuity and flow to carry this through onto the woodwork in the bedroom across the window frame and skirting,' explains Lonika.
Going just a couple of shades lighter on the walls creates a soothing contrast; 'Green is such a restful and calm colour, so it works well in a bedroom. Using Wattle V, also by Paint and Paper Library, on the walls works in harmony with the green tones of Botanist while offering a comforting overall atmosphere to the room.'
GO ALL OUT WITH WALL TO WALL GREEN FOR A SERENE BEDROOM IDEA
The effect of a floor to ceiling green treatment is deeply reassuring and cocoons you within the delicious depths of this emotive hue, it's why, as a sidenote, it's also a great color to consider when thinking about bedroom wallpaper ideas. Andrew Griffiths, founder of A New Day explains how it's particularly effective in a room that looks out to nature.
'Green can be a beautifully serene colour, particularly in an earthy mid-tone like Green Smoke by Farrow & Ball that's used here. The colour connects with the view of the treetops from the window for a bedroom that feels calm and relaxing.'
It's a good idea to create some delicate variation in tone across the different elements of architecture. Andrew says, 'In this room, we used a subtle tonal look to highlight details without shouting about it - the walls are Farrow & Ball Green Smoke with Card Room Green on the woodwork. For a softer transition, the ceiling is then painted in an off-white with green undertone.'
GET CREATIVE WITH NATURAL MOTIFS
Combining green with visual references to plants and greenery is a match made in heaven, one of those modern bedroom ideas which can create a beautiful synergy with the great outdoors. Irene Gunter, founder of Gunter and Co, says, 'We decided to opt for a botanical scheme in this room early on as we felt it would tie in very well with the abundance of greenery in the adjacent lightwell, which features a living green wall and lots of stunning potted plants.'
When it comes to building a scheme around bold motifs, achieving balance is key and considering the light levels your room receives will help inform you on which way to go. Irene explains, 'The botanical mural came first, so the next decision was what to pair it with. The room is naturally quite dark, so we knew that pale walls surrounding it wouldn't quite work. Instead, we leant into the moodiness and found a beautiful Belgian wallpaper in a deep green to surround the window and wrap around the rest of the room for an all encompassing feel.'
PINK AND GREEN CAN MOST DEFINITELY BE SEEN
Despite popular belief, the combination of pink and green is a surefire winner in an interior scheme. Go bold and bright with zesty tones, or take Studio Duggan's route into a more muted territory for a contemporary bedroom look.
Tiffany Duggan, founder of Studio Duggan says, 'The colour green is having a real moment in interiors. It is so easy to use and a great gateway colour for people who are more comfortable with neutrals. Pink works as the perfect partner because it sits opposite green on the colour wheel, creating a dynamic and aesthetically pleasing contrast'.
USE UPHOLSTERY OR ACCESSORIES FOR A GENTLER APPROACH
You needn't have to redecorate to incorporate green into your bedroom. In fact, even the subtlest hint is enough to reap it's feel-good benefits. Try adding some natural linen cushions in olive green, or an armchair in emerald velvet - this will work particularly well if your existing scheme is neutral or monochrome in tone.
Noa Santos, founder of Nainoa Studio, understands how a splash of green can uplift any interior, 'Whenever we get the chance to bring the outdoors into a space, we take it,' he says. 'The moss green of the bench in this opulent bedroom draws the eye to the foot of the bed then out to the adjacent window and into the green trees - and in doing so, pushes the boundaries of the room outward making the space feel larger.'
MAKE A STATEMENT WITH WALLPAPER
If you're struggling with where to begin, a wow-factor wallpaper is a great place to start and build your room scheme around. Fiona, of Fiona Duke Interiors, was instantly drawn to this William Morris print and situates it clevely within a palette of cool grey.
'The whole room started with this inspiring and decorative wallpaper,' Fiona says. 'We didn't hold back and wanted to wrap the whole room in this iconic design which really makes the room sing. To embrace it's bold pattern, we painted the ceiling and top part of the wall in a dark grey tone to match and stand up to the drama of the print, which pulls the whole concept together.'
For style leaders and design lovers.
Interiors stylist and journalist Amy Neason was the Deputy Style and Interiors editor at House Beautiful for years. She is now a freelance props and set stylist, creating work for a range of national publications and brands such as Imogen Heath. She has previously worked at Established & Sons, and her skills include styling still life and interiors shots for editorial features and sourcing unique products to create inspirational imagery.

She is particularly respected for interpreting seasonal trends into feature ideas and style stories.