Colors that go with pink – 10 inspiring combinations top designers always use
These colors that go with pink are the best shades to choose, for an on-trend, modern interior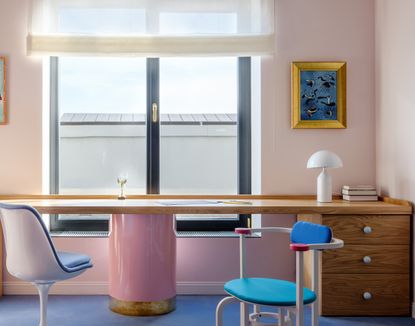 (Image credit: Tim Veresnovsky)
The Livingetc Newsletter
For style leaders and design lovers.
Thank you for signing up to LivingEtc. You will receive a verification email shortly.
There was a problem. Please refresh the page and try again.
There are so many colors that go with pink. In a muted form, pink works the same way as neutral. In a bright and vivid tone, it's strong, bold, and beautiful. And when paired with other tones, it can create unique and inspiring interiors.
'The softness of pink makes it a very versatile and livable hue,' says Amy Krane, architectural color consultant and founder of Amy Krane Color. 'Pink, especially in its pastel tones, can combine with darker colors very well. Both mid-toned and darker colors work well with pink and make for very lovely combinations.'
Pink goes with blues, greens, and, browns, and is one of the colors that go with grey, too. We spoke with the color experts to discover newer schemes with pink for modern interiors.
1. White
White creates a crisp and bold scheme when paired with rosy hues, and largely, decorating with neutrals is fairly easy. In this project by House of Hudson Interiors,white provides simplicity, and a good background and the boldness of the pink artwork really takes center stage. It's a versatile combination too, working with pale pinks and a bold fuchsia, all against a muted wall.
'Having pink as part of a pattern in a white fabric, or perhaps the drapery or rug is recommended,' says Jennifer Morris, founder of JMorris Design. 'Even a pop of pink on an all-white pillow could change the ambiance of a space. The color has soft, gentle connotations, and is also a flexible color. I think it's a great balance with light and dark tones.'
2. Green
Pink and green is a classic pairing that crops up time and time again in modern interior schemes. Pink, be it light, dark, or raspberry bright, works well in terms of colors that go with green because pink creates a sense of balance. Pink softens and warms up a green tone, while green keeps the pink grounded and earthy.
'The atmosphere we wanted to create in this room was an enveloping one, with a feeling of warmth and comfort,' says Erin Fearins, partner and lead interior designer at Studio SFW. 'Our client loves color, so we wanted to make this dining space feel like a special jewel box destination, with a clash of raspberry pink and green.'
Paint type: Acrylic
Price: $75 for 3 liters
Choose this distinct, bold, and joyous deep hue. Its vibrant and eye-catching appearance makes it a favorite amongst bold decorators.
3. Pink
As surprising as it may sound, a major color that goes with pink, is pink. The shade present in several different tones and undertones can create the perfect layering, adding depth and intrigue to a space. A pink living room or a bedroom drenched in two or more shades of pink can create a distinct identity in the house.
'In our Brooklyn Navy Yard townhouse project, we embraced the charm of pink tones to infuse the space with a unique sense of warmth and playfulness,' says Fanny Abbes, creative director of The New Design Project. 'The custom pink octagonal wallpaper installation became the focal point, adding a delightful touch of character and personality to the space.'
'The truth is almost all colors go with pink...including pink,' says Charlie Morrison, a designer at Topology. 'Pink layered with deeper or contrasting tones of pink can set a space apart. As a standalone hue, it works well as both an accent color, and as a subtle backdrop.'
4. Red
Pink is a lovely color that goes with red, as both tones have several variants, and can look great together. Take the pink and red combination a step darker for a contemporary twist or team neutral pink with earthy terracotta and shades of clay for an on-trend tonal look. Or, for a modern look, pair the muted tones of both for a calm feeling.
'In this family room, there is a large piece of art that our client cherished which inspired the color scheme,' says Erin. 'We lacquered the walls red making the space feel warm and enveloping as a family room for everyone to gather together and be cozy on the sofa. The chair features pink, and other warmer tones mixed with cooler colors like blues and greens take over the room. We tried to incorporate a mix of color in the space to provide a great backdrop for the beautiful piece of art.'

Paint type: Water-based paint
Price: $75 for 3 liters
Consider this rich, warm, and earthy red to give your home a grounding feeling. A crisp matt finish will give the interior a finished look.
5. Yellow
Amongst the many colors that go with yellow, pink makes quite a statement. The combination is chic and bold, and because it is so visually striking, works best in smaller spaces like a living room corner, hallways, or even a playroom. If you love the idea of pink and yellow together but want to make it more liveable, you could consider choosing the more muted tones of both hues. Think light pink and light yellow, with a backdrop of cream or beige. The entire scheme will seem more soothing and relaxing.
'Pairing a pink and yellow can seem tricky however it's really not,'says Lucie Ayres, founder and principal designer at 22 Interiors. 'Mother Nature knows best and you see this in the most beautiful flowers. One of the two colors should be a deep, saturated hue and the other should be a pale, muted almost dull tone. Together it's magic.'
6. Gold
Thank goodness we all seem to be getting over the rose gold phenomenon of the past few years, but what it's left behind, the popular pink and gold combination is an iconic duo that has much more longevity.
The key is to pick the right tones of both, and the deeper the better. Avoid going for anything too light with anything too bright when choosing colors that go with gold – if you are drawn to lighter pinks, bring in a darker, aged brass tone whether it be in a piece of furniture or a metallic wallpaper. And likewise, if you do want to go bright and shiny with your gold, pair it with a more muted blush pink shade.
'Use unlacquered brass as an accent to a pink interior as it feels incredibly romantic, classically French, and just timeless,' says Lucie.
7. Orange
For a vibrant interior, choose colors that go with orange, such as pink, as the two tones work well together because they are located so close together on the color wheel. From hot pinks and vivid oranges to more muted tones of blush pink and terracotta, this is a fun pairing that adds warmth and playfulness.
In this scheme, the designer has gone bold. 'We used salmon pink and juicy orange as the main story visible at the dining credenza,' says designer Prashant Chauhan, founder of Zero 9. 'Also the bright orange sofa recliner with the backdrop of pink and blue forms an interesting clash in colors.'
Both colors are playful and beautiful, so they work fabulously in a social space such as a kitchen, living room, or dining room. The juxtaposition of hot orange and a cool-toned pale pink is simultaneously retro yet elegantly contemporary.
Paint type: Acrylic
Price: $75 for 3 liters
This yellow-orange color is inspired by Bottega Veneta boots & rubber bands and can add a big boost of personality to any room.
8. Grey
Grey is one of the go-to colors that go with pink. Grey typically has a lot of coolness to it, so needs the warmth of pink to help the scheme feel friendly and hospitable. When it comes to how to create a color palette, balance is key.
'When using pink with grey, consider a charming and eclectic approach,' says Meera Pyarelal, founder & interior designer at Temple Town. 'Opt for a warm-toned, medium grey as the base to infuse a cozy ambiance. Experiment with a bold and vibrant shade like coral or magenta for an unexpected twist. To add depth and visual interest, introduce patterns that blend grey and pink elements, such as geometric prints or watercolor designs. This creates a dynamic and lively atmosphere, ideal for those seeking a playful and trendy interior.'
'Grey is not a color to create a monochromatic environment with,' says Amy. 'Adding other colors to a grey backdrop will always help enliven and elevate the space. Ochre or pink work well with any kind of grey.'
Whether you are using pink in a pale blush color or a bright pop of bold fuchsia, it can work beautifully with a grey tone. In this scheme, the pink almost works as a neutral when balanced against the grey, and helps to highlight the natural wood used in this kitchen.
9. Black
Pairing any shade of pink with black is instantly going to banish any sweetness and create a sophisticated, moody space. Even just a touch of black in an all-pink space will add some depth and drama. Plus several colors go with black, meaning you can add more layering to the room which has black and a pink palette.
While black adds somber energy to a space, pink balances it out with its softness and playfulness. And vice versa, pink can add just that pop of color to an all-black room and stop the space from looking too gloomy.
'The best way to pair pink and black – simple, you don't use real black,' says Lucie. 'You do an almost charcoal or a deep, deep green. That plus any pink – whether pale or hot pink – will feel fresh and modern. Doing a true black with any pink will read too 90s in my opinion.'
10. Blue
For a luxurious look, pink is a great choice in terms of colors that go with blue. The coolness of the blue is warmed up by the heat emanating from the red of the pink, and the rosy look of pink is toned down when contrasted with the blue.
'Both the grey-blue and chalky pink used in this master bedroom were chosen for their calming properties,' say Joe and Lizzie, founders of Fraher & Findlay . 'The blue acts as a counterpoint to the sweetness of the pink anchoring the room and giving a modern and elegant feel.'
Recommended Primer & Undercoat: Mid Tones
Price: $40 for 0.75 liters
Consider this blue that has subtle, reflective qualities, making a small room feel bigger. For the contemporary home, it looks striking on cabinetry.
What colors go with light pink?
Light pink can be a tricky shade to work with – get it right and you have an uplifting space that feels fun and fresh. Get it wrong and you risk falling into Pepto-Bismol, kid's bedroom territory. The key to finding colors that go with light pink is to pair these paler pink shades with the right colors. 'There's no doubt about it; pink is a versatile color that enhances a feeling of warmth and calm, in turn making it an attractive color within interiors,' says Charlie. 'There is a vast range of hues to pick from – from pinks with deep earthy undertones to lighter brighter rosy pinks. It works well as both an accent color in a space, seen within soft furnishings, and as a subtle backdrop instead of a classic neutral. It has become much more than a tone associated with romance and femininity. In recent years paint companies and furniture brands have really broadened their horizons with their offering of pink paints and fabrics.'
If you are after a less neutral, more colorful combination, navy blues look lovely with light pinks, and the deep jewel tone gives the pink a more grown-up, glamorous feel.
What colors go with blush pink?
Blush pink seems to be the most popular way to do pink, potentially because it's the least saccharine, and earthy tone that can almost act as a neutral. Again, blush pinks look lovely against rich colors like navy blues and forest greens but more recently these are being used with colors from the same side of the color wheel. Reds and oranges combined with blush tones create a fun scheme that's refreshing yet warm and inviting too.
For style leaders and design lovers.
Hebe is the Digital Editor of Livingetc; she has a background in lifestyle and interior journalism and a passion for renovating small spaces. You'll usually find her attempting DIY, whether it's spray painting her whole kitchen, don't try that at home, or ever changing the wallpaper in her hallway. Livingetc has been such a huge inspiration and has influenced Hebe's style since she moved into her first rental and finally had a small amount of control over the decor and now loves being able to help others make decisions when decorating their own homes. Last year she moved from renting to owning her first teeny tiny Edwardian flat in London with her whippet Willow (who yes she chose to match her interiors...) and is already on the lookout for her next project.