Decorating with pink - 8 modern ways to use this color that prove just how expensive it can make your home look
Knowing the modern ways to decorate with pink give you the chance to make your home feel luxe and design-forward. Experts show how it's done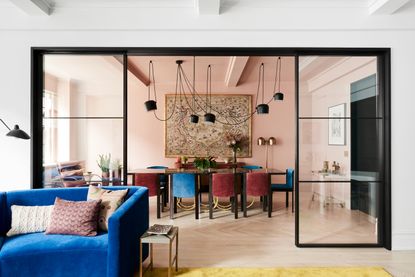 (Image credit: Brooke Holm)
The Livingetc Newsletter
For style leaders and design lovers.
Thank you for signing up to LivingEtc. You will receive a verification email shortly.
There was a problem. Please refresh the page and try again.
Pink shot to fame in 2016 with the whole Millenial revival it went through. And it's pretty much reigned in this baby blush-hued variant ever since, taking its rightful place amongst classic greys and dark blues as one of the most popular shades used in interiors. However, it's time for a refresh. We want some new, modern ways to decorate with pink.
It's such a versatile hue, with current color trends ranging from those barely there plaster shades to super deep and dramatic raspberries. And it can work with so many styles of home too. The risk with pink, however, is it can be a tricky shade to make feel... sophisticated. Cute? Yes. But it takes a certain shade of pink, used in specific ways to make it really sophisticated and contemporary.
8 modern ways to bring pink into your home
We asked some of our favorite designers and color theory experts what's new in the world of pink, and how can we be using this ever-on-trend shade in chic and exciting ways.
1. Keep it dusty
The easiest pinks to work with, and the ones that have zero risk of becoming too saccharine, are those very dusty, plaster-toned shades. Pinks that have a black, grey, or brown undertone are as sophisticated as pink comes. They are just one up from a neutral so are perfect as a backdrop for other colors, or as a wall-to-wall (including the ceiling) shade.
This space designed by Susanna Holmberg has a beautiful combination of pinks and deep oranges (one of the most surprising but smartest colors that go with pink). The black accents and modern patterns prevent the palette from becoming too soft and slubby.
'We decided to create a unique but warm color palette to do so: dusty pink, rust, and complex creams and blues. We wanted to establish the color palette immediately via the front entry, which we painted a dusty pink,' explains Susanna. 'The architecture of the house contains the most charming original arches which we highlighted with a burnt rust color. We love using pink, but it's important to keep it from veering in a direction that feels "little kid" or juvenile. Our use of the rust was to elevate the pink, as was the pairing it with the modern photograph and checkered runner. A means to celebrate the color, but ensure it feels timeless, unique, and elegant.'
2. Balance pretty pinks with striking modern funiture
Softer, pale pinks make for lovely bedroom or living room colors, but if you are after a more modern vibe, you really have to balance out those baby-pink hues with plenty of contemporary shapes and textures. Note how in this pink living room designed by Crystal Sinclair there's a contrast between that very soft wall color with low-slung modern furniture that doesn't feel fussy or too ornate. And the clean, bold lines of the light fitting make a statement that ensures this space feels decidedly modern despite the muted color scheme.
'Be careful when choosing your pink, you want to steer clear of a traditional nursery pink or pepto-bismol pink,' says Crystal. 'I usually go warm with my pinks and I always try to add more masculine pieces to a space to help keep the space from feeling too feminine... unless that's what you're going for.'
3. Take pink over every surface
A modern way to decorate with pink is not to be too fussy about it, avoid using it as an accent color and really commit. Take it over the whole room – woodwork, ceilings doors the lot. MKCA took that approach for this pink living room, using a bold coral-toned pink to make this traditional space feel uber-contemporary.
'A modern way to decorate with pink is to avoid pairing it with a soft-hued woodwork,' says Tash Bradley, color expert at Lick. 'Wrap the whole color around the room and onto the woodwork and it's much more contemporary to commit to the color. Stay away from going too sugary, go for a pink with a black or a grey undertone. And if it's too much for the room to go over the ceiling too, go for a tonal ceiling – pick a much lighter pink that has the same tones.'
4. Bring in cooler tones
'For a modern approach to pink combine it with lots of texture, for example, rattan and wood tones, and warming metallics such as bronze or antique brass accents. In addition, when choosing complementary colors, consider natural hues so that your pink scheme looks more masculine rather than overly feminine. Just don't make the mistake of mixing too many complementary colors – keep the natural palette paired back,' says Irene Gunter, founder of Gunter & Co.
'This lower-ground pink bedroom was never going to benefit from lots of natural light streaming in through the windows, so instead, we wanted to make sure it felt cozy. At first, we looked at earthy colors, but these didn't work because of the limited daylight. So, then we settled on pink, testing sample after sample until we found the perfect shade.'
'To create a clean modern feel within the space, I chose a two-tone effect. We used Rouge II on the bottom of the wall, and that same color with white mixed in to create a lighter shade for the top of the wall. This was then extended onto the ceiling, to help give the impression of a loftier space,' adds Irene.
5. Create depth with layers of pink
Despite the fact pink can be paired with pretty much any color you can mix, a way to ensure it still feels modern is to not bring in too many other colors. Take the monochrome approach and instead add depth and interest by bringing in different pink shades and a variety of textures, finishes and patterns.
'Designing a space in a monochromatic way with the color pink is such a great way to bring a modern, yet timeless feel to any space,' says designer Nina Magon. 'There are a variety of ways to incorporate pink into a monochromatic design, such as using different shades of pink to create an ombre effect or using different textures of pink to create visual interest.'
'Additionally, pairing pink with other colors such as white or grey can create a beautiful contrast while still keeping the overall design monochromatic. With so many creative options available, it is no wonder why pink is becoming a popular choice for modern interior design.'
6. Go for a high-gloss paint finish
We've talked a lot about being subtle with your pinks for a modern look, and avoiding anything too... Barbie. But Barbiecore is a huge interior design trend so if you have the right space (high ceilings and plenty of light will work best), then we say lean into that with a super high-gloss pink paint.
Gloss gives any paint color a modern twist but this lacquered wall effect works best with bold shades like a zingy raspberry or bright magenta as it really plays up your already dramatic choice. Again this is a look to commit to, so paint both walls and woodwork – or use it to add an unexpected pop of color to floorboards.
7. Add a pop of neon
Yes, neon. Or let's call it hot pink to make it sound slightly more grown-up. If you are going to use pink as an accent color, make a statement and go as bold as possible. Hot pink is a cooler-toned shade with bluer undertones, so up that coolness and so pair it with pale blues and silver accents for a fresh modern look, as seen in the dining room designed by Frampton Co.
'Hot pink is bold and energizing and is perfect for creating a joyful and modern scheme. If painting larger spaces in hot pink feels intimidating, the color can be used to decorate accents in the home like dining chairs, alcoves, bookshelves, the inside of a wardrobe, or skirting and doorways for dramatic contrast,' advises Dominic Myland, CEO at Mylands. 'If you are feeling bold, try it in an entryway for an impactful first impression, or a stylish cloakroom. If you use it as the main wall color in a room you spend a lot of time in such as a living room, break up the intensity with a picture wall, or white shelving. It will bring a dynamic, welcoming, and sociable atmosphere.'
8. Pair raspberry shades with black accents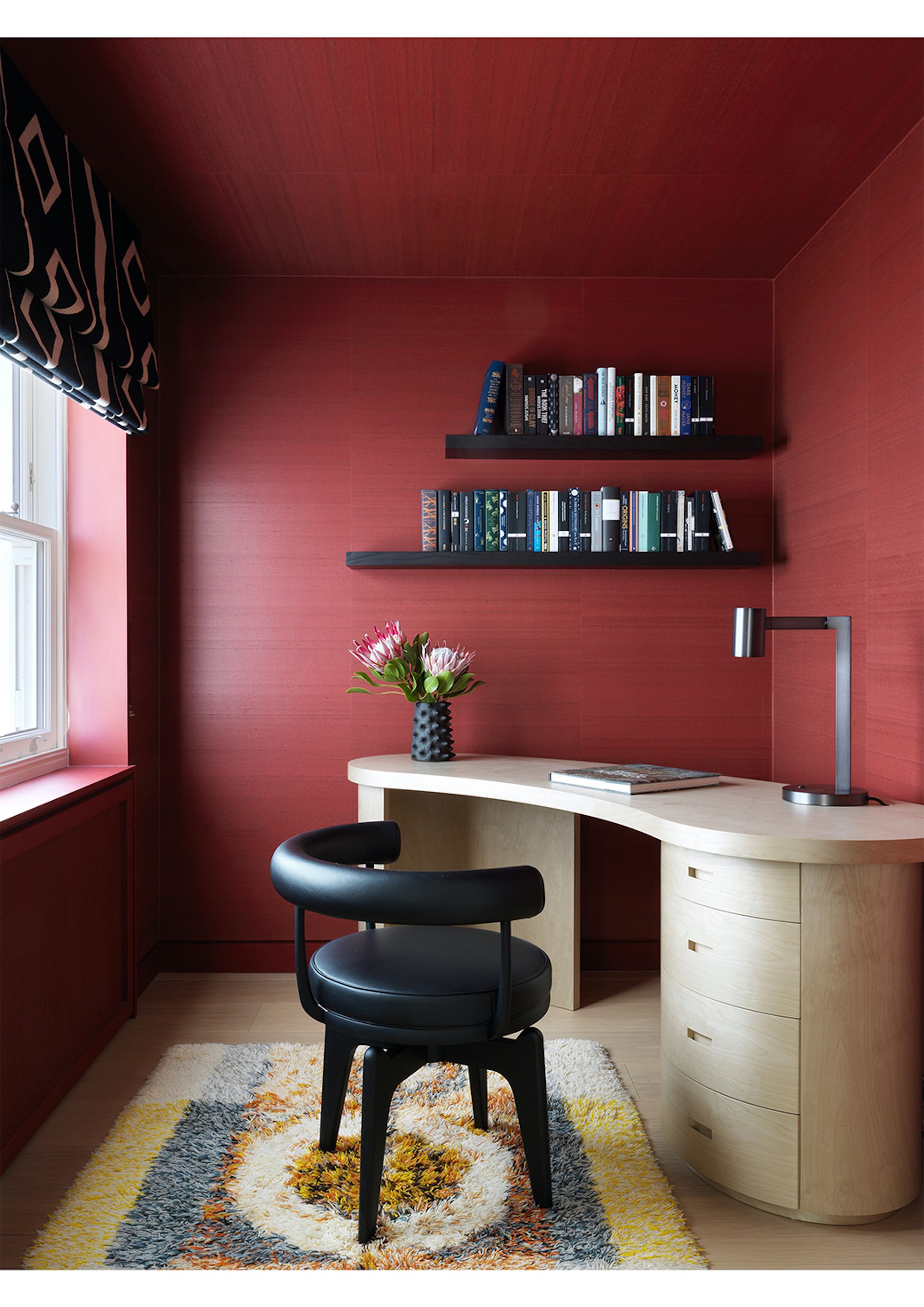 Pairing any shade of pink with black is instantly going to banish that sugary edge and create a modern and moody space. Even just a few accents will ground the room and add drama. Black will balance out any of that child-like vibe pink can bring to a room, instantly making it feel more sophisticated.
Black and blush pinks will create a room of high contrast, so make sure you let the pink dominate and just add black in the form of furniture or woodwork. With a deep raspberry pink, however, you can create more of a balance, letting these dark hues sit together equally, creating a really luxurious, modern vibe, as seen in this home office. Add in a warm-toned neutral to create some contrast and soften the dark combination.
'If you're going bold with your walls you need to balance this with creamy neutrals and think about the textures that will anchor this look. Pink works brilliantly with accents of black but you need something to pull it back and create an environment that is exciting and intriguing. One of my favorite color pallets is variations of deep pink with cream and black,' says designer Natalia Miyar.
Our shopping editor picks her 3 favourite pink accessories
What colors go with pink?
'Pink has got this gorgeous nurturing quality to it and we are seeing it be used in so many people's homes because it's being called this 'new neutral'. And it's called this because it can literally go with every color – find a color that pink doesn't pair with, you can't,' says Tash Bradley.
And this is true, pink can be paired with most other colors. The key is to look at the undertones. If your choice of pink is on the cooler side with blue or grey undertones, stick to that side of the color wheel, and vice versa, if you are decorating with a warmer, rosey pink pair it with equally warm shades.
So you have all the options of the color wheel. But if you are looking for more modern ways to decorate with pink, the best colors that go with pink are either, other pinks to create that on-trend color-drenching effect or using pink as part of an analogous color scheme – pairing it with reds, yellows, and oranges.
What pinks are on trend in interiors?
'Right now I'd opt for deeper tones of pink that have more of a grey tone versus white or powdery,' advises Caitlin Wilson, designer and author of Return to Pretty. 'Pink can go bad easily, so always sample the paint in your space to see how the light affects the color. And for decor- as a rule of thumb, hot pink should be used only in small doses, neon is a no-no, champagne tones work for weddings more than in the home, but blush is universal! Start with accents and play with complimentary palettes.'
For style leaders and design lovers.
Hebe is the Digital Editor of Livingetc; she has a background in lifestyle and interior journalism and a passion for renovating small spaces. You'll usually find her attempting DIY, whether it's spray painting her whole kitchen, don't try that at home, or ever changing the wallpaper in her hallway. Livingetc has been such a huge inspiration and has influenced Hebe's style since she moved into her first rental and finally had a small amount of control over the decor and now loves being able to help others make decisions when decorating their own homes. Last year she moved from renting to owning her first teeny tiny Edwardian flat in London with her whippet Willow (who yes she chose to match her interiors...) and is already on the lookout for her next project.