Living room colour ideas - from bold and bright to soft and subtle
Living room colour ideas to reflect your personal style, bringing a sense of freshness to your space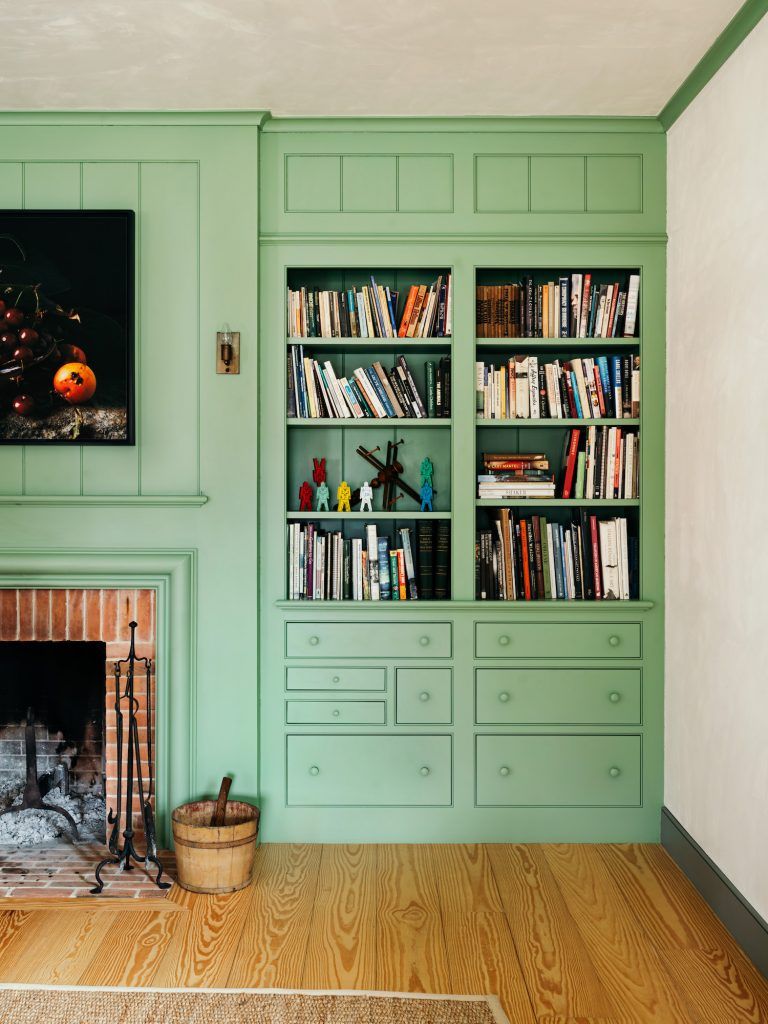 When it comes to living room colour ideas, the colour spectrum is virtually endless. But when it comes to choosing a colour, where do you start, and how do you choose? We've spoken to interior designers and colour experts to break down what paint colours are best for living rooms, and what effect and mood each these living room ideas will help to create.
Interior designer Nicola Holden explains: 'The colours associated with relaxing are predominately brown, dark blue and green, whilst those associated with stimulating conversation are red (although too much can turn the conversations heated), orange and yellow. If your living room needs to cater for both relaxing and socialising, then you will need to ensure you have a balanced mix of the colours that support these activities, for example blue and orange, green and yellow, etc. A home without balance can appear wonderful but, for some reason that you can't put your finger on, it just doesn't 'feel' right, and so does not support happiness and harmony.'
David Harris, Designer Director at Andrew Martin says: 'White and neutral shades are always the go-to colour as they make a room look bigger, airier, and more open. However, for small space living, you can be more daring. Don't be afraid of dark and rich colours, like coffee or dark grey, such as or try teal or even orange, for a braver burst of colour. These hues bring richness, intimacy and extra depth whilst allowing you to show personality and flair. Layering these deep rich colours with artwork also adds fantastic texture and interest.'
And it's not just walls that we pick a paint colour for; this year, Mylands has seen its customers experimenting with colour in the home like never before, moving away from the traditional model of painted walls and off-white ceilings and woodwork. An accent ceiling or painted woodwork is an easy way to introduce colour into your home without it feeling overbearing or having to commit to an entire scheme. For those more confident with colour, a room painted entirely one shade, from skirting to window to ceiling, will feel immersive and modern. We're also seeing more modern paint effects using masking tape.
From ever-popular greys, blues and greens to vibrant yellows, reds, pinks and purples, and from warm, earthy neutrals to dramatic black living rooms, here are 16 living room colour ideas to inspire you.
1. Soft grey
Soft grey paint shades are neutral and create a calm environment. It's no wonder that grey remains the most popular paint colour for living rooms, with readers frequently searching for grey living room inspiration.
2. Grey blue
A blend between grey paint and powder blue paint, grey-blue shades are peaceful, calming and cocooning.
In this scheme, the grey-blue paint shade was taken over the mantel, making the walls a block colour and proving how restful grey living rooms can be.
Grey-blue is also a beautiful colour to accent woodwork with, when walls are left white.
The trend for painted ceilings is still proving ever-popular. Dominic Myland comments: 'inverting the traditional formula of painted walls and white ceilings, the ceiling is becoming the hero, often combined with paler tones or off-white walls to make the room feel larger.'
3. Deep blue
Darker, deeper blues create a bolder, more dramatic look, and have a cocooning effect. It suits both large living rooms, making them feel smaller and cosier, and small living rooms, emphasising bijou proportions and giving them a den-like feel.
This murky blue shade stretches over woodwork too, including the door and doorframe.
4. Bright blue
For an energetic, uplifting shade, dive in with a bright blue.
Layer in other colours with curtains, furniture and lighting to prevent the blue scheme from being too dominant.
5. Teal
And our final shade on the blue spectrum; teal. This is a very modern and powerful look, especially when a room is enveloped in it.
You could dip your toe in the teal trend by painting just accent woodwork instead. 'Teal is a perfect accent for the inside of an open cupboard filled with white crockery, as it creates a gallery-style backdrop,' suggestss Colin Roby-Welford, creative director at Fired Earth. 'Opt for crisp white shelves and surrounding woodwork for a contemporary look.'
6. Light greens
A soft sage paint colour will create a rustic, earthy, neutral look.
This moss green shade creates a cosy and inviting atmosphere, and can create a very homely ambience. It's particularly well-suited to country homes or historical homes, and is a beautiful colour to accent woodwork with.
If you're wondering how to paint a room green, blend in warm tones like orange or pink to create a complementing contrast.
Alternatively, dip your toe in the trend and accent woodwork or a bookcase instead. Dominic Myland says that this year there's been a particularly big appetite for accent woodwork – rather than trying to make the woodwork disappear, selecting a standout colour for a fresh take on a painted interior.
In this scheme below, Farrow & Ball's Folly Green sets the tone in the living room, where wood-panelled walls and built-in shelving and drawers all give this room an aged, historic look. The green gives this space an uplifting energy, while also highlighting the detailing in the woodwork.
7. Dark greens
David Harris, Designer Director at Andrew Martin says: 'We have seen a huge trend in dark blues over the past few years, but now dark rich greens are becoming very popular. These rich tones mixed with softer setting plaster colours work well.'
In the living room scheme below, bold, emerald green walls are brightened up with powder pink velvet furniture.
Vibrant blues can also create an interesting contrast with emerald green, creating an energetic scheme.
8. Yellow
A powerful shock of incandescent yellow around the architrave injects instant energy into this grey living room.
Using yellow paint for accent woodwork like this can have a powerful effect on the mood of a space.
David Harris says: 'Rich golden yellows are becoming very on-trend. These still have a light feel and look fantastic when layered with framed artwork and photography, against crisp white picture rails and plasterwork.'
9. Soft pinks
Blush pink paint has seen a huge resurgence as of late, with pink bathrooms and pink kitchens become one of this year's biggest trends. These blush tones tend to have grey undertones, making them more versatile and more neutral than bubblegum pink shades.
Use this colour to accent woodwork, window frames and door frames, or go all out with a block colour effect. 'Painting skirting boards and window frames to match the wall colour is also a simple but stylish touch for the living room. Not only does this create a contemporary, monochromatic look, but it is also an easy way of creating the illusion of bigger walls, making the room a whole appear more spacious,' advises Judy Smith, Crown Colour Consultant.
This soft pink living room below is made more approachable by the classic Eames lounge chair. The playful shade is an uplifting contrast to the concrete fireplace surround.
Meanwhile interior designer Beata Heuman used this bubblegum pink paint colour, creating an exotic-inspired scheme in this West London townhouse.
10. Raspberry pinks
A high gloss raspberry pink shade has transformed a small, boring room into a dramatic and sumptuous den for escaping to. Not only is it a visual explosion of colour and truly unexpected, you really feel like you are being wrapped up in a big raspberry hug when you walk inside.
This deeper raspberry shade in matte creates a vibrant backdrop against which colourful accents really pop.
11. Reds
'One colour we've been particularly drawn to as an accent shade is maroon,' says Jody Hudson, stylist at Graham & Brown. 'It works especially well with taupe and beige for a cosy room. It's a rich, heavy shade, so if you're considering a horizontal colour-blocking effect, place the red at the bottom and a sandy beige shade up top.'
You can soften this colour up with a soft pink accent. 'Deep terracotta walls accented with soft-pink alcoves is a good pairing,' says Tash Brady, colour specialist at Lick. 'The soft tonal change brings a decorative twist without overwhelming the space, creating a stylish feature of the alcoves.'
12. Purple
An aubergine purple creates a striking backdrop to enhance the elegant pieces of bespoke joinery and rich woods. Woodwork was kept white, keeping it fresh.
Interior designer Naomi Astley Clarke says: 'I am all about colour when it comes to living rooms - I love to be bold. I often continue the colour from the walls onto the ceilings to wrap around the whole room. Sometimes living rooms can have a neutral backdrop but then you bring the space to life with colourful furniture which can be just as bold a move.'
Meanwhile, an all-over purple scheme covers woodwork, bookcases and even the ceiling in this snug below, creating a bold and modern look.
13. Earthy tones
'Natural colours are effortless, comforting colours,' says interior designer Linda Barker. 'These shades have a profoundly natural and calming influence.'
Linda adds: 'I find it fascinating to read that Global trend forecasters have seen a huge revisit towards these more earthy tones in favour of last years' brighter colours, and I wholeheartedly agree with this consciousness, we want masses of comfort in these turbulent times.'
Use these colours to create a restful backdrop, then weave in brighter colours; 'Natural earthy colours are grounding but can often be bland so look at other colours to elevate the impact of a foundation colour.'
'With the world outside ever more unpredictable, return to balanced, earthy neutrals to give some much needed stability at home,' says paint expert Annie Sloan. 'Dulux's Brave Ground is a shade which encompasses these organic qualities – use Chalk Paint™ in French Linen or Country Grey for the same calming effect. These pigment packed neutrals are nuanced, balancing and make a great foundation to juxtapose with some bright, joyful colour.'
Ruth Mottershead at Little Greene adds: 'To create a sense of peace and relaxation, natural stone colours are good choices; these are becoming increasingly popular, as warm neutrals are perfect for creating restful living spaces that bring comfort to the home throughout the seasons.'
14. White
White isn't technically a colour, but when it comes to living room paint colour ideas, we can't ignore a classic white. Crisp, fresh, light, airy, and timeless, you simply cannot go wrong with a warm or crisp white.
For a cool white, we love Andrew Martin's Polar Bear paint.
15. Near black
'For something more impactful whilst remaining intimate, consider darker paint colours like Mid Azure, Puck or Obsidian Green,'advises Ruth Mottershead, Creative Director Little Greene, 'as they give a cosy and inviting feeling when painted on all four walls; they inspire quiet evenings, and look sumptuous when paired with dark woodwork.'
16. Jet black
And finally, for the Abigail Ahern fans, jet black for a dramatic, gothic look. 'My reception room is painted black – banish thoughts of dinginess because used correctly this colour is a shortcut to creating an elegant, chic and dramatic space,' says Annie Sloan.
'For grown up sophistication use with taupes and earthy neutrals. Alternatively, follow my lead and harness the power of black to juxtapose with bold brights, statement throws, and pieces of art. It'll make them pop with renewed intensity –include hot colours to make the space feel warm. Make sure you use a paint with a nuanced, matte finish – low quality paints won't contain sufficient pigment to give the pitch-dark coverage you need.'
Choose colourful rugs, furniture and lighting to bring light and energy back into the room.