16 modern living room color ideas - from bold and bright to soft and subtle
Modern living room color ideas to reflect your personal style and give your space an instant refresh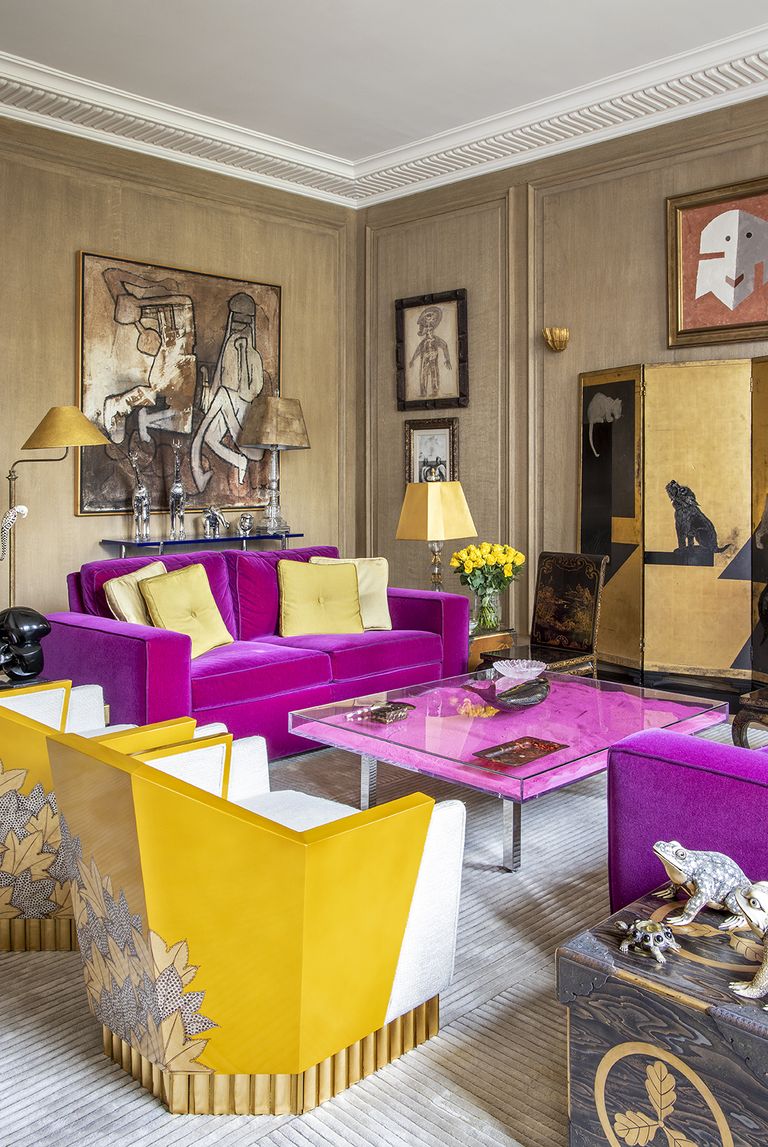 (Image credit: Pinto Design)
When it comes to modern living room color ideas, the spectrum is virtually endless. But when it comes to choosing a color, where do you start, and how do you choose? We've spoken to interior designers and color experts to break down what paint colors are best for living rooms, and what effect and mood each of these living room ideas will help to create.
And it's not just walls that we pick a paint color for; this year, there's been a rise in homeowners experimenting with color like never before, moving away from the traditional model of painted walls and off-white ceilings and woodwork.
An accent ceiling or painted woodwork is an easy way to introduce color into your home without it feeling overbearing or having to commit to an entire scheme. For those more confident with color, a room painted entirely one shade, from skirting to window to ceiling, will feel immersive and modern.
So whatever your style, whether you are a firm lover of ever-popular grey, want to go bolder with a deep blue or add warmth with layers of earthy neautrals, here are plenty of living room color ideas to get you inspired.
What are the best living room paint colors?
The best living room paint colors will of course come down to your own personal style, but there are a few rules of thumb that will help you pick the perfect color for your space and the vibe you want to create. You'll need to think about size and aspect as well as your tastes when choosing living room colors.
If you have a south or west-facing living room, you're in luck because those lovely spaces, filled with natural light for most of the day can handle most colors. You can either choose to lean into the warmth of the room and opt for colors with warmer undertones like beiges, pinks, oranges, and yellows or if you like a crisper, cooler look try pale blues, greys and true whites. You could go for something dark and dramatic but test it out first as dark colors can sometimes look a bit stark in direct sunlight – choose a velvety finish to give the color some depth.
In north or east-facing living rooms, you'll get cooler light and in north spaces in particular there will be less of it. These spaces do risk feeling dark and cold so you need to pick colors that are going to balance that out. Warm-toned colors like pinks, yellows, orange and gold will add instant warmth and coziness, but if you are a neutrals lover you could go with a warm white or even a grey that has a touch of pink in its base.
Living room size in another thing to consider when looking for living room color ideas. With large rooms you are pretty safe with most colors, but you could try out darker colors if you wanted to make a large living room feel cozier.
For small living rooms, you know the drill, light colors are always going to make the room feel bigger and lighter. Opt for crisp white walls, greys, beige, cream, and then bring in colors with your decor and accessories.
David Harris, Designer Director at Andrew Martin (opens in new tab) says: 'White and neutral shades are always the go-to color as they make a room look bigger, airier, and more open. However, for small space living, you can be more daring. Don't be afraid of dark and rich colors, like coffee or dark grey, such as or try teal or even orange, for a braver burst of color. These hues bring richness, intimacy and extra depth whilst allowing you to show personality and flair. Layering these deep rich colors with artwork also adds fantastic texture and interest.'
And think about the feeling you want the room to have too. You want a living room to feel inviting and relaxing and your color choices will be the main thing to influence the overall tone of the room.
Interior designer Nicola Holden (opens in new tab) explains: 'The colors associated with relaxing are predominately brown, dark blue and green, whilst those associated with stimulating conversation are red (although too much can turn the conversations heated), orange and yellow. If your living room needs to cater for both relaxing and socializing, then you will need to ensure you have a balanced mix of the colors that support these activities, for example, blue and orange, green and yellow, etc. A home without balance can appear wonderful but, for some reason that you can't put your finger on, it just doesn't 'feel' right, and so does not support happiness and harmony.'
Interior designer Naomi Astley Clarke says: 'I am all about color when it comes to living rooms - I love to be bold. I often continue the color from the walls onto the ceilings to wrap around the whole room. Sometimes living rooms can have a neutral backdrop but then you bring the space to life with colorful furniture which can be just as bold a move.'
1. Soft grey
Grey living rooms are always such calm, serene spaces that have a very lofty, sophisticated feel no matter what the size or aspect of the room. It's this versatility that makes grey so versatile, they are so many shades to choose from, and all work beautifully in a living room.
If you are after a more subtle look opt for a mid soft grey on the walls, something with a very slight pink undertone that's going to add just a touch of warmth. You can bring out the cooler tones by pairing it will a cooler toned grey as you can see here with the sofa.
2. Grey blue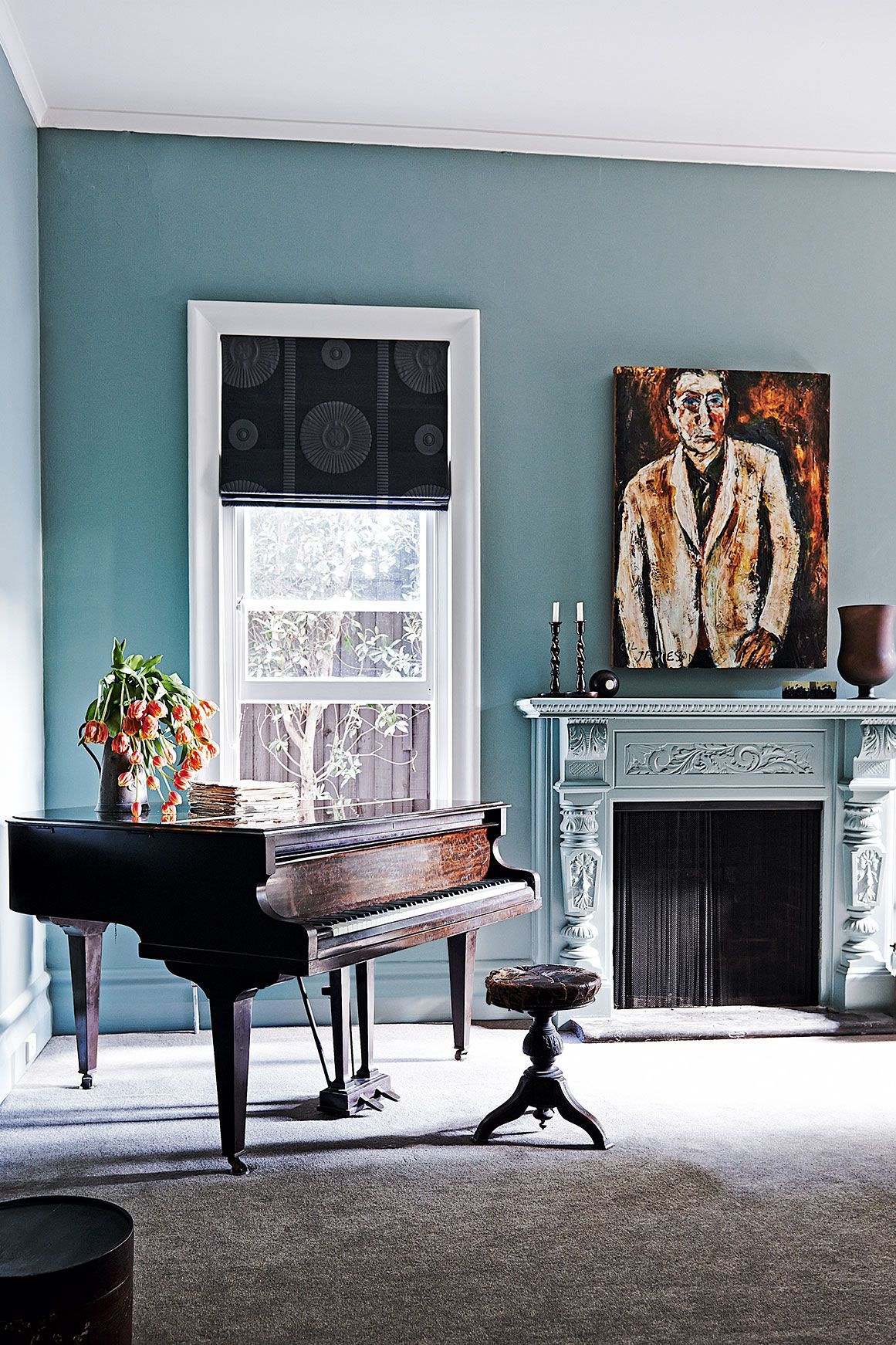 A blend between grey and powder blue, grey-blue shades are peaceful and calming. Paired with white it creates a really fresh scheme that would look lovely in cooler living rooms that are either north or each facing.
However, while blue living rooms are usually cooler spaces, you could warm up this icy shade by mixing it with a soft cream, lots of tactile fabrics and warm wooden accents. The trend for painted ceilings is still proving ever-popular. Dominic Myland comments: 'inverting the traditional formula of painted walls and white ceilings, the ceiling is becoming the hero, often combined with paler tones or off-white walls to make the room feel larger.'
3. Deep blue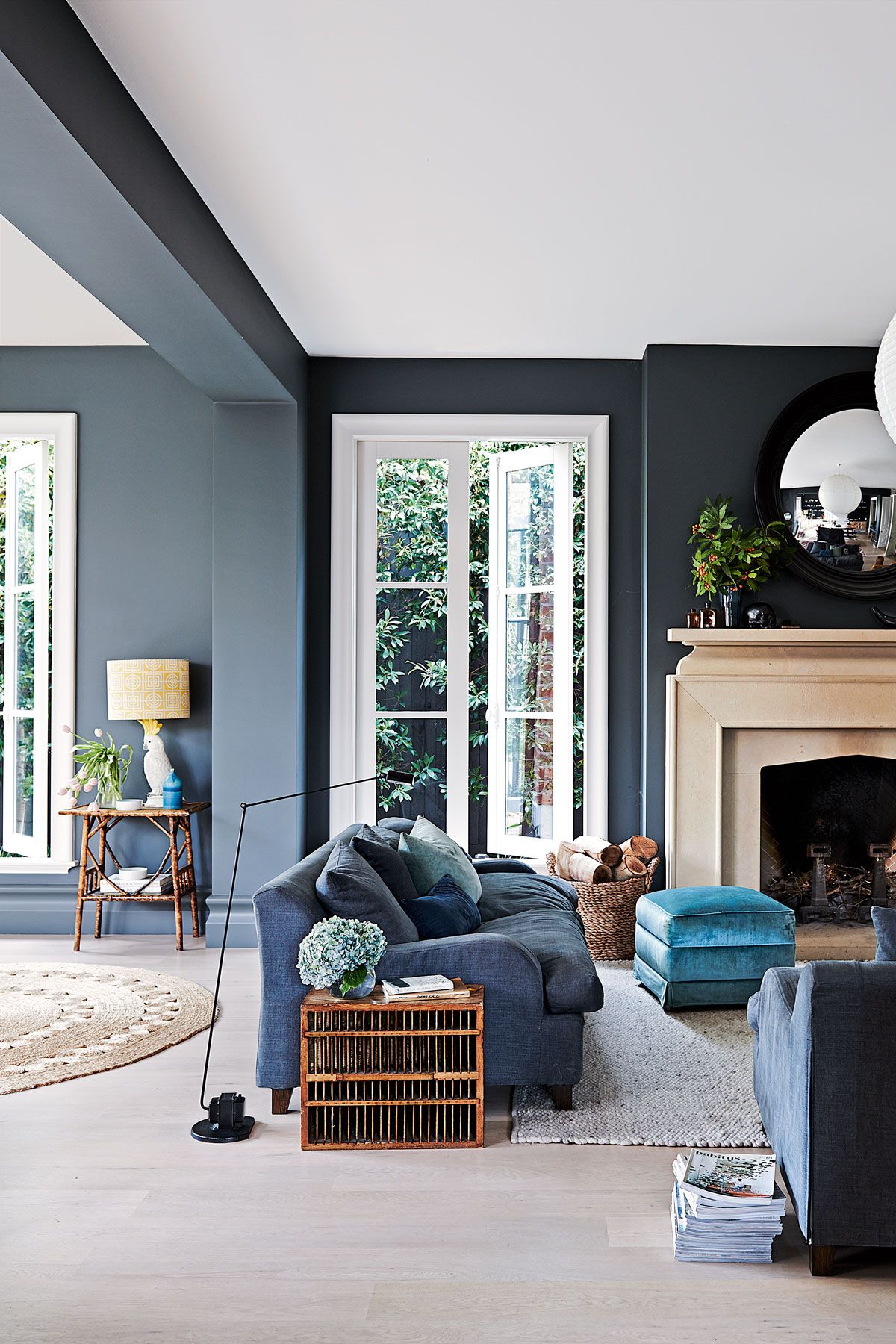 Darker, deeper blues create a bolder, more dramatic look, and have a cocooning effect. It suits both large living rooms, making them feel smaller and cozier, and small living rooms, emphasizing bijou proportions and giving them a den-like feel.
4. Bright blue
For an energetic, uplifting shade, dive in with a bright blue living room color. And you don't have to go all over with these bolder shades to make an impact, check out how a gorgeous bright turquoise has been used just on the doors and door frames in this living room add the perfect pop of color to the otherwise soft, neutral scheme.
Dominic Myland or Myland paints (opens in new tab) says that 'this year there's been a particularly big appetite for accent woodwork – rather than trying to make the woodwork disappear, selecting a standout colour for a fresh take on a painted interior.'
5. Teal
And our final shade on the blue spectrum; teal. This is a very modern and powerful look, especially when a room is enveloped in it.
Again, you could dip your toe in the teal trend by painting just accent woodwork instead. 'Teal is a perfect accent for the inside of an open cupboard filled with white accessories, as it creates a gallery-style backdrop,' suggests Colin Roby-Welford, creative director at Fired Earth (opens in new tab). 'Opt for crisp white on the woodwork for a contemporary look.'
6. Light greens
Light greens are really on-trend right now, with sage greens being the obvious, most popular choice but light most greens and pale vivid apple greens are also beautiful colors to bring into a living room.
Pair more muted, muddied light greens with crisp whites to provide the perfect contrast. These hues are particularly well-suited to country homes or period houses and is a beautiful color to accent woodwork with. And for those bolder pale greens, just embrace the hue and go all over as a four-wall color – these hues look lovely with warm terracotta oranges and deep blues.
7. Dark greens
If you want to create drama with your living room colors, but don't want anything as harsh as black or deep blue, a lovely dark green would be a great option.
David Harris, Designer Director at Andrew Martin (opens in new tab) says: 'We have seen a huge trend in dark blues over the past few years, but now dark rich greens are becoming very popular. These rich tones mixed with softer setting plaster colors work well.'
These dark greens pair wonderfully with pale pinks, as can be seen in the gorgeous living room above. A baby pink makes the quite traditional elegant green feel fresh and fun.
8. Yellow
Yellow is a color we just don't see enough of in living rooms, but it does look like we are beginning to embrace these sunny hues once again. A pop of bold yellow can really lift a space making it feel fun and modern. Just look how it works in this grey living room, to really brings out the other colors used in the room and stops all that mid-grey going on from looking flat.
For something more subtle, experiment with deep mustard yellows that work so well in more traditional living room and look wonderful when paired with whites. As David Harris says: 'Rich golden yellows are becoming very on-trend. These still have a light feel and look fantastic when layered with framed artwork and photography, against crisp white picture rails and plasterwork.'
9. Soft pinks
Blush pink paint has seen a huge resurgence as of late, with pink bathrooms and pink kitchens become one of this year's biggest trends, so it's no surprise we are seeing this rosy hue seep into living rooms too.
If you are concerned about your living room looking too like a girl's bedroom, then you are safe with these blush tones as they tend to have grey undertones, making them more versatile and more neutral than bubblegum pink shades.
Grey and pink is the most obvious combination, but for a more vibrant unique look try pink and orange. A coral with a blush pink creates such a cool hotel vibe, but if you want something a bit more grounded opt for a terracotta shade.
Tash Brady, color specialist at Lick (opens in new tab) explains, 'Deep terracotta walls accented with soft-pink alcoves is a good pairing,'The soft tonal change brings a decorative twist without overwhelming the space, creating a stylish feature of the alcoves.'
'Painting skirting boards and window frames to match the wall color is also a simple but stylish touch for the living room. Not only does this create a contemporary, monochromatic look, but it is also an easy way of creating the illusion of bigger walls, making the room a whole appear more spacious,' advises Judy Smith, Crown (opens in new tab) Colour Consultant.
10. Raspberry pinks
Blush pink just not daring enough for you? Try a deep sumptuous raspberry. Gorgeous, grownup, and elegant, this is the way to do a pink living room. We love how in this living room that berry hue is continued onto the armchair and ottoman, creating a really intimate, cocooning.
11. Reds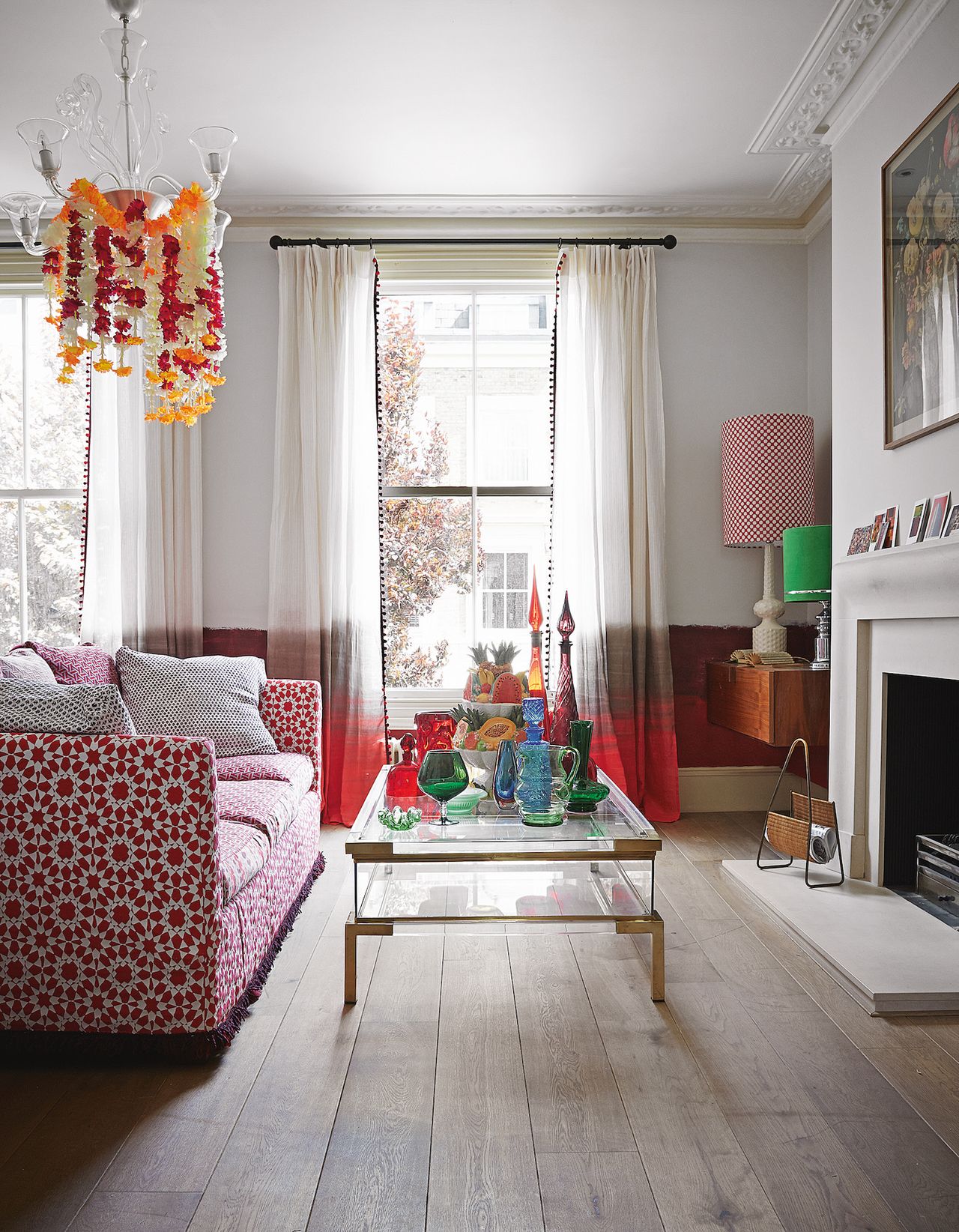 For a long time now, red has been almost shunned in the world of interiors, but it's back, this bold brave color is back, and we are loving it. It's a lot of living room sure but why not pinch this living room color idea and just paint partway up a wall with a deep maroon.
'One color we've been particularly drawn to as an accent shade is maroon,' says Jody Hudson, stylist at Graham & Brown (opens in new tab). 'It works especially well with taupe and beige for a cozy room. It's a rich, heavy shade, so if you're considering a horizontal color-blocking effect, place the red at the bottom and a sandy beige shade up top.'
12. Purple
An aubergine purple can be such a cozy and inviting living room color, and depth and ambiance without any of the starkness of a dark grey or black. It's soft and deep and feels elegant despite being a bold color choice. As with most of these deep velvety hues, pair it with a bright white to give it a lift.
13. Earthy tones
'Natural colors are effortless, comforting colors,' says interior designer Linda Barker (opens in new tab). 'These shades have a profoundly natural and calming influence.'
Linda adds: 'I find it fascinating to read that Global trend forecasters have seen a huge revisit towards these more earthy tones in favor of last years' brighter colours, and I wholeheartedly agree with this consciousness, we want masses of comfort in these turbulent times.'
Use these colors to create a restful backdrop, then weave in brighter colors as natural earthy colors are grounding but can often be bland so look at other colors to elevate the impact of a foundation color.
14. White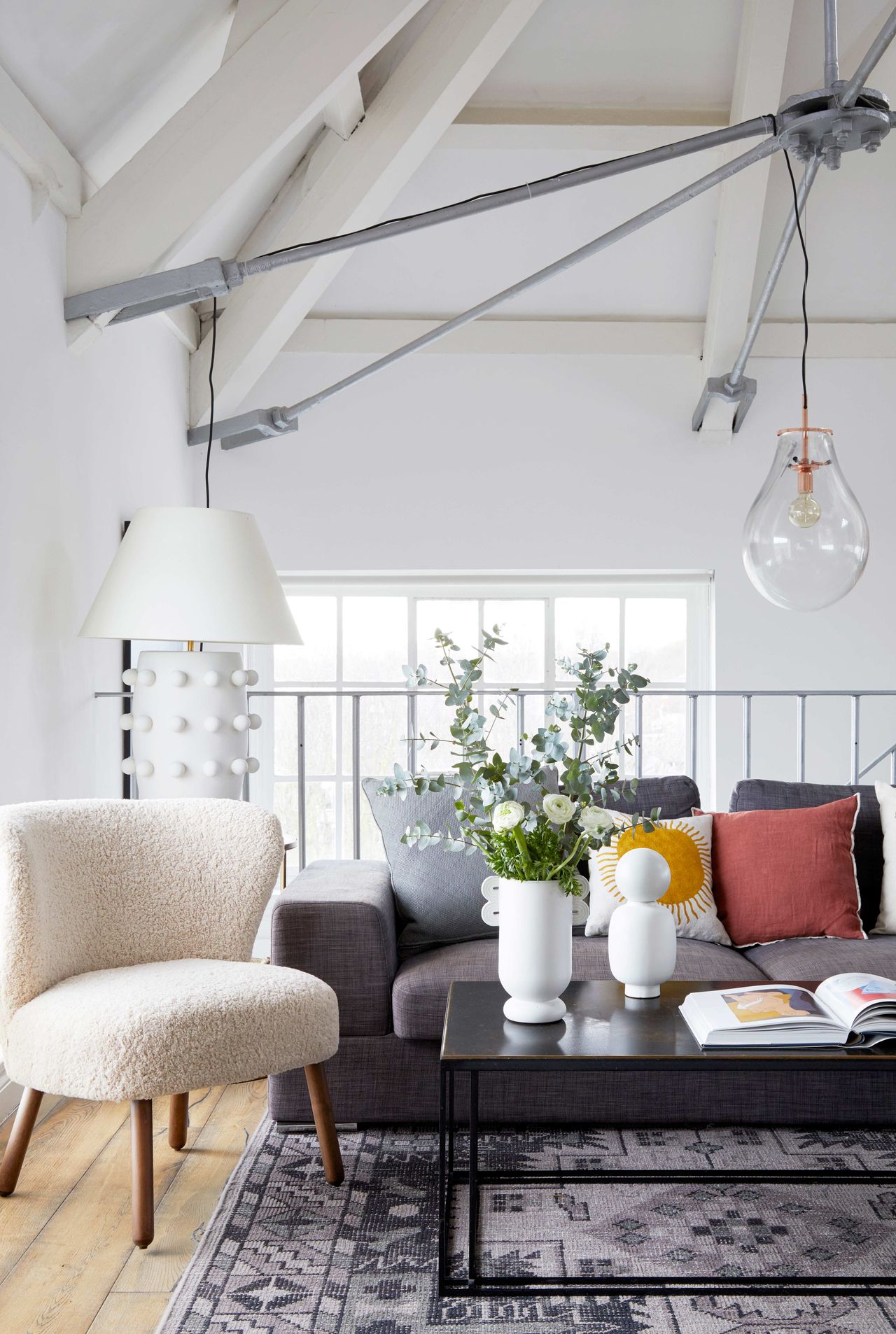 Yes, we know white isn't technically a color, but when it comes to living room color ideas, we can't ignore this classic shade. Crisp, fresh, light, airy, and timeless, you simply cannot go wrong with a warm or crisp white.
With white living rooms, the key to adding interest is to layer up textures even if you aren't adding in more colors, texture will add depth.
15. Near black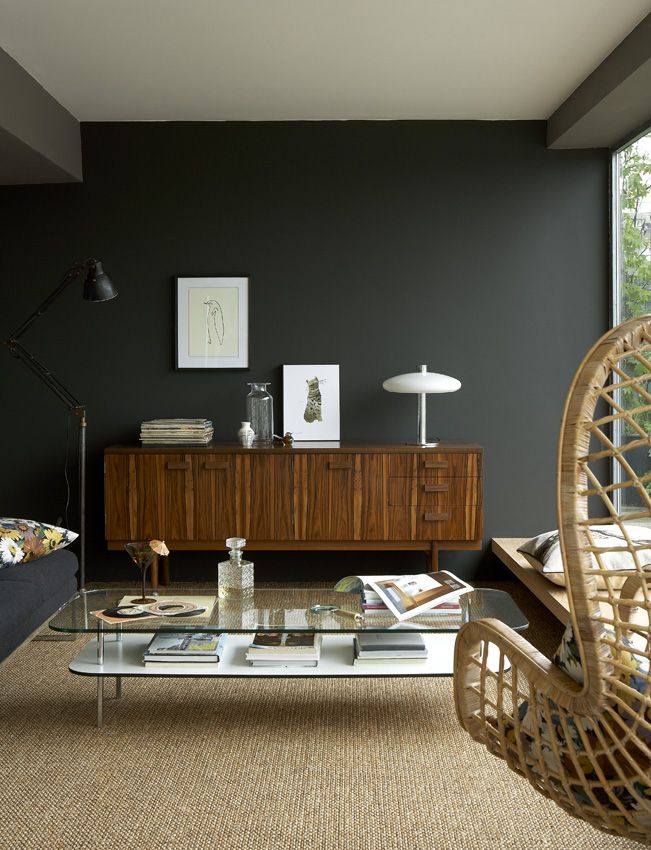 A soft dark grey doesn't sound as dramatic as you think, see how in this living room it actually feels really neutral and not too intense. The rattan and the warm wooden furniture gives it almost a warm, rustic feel despite the deep colors of the walls.
'For something more impactful whilst remaining intimate, consider darker paint colors,' advises Ruth Mottershead, Creative Director Little Greene, 'as they give a cozy and inviting feeling when painted on all four walls; they inspire quiet evenings, and look sumptuous when paired with dark woodwork.'
16. Jet black
And finally, for the gothic interior fans, jet black for the most dramatic living room look. 'My reception room is painted black – banish thoughts of dinginess because used correctly this color is a shortcut to creating an elegant, chic and dramatic space,' says Annie Sloan (opens in new tab).
'For grown-up sophistication use with taupes and earthy neutrals. Alternatively, follow my lead and harness the power of black to juxtapose with bold brights, statement throws, and pieces of art. It'll make them pop with renewed intensity –include hot colors to make the space feel warm. Make sure you use a paint with a nuanced, matte finish – low-quality paints won't contain sufficient pigment to give the pitch-dark coverage you need.'
Lotte is the Digital Editor for Livingetc, and has been with the website since its launch. She has a background in online journalism and writing for SEO, with previous editor roles at Good Living, Good Housekeeping, Country & Townhouse, and BBC Good Food among others, as well as her own successful interiors blog. When she's not busy writing or tracking analytics, she's doing up houses, two of which have features in interior design magazines. She's just finished doing up her house in Wimbledon, and is eyeing up Bath for her next project.