Small living room ideas – 29 ways to pack comfort, storage and good looks into a tiny space
Maximize your tiny space's style with our useful small living room ideas that ensure your space is comfortable, sociable and more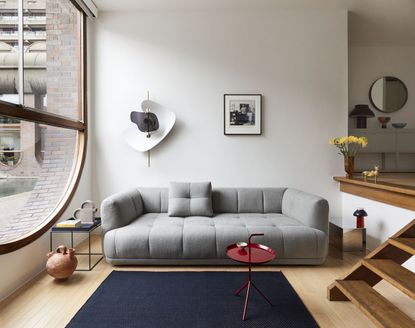 (Image credit: Doshi Levien for Hay)
Small living rooms present design challenges, and organizing or decorating this space can be especially tricky as this is one of the most used rooms in the house. How do you strike a balance between making it feel as spacious as possible while also squeezing in extra seating, storage and keeping it stylish? What furniture should you choose, what colors should you paint the walls? Is there space for artwork?
For all this and more, we reached out to interior designers and experts to share ideas on creating a modern living room when space is in short supply. Here's their top advice.
Aditi is an experienced homes writer and editor. She has written hundreds of articles for various international titles helping readers make the best home design choices, and spends her days interviewing interiors industry experts to bring the latest ideas to her readers. For this piece she spoke to the world's best designers to compile fresh living room looks to inspire.
29 small living room ideas to save you from the tiny space problems
1. Choose sectionals to maximize seating and offer comfort
In a small space, the need is for you to choose elements that offer more functionality than one. In terms of living room furniture, instead of crowding the room, consider sectionals for their size is their strength, and the sofa depth they offer is unparalleled. Since they tend to dominate the space and offer the majority of the seating, they generally do not need to be accompanied by too many other pieces.
'It's probably instinct to want to add a sofa and a chair to fill up a small space, but that will just clutter the room,' says interior designer Mary Patton. 'Living room sectionals can double your seating, and make the space feel cozy and inviting. You can stretch out with plenty of room for guests and efficiently use all the space you have.'
2. Go large with the artwork
This might sound counterintuitive but choosing a large-sized artwork in a small space can help with the visual dimensions of your space. A big piece on the walls will create the illusion of more height and depth, plus it will distract attention away from the compact square footage of the room. The same tactic can be used with a large living room rug.
'We wanted a large impactful abstract artwork in the small living space, something which becomes a conversation starter,' says Mahek Lalan, director and principal architect at SML Architects. 'We wanted to go monochrome with it as we already had a coloured floor.'
3. Place the most-used pieces of furniture close to a source of natural light
When deciding on the small living room layout, look first at where the most natural light falls. Then, think about how and when you use each piece of seating. A sofa that you use for lounging, working, and socializing is possibly the most useful so, place it close to a lighting source, like the window or a door.
Similarly, if a chair or ottoman is used infrequently, it can be pushed to the back of the room. Avoid putting any heavy, dark furniture near windows as this is going to block out light.
4. Go for dark colors to create a feeling of depth
Everyone knows that a muted or neutral color makes a room look larger, but did you know that using the right living room color ideas can make the walls disappear, creating the same effect? Deep hues create a feeling of depth and endlessness.

To counterbalance dark walls, use lighter pieces of furniture. You could also bring in metallic tones or reflective surfaces, like a mirror coffee table or a crystal chandelier to help bounce the light around.
'If you want to create a moody and atmospheric feel, dark colors work well in small spaces, creating depth and drama,' says Emma Gurner, founder of Folds Inside. 'Dark walls also allow pieces of furniture, art, or accessories to pop against it. Painting the ceiling and woodwork the same color as the walls will give a continuous flow, blurring the lines and making the room feel bigger.'
'For small living rooms, color drenching, especially when using darker, braver colors, works best,' says Justyna Korczynska of Crown Design Studio. 'By enveloping a small space in a color, the focus shifts from noticing the size of that space to just appreciation of the shades that surround us.'
5. Add a daybed for lounging and socializing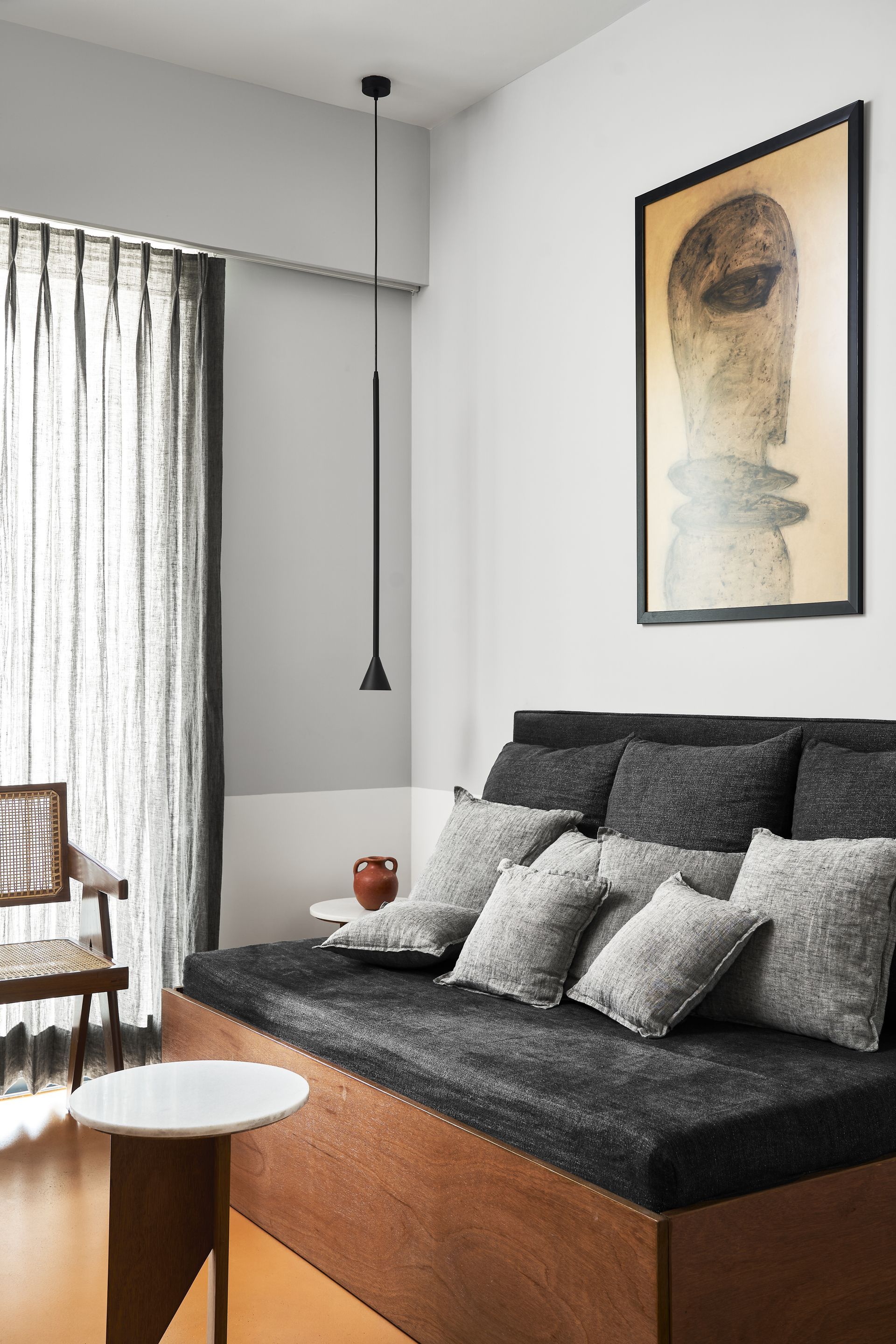 In a small space, every piece of furniture should work hard to earn its place in the room. Multifunctional pieces not only add value in terms of usage but also open up the entire room for other purposes.
Take the daybed in the living room for instance – a fantastic investment if you have the space. This can be used as the primary seating piece in a living room; it can also be used to fill up a corner or used as an occasional chair in open-plan rooms.
'This daybed provides a lounge to unwind, and doubles up as a serviceable bed,' says Mahek Lalan, principal architect at SML Architects. 'A summery white transcends into grey, creating a slight gradient over the walls. Consisting predominantly of a collapsible daybed washed over in sumptuous doses of charcoal and steel grey linen upholstery, the lounge is accented with art in warm ochre tones, unadorned end tables, and an austere pendant light.'
6. Choose furniture with curves to make the most out of the small space
Curved sofas and tables are not only useful in defining an area, without necessarily making it feel divided, but they also save space, leaving enough circulation area around the room. In rooms with awkward dimensions, corners, and curves, a rounded sofa, (even better if customized) can help eke out more area, and leave the room feeling airier and less cluttered. Apart from a sofa, you can even go for a loveseat or a curving bench.
Plus, when we spoke to interior designers to share secrets for decorating a small living room, Nipa Doshi, founder of international interior design brand Doshi Levien, said a sofa should ideally have softness and tactility. 'And it doesn't mean it needs to be round but there is something about human beings inherently relating to curves. In any case, you don't want sharp corners when you're sitting on a sofa.'
'A rounded or curved furniture in a small living room creates a natural sense of flow in the movement,' says Noorein Kapoor, founder of NKD Studio. 'They can be very pleasing to the eyes as they soften the overall look of the space. One can create a dramatic effect in a small space when curves are balanced with straight lines. When the curved furniture is placed right, the space looks like a solved jigsaw puzzle'
7. Use soft furnishings to zone out the living room in an open plan
In a tiny home or a studio, where you cannot build walls or place heavy partitions that are difficult to move around, it's best to use soft furnishings to segregate areas. This will allow you to close off one space from the other, and give the area, in this case, the living room, its own identity.
If you want to go for an even easier partition, you can zone a room with wallpaper.
'The light grey-beige living room called for accents and contrast, so we decided to add some color,' say Alexander Ivasiv and Yuliya Tkachenko, principals at Ater Architects. 'Bold blue curtains are used throughout the apartment as zoning elements. To complement the curtains, we chose a powder-pink sofa to be the centerpiece of the living room.'
8. Consider lighter colors to brighten up the space
Ideally, light tones reflect maximum light and can make an interior feel airy, breezy, and breathable. When it comes to living room color ideas, for smaller spaces, it's better to go for whites, greys, creams, and off-whites if you want added light.
'The paler the tone, the more it will reflect the available light, the darker the tone, the more light it will absorb,' says Justyna. 'At the extremes, white will make a room look more spacious. This rule applies to all colors. So, a pale grey would be good if you wanted to make a room look larger and lighter.'
9. Match the woodwork to the walls
Ideally, in a small space, the lesser visual breaks there are, the bigger, more seamless the space looks. In that sense, when thinking of living room paint ideas, coat the same colors on the woodwork and walls.
'For woodwork match the tone as closely as possible to the wall color to give a strong and unbroken look,' says Justyna. 'A soft green on skirtings and architrave next to a neutral colored wall is interesting and imaginative without overpowering or being too much of a contrast – here you want colors to blend and harmonize for the maximum cocooning effect.'
10. Choose proportionately sized furniture and accents
When designing a modern living room, think of the size of elements that you will be brought indoors. Consider the proportions of furniture and elements as compared to the scale of the room. An oversize sofa or a rug may look odd and throw off a guest as they enter the space and take a look around. Plus large pieces reduce the circulation space around the room, meaning it will get difficult for people to around the area.
'The most important thing when designing small spaces is curating a selection of pieces that offer design versatility and play with scale,' says Nidhi Kapur, founder of Maiden Home. 'This will allow you to get the most out of your space while making a stylish statement and avoiding clutter. For these reasons, when working with clients with smaller spaces, we typically recommend choosing accents with smaller proportions, and designing with modular pieces that can be reconfigured with ease to suit different uses.'
'A small accent chair is perfect for a beautifully curated living space on a smaller scale,' says Nidhi. 'The impact and comfort with a smaller footprint and subtle curves in the design lines and form can go a long way.'
11. Use lighting to highlight the room's strong elements
Interestingly, lighting isn't only about illuminating a space. The right fixtures, placed in appropriate corners can not only brighten up a small, dark space but also bring into focus, its best features.
If you're lucky enough to live in a home that has beautiful architectural bones, even smart woodwork, and if you're redesigning your living room, this is the time to make it stand out. Add spotlights or pendants to enhance these significant elements such that, they take the attention away from the small scale of the room.
'Lighting can change the atmosphere in a room,' says Niki Wright, founder of Lights&Lamps. 'It can highlight other design elements within the space, it can make a room appear bigger if positioned correctly, it can even change the feeling of temperature in a room; but also, with the use of interesting materials or exaggerated scale it can make a statement in its own right.'
12. Bring in plants for texture and freshness
'Small spaces need textural variety to make them feel interesting and warm,' says Luki Anderson, principal architect, Studio Officina Architecture PLLC. 'The easiest and most affordable way to do this is through house plants. Create a corner of the room, preferably by a window, and layer varying sizes and heights of plants using an interesting selection of pots and stands. You don't need to break the bank to bring a focal point like this into your space.'
13. Sometimes bespoke pieces are ideal
In narrow living rooms, finding the perfect furniture piece can be a big issue.
'If you're struggling to find a piece of furniture that fits perfectly, it's best to go bespoke,' suggest Jen and Marr, founders of interior design studio Interior Fox.
'Creating furniture for your living room that is designed to fit seamlessly means that every inch of the room is catered for. Create a window seat in a bay window with additional storage below. Try a built-in cabinet or low-profile media unit for a stylish alternative to a tv stand, it provides ample amount of space to stow away items while creating a clutter-free living room to relax in.'
14. Create a layered lighting scheme
Lighting is essential to give the room a feeling of depth, and even, to make it feel larger. Try to keep the lights off the floor as much as possible, so you can save on floor area, and look at the walls and ceilings for illumination.
'For living room lighting ideas, lookout for articulating wall sconcess,' says interior designer Keren Ritcher of White Arrow. 'Something that pivots can provide really useful directional light, possibly doing the job of multiple lights in one. It can also tuck away neatly when not in use.'
Strategically placed wall sconces and lights will add a wash of illumination to different parts of the living room. A layered scheme of table lamps, sconces, and spotlights will draw the eye around the room, as they create depth and shadow.
'When designing a small space, I love to find items that maximize the space,' says interior designer Nicole Cohen. 'I like using sconces that maximize light and don't take up floor space.'
'We will sometimes swap a typical ceiling fan for a pretty flush mount, allowing the room to have something that is both decorative and functional,' says interior designer Sara Cukerbaum of SLIC Design.
15. Go big with rugs
While deciding on how to make a small living room look bigger, the point to keep in mind is scale. And optical illusion. Take the rugs for instance. In a tiny space, a big rug can create the illusion of a larger floor area, and trick the eye into believing that the scale of the room is large.
'If you have hardwood floors make sure you have an appropriately sized rug. If the rug is too small, it will throw the balance off and make the bed feel too large for the space,' says Jennifer Davis, interior designer and founder of Davis Interiors.
Alternatively, opt for a fully fitted carpet instead of a rug. 'Rugs can make spaces look smaller, fully fit the carpet to draw your eye to the edges of the room,' says Camilla Clarke, creative director at Albion Nord.
16. Strategically place mirrors
'Strategically placing mirrors where the light naturally falls is one of the oldest but best tricks in the book, it enhances the natural light and makes the room appear much larger and brighter,' say Jen and Marr.
Agreed. And along with making a room feel more open, they can be an opportunity to blend styles within the room. We'd recommend shopping second-hand and finding a piece with a character that will bring an elegant, traditional edge to any style of space. See how in this Scandi living room the gold mirror adds just a touch of something different and prevents the room from looking like a carbon copy of every other Scandi living room on the internet.
17. Embrace the coziness
The knee-jerk reaction to a small space is often to reach for the white paint or another light shade to maximize the feeling of space. But there are other options.
'Don't be afraid to embrace the small,' says Caoimhe McKenna of Yellow Brick Road Design. 'Create a cozy and inviting ambiance with warm tones and tactile textures but offset this with clean, clear lines to retain a sense of calm.'
18. Choose flexible and light pieces you can move
When space is really tight, consider the furniture you can move around the space, as and when it's needed. A coffee table for example needn't be a large, permanent fixture that takes up all that space in the center of the room – instead size down to a stylish, compact side table that you can move around easily.
The small circular design used in this space not only looks lovely and perfectly contrasts all the straight lines going on in the rest of the room, it also means it can work anywhere, there are no corners to have to consider where to neatly fit.
19. Maximize awkward spaces
Whilst we'd like our rooms to be completely square with no awkward angles or dead spaces, this is rarely the case. But with some careful planning, all those awkward places can be turned into treasure troves of storage potential.
'Many homes have awkward alcoves. This is one area where it pays to invest in bespoke cabinetry to maximize the storage,' says Andrew Dunning of London Contemporary. 'Whether your interior is modern or traditional, cupboards and shelving will finish this space in the room without intruding into it.'
The bespoke media unit in this open-plan reception room provides essential small living room storage ideas with decorative floating shelves above. Designed by London Contemporary to fit the wall shape without protruding into the room too much.
20. Don't be afraid of filling up the living room
Minimalism and small living rooms do often go hand in hand, but sometimes more is more when space is tight. Rather than spreading all your furniture out to make as much floor space visible as possible, fill the space with pieces that 'fit' the room. Take inspiration from this small living room idea and up the coziness by really filling up the space.
The huge sofa hugs the edges of the room, so while it's very dominant it's practical too, providing ample seating and nicely filling the room to create this cozy living room. And don't feel like you have left that central floor space free, fill that up too with a coffee table that mirrors the shape of our furniture layout.
21. Place prints strategically
This living room makes a case for not always keeping things simple and pared back in a small space. A gallery wall may sound too busy for a small living room, but used right and hung strategically it can help 'expand' the space.
The key is not to just float prints in the middle of the wall, take the floor to ceiling (or close to) to add height to the room as well as colors, patterns, and interest.
22. Reduce clutter
Quite honestly, we all love to hold on to things; decluttering isn't as easy as it sounds. But the thing to keep in mind is – is the clutter more important than comfort and peace of mind? Before you go all commando on your living room or family room, think for a moment about what you can reduce in this space.
'Buy higher-quality items that have real value,' says Brooklyn brownstone designer, Jarret Yoshida. 'When the clutter is gone, suddenly your furnishings will merit the attention of a fashion runway, your mid-century lamp becomes a sculpture, and your peace is the focal point of it all.'
23. Bring in a sectional sofa
Sectionals or L-shaped sofas tend to dominate a space and offer a majority of the seating in the room. When looking for sofa and the right sofa dimensions, sectionals work wonders.
'Look for an apartment-sized sectional or couch that has a chaise longue,' says Luki Anderson, principal architect, Studio Officina Architecture PLLC. 'These sofas are usually not as long or deep, but still provide a luxurious sense of lounging. Or opt for an ottoman in a fun color that creates a nice contrast to your sofa while simultaneously offering another way to stretch out and relax with your feet up.'

24. Float the furniture in a small living room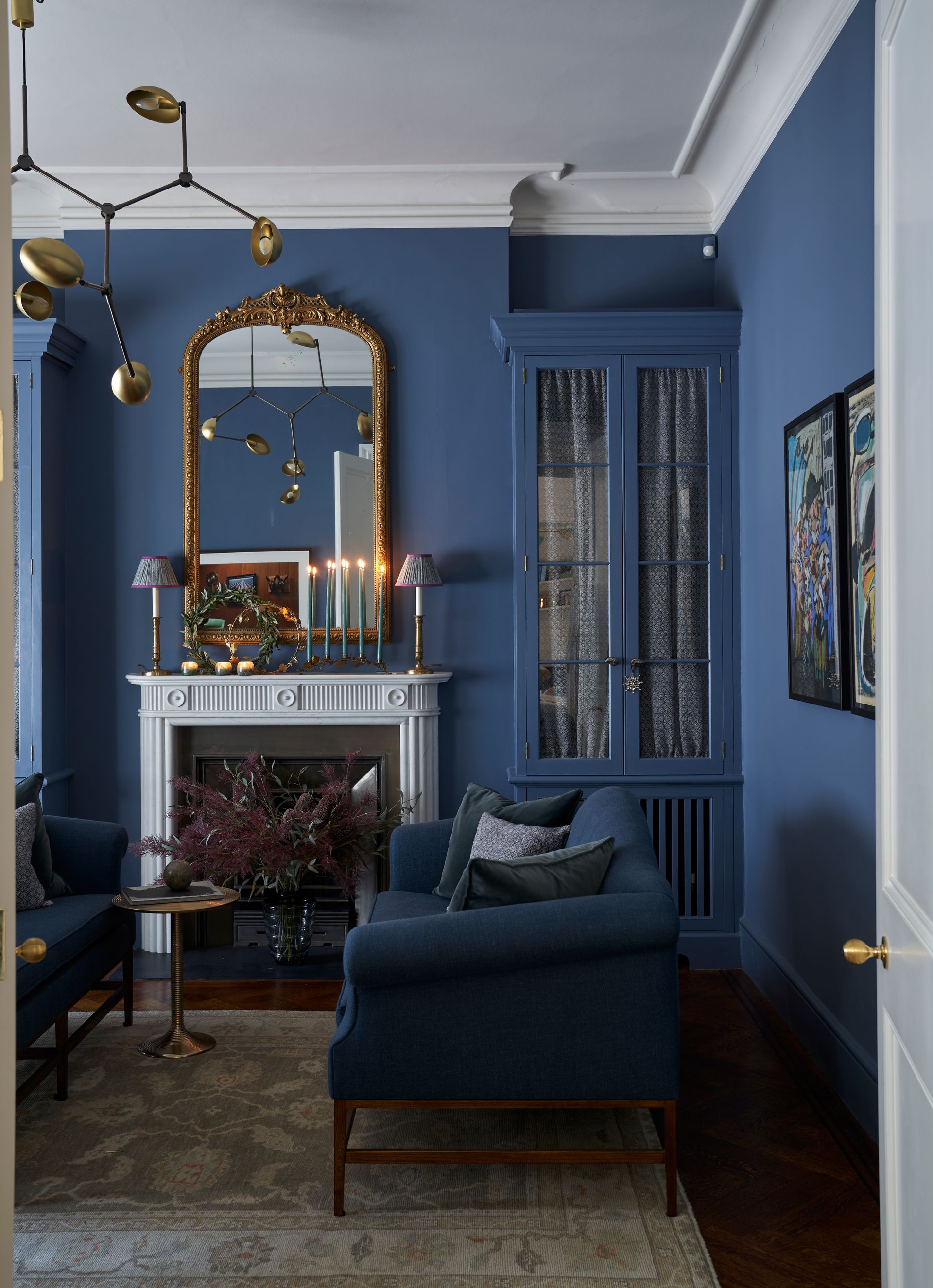 It can be tempting with small living rooms to push your furniture up against the walls, leaving as much floor space visible as possible. However, having everything lining the edges of the room with a sea of floor space in the middle can in fact make a room feel smaller, this layout makes you really notice the proportions of the room.
Pulling furniture away from the walls, and instead floating it in the center of the room can make a small living room feel bigger. It gives your pieces some breathing room, lets light flow around the space, and distracts the eye from the edges of the room.
Just be sure to ground your pieces with a large living room rug, as you can see in this small living room, and make sure it's a practical choice for your space too, you want to still be able to easily move around the room without constantly walking into sofas and coffee tables.
25. Add height with floor to ceiling curtains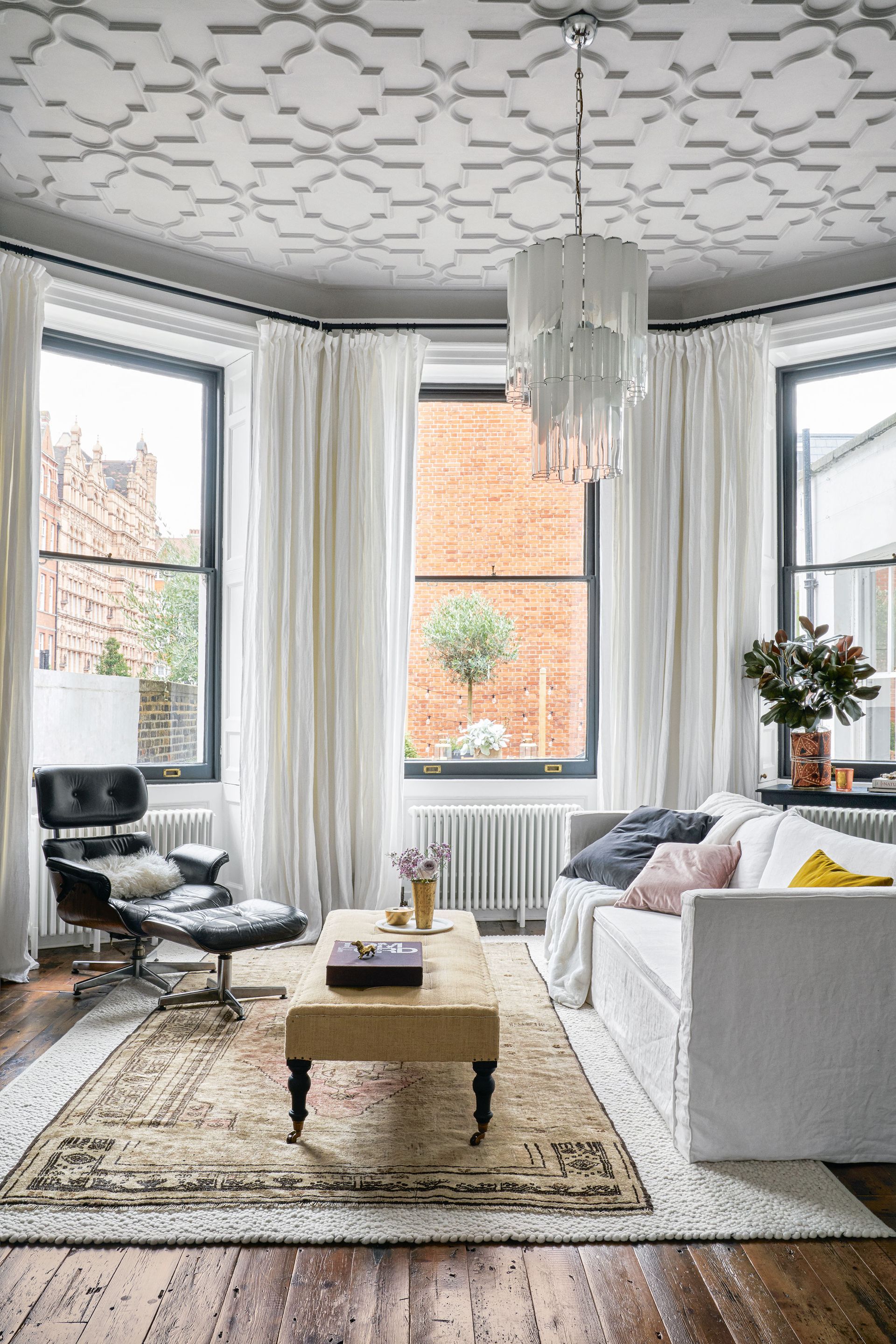 When it comes to small living room ideas, windows have a huge role to play and have the potential to make your small room look lighter, brighter and even larger. Debbie Leigh is Design Manager at ILIV and suggests extending the curtain pole beyond the width of the window.
'This allows more light into the room and makes a room feel larger,' she says. 'Hang living room curtains high for a professional-looking window treatment. This will instantly give your room an illusion of extra ceiling height which in turn feels very luxurious. Ideally, the pole or track should be positioned a minimum of 4 inches and a maximum of 12 inches above the top of the window.'
26. Add storage without taking up floor space
When it comes to storage ideas for small spaces and living rooms, shelves can be such a blessing as they add handy storage, and space for decor and if you opt for wall-mounted designs they take up zero floor space too. You can even use bookshelves for storage as long as you style them well.
'Remember to furnish your room both vertically and horizontally. This is especially important in small areas of the home when we need to optically enlarge the space.' say Jen and Mar. 'Wall-mounted storage units and made to measure shelving units can create a built-in feel that seamlessly blends in with the room's features achieving a cohesive overview.'
In this small living room, shelves float elegantly above the sofa, providing the perfect spot to create a gallery wall. If you have an awkward nook or an alcove in your living room, you could go for the built-in option, and even add in seating below. With built-in storage in smaller spaces, we'd recommend painting it the same color as the walls behind so it almost blends in and doesn't add too much visual bulk.
27. Hang shelves for chic open storage
Living room shelving adds so much to a room – they create space to add character and curate displays that add color, pattern and texture to the room. But they are practical too, and we know everything in a small space needs to earn its place and needs to have a function as well as form.
'Shelves are a must.' says Jen & Marr. 'They open up areas to make the most of empty spaces. Floating shelves or a tall bookshelf that extends to the ceiling will provide ample amounts of storage and a place to showcase decorative items.'
The rule with shelving is to avoid creating symmetry, or any clean lines that make the shelving look too neat or overly thought out. You want there to be plenty of different heights, different shapes, different textures. And pair things in threes! Or odd numbers at least.
28. Trick the eye with busy prints
When working with the confines of awkwardly shaped rooms, sometimes extra creativity is required. Karen Knox of Making Spaces pulled out all the stops when designing this cozy seating area in her client's long, narrow room. 'This striking, abstract wall mural design with delicate white details draws the eye up and away from the client's existing sofa and towards the wall behind it,' says Karen.
'This causes your eye to rest on the furthest point in the room giving the illusion of greater depth and more space,' says Karen. 'By then dressing the sofa in similar tones to the wallpaper, it helps the sofa recede into the wall. A large scale pattern isn't something that would normally work for small spaces, but for this room it helped to tie all the elements together, both old and new.'
29. Ditch furniture with legs
Sometimes all it takes to squeeze a few more inches out of small space to eke out a living room or even a reading corner is to pick clever furniture designs, like cool coffee table. Here, the 'floating' coffee table breaks up the space and allows the light to flow underneath it.
Also, see how in this living room everything sits at the same low level – the top of the coffee table with the seat of the sofa and the armchairs. By keeping it all low-slung and almost below eye level makes the room feel more open and gives more height to the space.
How should furniture be placed in a small living room?
There really is no right or wrong answer here. But when it comes to small living room layouts there is often a debate over whether sofas should be placed against walls, but it totally depends on how much space you have to play with. As long as you are able to create an intimate area that works for social interaction that is all that counts.
If you're struggling with how to envision how your living room will work, we'd suggest going old school and drawing it up on graph paper. Then start considering what furniture you want to bring into the space, use a pencil to plan out your design, and measure up your furniture so you can get a really accurate representation of your space.
Consider what will be your room's focal point. Do you want all the furniture to face the TV or a fireplace? Do you want to create a more intimate space and have the furniture facing each other? Think about the flow around the room too, avoid creating a boxy, corridor effect with furniture stuck to the walls and a walkway down the center. You want to layout to be relaxed, but equally, make sure you allow for traffic to flow through easily and where it naturally would go.
What furniture works best in a small living room?
Multi-functional furniture is ideal for a small living room. Look for furniture that can double up as storage. Furniture that can fold away or that is on wheels and can be moved around is also desirable. You want the furniture to work double duty where possible.
As your sofa is likely to be the largest single item in your living room, it's also worth paying attention to getting this key piece right. Our guide to the best sofas has some great options for smaller spaces - think compact shapes elevated on tall legs that add a feeling of spaciousness by allowing your eye to travel underneath the sofa to the farthest walls.
The Livingetc newsletter is your shortcut to the now and the next in home design. Subscribe today to receive a stunning free 200-page book of the best homes from around the world.
Aditi Sharma Maheshwari is an architecture and design journalist with over 10 years of experience. She's worked at some of the leading media houses in India such as Elle Decor, Houzz and Architectural Digest (Condé Nast). Till recently, she was a freelance writer for publications such as Architectural Digest US, House Beautiful, Stir World, Beautiful Homes India among others. In her spare time, she volunteers at animal shelters and other rescue organizations.