Small living room layouts – 13 clever ways to arrange furniture and maximize space
Small living room layouts can be tricky, as you need to consider how to fit all of your furniture. But these tricks demonstrate how easy it is to expand area, and never be short on style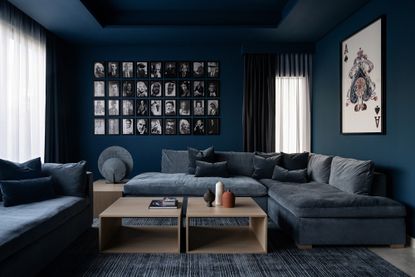 (Image credit: Natelee Cocks Photography. Studio credit Natasha Sturko)
The Livingetc Newsletter
For style leaders and design lovers.
Thank you for signing up to LivingEtc. You will receive a verification email shortly.
There was a problem. Please refresh the page and try again.
Small living room layouts are all about making a room feel less cramped and cluttered using clever furniture arrangement tricks. With just smart styling, furniture shapes, colors and placements, you can easily solve the problems a pint-sized room poses.
'Choose furniture pieces wisely, that do double duty,' says interior designer Mary Patton. 'Living room sectionals can double your seating, and make the space feel cozy and inviting. Plus you can stretch out with plenty of room for guests and efficiently use all the space you have.'
For more suggestions and ideas, refer to these useful insights by top designers, and transform your small living room into a comfortable, stylish oasis for you and your family to hang out in.
13 small living room layout ideas
As more of us work and play at home, the living room now has to cater to various roles. It's important to really think about how you spend your time in the space, as this will largely determine your layout.
When it comes to choosing small living room furniture, ditch the trad three-piece suite and go for versatility and mobility. A couple of stylish slipper chairs or a cozy love seat paired with footstools or ottomans that can double up as seating, storage or side tables, will be more valuable than a pair of bulky sofas. Look for shallow-depth furniture, modular designs and bespoke built-in solutions that will all curb clutter and save valuable floor space.
Take a look at some more usable ideas.
1. Opt for a symmetrical living room layout
'Symmetry makes everything easier on the eye and it'll automatically make the space feel orderly and calm.' says interior designer Naomi Astley Clarke.
However, don't go too streamlined; a small apartment living room can often feel boxy so break up lines with plenty of curves and textured surfaces to add interest. She also suggests incorporating seamless hidden doors when wall space is at a premium – you can hang pictures on it, or even create a recessed bookcase within the door itself.
2. Choose furniture pieces carefully
For the perfect small living room layout, make sure you have the right type of furniture.
'When planning a layout in a small living room, do your best to have adequate seating and different types of seating,' says Victoria Holly, principal and founder of Victoria Holly Interiors. 'You don't want to just have a sofa or just have a sectional, as this doesn't allow for a conversation space. There are plenty of creative workarounds when designing a small space living room. You could explore a sofa and ottoman combination, where the movability of the ottoman works in your favor.'
'A modular sectional works similarly where you can rearrange it as needed for entertaining,' says Victoria. 'So it can work as a sofa but when you need more seating, it can be expanded. Another great option is a wall-hugging sectional that wraps around tightly to fit two or three walls and feels really custom to the space. It almost acts as an accessory to the walls instead of imposing furniture.'
3. Build it in
A good modern living room furniture idea is to swap the sofa for a space-saving bench seat. This is the best way to make the most of the space underneath a window.
In this chic San Fran pad, ABD Studios utilized the corner by creating a stylish shallow-depth lounger, swapping a bulky backrest for a stash of plump cushions propped up against the windows.
4. Break it up
If your budget won't stretch to bespoke designs, modular furniture is the next best thing that will expand space and lay the grounds for a cozy living room. Interior designer Emily Rickard hacked this Ikea Soderhamn sectional sofa to fit her space by popping a nifty triangular storage table in between two sections. It meant the sofa could fan around the corner of the room to gain extra floor space.
5. Make mirrors key in a small living room layout
Living room mirrors are a brilliant way to enhance the perception of space and an essential to creating a small living room layout that feels light and open. Why not go one step further and add a statement mirror wall for real glam factor.
'Consider mirrors in varied shapes,' says Noorein Kapoor, founder of Noorein Kapoor Design. 'Think circles, ovals, and rectangles but don't be afraid to color outside the lines. Uneven, asymmetrical, and positively weird shapes are a key contemporary mirror trend, so feel free to get a wiggle on.'
6. Go floor to ceiling with storage
The best way to boost a small living room layout is to go for floor-to-ceiling living room storage. It's an opportunity to create a shelfie-worthy space that will add bags of charm in a limited space.
Kingston Lafferty designed this playful bookcase with a ladder to access the full-height storage. 'Using mirrored paneling breaks up the solid block of cabinets and gives the illusion that the floor runs on beyond the furniture,' says Róisín Lafferty, founder of Kingston Lafferty.
7. Choose space saving furniture
Corner or chaise sofas are often a go-to and also set the stage for an elegant living room as they offer maximum comfort and take up minimal floor space. Plus they're fab for impromptu sleepovers.
If you regularly have overnight guests, then you could take multifunctional furniture to the max by swapping your sofa for a sofa bed. Also, choose curvy pieces – they not only look chic but save valuable inches by shaving off the corners.
8. Create a cozy nook
Bay window ideas for living rooms offer up quirky niches and recesses that are ripe for transforming into comfy seating areas as they don't eat up valuable floor space. Even better, add storage underneath like in this apartment renovation by Vanrenen GW Designs to stash any inevitable living-room flotsam.
9. Work with a narrow living room
If you've got a long narrow living room layout to work with, think outside the box – literally. Carve out niches, recesses and oriel windows to create seating opportunities as well as extra surfaces for books and knick-knacks. Architecture firm Loader Monteith added a series of frameless windows in this living room to avoid a dark corridor effect and to make it feel visually wider.
10. Make the most of wall space
If you're working with a super-tiny space, slim picture ledges are a slick way of incorporating storage without taking up room with bulky furniture, as well as adding interest with books, art and photos. To maximize the illusion of space, a clever living room color ideais to go dark – by painting both the walls and shelving black, it'll make the walls look further away than they really are.
11. Pick a small living layout that embraces the coziness
'Avoid pushing the furniture back against the wall, even if you feel like you can't fit it in,' says interior designer Emily Rickard. 'A little breathing space around key pieces makes the room feel bigger, plus it will create an intimate and cosy vibe.'
A living room rug will also help ground the furniture and leaving a border of floor space will enhance the sense of spaciousness.
12. Utilize the back of the sofa
In cramped spaces, every surface is an opportunity, so think about using the back of a living room sofa, especially in an open-plan layout. This is a clever sofa idea for small living rooms.
'We wanted to include a study space without impacting the elegance of the sitting room, where we knew we wanted two slim sofas facing each other,' says Sarah Peake of Studio Peake. 'Putting a slim desk against the back of a sofa was the perfect solution. Always try to incorporate a view if you can – we positioned it so you can gaze out the window beyond the sitting room.'
13. Rethink your lighting scheme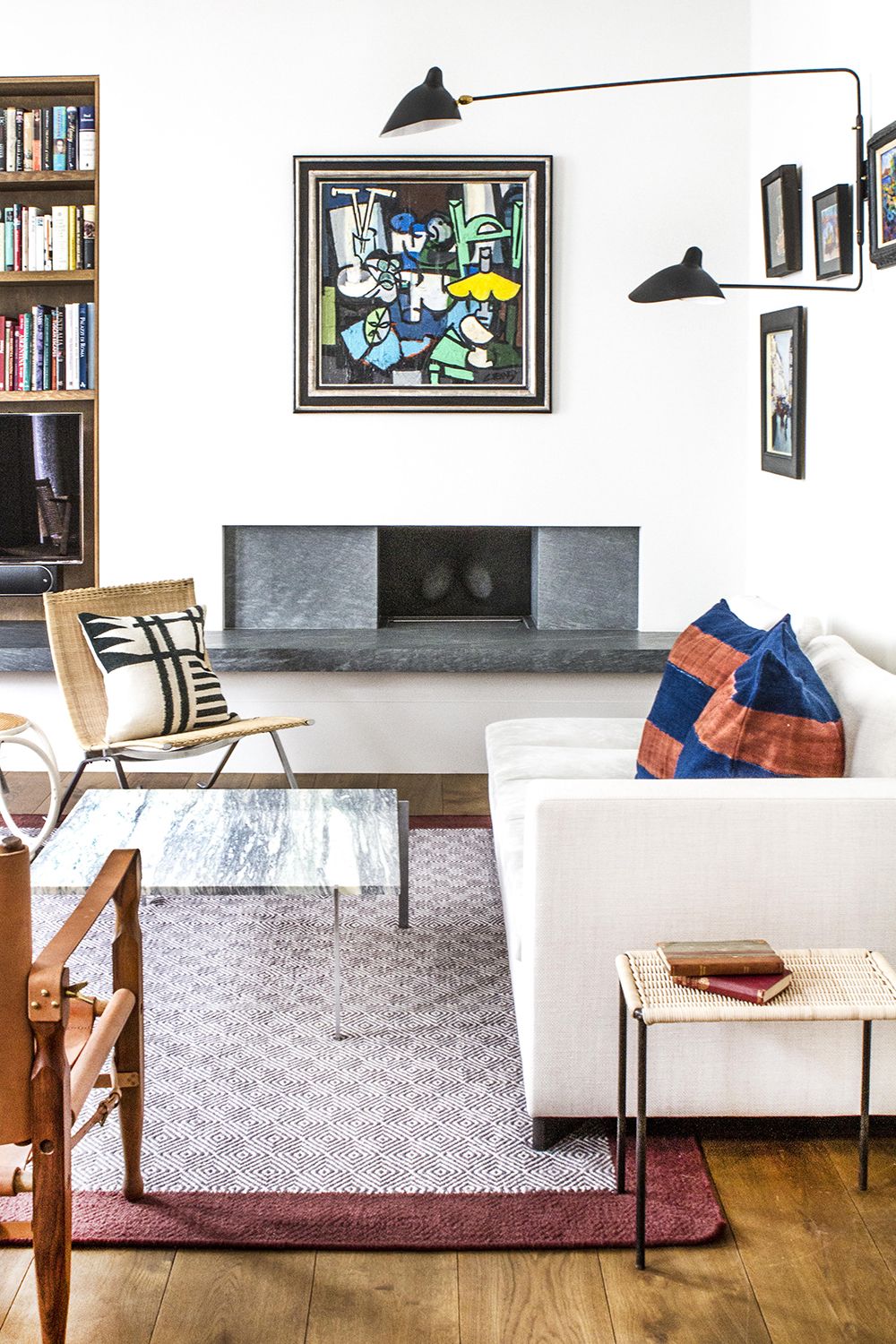 Small living room lighting needs a decent amount of thought, but when you're trying to squeeze every square inch out of the floorplan, table and floor lamps can feel like a luxury. Swing-arm wall sconces are a savvy choice as they make stylish reading lamps, leaving side-table surfaces free.
How should furniture be placed in a small living room?
In a small space, the main aim should be to create a seating arrangement that doesn't make the room look cluttered, and have circulation space for people to easily move around. One way of doing this is by placing all the furniture pieces in the middle of the room, leaving walking area round it. The other is to place a sectional against a wall, and complement it with an ottoman.
Also, you could create one focal point in the room and position furnishings and furniture around or directly facing the focal point to maintain a clear view.
For style leaders and design lovers.