10 brilliant bay window ideas for living rooms that prove this sliver of extra space can change your space's whole outlook
The right bay window ideas can make all the difference to your living room - here's how designers use them, and make them look good in the process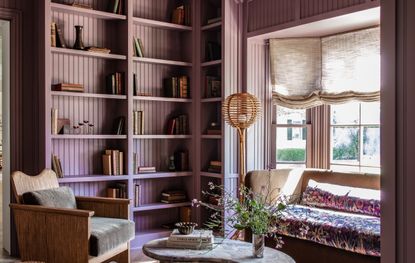 (Image credit: STUDIO JAKE ARNOLD)
The Livingetc Newsletter
For style leaders and design lovers.
Thank you for signing up to LivingEtc. You will receive a verification email shortly.
There was a problem. Please refresh the page and try again.
A bay window in a living room is a beautiful thing - it can make your space look endlessly bigger, introduce more light (and capture it at all more times of the day) and provide that little bit extra square footage which opens up your design options.
Whether you're looking to dress your bay window or find furniture to make the most of it, we've curated some of our favorite modern bay window ideas for living rooms that exemplify increased area, light, and seating capacity.
10 bay window ideas for living rooms
If you're wondering how to design a modern living room, there's nothing better than an idyllic perching spot that also adds decorative value to the indoors.
'Who doesn't love a bay window?' says Jarret Yoshida, an interior designer in New York. 'This architectural detail evokes images of sunlight streaming through glass panes, illuminating a room with a Vermeer-worthy glow. For our clients, we make bay windows the focal point of their projects, providing them a place they can lounge in, and while away their time.'
'These windows offer many uses: a comfy reading space, a snuggle spot in the winter, a place for mid-day naps, plus, this architectural feature also speaks of luxury.'
1. Add extra seating to the living room with a bay window
First and foremost, a bay window offers the perfect spot for a window seat, but instead of adding chairs within the tiny space, consider built-in seating to make the most of this area.
In this scheme, interior designer Cat Dal, founder of Cat Dal Interiors, uses a bay window seat to complement the rest of this living room's layout, as well as incorporating the same color palette. 'This bay window seating was designed with the whole room in mind, in a way to connect all corners and spaces,' says Cat. 'For this particular corner, we chose fun patterns, and the colors of red and navy on the cushions are also sprinkled around the rest of the room. We always design the whole room cohesively and all at once.'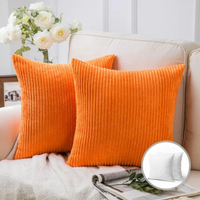 Corduroy striped pillow, Walmart
Choose these soft corduroy striped decorative pillows to add a refreshing touch to the bay window seating. Orange is one of the color trends we're picking up as the must-have accent this year.
2. Convert a bay window into a breakfast nook
Why not maximize your living room corner with a compact breakfast nook tucked into a bay window? The built-in seating will offer a nice perching spot, and with the inclusion of a table and two chairs, you can create an elegant zone in a living space that allows it to double up as a place to eat, work, or any other activity you can think of.
Bay windows make for a particularly dreamy spot for your morning coffee, as they're traps for sunlight. 'Because bay windows are angled on at least three sides, they capture light throughout all hours of the day,' says Jarret. 'Indoor light is no match for the glow of the sun and bay windows capture this like no other architectural feature. These singleton vertical openings offer the best views, and perfectly frame the outdoors, almost offering a panoramic opening.'
3. Make it the home for a full-size table
While the shape of a bay window can mean it often feels awkward to position living room furniture within it, but there's one piece that fills the space particularly well. A dining table. Whether you've got an open plan living-dining room, or you want to include a table for other activities, whether oval or rectangular, circular or square, tables are the perfect partners for bay windows.
In this family room, a stylish round table was the ideal fit for the room's bay window. 'I sectioned out zones in the great room to organize it,' explains interior designer Esther Lundstrom, founder of Lunstrom Interior. 'The family enjoys entertaining and playing table and board games. Alongside the bay window, a game table where the family gets together to play was important to incorporate, allowing for extra seating.'
4. Experiment with interesting window treatments
A bold bay window calls for an equally thought-out window dressing. Add a touch of charm to your living room's window treatment by choosing blinds or curtains, adding a layer of interest to the bay window's decor and have a softer appeal for this space than the likes of shutters.
In this beautiful living space, the window treatment are the perfect finishing touch for a space that feels cozy. 'One of the biggest challenges with the house was that some of the spaces have atypical angles or large openings,' says Jake Arnold, founder of Studio Jake Arnold. 'We utilized the bay window for a settee to make the most of the space. Since we were working with a smaller footprint we made sure the furniture had the right scale to not overwhelm the room, and complemented the seating with pleated fabric blinds.'
'Largely, I recommend cafe curtains or blinds, set halfway into the window matching the window mullion,' addss Jarret. 'This allows for not only privacy but also light and views. Depending on the privacy needed, you can choose the ideal fabric opacity – from silks, cotton to sheers.'
5. Incorporate a door into a bay window
To create a sense of fun and whimsy, instead of windows on all sides of your bar, consider swapping out one glass panel with a door, as these designers did in this farmhouse-style home.
'We wanted to design a window that would have many functions than just one, and a place that would be easy to go out through, just the way kids do in country homes,' say Anna and Eugeni Bach, founders of A&EB. 'That's why we designed a window that is a like a sofa seating, so you can see the landscape around, and enjoy the natural light pouring inside, while also feeling the breeze. Plus, a small wooden door fitted here allows you to jump outside at any time!'
6. Add a reading light
Want to highlight your bay window? Choose a special living room lighting piece for this area, and make it glow. Install a wall lamp or if you have the height, then a thin pendant, and go for a warm bulb to add coziness to the entire setup. While during the day, these fixtures can simply add decorative value to the space, during the evenings, they can also provide extra illumination when the sun goes down.
'The lighting should not shine directly in someone's eyes, ever,' says interior designer Joy Moyler. 'Remember to install it above eye level, and if possible, always compliment the corner lights with more lighting sources in a large room. Do not be afraid to mix and match lamp shades or materials, and use what you love!'
'Also, remember that for wall lights, dimmer switches are an absolute must, and make sure you have plugs under the seating for them,' says Emma Deterding, founder, and creative director of Kelling Designs. 'Also, if you're adding more than one light in a small space remember to never put downlights in a row as those can look jarring.'
7. Fit a day bed within the bay window
A chaise or snug seat works well in most bay windows to create a cozy living room. These loungerswill maximize the space for ample seating that is stylish and comfortable, plus provide space to take quick, afternoon naps.
'While it is a large piece, daybeds fit and look perfect in the living room,' says Anjali Mangalgiri, founder of Grounded. 'These pieces also frame the windows behind them and provide the perfect opportunity to sink in after a long day at work. You can bring in a subtle play of some lovely textiles into the space with a daybed.'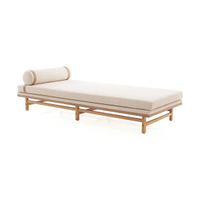 Bring in this simple, functional form that is reflective of the Bauhaus movement, and add a seating that is comfortable, elegant, and contemporary. The solid wood bench is upholstered in leather that is fade-resistant.
8. Set up a work spot by the bay window
Bay windows open up a whole world of opportunities, as long as you're open to experimenting. In smaller homes where you may run out of rooms to accommodate all the functions you need to carry out, a bay window offers a small corner that is slightly away from the main hubbub of the house yet not completely separated. Use this space to set up a small home office, with a table and chair (or two!).
This is a great way to not only add extra seating and tables to the living room but also create zones within the space. During socializing hours, the home office table can be a place to keep food and drinks, and during work hours, a separate area for concentration, without being surrounded by the severity of a somber work space.
Bring in multipurpose furniture pieces such as a table with in-built drawers to curb all the office stationery mess. Add a plant to this area to create a feeling of freshness.
9. Insert a console table by the window
As we've already established, bay windows aren't always for seating. Sometimes they hold cabinets. Use this small yet impactful space to add a wonderful console that will also be visible to outsiders, so your neighbors will be able to see your artistic side when they look up at your windows from below.
In a small apartment living room, even a few extra square feet that a bay window can go a long way in adding functionality. If a single console does not fit, you could add a couple of tables too here, and make the bay window an art and storage hub. Create a nice selection of decoratives atop the table, and add to your living room decor.
10. Don't forget storage
Window seats are often the most loved element in a home, as they offer comfort and idyllic views of the outdoors. But they have an extra functionality to them; they also offer up space for storage. Adding to the living room storage, bay windows can accommodate fitted drawers, cabinets, or even a hinged bench top. They can take an unused or awkward space and turn it into a charming focal point.
'This window was built in a family room, and the homeowners were just starting their family and looking for places to hide the overflow of toys,' says Jennifer Morris, founder of JMorris Design. 'The home has lots of traditional details so we wanted a solution that had some transitional language and hardware. This was the thought behind designing the multiple storage around the window seat.'
For style leaders and design lovers.
Aditi Sharma Maheshwari is an architecture and design journalist with over 10 years of experience. She's worked at some of the leading media houses in India such as Elle Decor, Houzz and Architectural Digest (Condé Nast). Till recently, she was a freelance writer for publications such as Architectural Digest US, House Beautiful, Stir World, Beautiful Homes India among others. In her spare time, she volunteers at animal shelters and other rescue organizations.