15 dining room ideas to create a beautiful and practical space for eating and entertaining
For dining room ideas with understated elegance, look no further...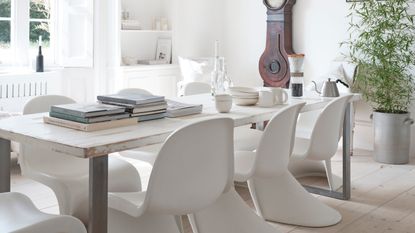 (Image credit: Soho Management London Ltd)
The Livingetc Newsletter
For style leaders and design lovers.
Thank you for signing up to LivingEtc. You will receive a verification email shortly.
There was a problem. Please refresh the page and try again.
Dining room ideas are all about that balance between being a chic and stylish space that's going to wow your guests, and practical spaces that your family can actually use day to day. So it can be a tricky space to decorate, but they can also be a joy to decorate and are in fact one of our favorite rooms to style because you can go really bold and brave in this space, especially if you have a separate kitchen diner so your dining room is really only for special occasions.
'Make sure the dining room reflects the personality and feeling of the rest of the home. It usually is the hub of the home - everyone loves to gather and linger in a dining room. I like to use wallpaper or murals in dining rooms' says Sabrina Albanese of Sabrina Albanese Interiors.
'I also love using a dramatic light fixture that acts as jewelry or art. Sconces are perfect to accent art on the walls, or flank a buffet or hutch. Lightweight, billowy drapery (layered with sheers if possible). Ceiling details (trim, interesting crown molding or even a paint or wallpaper). I also always prefer to define the dining area with a flatweave rug or sisal. This isn't necessarily to make the space feel warmer, but allows you to define the area - especially important if you are working with an open concept space.'
So think bold wallpaper, statement chairs, oversized lighting, or if you are into a more subtle and sophisticated look, elegant dining tables, lots of towering taper candles and a cool neutral color palette. We've covered every style in between too, plus asked the experts for their top tips on how to get your dining room decor right.
1. Factor in function and decide on the vibe
It's tempting to concentrate on just the look when you're designing a dining room. However, you need to think practically too. Before choosing furniture, layouts, and decor Clotilde Passalacqua, interior design manager at Ikea, says you should ask yourself 'Is it a dining area for a couple that often hosts dinner parties? Or is it for a family with kids at different ages? You'll need to organize the space to meet individual needs.'
Also think about whether your dining room now doubles up as a workspace, does your furniture, therefore, need to be comfy enough so you can sit over a laptop for a few hours. And if so you also might want to consider not going too bold with the decor as you don't want that to be a distraction.
However, if the sole use of your dining room is for just that, dining, then we say go as bold as you dare, you want your guests to be wowed by this space. So before starting decorating create a mood board and pull inspiration from your favorite restaurants and bars to help design a space that's made for entertaining.
2. Plan your lighting
Lighting is key to setting the tone in your dining room and is something you should consider really early on in the design process. You'll need to include all three types of lighting – task, accent, and ambient, with a heavy lean on ambient.
Consider adding a pendant light or chandelier to hang directly above the dining table, in a look that creates transitional-style dining rooms. Add a dimmable switch and these can provide both a strong task light and a softer ambient lighting. 'It is best to position pendants 60-70cm from the table.' advises Clotilde Passalacqua. 'The distance is important because you don't want to be able to see the bulb inside,.'
If you have surfaces around the room, dot smaller lamps on these to give a more general glow to the space. 'Combine sidelights with feature lighting positioned to showcase art, a carefully curated bookcase or statement dining table,' says Lucy St George, co-founder of Rockett St George.
3. Anchor the room with a pop of bold color
And now onto the more fun dining room ideas – color, prints, wallpaper, decor. Deciding on a dining room color scheme is an obvious place to start. If your dining room is multifunctional (ie. it doubles as a workspace) or it's your main dining space that the whole family use daily, neutrals are a safe bet. Pick creams, whites, greys and pale woods to create a room that feels calm and serene. At night, you can always up the intimacy by dimming the overhead lights and lighting taper candles.
And don't be afraid to add a pop of color in the form of artwork either – we love how this vivid pop of blue adds an instant focal point to the space and grounds all the very light hues used throughout the rest of the room.
4. Play with pattern and go all over with wallpaper
Want a dining room idea that's going to instantly make a statement? Wallpaper. We are full advocates of dining room wallpaper – it can totally transform a room in just a few hours and you can go as dramatic or as subtle as you like with the print (although in a dining room we say go bold!).
'Wallpapers in dining rooms work really well as they are such socializing areas so it's important to make them feel as welcoming, cozy and interesting as we possibly can.' explains Abigail Ahern.
'Wallpaper gives you that great dose of pattern or texture and elevates the whole room. From geometrics, to graphics, to florals to contemporary abstract patterns to all sorts of wonderous finishes, wallpaper will add a lot of dimension to this space and instantly transform the ambiance. Whether you do a focal wall or go the whole hog it's one of the most transformative things you can do. I am super obsessed with grasscloth papers and papers that emulate amazing textural finishes like stone, clay or fabric. These texturized papers add so much coziness to a space. Easy, elegant, and yet compelling and intriguing to the eye. Win-win.'
5. Squeeze in extra seating with a banquette
Switching out chairs for benches, or even better a built-in banquette is ideal for adding extra seating to a small dining room. Choose a design that hugs the wall and add in storage under the bench too, because why waste the space?!
'Benches are ideal if you want to reconfigure the room for a bigger party, offering laid-back seating for many,' says Victoria Atkin, co-founder of Atkin and Thyme. 'If you're more into upholstered dining chairs, look into smart, stain-proofed fabrics to keep them looking pristine.'
6. Fill a dining room with natural light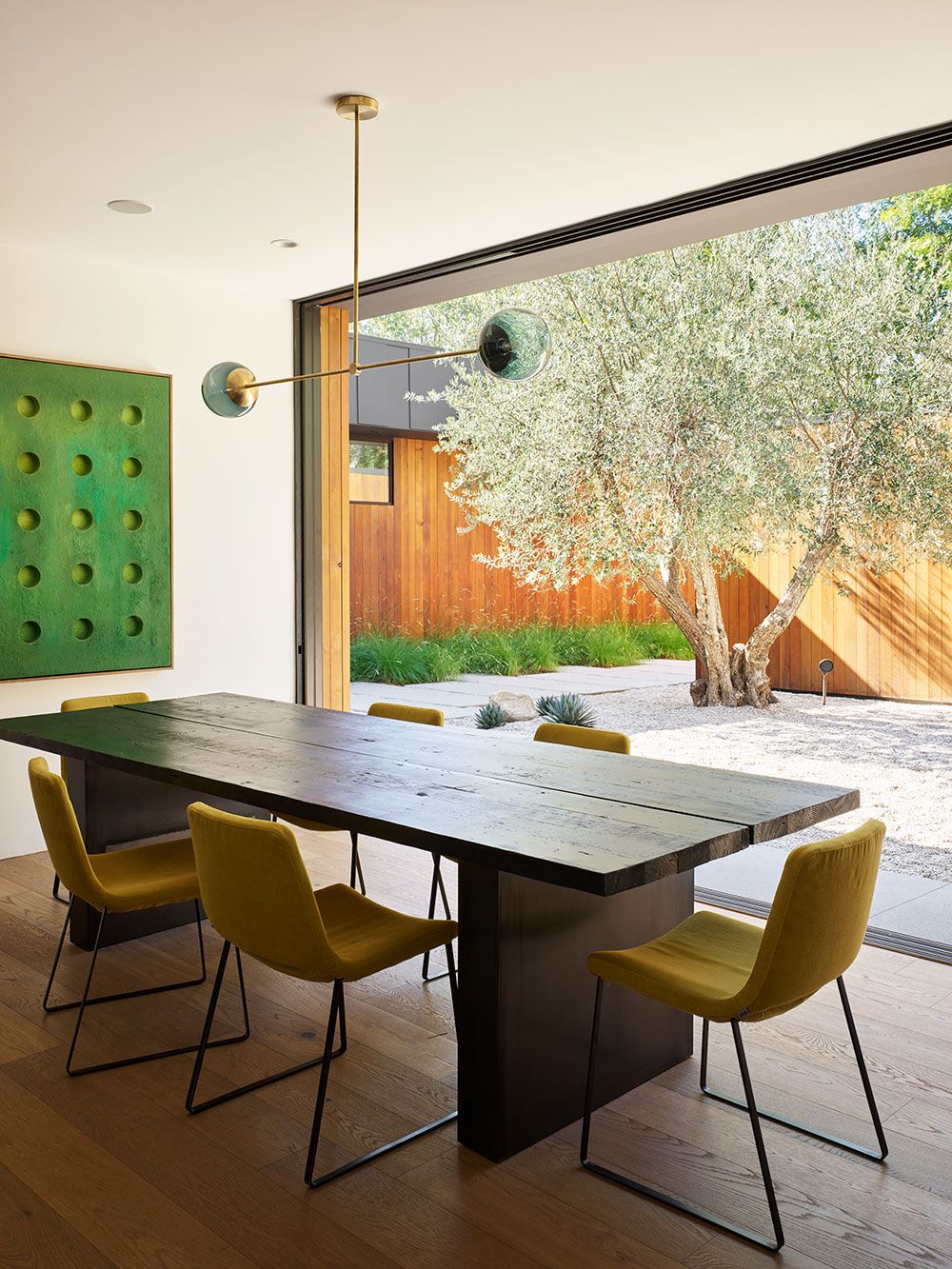 When it comes to dining rooms, artificial light is heavily relied on for creating ambiance. But these spaces aren't only reserved for evening entertaining, so consider where natural light will come from too. A picture window, or even better sliding glass doors will instantly fill a space with light, making it the perfect place for sunny breakfasts and lunches as well as atmospheric dinners.
And when light floods in so beautifully, as with this dining room, and there's that really seamless flow between indoors and out, keep the space itself simple. Lean on natural materials like wood and concrete and don't overcrowd the room with furniture. A large, minimalist dining table sat in the center of the space, with contemporary sculptural chairs and maybe a single piece of statement artwork really is all you need.
7. Use a simple side board for extra storage
Storage can be key to a dining room, especially if you want space for glassware and some extra surface space for keeping drinks so you don't have to constantly be traipsing back to the kitchen for top-ups.
A console table is the perfect piece for a dining room – elegant, slimline, and just the right amount of retro. 'They provide the perfect space for storing serve ware as opposed to cramming things into a kitchen cabinet,' says Sam Greig, lead designer at Swoon. 'Ideally, the sideboard should be slightly taller than your dining table, for both ease and appearance.'
You could even copy this dining room idea and lose the legs and wall mount a sideboard, that way it doesn't break up the floor space and the room appears larger.
8. Use dining chairs to lift a neutral scheme
Much like artwork, dining chairs can be a simple way to add a splash of color to a dining room. Plus, if you are lucky enough to have the space and storage, you could have a few sets of dining room chairs you rotate throughout the year. If you keep the rest of the space neutral you don't have to worry about whether the chairs will work either so you can easily switch up the look and feel of the room with the seasons without having to totally redecorate.
These gorgeous, wine-colored velvet chairs would be perfect for autumn and winter, and then come spring you could switch them out for something softer like the bang-on-trend cane chairs that are everywhere right now.
9. Mix and match materials
You just don't really see matching chairs and tables anymore do you? Mixing materials is far more on-trend, so take influence from this beautiful dining room and pair an elegant marble table with a more rustic set of dining chairs to create the perfect modern rustic setup.
10. Go for an elegant all white color scheme
You really can't go wrong with an all-white scheme in a dining room, it's a classic look that's never going to date and works at any time of day in any lighting. You can always switch the atmosphere from crisp and clean to cozy and intimate by lighting candles and can easily add pops of other colors too if you want a bolder look. Although personally, we think the totally white palette of this dining room is bold, despite the lack of color it feels dramatic.
11. Or embrace small proportion with darker hues
We always say it's a myth that lighter colors are best for small space, we are firm believers that sometimes you are best to embrace a room's small proportions and make it cozy and cocooning with a dark color palette. And this is particularly true of dining rooms where you often want the space to feel dramatic and atmospheric.
'Cozy snugs, intimate dining rooms, and pint-sized rooms can lend themselves to a strong color palette, especially when they don't benefit from a huge amount of natural light. Dousing the rooms from floor to ceiling in rich colors can look particularly striking and a real benefit of a north-facing room is that you can play with light sources to create a certain mood and ambiance.' recommends Helen Shaw, Director of Benjamin Moore.
During fall, why not use darker hues alongside seasonal decor for a Halloween tablescape in your dining room.
12. Experiment with contrasting shapes
There's something really striking and elegant about this dining space, despite it being super simple. The mix of the soft curves of the circular, oversized marble-effect table and the bold dark lines of the chairs and artworks, which seem to mirror one another. It's a very balanced space, with high contrast and a very clean look that feels both classic and contemporary.
13. Add instant texture and interest with a gallery wall
Gallery walls are the perfect way to bring personality, color, and texture into a dining room without cluttering up the floor. And they can be so much more interesting than a rigid grid of prints, you can mix and match frames, hang them in no uniform pattern, add in objects too to give it a more 3D effect.
'Opt for a variety of different frames rather than sticking rigidly to one color or finish. This looks more interesting and gives you the freedom to add different frames as your collection grows!' explains Jane Rockett.
'And plan ahead - before hanging anything on the wall, layout your frames on the floor to devise a layout and make sure they work well together. Art doesn't have to cost a fortune, there are so many amazing and inexpensive ways to expand your gallery wall; from introducing your favorite family photos, to framing postcards, notes, finished puzzles, magazine covers, and beautiful playing cards.'
14. Hang plates for an alternative gallery wall
And as we said, don't just stick to prints, plates make for wonderful wall decor so don't hide your more stylish crockery, turn it into a feature of your dining room.
15. Ground a dining room table with a rug
Hard floors make sense in a dining room. They are high-traffic areas that will usually see plenty of splashes and stains, however, hard floors don't offer that coziness or softness underfoot, so we'd recommend placing a large area rug under your dining table and chairs to ground the furniture – this works particularly well in open plan kitchen diners to zone the areas.
Pick a rug made from something hardwearing and stain-resistant (or just won't show stains that easily). Rattan and jute are good options.
What should you put in a dining room?
The most important thing to put in a dining room is of course a dining table and chairs. So when designing a dining room be sure to pick these first (or at least have picked the table) as they will dedicate the layout and potentially the decor too. Decided on the shape that's going to work best in your space, we'd even go as far as to say mask out with tape some of your potential options so you can see how the shape and size will look in your space and how you'll move around it.
'Always consider space and how many seats are required. Usually, dining rooms are for about 8 to 10 people. If the space is small, I usually use skinny, armless dining chairs, no wider than 17". This allows for more chairs and scales to the room accordingly. Also, designing a custom banquette is always a great idea if possible. It is not only space saving and can sit more family - but it also allows for the opportunity to add another textile and texture to a space which always builds more interest.' advises Sabrina Albanese of Sabrina Albanese Interiors.
As a general rule, circular dining tables tend to work better in smaller spaces as you can be more flexible with where you place the seating and long rectangular tables work best in lofty dining rooms for an elegant feel.
If you have the space you might want to add in some storage too – a console table or a dresser can be a nice addition to a dining room, providing space for drinks and extra table ware.
What color is best for a dining room?
The best color for a dining room will depend on the size and aspect of your space, plus the overall feel you want to go for. Do you want light and airy or dark and dramatic? Think about how and who and when you use the room most as this will help you choose the best color.
For dining rooms that are solely used for entertaining and dinner parties, going dark would guarantee ambiance and look wonderful under low lighting or candlelight. Dark blues, rich reds or even charcoal black would all suit that brooding, sophisticated vibe.
If you often use the space to host lunches, or if it's your main dining space, you might want to consider going more subtle. Whites, creams or pale pinks would all create a lovely neutral space that would work at any time of day under any lighting. 'Apparently soft pink is the best color for dining room walls. The ambiance it creates, and the way it softly reflects light, makes everyone look good. Paint the walls in Farrow and Ball's Setting Plaster, and why not do the ceiling too? Then use wall lights so the glow is low and intimate.' suggests Livingetc's editor Pip McCormac.
For style leaders and design lovers.
Hebe is the Digital Editor of Livingetc; she has a background in lifestyle and interior journalism and a passion for renovating small spaces. You'll usually find her attempting DIY, whether it's spray painting her whole kitchen, don't try that at home, or ever changing the wallpaper in her hallway. Livingetc has been such a huge inspiration and has influenced Hebe's style since she moved into her first rental and finally had a small amount of control over the decor and now loves being able to help others make decisions when decorating their own homes. Last year she moved from renting to owning her first teeny tiny Edwardian flat in London with her whippet Willow (who yes she chose to match her interiors...) and is already on the lookout for her next project.