Dining room wall ideas to set the mood for relaxing and entertaining
Get your guests talking with dining room wall ideas that are guaranteed to grab the attention, from hand-painted murals to flamboyant wallpapers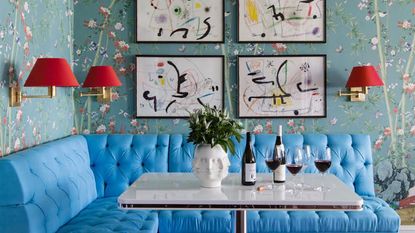 (Image credit: Summer Thornton Design)
When it comes to dining room wall ideas, we know what you're thinking: can't we just tear the wall down? In the era of open layouts, dining rooms tend to be dining areas connected to the kitchen or living room.
But that doesn't mean you're off the hook: whether it's four walls or just one, selecting the right wall decor for your dining room can add anything from dimension to drama.
Dining room wall ideas
As simple as picking a striking coat of paint, or as technical as adding a moody sconce, think of this as your chance to make your space shine. Below are just a handful of designer-approved ideas to make your dining room a decadent idyll.
1. Pick wallpaper for the win
When more is more, patterned wallpaper ideas can evoke wall-to-wall maximalism. But that doesn't mean minimalism is off the table: in this Victorian home in New York's Hudson Valley, Brooklyn's Workstead chose a wallpaper that bridged the historic Victorian's ornate aesthetic with the modern addition that branches off the dining room.
"We wanted to treat this room as a transitional space, so utilizing wallpaper in a black-and-white motif was our way of tying the dense, botanical wallpapers and deeply saturated rooms in the Victorian to the minimal, plastered finishes found throughout the new addition," says Robert Highsmith, Workstead's co-founder and principal.
The project also brings the outdoor setting into the fold. "In terms of the woodland inspiration and the specific motif of the Marthe Armitage print, we wanted the space to quietly reflect the landscape just outside the large bay window on the East side of the dining room," adds Highsmith.
"That window overlooks a rolling meadow that leads to a small pond and meandering brook, which became a reference point for many of the sculpted natural materials and forms found throughout the space – from the dining chair backs to the table lamps, and even the styling of the table itself."
2. Ensconce your space with a sconce or two
Wallpaper and art make fabulous decor for any dining room wall idea, but there's another option that will make both sparkle: consider a sconce as part of your dining room lighting scheme. In this Chicago apartment, Summer Thornton Design made an informal breakfast table a bright spot, tucked in the corner for casual daytime meals.
"Oftentimes for breakfast tables I'm looking to create intimacy, so that's part of the reason we wanted to incorporate sconces – they create a cozier feel," says Summer Thornton. "But we still wanted some life, not a sleepy corner, so the red shades just give it that pop of energy."
That extra flare from the red shades adds another opportunity for style, whether it's a similarly bold color that jives with other colors throughout the space, or even a wild pattern for contrast.
"I also think sconces are amazing for creating mood in a room," adds Thornton. "The light is incredibly appealing and it envelops you. But you want to do sconces on walls where you have something beautiful to share, be it some fantastic art or a dining room wallpaper idea. That's where they really shine!"
3. Be bold and leave the dining room wall bare
Nine times out of ten, a blank wall needs some flavor. But sometimes leaving a wall bare is the best thing to do. In the Manhattan apartment above, Lucy Harris Studio went delightfully spare with no wall decor at all, letting the spotlight shine elsewhere in this white dining room.
"The client had a very minimalist aesthetic so for her less was more," says Lucy Harris. "From the designer's perspective we wanted the light fixture to be the main statement."
Of course, it helped that the apartment already had another show stopping feature. "In any space there is a hierarchy and in this space the New York City views are dominant," adds Harris, noting that the dining area hardly needs additional decor (oversized windows frame the striking cityscape). "Leaving a dining room wall bare makes sense when there are other stronger elements in the space."
4. Panel walls to add texture
Just like the ingredients on your plate, texture will transform any dining room's palette. You can achieve this in a variety of interesting ways, from limestone washes to grasscloth wallpaper, but for a midcentury feel, consider a wall paneling idea like this home in L.A.'s Silver Lake neighborhood.
"The wall paneling is original to the house and I love it for the texture and character it effortlessly provides," says Natalie Myers, founder of Veneer Designs.
"We hung a classic Nelson Saucer pendant in the space to underscore the midcentury pedigree of the house, and the Sawkille Co. table and oversized photography print bring in a minimalist contemporary touch to balance the vintage," adds Myers.
Not every home is lucky enough to inherit such perfectly paneled walls, but incorporating the look into your space might be easier than you think. "Consider pre-made wood tambour panels to emulate the style without heavy labor costs," recommends Myers.
5. Add movement with a dining room wall mural
If there's any room that welcomes a bit of theater, it's the dining room (dinner is a social occasion, after all). It's also the perfect place for a wall mural, turning the wall itself into a work of art. In the Joshua Tree residence above, L.A.'s Petronio Studio embraced the movement with their own twist.
"In considering this project and its location—the desert near Los Angeles—we brought with us an Italian tradition of murals in dining rooms that dates to Pompeii and the Romans," says Mattia Ferroni, owner of Petronio Studio. "We thought it would be interesting to have figures and shapes waltzing in the room as guests dined, almost entertaining them as a small instrumental ensemble playing chamber music."
Petronio Studio used colors inspired by their desert surroundings against a rosy toned wall for an organic fit. "Our choice was dictated by a desire to augment and multiply the space, increasing movement, and go against the conventions of mural decorations," says Ferroni. "A mural doesn't necessarily have to be a figurative, three-dimensional scene, centered on a wall: it can be a motif, a wedge, an abstract composition, pure forms at play."
6. Try a little bit of this, a little bit of that
We're not here to hold you back. With the right balance, incorporating a little bit of everything (paintings, furniture, sconces, sculptures, even sculptural plants) can turn any dining room decor into a conversation piece.
In the dining space of a bungalow in Montauk, New York designer Robert McKinley gave every wall its moment. "For the Etna Bungalow dining room, we were inspired by Mediterranean homes decorated by people who travel around the world—not the typical Italian palazzo style, but rather these 'collected' homes," explains McKinley.
"We started by playing with a similar palette but at varying scales: pairing found objects with contemporary elements, such as the vintage dining chairs in the style of Pierre Chapo with the sleek dining table from Design Within Reach, and the Akari Ceiling Lamp from Isamu Noguchi."
The effect is a full spread, with different elements of decor peppered throughout the space. "Together, the collection of art, objects, lighting, and furniture in this room work because each strikes a different note, offering layers of materiality and personality," adds McKinley. "These pieces are timeless rather than trend-based; a marriage of local and global sensibility. Rather than having one point of view, we're connecting the dots a bit from across the globe."
7. Opt for a new take on the plate wall
For a timeless dining room wall idea, the traditional plate wall is having a modern moment. Thanks in part to the renewed interest in handmade ceramics, anything from decorative porcelain and family heirlooms to hip new ceramics are making walls pop with hanging plates. It's essentially the new gallery wall alternative.
Shannon Maldonado, founder of Philadelphia's YOWIE, gave the classic a contemporary spin at Rhode Island's new Dye House. "I loved that this would give us a mix of color and texture and add a really beautiful handmade touch to the dining room," says Maldonado, who curated a selection from up-and-coming ceramicists.
"The color pops were important to me when assorting the plate wall," adds Maldonado, who paired a bold palette of ceramic plates with an oak table and cobalt chairs by O&G Studio, a Rhode Island furniture maker. And unlike your grandmother's plate wall, there's no need to be so matchy-matchy: "Don't be afraid to play with scale or mix colors," adds Maldonado.
8. Create layers with dining room wall shelves
When in doubt, functional decor works overtime in any dining space. An eye-catching credenza will do the trick—everyone needs storage, after all—but you can take it to the next level with shelving, or even a bookshelf filled with trailing house plants and tchotkes.
In her renovation of a 1980's home in Portland, Alissa Pulcrano, the principal designer of Bright Designlab, added dimension to the dining room by adding simple shelving.
"We designed a peek through window as a passthrough from the kitchen, and celebrated this sculpturally with the custom white oak shelving supported by a metal rod," explains Pulcrano. "We pulled the elements together with the painted semi-circle and punctuated it with the small globe sconce to create a soft glow in the space."
"On the adjacent wall there is a large original piece of art, and this shelving was a way of layering in visual interest without taking away from the art," she adds. "The custom white oak table speaks directly to the shelving, made of the same material, and the Gubi chairs in pink complement and lend a softness to the overall space."
9. Commit to colour
If you're considering a color story for your dining room, let it be your main character. While the easiest approach to going bold might be a splashy statement wall, going all-out is a risk worth taking.
In this Upper East Side residence, interior designer Katie Ridder didn't just dabble when it came to her dining room color ideas. "The client wanted high-gloss lacquer walls and, with the high ceilings and the function of the room, it was decided to silver leaf the ceiling to add some warmth and a soft glow at night," says Riddler, noting the homeowner's interest in hosting dinner parties at night.
The result? The entire dining room shines with a blue-green hue. "The curtains emphasize the ceiling height and were done in blue silk that matched the walls for a more elegant and intimate feel," adds Ridder. The silver tea paper-covered ceiling reflects the walls and curtains, creating a luminous dining space with an undeniably glamorous side.

10. When in doubt, layer with art (that counts)
The right piece of framed art in your dining space can tie everything together—especially abstract art that brings color and pattern into the room, offering shapes that can play off of other furnishings, not to mention the architectural details all around you.
In the coastal home above, located in Perth, Sydney's Decus Interiors layered a triptych over paneled walls—it anchors the space, adding warmth and balance to the heritage home's grand proportions.
"Through lighting, materials, texture and colour, a layered interplay between traditional and contemporary decoration is expressed with sophisticated yet practical comfort, avoiding any sense of coastal cliché," says Alexandra Donohoe Church, the firm's director.

What do you do with a blank wall in the dining room?
Unless you're leaving a dining room wall bare, think of a blank wall as your chance to create visual interest, or a conversation starter. "A blank wall in a dining room is: an opportunity to create a design moment, a keystone to pull the design together, a key spot for a pièce de résistance," says Alissa Pulcrano of Portland's Bright Designlab.
"This could play out as an oversized photo, a 3D sculptural art piece, a weaving or an important collection of items," she adds. "If paint or wallpaper is desired for a layering of texture and color, we would recommend either tying this in with other materials and color, or, using color on all of the walls."
How do you decorate a wall between a kitchen and dining room?
Think of the wall between your kitchen and dining room as your chance to bridge a gap—the right decor can tie them both together. "I love to wallpaper a dining room, making it special and unique to the home by adding a little drama," says Courtney Sempliner, an interior designer in New York.
"For a wall between a kitchen and a dining room, something like wallpaper can also be extended as an introduction to the space to come. This wall could also feature a decorative mirror if you're looking to make the space look bigger, feel more open, and to increase light throughout."
"Another direction would be to use the space as a wall for art, featuring one larger statement piece, or a special collection of smaller works grouped together."
How do you decorate a wall above a kitchen table?
If you're decorating a wall in a kitchen-diner, interior designer Courtney Sempliner recommends some more playful ideas.
"For a wall adjacent to a kitchen table or casual breakfast area, some decorative ideas include more classic choices of artwork or family photos," says Sempliner. "You could also install something fun and playful such as an upholstered push pin wall for photos, artwork, children's drawings, mementos, etc."
"This space also offers an opportunity to display special China or a collection of plates on the wall as a mini gallery set-up. Lastly, the wall space could serve as an anchor for a beautiful swinging wall sconce, which would be flush against the wall, like a sculptural art piece, when the room is not in use, and could be swung out over the table when people are dining."
Keith Flanagan is a New York based journalist specialising in design, food and travel. He has been an editor at Time Out New York, and has written for such publications as Architectural Digest, Conde Nast Traveller, Food 52 and USA Today. He regularly contributes to Livingetc, reporting on design trends and offering insight from the biggest names in the US. His intelligent approach to interiors also sees him as an expert in explaining the different disciplines in design.