21 of the best modern kitchen ideas for spaces on the cutting edge of style
Modern kitchen ideas for colors, materials and styles that will ensure the most important room in your home is ahead of the curve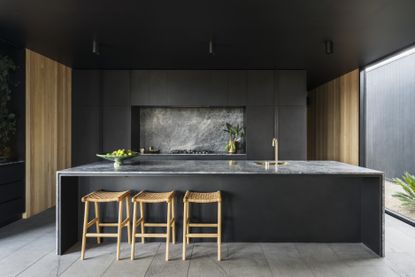 (Image credit: Dion Keech Architects. Photo credit Lyons Photography)
In modern kitchens, there's a trend towards bolder, more exciting design. Where once the big concern was staying power, more and more people want the heart of their home to reflect their personality just as much as any other.
Of course, a kitchen is a big investment, and therefore not necessarily something you can change easily. That makes it important that not only your space feels modern, it has a timeless quality to it too - a characteristic that means you won't tire of it quickly.
With that in mind, we've pulled together a gallery of some of our favorite modern kitchen ideas right now - from cutting-edge uses of materials, to layout and storage, these design concepts are all fitting of the coolest, contemporary homes.
Hugh is an experienced homes and design journalist. Having previously worked for a specialist kitchen magazine, he knows his way around the design of our home's most important space, and has pulled together some of his favorite examples of how modern design can improve them.
21 modern kitchen ideas for homes of all styles
1. Incorporate textured marble for the ultimate luxe look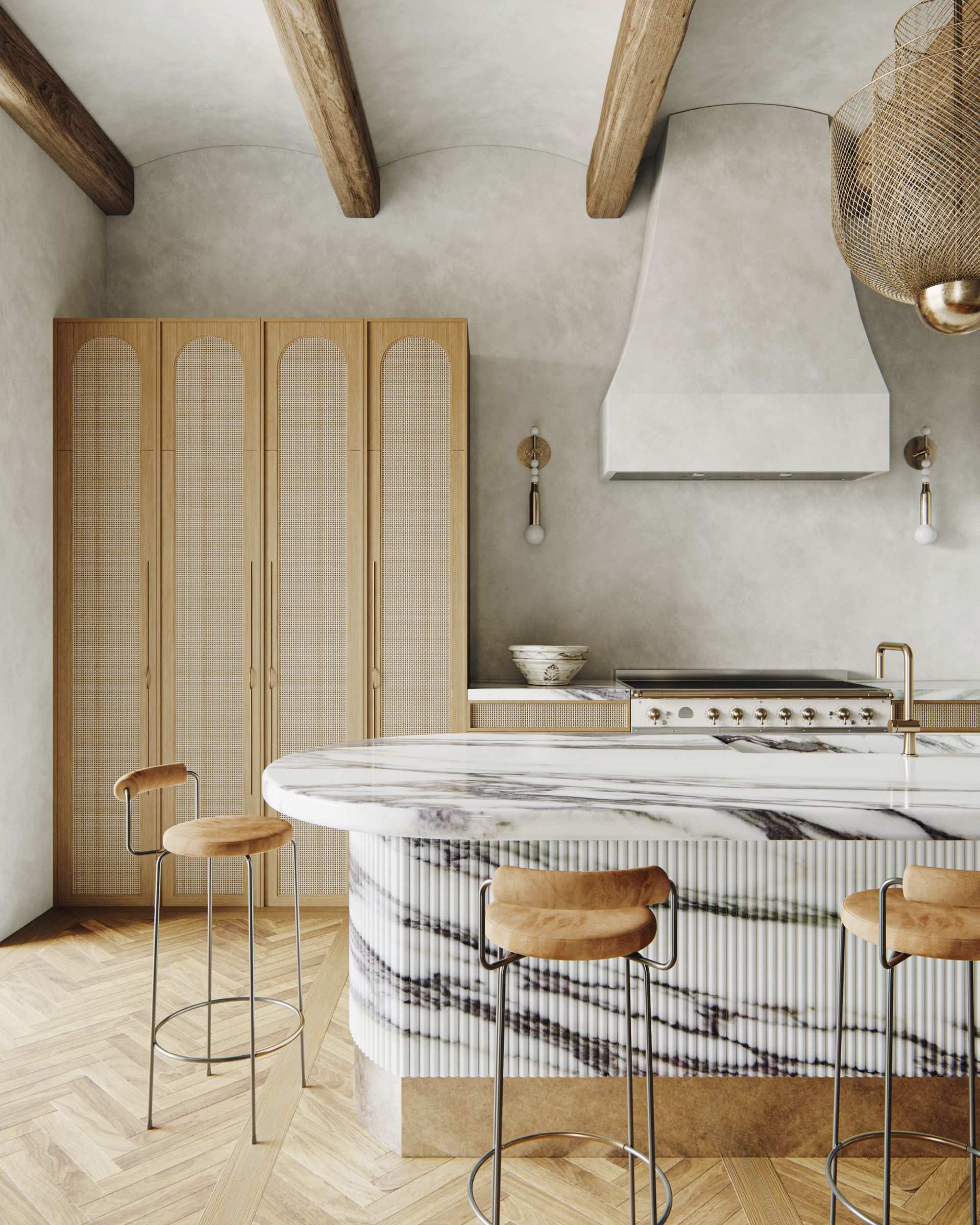 There's no doubt about it. One of the most elegant and refined materials on the market in kitchens is marble. This material has an inherent charm and luxuriousness to it, and huge range of variety.
'Natural stone has a wonderfully smooth appearance, ensuring a scheme doesn't look too busy, allowing the finished space to exude luxury without being overpowered by too much color or pattern, but instead subtle, sophisticated detailing,' says Hege Lundh, of Lundhs (opens in new tab).
For an even more modern idea for a marble kitchen, consider this textured, fluted marble created for this kitchen by interior designer Noa Santos of Nainoa. It's a showpiece in craftmanship that goes to show there are plenty of options to be explored when designing with marble.
2. Elevate industrial style with stainless steel
Traditionally industrial materials don't have to mean an industrial style, as the revival in stainless steel kitchens goes to show. A sleeker, more elevated style has emerged using this material usually found in professional kitchens.
Unexpected combinations with luxurious finishes helps to re-position stainless steel for the modern home. 'We had the entire kitchen handmade with a local metal worker who is an artist in himself,' interior designer Tamsin Johnson (opens in new tab) tells us. 'I love that brushed matte and industrial finish against the glamour of the dramatic Calacatta viola marble.'
3. Contrast modern and raw textures
Too often, "modern" is a shortcut for overly sleek designs, but in reality, that's not a reflection of much of the contemporary design world. A kitchen like this mixes the sleekness of slab doors and concrete floors with an earthy rawness that delights in its contrast.
'The tiles of the island are in terracotta, untreated. We were looking for a rough and irregular effect to contrast with the relatively smooth and contemporary look of the kitchen,' says Marie-Sarah Burckel of Oud Architecture (opens in new tab). 'The pattern carved into the tiles is reminiscent of Berber motifs, as an invitation to travel, in this apartment at the foot of the "desert" of the famous Dune du Pyla.'
4. Organic materials can create a warm ambience
When planning a kitchen from scratch, think about what kind of materials appeal to you. If you spend a lot of time in this space, or love to cook, you want to be enveloped in an environment that is welcoming and embracing.
'Incorporating organic textures and earthy tones into the kitchen is a wonderful way of creating a cozy and calming environment in the home,' says Mor Krisher, head of design at Caesarstone (opens in new tab). 'Bringing a touch of the outside in through raw materials and nature-inspired designs promises to instantly uplift a kitchen and connect us to our surroundings.'
'Choosing a countertop that incorporates these earthy tones and textures will instantly create a cozy environment that links you with the natural world,' says Mor. 'A neutral surface will also give you flexibility when choosing accessories if you're someone who likes to update your kitchen with the seasons.'
5. Go for a neutral palette for a seamless look
If you want your kitchen to look uniform, pleasing, and clean, then a great way to do that is with a neutral color used across the storage, island, and worktop. This is especially useful if you have a small, cramped kitchen.
'The desire to de-clutter our homes and create an aesthetic that helps us relax and unwind will remain an important factor in design for next year and beyond,' says Hege. 'When it comes to surface choice, homeowners and designers are opting for colorways and textures that blend seamlessly into kitchens.'
6. Try a modern take on the checkerboard floor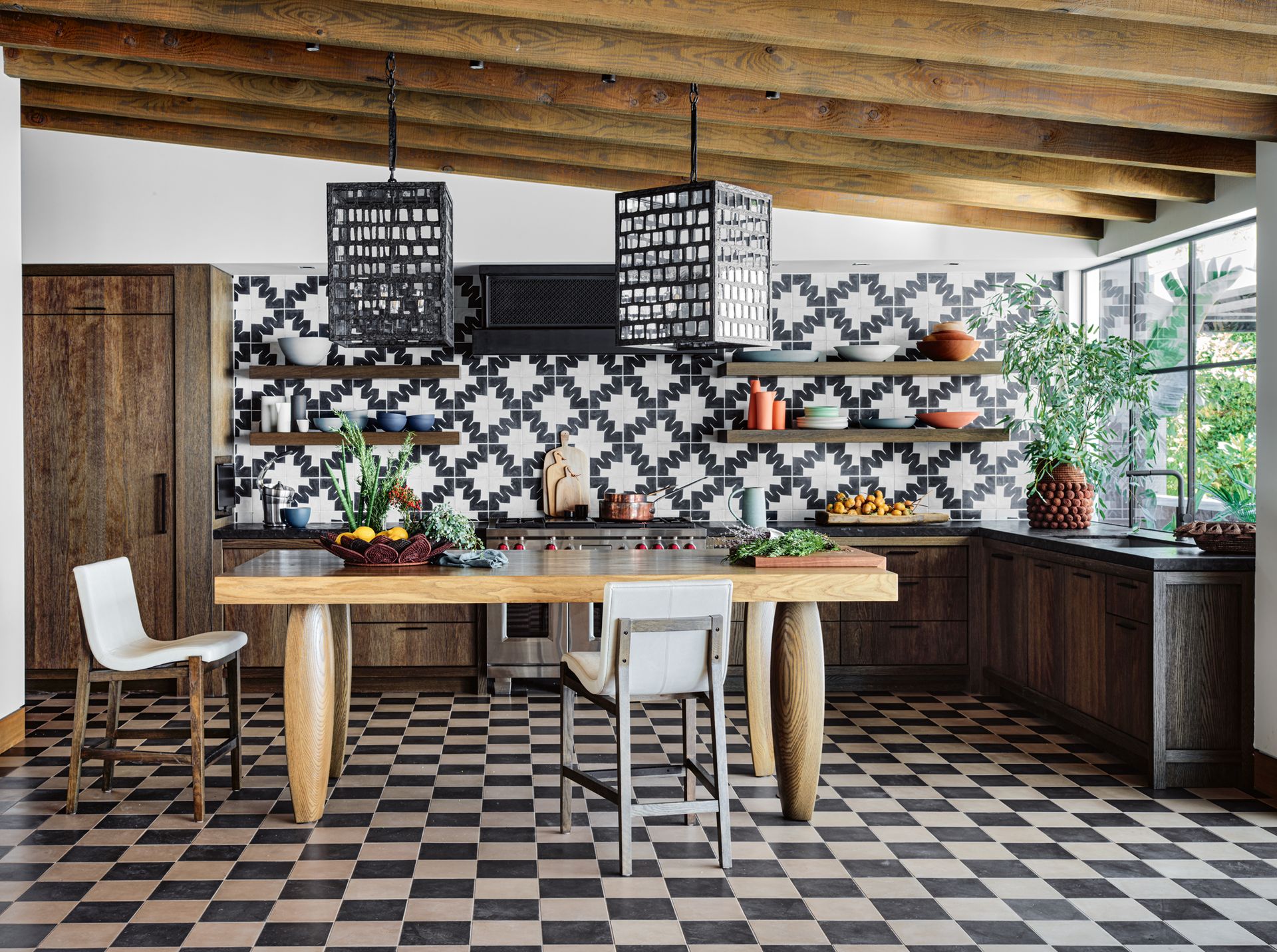 Checkerboard flooring might be more associated with traditional kitchens than modern ones, having incarnations in both period homes and mid-century styles. However, it's a kitchen trend that's returned with a vengeance this year in a slightly more rustic guise.
In this property designed by Lucas Interior, a beige and black color scheme gives this classic style a new twist, while the characterful timber cabinetry and clashing wall tiles breathe fresh life into the design.
'Using eclectic tiles in this home was a way to bring interesting patterns and colors into the palette,' says David Lucas, creative director at Lucas Interior (opens in new tab). 'We purposefully set up this type of opportunity throughout this home so that we could explore different patterns and color combinations in an organized and cohesive way.'
7. Or try this alternative to a concrete floor
Poured concrete floors are a popular look for a kitchen with a luxe yet industrial style. However, they're notoriously difficult to install, compared to alternatives like tiles. When it comes to your kitchen flooring ideas, if you love the poured concrete look, why not consider an alternative like these concrete floor tiles, which also introduce pattern into the mix.
'These concrete floor tiles were produced in the Bisazza factory – part of the Lunas Bilbao A collection,' says Jenya Lykasova, founder of JL STUDIO (opens in new tab). 'While Bisazza specializes in glass mosaics, they released this special concrete collection. Each drawing has its character and looks unique.'
8. Install oversized lights for an eye-catching kitchen
Kitchen pendant lighting ideas might be a finishing touch for your space, but they can certainly set the tone, and nowhere is this more apparent than in the kitchen design of this Californian home.
An oversized design will not only add interest to your home, but pendants in unique shapes or materials will enrich the design scheme of your interiors. Since the kitchen is the heart of the home, use this opportunity to showcase eye-catching elements.
'We wanted our clients to walk in through the front door and have something wow them,' says Raili Clasen, principal designer at RailiCA Design (opens in new tab). 'Our inspiration for the oversized pendants came from a much smaller light fixture that we asked Buzzell Studios to supercharge. The dark and moody palette of the kitchen begged for a dramatic, strong light installation.'

(opens in new tab)
LED Pendant Ceiling Light, Amazon (opens in new tab)
This pendant made in steel with polished chrome finish has a smart, unique look, and can make for a wonderful addition to a bedroom or kitchen. It comes with dimmable lights that can help set a mood.
9. Don't be afraid of color
Sometimes a complete remodel may not be on your mind, in which case, a fantastic paint job can do all the work for a stunning refresh. Use color to demarcate areas if you have an open plan. Experiment with kitchen cabinet color ideas to make your storage units look new. Consider palettes that are reflected around your home to create cohesion and a theme.
'In this traditional Madrid flat, a system of load-bearing walls run parallel to the facade,' say Gonzalo Pardo and Ana Torres, principal designers at Gon (opens in new tab). 'Enclosed within is a set of rooms of different sizes that are isolated and at the same time connected by a corridor. The home's most unique characteristic is the length of the house – nearly 70 feet of free and fluid domestic space. To design it we created marked different areas for cooking, sleeping, resting, working, and socializing through visual elements of color and lighting.'
10. Try color drenching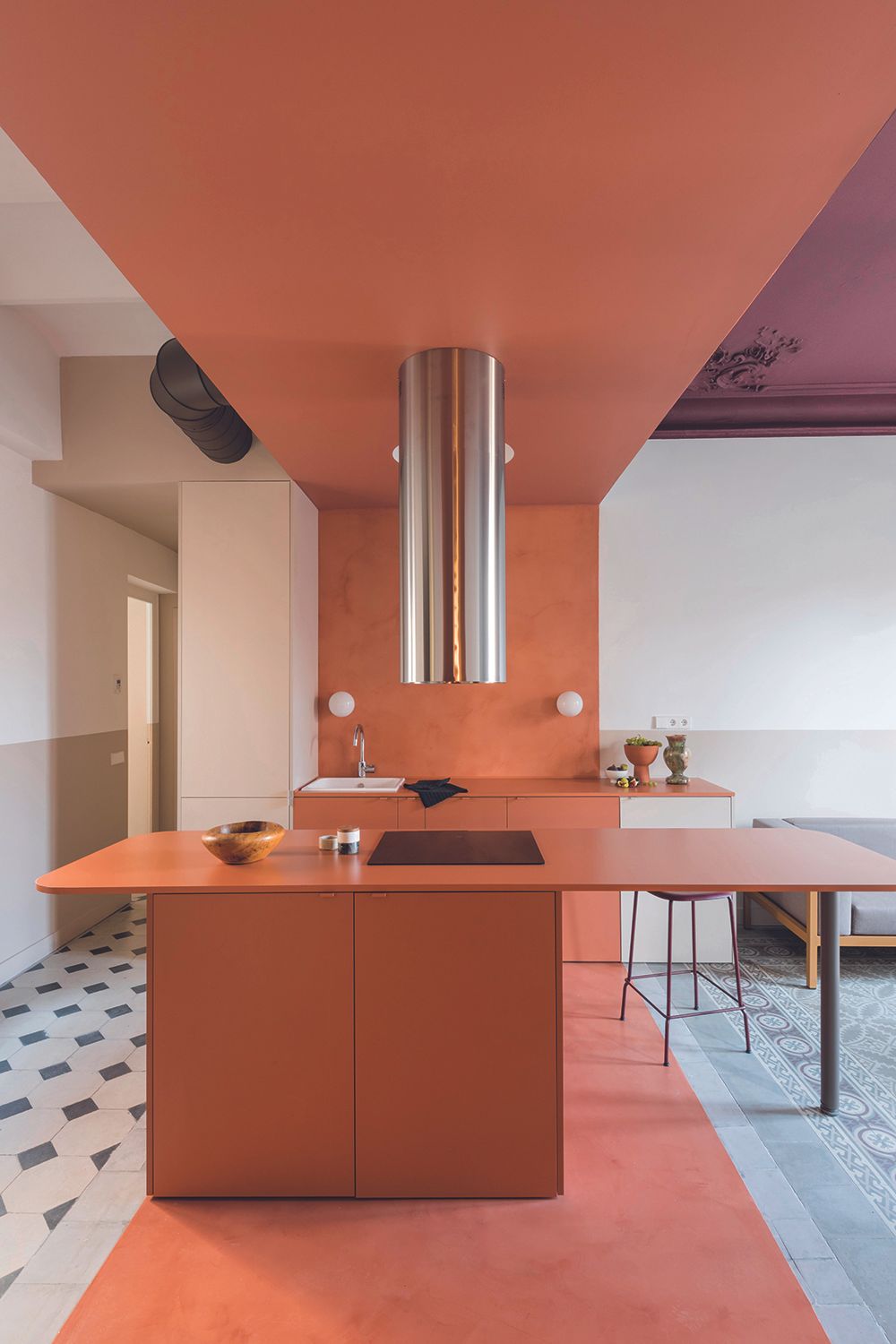 Committing to one hue in a space can have a glorious effect, and terracotta is an easy color to work with. Thanks to its connection to nature, it is just a small step away from a neutral. Terracotta i