Modern kitchen ideas – 23 of the most innovative ways interior designers create schemes in 2023
These modern kitchen ideas, from the trending colors and materials to layouts and features, will ensure the most important room in your home is ahead of the curve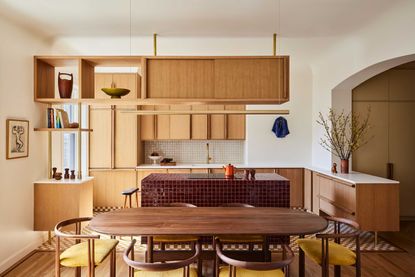 (Image credit: Nicole Franzen. Design: GRT Architects)
The Livingetc Newsletter
For style leaders and design lovers.
Thank you for signing up to LivingEtc. You will receive a verification email shortly.
There was a problem. Please refresh the page and try again.
When it comes to the modern kitchen ideas that are popular today, there's definitely a trend toward bolder, more exciting designs than there ever used to be. Where once the big concern was staying power, more and more people want the heart of their home to reflect their personality just as much as any other.
'Bright-toned kitchens are a big thing at present,' says New York Brownstone interior designer, Jarret Yoshida. 'Gold, brass, copper, or even lacquered colors are ruling the roost – it's not more than just stainless steel and white. Interesting new materials and finishes in cabinet doors are also becoming quite popular that make a kitchen feel less monolithically monotonous.'
Take a look at our favorite modern kitchen ideas right now – while some offer inspiration, others are packed with actionable ideas on paint colors, furniture, storage, lighting and materials and.
1. Use glass-fronted storage
Muted tones, cabinets with fluted glass, a pantry, uncluttered counter spaces, and the use of natural materials, in this kitchen, these elements all contribute to creating a look that is clean, sleek, and neat. The reeded glass fronts to the cabinets surrounding the range make the kitchen storage the star of this space.
'As we worked on the ideas for the kitchen, we wanted to keep the language modern, clean, and quiet,' says Jeffrey Dungan, founder of Jeffrey Dungan Architects. 'We took a lot of the storage and background pieces out of the main kitchen and tucked them around the corner in a butler's pantry, and with the rest of the kitchen we used steel and reeded glass along with bleached wood and marble to complete the serene scene.'
2. Paint the entire kitchen to give it a jewel-box feel
When it comes to kitchen color rules, the paint technique of color drenching will not only give the space a cozy, warm, and enveloping feel but also make the kitchen look like a jewel box. This is a big paint technique that has been popular in 2023, and will be seen in 2024 as well. A lovely way to give the heart of the home a design touch, as seen in this modern small kitchen.
'For this kitchen, we used Lulworth Blue No. 89 by Farrow & Ball, and chose a high gloss finish to give the room depth and a sense of wonderment,' says interior designer, Meredith Steinhar.
3. Include a coffee station next to the kitchen
A coffee bar next to or inside your kitchen contributes to modern kitchen ideas, and can go a long way in ensuring that this space is functional and also fun. These tiny yet significant nooks help create a socializing area, thereby redeeming a kitchen from its otherwise utilitarian look and feel.
'While designing a kitchen, functionality is the main thing to keep in mind,' says Lindye Galloway, founder of Lindye Galloway Studio + Shop. 'For a grab-and-go eating space, consider adding a small coffee station. If it's a more gathering space you wish, add a banquette. These spaces can lend themselves to being the main design features of the home. Be sure to tie in elements showcased throughout the home to ensure this space is cohesive.'
Instant Pot Dual Pod Plus
Brewing sizes: 8, 10, and 12 oz
Price: $199
Consider this coffee maker, ideal for making coffee and espresso. You can also brew coffee from your own grounds with included reusable pods.
4. Add warmth with a kitchen rug
The idea of having a kitchen rug may seem a little impractical to some but it isn't altogether impossible to have one. Amongst the big kitchen trends, is the usage of a rug in this usually utilitarian space. A kitchen is now a design-centric area and the use and need of a rug is essential here.
'A natural woven rug, specifically a jute-cotton blend, feels and looks great,' says Lindye Galloway, founder of Lindye Galloway Studio + Shop. 'With the combination of fabrics, it is durable yet comfortable.' A rug will give the kitchen a modern, more decorated appeal. Choose a microfibre rug if you want to ensure the rug is easily washable.
5. Add recessed lights to create a soft mood
Wall lights or bulbs are passe, especially as we inch towards 2014. The trend of recessed lighting has taken over, especially when it comes to kitchen cabinet lighting. Swap out old-style fixtures for sleep, LED strips and recessed spots. These create atmospheric ambience and give the space a modern, on-trend look.
'LED spots are a great solution as they are functional and minimalistic,' say Alexander Ivasiv and Yuliya Tkachenko, founder of ater.architects.' They dim well so that you can create a soft relaxing light. Or on the contrary, make the light as bright as possible. Also, these lights do not attract unnecessary attention by blending in with the ceiling.'
6. Add a pantry to keep the main kitchen clutter-free
A pantry is a much sought-after element in modern kitchen ideas. It's that very important, hidden room that hides all the mess and supplies, away from the main kitchen. If your home doesn't have a pantry, you could consider building one, as IKEA kitchen ideas are easy-to-construct and can be produced by anyone with their flat packs and just a few screws.
If you're unsure of what color would look best for the pantry, consider settling for a safe blue. This tone can create a feeling of tranquility. 'Being a cool color, it makes walls in a small pantry seem further apart and gives a sense of spaciousness,' says June De Lugas, founder of June Delugas Interiors, Inc. 'For the walls, I chose Dove Wing, and the cabinets are in Jamestown Blue, both from Benjamin Moore.'
7. Incorporate textured marble for the ultimate modern look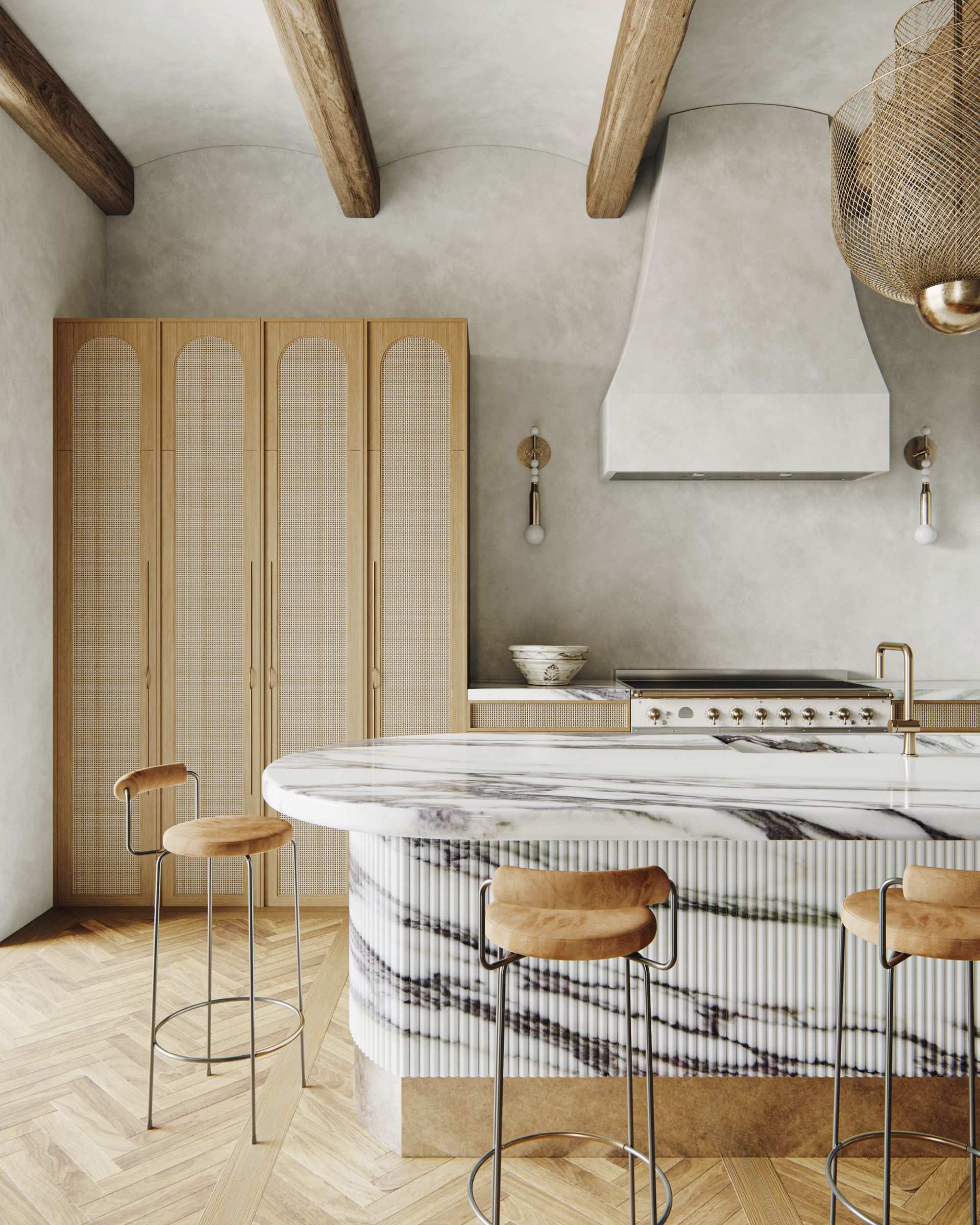 There's no doubt about it. One of the most elegant and refined materials on the market is marble. This material has an inherent charm and luxuriousness to it, and a huge range of variety. For a marble kitchen, consider this textured, fluted marble created for this kitchen by interior designer Noa Santos of Nainoa. It's a showpiece in craftmanship that goes to show there are plenty of options to be explored when designing with marble.
'Marble stands as an eternal material, and when paired with an added texture, it ascends to a new level of sophistication and modern charm,' says Kashi Shikunova, director at Yam Studios. 'The intricate textures breathe life into the space, creating a feeling of luxury with a touch of natural elegance, creating an environment that is both opulent and grounded in its beauty.'
8. Elevate industrial style with stainless steel
Traditionally industrial materials don't have to mean an industrial style, as the revival in stainless steel kitchens goes to show. A sleeker, more elevated style has emerged using this material usually found in professional kitchens.
Unexpected combinations with luxurious finishes help to re-position stainless steel for the modern home. 'We had the entire kitchen handmade with a local metal worker who is an artist in himself,' says interior designer Tamsin Johnson . 'I love that brushed matte and industrial finish against the glamour of the dramatic Calacatta viola marble.'
9. Contrast modern and raw textures
A transitional-style kitchen like this mixes the sleekness of slab doors and concrete floors with an earthy rawness that delights in its contrast. 'The tiles of the island are in terracotta, untreated,' says Marie-Sarah Burckel of Oud Architecture. 'We were looking for a rough and irregular effect to contrast with the relatively smooth and contemporary look of the kitchen. The pattern carved into the tiles is reminiscent of Berber motifs, as an invitation to travel, in this apartment at the foot of the 'desert' of the famous Dune du Pyla.'
'I like to contrast a muted modern palette with the expression of natural materials such as walnut floating shelves or warm stained wood cabinets,' says Gustave Carlson, founder of Gustave Carlson Design. 'You can also work a muted palette into a tile backsplash so that the room is not overwhelmed with color.'
10. Paint the kitchen white for a neat look
A white kitchen can look uniform, pleasing, and clean. 'A muted palette evokes a feeling of tranquillity and serenity and in turn works well in modern, contemporary spaces,' says Juliette Thomas, founder of Juliettes Interiors. 'As a kitchen can often include darker materials such as wood, by incorporating a muted color palette you will immediately add a modern and airy feeling to the space. Muted colors are a great option if you want your kitchen to be welcoming and ultimately relaxing.'
'I like to contrast a muted modern palette with the expression of natural materials such as walnut floating shelves or warm stained wood cabinets, or a Western Red Cedar paneled wall,' says Gustave Carlson, founder of Gustave Carlson Design. 'You can also work a muted palette into a tile backsplash so that the room is not overwhelmed with color.'
Type: Water-based
Price: $70 for 3 liters
Choose this white paint with yellow undertones to add a touch of warmth to your kitchen without making it feel too cold and sterile.
11. Try a modern take on the checkerboard floor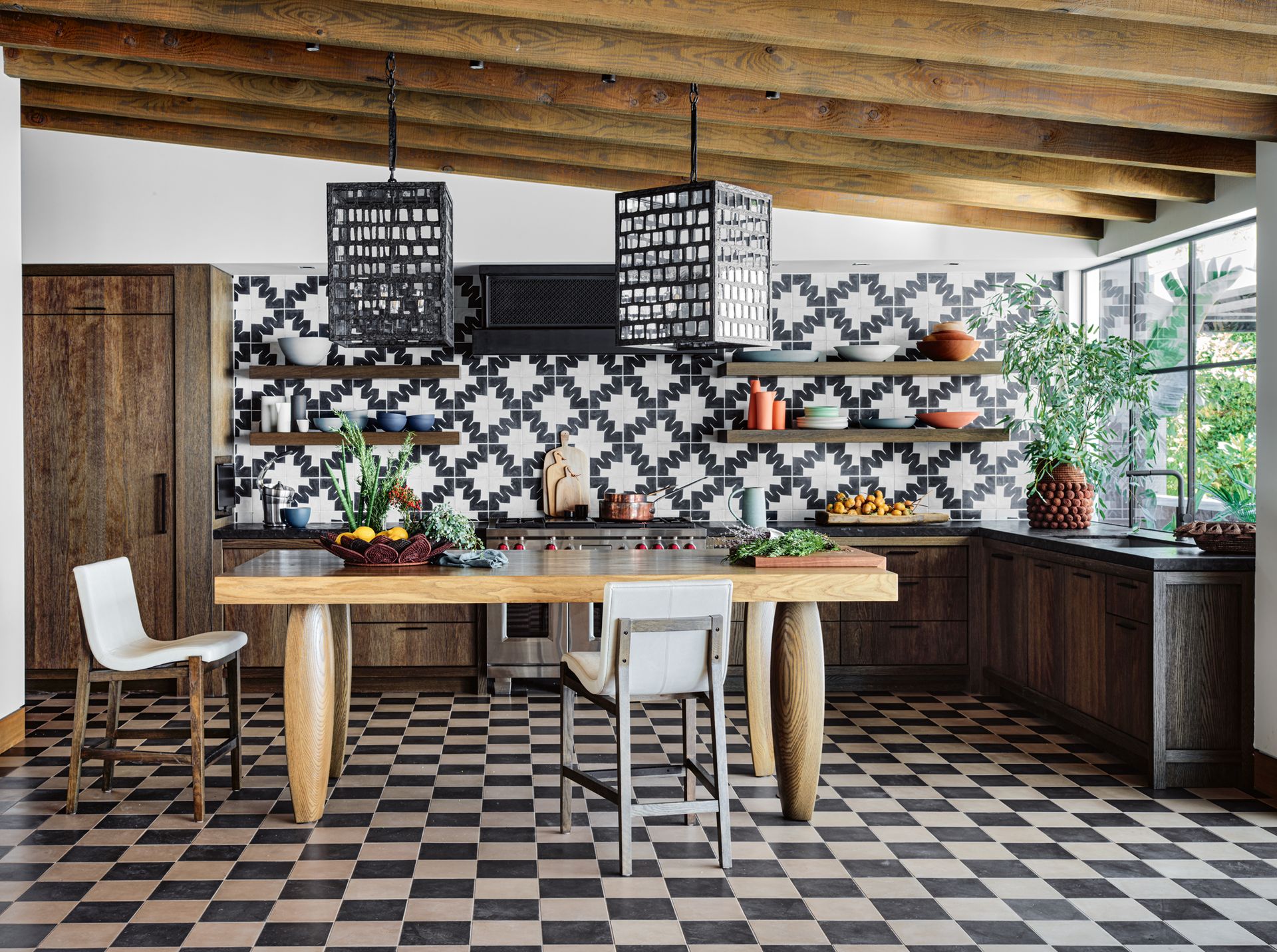 Checkerboard flooring might be more associated with traditional spaces but having incarnations in both period homes and mid-century styles, these can still fit into modern kitchen ideas. This kitchen trend has returned with a vengeance this year, and will be seen in 2014 too, in a slightly more rustic guise.
'Using eclectic tiles in this home was a way to bring interesting patterns and colors into the palette,' says David Lucas, creative director at Lucas Interior. 'We purposefully set up this type of opportunity throughout this home so that we could explore different patterns and color combinations in an organized and cohesive way.'
12. Or try this alternative to a concrete floor
Poured concrete floors are popular with a luxe yet industrial style. However, they're notoriously difficult to install, compared to alternatives like tiles. When it comes to your kitchen flooring ideas, if you love the poured concrete look, why not consider an alternative like these concrete floor tiles, which also introduce patterns into the mix?
'These concrete floor tiles were produced in the Bisazza factory – part of the Lunas Bilbao A collection,' says Jenya Lykasova, founder of JL STUDIO. 'While Bisazza specializes in glass mosaics, they released this special concrete collection. Each drawing has its character and looks unique.'
13. Include oversized lights in your modern kitchen ideas
Kitchen pendant lighting ideas might be a finishing touch for your space, but they can certainly set the tone, and nowhere is this more apparent than in the kitchen design of this Californian home.
'We wanted our clients to walk in through the front door and have something wow them,' says Raili Clasen, principal designer at RailiCA Design. 'Our inspiration for the oversized pendants came from a much smaller light fixture that we asked Buzzell Studios to supercharge. The dark and moody palette of the kitchen begged for a dramatic, strong light installation.'
Concrete Shell LED Pendant Ceiling Light
Material: Concrete
Price: $254
This pendant made in steel with polished chrome finish has a smart, unique look, and can make for a wonderful addition to a bedroom or kitchen. It comes with dimmable lights that can help set a mood.
14. For a bold look, paint the kitchen a deep tone
Sometimes a complete remodel may not be on your mind, in which case, a fantastic paint job can do all the work for a stunning refresh. Use color to demarcate areas if you have an open plan. Experiment with kitchen cabinet color ideas to make your storage units look new. Consider palettes that are reflected around your home to create cohesion and a theme.
'In this traditional Madrid flat, a system of load-bearing walls run parallel to the facade,' say Gonzalo Pardo and Ana Torres, principal designers at Gon. 'Enclosed within is a set of rooms of different sizes that are isolated and at the same time connected by a corridor. The home's most unique characteristic is the length of the house – nearly 70 feet of free and fluid domestic space. To design it we created marked different areas for cooking, sleeping, resting, working, and socializing through visual elements of color and lighting.'
15. Paint the countertop and walls the same color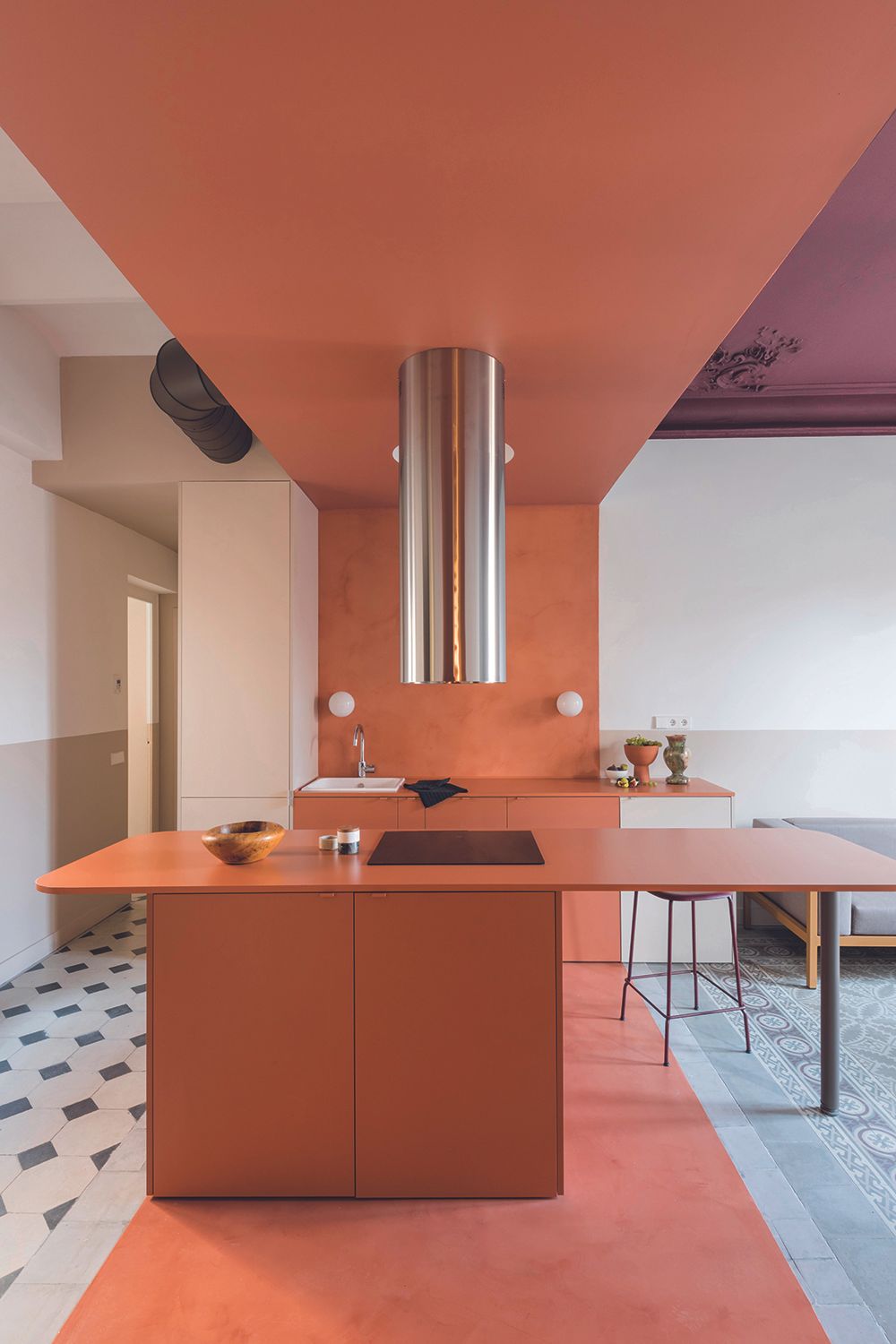 'Terracotta is a key trend as we continue to look to our homes for comfort and sanctuary,' says the designer Kelly Wearstler. 'The shade is not only versatile but is inherently warming and effortlessly complements handcrafted objects made from natural materials, such as rattan, seagrass, and linen. I love using terracotta in the home. It's an easy-going color characterized by softness, like morning sunlight.'
A hugely versatile color to add to modern kitchen ideas, terracotta combined with complementary shades, such as dusky pink or cerulean blue, creates a tonal look with a backdrop of muted white and cream tones. 'Introduce the shade subtly through tiled flooring or worktops, or create a full monochromatic terracotta look with rich materials, such as marble, terrazzo flooring, and tiles in the same hue,' Kelly says. 'When it comes to terracotta, integrating local stones can create an emotive link between the home and its surroundings – designs that play upon the raw, natural beauty of an environment is the most beautiful.'
This light terracotta reminiscent of the soil beneath our feet creates a warm, earthy feel indoors. Often best used in smaller spaces.
16. Blend wood and metal for a warm feel
This modern kitchen is built using light oil-treated oak timber and stainless steel with a Pietra di Fossena marble countertop, and the stunning finger-jointed timber drawers shine a spotlight on the craftsmanship. It's the contrast that stops this from seeming either too rustic or too much like industrial interior design.
'I think a room that is too 'matchy matchy' can look bland and forgettable,' says Juliette. 'Kitchens are a great place to experiment with texture and by blending wood and metal you can create something that is both eye-catching and sleek. I'd suggest choosing one as your main focus and using the other material in accents, but both are extremely versatile materials and will complement one another perfectly.'
'Choose metal brackets that can support floating wood shelves; metal hardware or a decorative metal light fixture can add texture and warmth,'says Gustave. 'Wood hardware for drawers with a metal escutcheon can provide a tactile experience.'
17. Celebrate robust materials with wood and stone
This kitchen embraces a palette of hardy materials, such as wood and concrete used for the kitchen island ideas. Select these materials for their honesty and robustness, as they are durable and suitable for real family life. The good thing is that they do not need to be replaced for years, sometimes even generations, and yet always look timeless and smart modern kitchen ideas.
'Marble stands as an eternal material, and when paired with an added texture, it ascends to a new level of sophistication and modern charm,' says Kashi. 'The intricate textures breathe life into the space, creating a feeling of luxury with a touch of natural elegance, creating an environment that is both opulent and grounded in its beauty.'
18. Go for a black & white kitchen
Black, white, and shades of grey kitchen ideas form a classic and sophisticated color palette that works beautifully to create a modern kitchen idea that will stand the test of time.
'The use of a palette of different black textures and materials in this kitchen achieves a masterful lightness in the space,' says Gary Moor, designer at DesignSpace London. 'The inset wet zone, clad in white Statuario marble and Glacier White Corian, draws the eye as if it were a work of art.'
19. Embrace a patina look on your lights and tiles
Give your kitchen a touch of vintage charm with quirky design details – like the patterned tile splashback and mismatched brass pendant kitchen lighting ideas in this eclectic space.
'Organically, patina happens with use, save for carefully introduced faux finishes,' says Jarret. 'I always tell clients that life isn't perfect so don't expect that from your kitchen. Patina is a sign of your use and time, perfectly imperfect.'
20. Extend the kitchen counter as a modern dining
The kitchen is the heart of this small Melbourne home by Kirsten Johnstone Architecture – and clever design details help make the most of the space – utilizing some of the best small kitchen ideas.
'It's quite a small house and the small kitchen is interconnected to all spaces,' says Kirsten.'The dining 'table' is an extension of the kitchen island bench, and a wall of built-in cupboards with two depths maximizes storage.' The backsplash is formed from a horizontal window that lets plenty of natural light into the small space.
21. Add eco-friendly materials in your modern kitchen ideas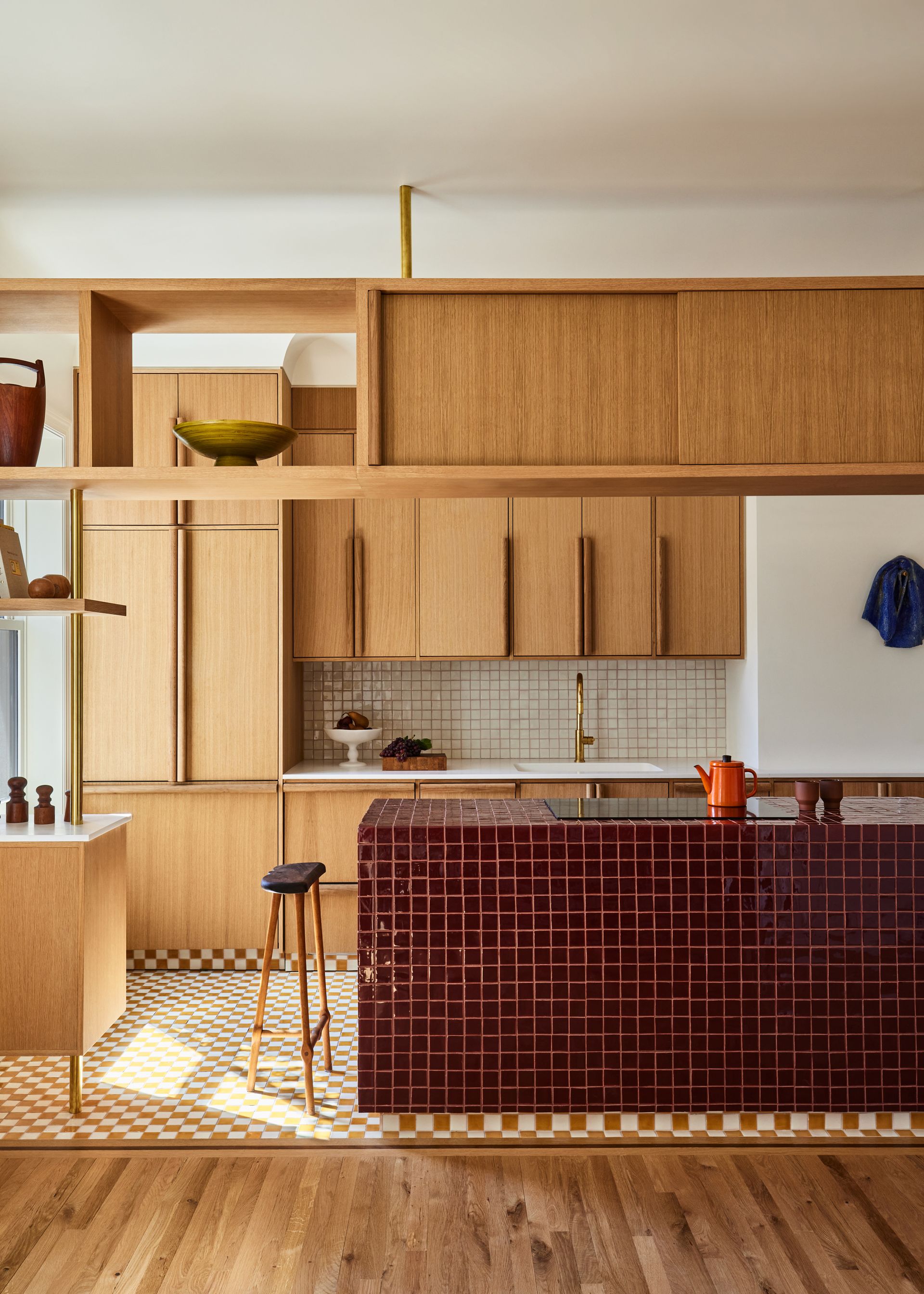 Sustainable living should be one of the most important considerations when it comes to any building project these days – and there are plenty of suppliers creating quality, on-trend finishes that are also kind to the environment.
'There are many materials and products that aid in sustainability and can be used in kitchens,' says Jane Lockhart, founder of Jane Lockhart Design. 'Materials such as porcelain countertops and flooring are highly durable, so chips or damage are an extremely low probability, meaning less chance of removal and longer lasting products. Wood cabinets and flooring can be made with sustainably sourced wood and can be purchased from local suppliers (as close as possible to the location of production) to reduce travel impact on the environment. And, many cabinets today are made with low VOC glues, so they don't contribute to air pollution.'
22. Consider a brass backsplash
Beautiful brass details stand out against a stark backdrop of black joinery in the rustic kitchen of this home in rural Victoria, Australia.
'Brass was chosen for the bench and splash-back as it will patina over time, telling a subtle story of human habitation and also linking the home back to the era of cabins and sheds, which was important in its design,' says architect Ben Shields. 'Along the southern wall, there is an almost invisible bank of seamless joinery that hides pantry, fridges, and storage, as well as an entry nook with drawers for clients to throw mobile phones, helping to disconnect after arrival from the city.'
23. Introduce a breakfast bar
The black marble and bronze-framed breakfast bar ideas at play in this modern kitchen contrast with the grey units and white marble worktop, creating a sculptural centerpiece at the heart of the kitchen. 'Incorporating a breakfast bar with the island has grown in popularity hand-in-hand with the trend for open-plan living,' says Richard Atkins, design director at DesignSpace London. 'It also provides an opportunity to include different materials and details into the design, creating a focal point in the kitchen.'
So, consider these ideas that can easily be applied to homes of any size. Oversized pendants, rugs, a pantry, wood and metal counters, eco-friendly paints, breakfast bars and recessed lights will all contribute to an on-trend kitchen.
Material: Powder-coated Steel
Price: $189
Choose these lightweight, faux leather stools for your counter space, and make tea or breakfast time easy and convenient in the kitchen.
How can I make my kitchen look modern?
Trending in modern kitchen ideas are soft tones of blue and mint green, wood paneling, curved edges, and textured white finishes.
According to the experts, the main trend is less to do with color and style and all to do with creating something unique. As technology evolves and people become more creative in finding new ways to make their space work most efficiently for them, the look and feel of modern kitchens will change.
What is a modern kitchen style?
In today's new homes and apartments, a modern kitchen usually refers to an open-concept place that features long countertops, wall lights, and cleverly designed storage solutions that help reduce clutter in the room. Usually, these spaces are painted in muted tones, and have porcelain or ceramic countertops.
What is the most popular kitchen style now?
The contemporary kitchen style of flat-panel doors, laminate cabinet materials, all-white or grey surfaces, and an L-shaped layout are what's trending in 2023, and will be big next year as well. In terms of hardware, matte black, bronze knobs, and marble or quartz countertops are the new 'it' elements.
For style leaders and design lovers.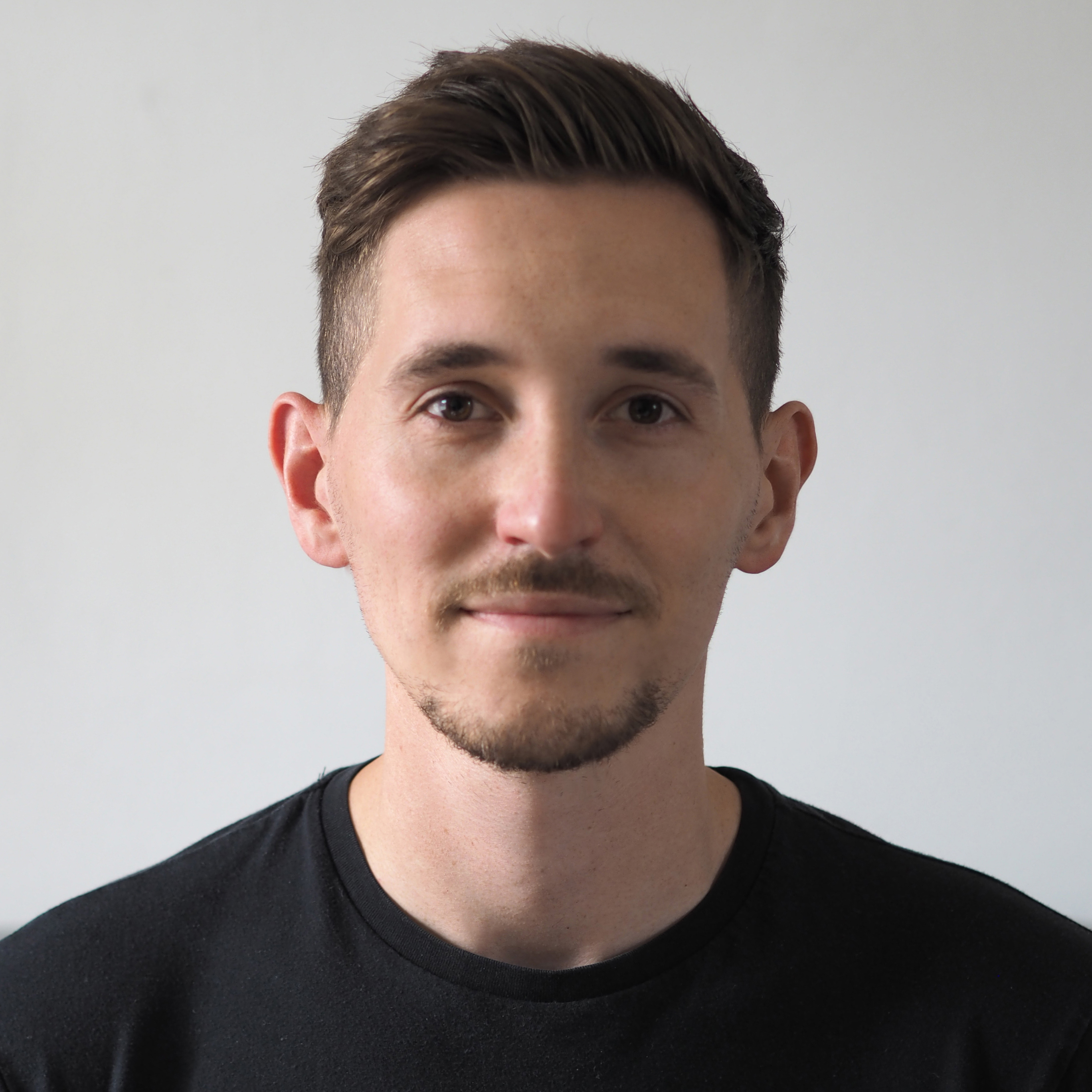 Hugh is the Deputy Editor of Livingetc.com. From working on a number of home, design and property publications and websites, including Grand Designs, ICON and specialist kitchen and bathroom magazines, Hugh has developed a passion for modern architecture, impactful interiors and green homes. Whether moonlighting as an interior decorator for private clients or renovating the Victorian terrace in Essex where he lives (DIYing as much of the work as possible), you'll find that Hugh has an overarching fondness for luxurious minimalism, abstract shapes and all things beige. He's just finished a kitchen and garden renovation, and has eyes set on a bathroom makeover for 2023.
With contributions from