Small kitchen ideas – 10 ways to organize and expand this tiny space
With these handy small kitchen ideas, you can transform even the tiniest cooking areas into the space of your dreams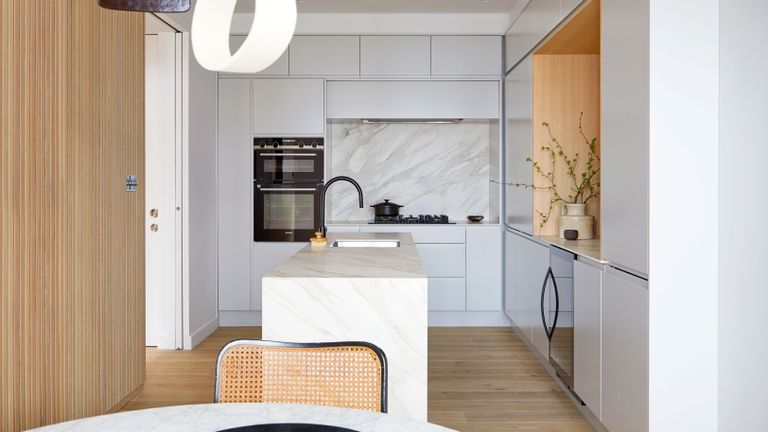 (Image credit: Anna Stathaki. Design: Finkernagel Ross)
When it comes to small kitchen ideas, you can still think big. While the kitchen is always the heart of the home, it can feel like the bane of your existence when you don't have enough space to move around and do your daily tasks with ease. It all comes down to clever design tricks and smooth organizational ideas.
From smart storage, and hidden units to colors and materials, there are plenty of kitchen ideas to experiment with in a small space. Some will help you make the most of the space, while some will just make your small kitchen feel like a larger, more inspiring place to be.
10 small kitchen ideas to maximize the sense of space
Getting the balance right is a good place to start when it comes to small kitchen ideas. Packing a lot of storage in a small space sounds good in theory, but might actually leave your space feeling even smaller.
'A compact kitchen must be designed to maximize storage and use space efficiently, but the cabinetry shouldn't make the room feel claustrophobic,' says Leila Touwen, co-founder at Pluck Kitchens.
1. Choose the right colors for your small kitchen
You'll be surprised at how much just mere color can do to make your small kitchen look bigger. Soft, neutral tones can create a feeling of lightness in the room, so the bulky drawers and cabinets look neat, clean, and visually light. It can also create the feeling of expanse.
'There is a plethora of smart ways to make your kitchen feel spacious. To keep an open feel choose light paint colors and reflective materials such as bright quartz or a mirrored splashback,' says Tom Howley, design director at the eponymous kitchen company.
Keeping the kitchen paint colors in mind, ensure all storage is painted the same hue as different colors can break the visual synchrony.
'A bright white kitchen is a classic, and, because light bounces off all surfaces, feels clean, bright, and spacious,' says Ming Thompson, principal architect at Atelier Cho Thompson. 'White paint and tile are easy choices, but if you want dark cabinets, light countertops like matte white quartz or Caesarstone Raw Concrete can create a bright area of central focus in the kitchen.'
2. Hide all appliances to keep the countertops free
Clutter can visually contract the size of a space, especially an open plan kitchen where the room has several more elements adding to the busy vibe. Countertop elements, microwaves, blenders, and crockery can almost make the kitchen suffocating to look at. This is the reason why everything must be hidden away.
'Space is at a premium inside small apartment kitchens, but an easy fix is keeping countertops free of appliances and storage,' says Ming. 'If possible, keep larger appliances like stand mixers in cabinets until needed.'
'For larger, more frequently used appliances like microwaves, you can take a cue from contemporary kitchen designs and try to place these within cabinets, even removing doors to make a simple appliance hutch,' says Ming.
3. Install an island in a small kitchen design
You might not think it's possible, but see how this small kitchen island idea works perfectly in a tiny space. Worksurface is usually in short supply in small kitchens, so this is a great solution, especially if you can add a seating area too - two problems, solved.
The key is to make it smaller than a standard island. Determine the space available, leaving enough space between the kitchen and island, 110mm is the minimum, and make an island to fit. This one has the hob in it so it's the ideal and preparation and cooking zone.
An overhang at the end and a recess means two stools can tuck underneath. The bi-fold doors and skylight give it a feeling of space too so it doesn't feel cramped. A kitchen or butcher's trolley on wheels is another alternative form of kitchen ideas, and one you can take with you if you move.
'You can have an island as narrow as a standard unit,' says Hayley Robson, creative director of interior design studio Day True. 'Often people try to wrap a kitchen around the walls when actually there is plenty of space for an island. I would say it's good to have a flush-fitted induction hob that can act as extra work surface/prep space when not in use. An overhang at one end provides a seating area, but also makes the island not too solid or heavy, giving the illusion of more space.'
4. Ensure multiple storage options in your tiny kitchen
You need to be brutal with clutter in a small kitchen and don't buy more than you need in terms of cookware and gadgets, which take up a lot of space, especially on the worktop.
Drawers are essential and offer multiple storage options, especially deep drawers with cutlery or utensil inserts in the top part. Tall, thin larder units can fit into the gaps between units and are great for storing food and spices.
5. Utilize the entire height of the kitchen
To create small kitchen storage ideas, don't only look to the walls and the floor – look up, towards the entire length and breadth of the room. After all, in skinny spaces, every single inch counts.
Bring in a standard 12- to 16-inch cabinets above the counter so you have enough breathing room at your elbow height. Choose deep cabinets to stash large items or seasonal pieces.
'Utilize every inch of space from the full height and awkward nooks. Take the storage up; it will benefit your kitchen by ensuring more storage,' says Ming.
Consider installing a multipurpose unit in your floor-to-wall storage. Add a pull-out chopping station, complete with a chopping-block top in it. You could add a fresh set of drawers so you have everything you need tucked away.
6. Trick the eyes with patterned splashback
Pattern used for a kitchen splashback idea can make a smaller scale space appear bigger. That's because big designs distract the eye away from the small square footage and onto the pretty patterns.
'For small kitchens, I recommend patterned tiles with no more than two colors, one being neutral to not overwhelm the space,' says Damla Turgut, founder of Otto Tiles. 'A single tile that encompasses a whole pattern such as a grid, pyramid, or herringbone design, rather than a tile which needs 4-6 tiles to make up a design, is ideal for a small kitchen making the space appear visually larger, by tricking the eye.'
7. Use one tone throughout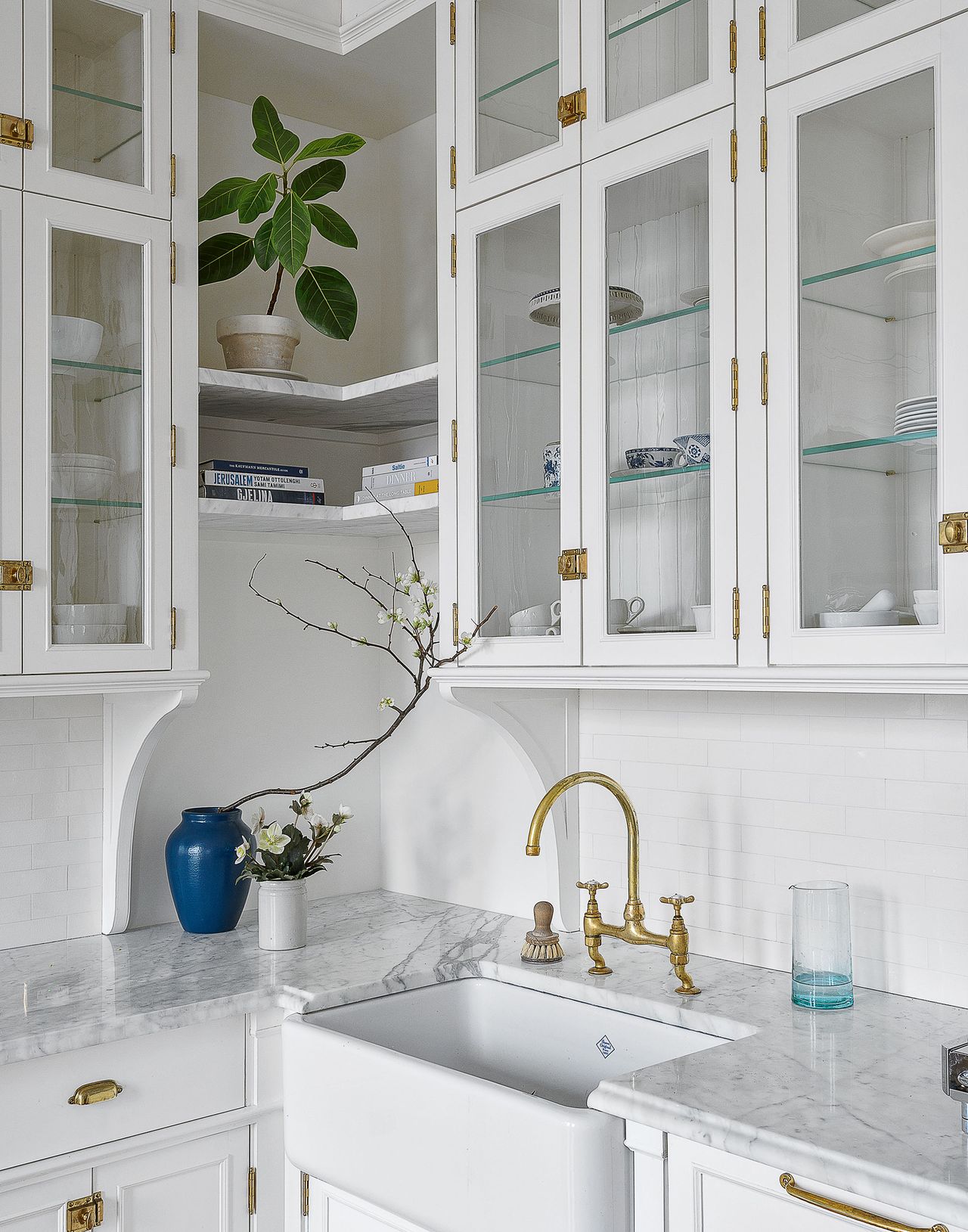 Ideally in a small modern kitchen, the lesser visual obstructions, the better. By blurring lines and keeping the same color tone between worktops, surfaces, and cabinets, you can create the illusion of extended space.
'Light and muted worktops work brilliantly in smaller kitchens as they naturally reflect light into the room,' says Julia Trendell, interior designer at Benchmarx Kitchen and Joinery.
'Blurring the lines of where the worktop ends and the wall starts is another great trick for making a kitchen feel larger. Continue a granite or quartz worktop up the wall as a splashback or upstand to give the illusion of more space with minimum hassle,' sats Julia.
A great tip to keep in mind is that the upper cabinets should start at the height of your hood as compared to cabinets at one height and the hood at another. This will create a tidier look with clean lines. Ensure your cabinets start about 20 inches above the counter, although you could start them a little higher (24 to 30 inches) to feel a lot less boxed in as you work at the counter below.
8. Make a statement with the floor
Statement patterned kitchen floor tile ideas make you want to look down, rather than above and around, coaxing you away from the room's small square footage. These can also add instant personality to the space.
Pair monochromatic cabinet finishes with patterned ceramic tiles or rich textural stone so the floor becomes the star feature of the small kitchen.
If your kitchen is narrow, chevron or horizontal stripes on the floor will create a feeling of expanse, width-wise. If you want to give your kitchen depth, you could opt for chequered tiles.
9. Go handleless for clean-lined cabinets
Small kitchens can quickly look cluttered, so keep detailing to a minimum and avoid the shaker style. Handleless cabinets create a contemporary, clean-lined effect that doesn't confuse or overwhelm the eye.
There's a wide range of finishes to choose from, including the modern glossy white of these units, chosen by interior designer Gillian Segal for a sleek new apartment in Vancouver.
If you need handles, choose integrated grooves instead of attached hardware to give the kitchen a modern look and save a precious few inches of room. This will also encourage you to not hang your kitchen towels or bump your knees on knobs or pulls while moving around.
10. Light up dark corners for a bright small kitchen design
When it comes to small kitchen lighting ideas, Rohan Blacker, designer and founder, Pooky, suggests installing downlights or LED strip lighting in the recesses of your cabinets.
'They're great at highlighting darker corners and will open up your space,' he says. 'Use lighting to highlight certain features in your kitchen that may be hidden in the shadows of overhanging cabinets, be it your new red toaster or a statement tiled splashback.'
11. Choose the right layout for a small kitchen
Small kitchen layouts are aplenty, from U-shaped, L-shaped, galley to open plans. Ideally, a U-shaped kitchen has great ergonomics, as it's the right distance between the three main points of the space – the fridge, sink, and stove – and makes for the best kitchen work triangle. It makes it easier to walk between these points during meal prep and reduces cooking time.
Most kitchens benefit from an island but if you don't have space for one, even a cart on wheels or a pull-out counter can help to a great extent. If you wish to have a breakfast counter in your small kitchen, choose seats that tuck under the countertop, thereby saving precious floor room.
12. Organize a small kitchen carefully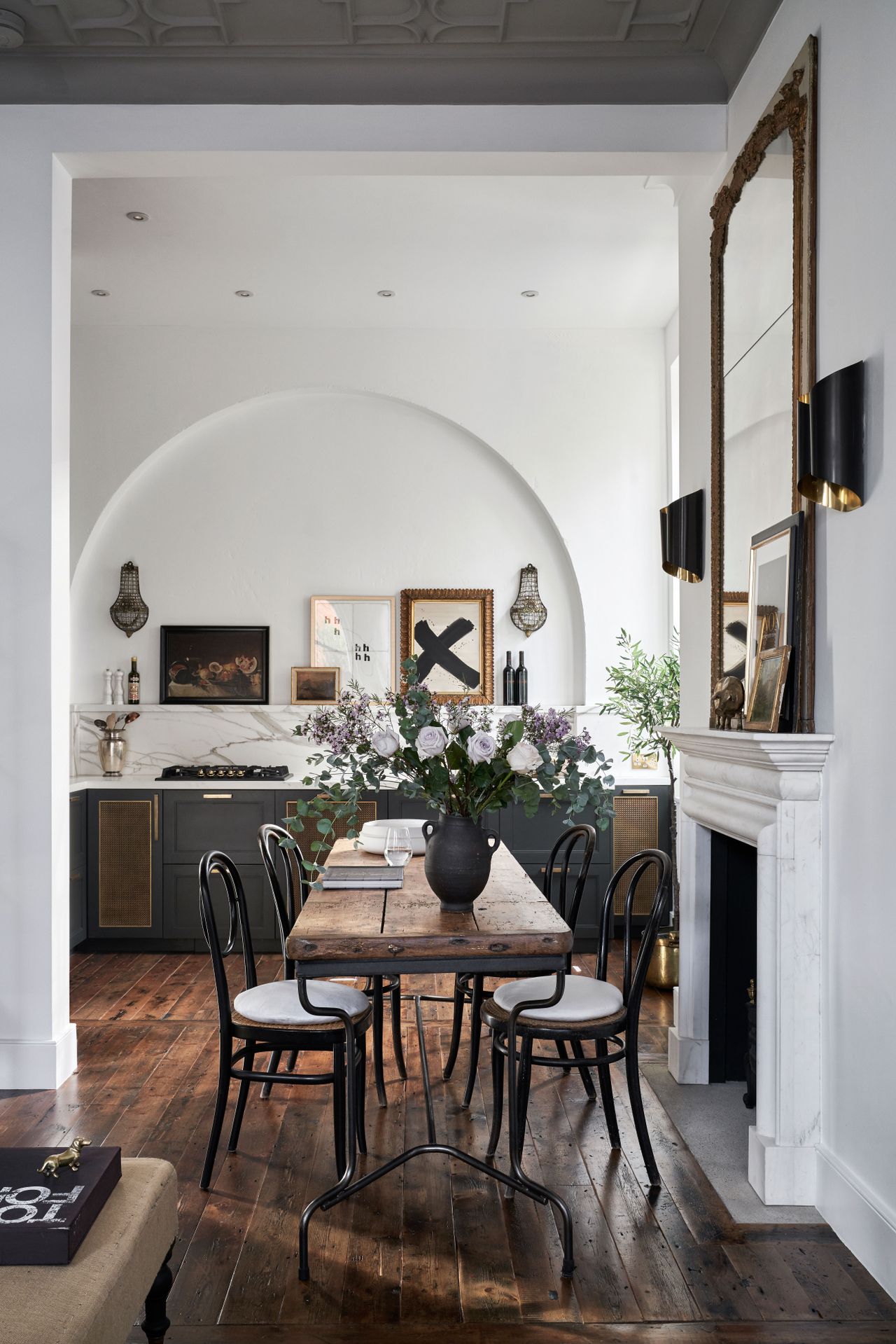 Cabinet organizers can be extremely useful to store knives and forks and ensure these small items don't clutter the kitchen. Consider breaking up your drawers into compartments so you can store more things effectively and learn the basics of how to organize a kitchen.
Most importantly, if your kitchen is mini, consider a good edit of your paraphernalia. Think hard: do you really need more than a handful of plates, mugs, or glasses if there are just two members in the house? Owning lesser things can be immensely freeing, and will significantly make your life easier and smoother.
How can I make the most of my small kitchen?
While thinking of small kitchens, whether it's an apartment kitchen or narrow gallery spaces, there are a few that could work very well.
A great way to maximize space in your tiny kitchen and to make it look organized is to choose a clean, neutral color scheme that makes everything look neat. Choosing similar tones for countertops and cabinets can blur the lines between spaces, giving the kitchen a seamless look.
Choose handless cabinets, hide all appliances inside storage units, and keep all cutlery inside drawers. If you have a little more floor space, consider adding an island that will increase storage and countertop space. If you have a skinny kitchen, bring in carts that can be wheeled in and out of the room.
Use the entire height of the room to increase storage. Ensure all your cabinets are well-lit so that no area or corner of the room is dipped in darkness. You'll be surprised how much you can open up the small kitchen just with effective lighting.
Finally, use large patterns in unexpected spaces to give the illusion of expanded space. Hang a mirror on one of the walls for more space-boosting tricks.
How should pots and pans be stored in a small kitchen?
Pots and pans make up the majority of kitchen accessories and storing these efficiently are of utmost importance. These can at times be challenging to store because of their size and bulk.
If you don't mind your cookware being on display, use the magic of wall hooks or pegboards to hang them for a tidy countertop. You can even add these hooks behind doors, if not the walls, so the pans are somewhat out of sight. You could choose a smart pot rack and suspend it over an island or peninsula. Make sure it is mounted high enough that it doesn't come in your way, nor is it in your line of sight.
Another neat way to store your pots and pans is by installing a shelf right above the range. You will want to keep your daily use vessels here so they are easy to reach and re-rack.
A pull-out rack inside a deep drawer is effective if you don't want your cookware to be visible. You can add an easy Susan or even hooks to keep the pots.
Alison Davidson is well-respected British interiors journalist, who has been the Homes Editor of Woman and Home magazine, and the Interiors Editor for House Beautiful. She regularly contributes to Livingetc, and many other titles, and often writes about kitchens, extensions, and decor ideas. She is the go-to for information about green energy, sustainable home improvement and eco design ideas.