Small kitchen paint colors – how to make a bijou kitchen really sing
From clean-lined and minimalist to cozy and atmospheric, these small kitchen paint colors are perfect for a petite space...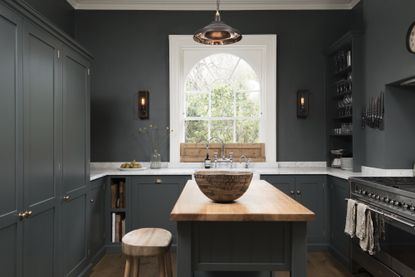 (Image credit: deVOL)
Just because your kitchen might be small on space doesn't mean it can't be big on style. Small kitchen paint colors that are bold or pared-back can both elevate a space in different ways.
Helen Parker, Creative Director of deVOL Kitchens says: 'I think color is a completely personal choice and a decision that should be primarily based around the atmosphere you want to create, rather than trying to make a small room look big. However small a room is, if you want moody and atmospheric then go dark or bold or busy, if you want it to look clean and minimal then go for light pale colors.'
A number of experts suggest the best small kitchen ideas just keen the color scheme relatively pared back. Farrow & Ball Brand Ambassador Patrick O'Donnell says: 'Keep color schemes simple in a small kitchen avoiding more than three colors in one space (think cabinetry, walls, and woodwork). Any more than that can feel distracting in a room that usually has lots of adornment with utensils and crockery already on show.'
And Xander Shreenan, interior designer at Dowsing & Reynolds, comments: 'I'd recommend going bold with your color choices but limit the number of finishes and textures you have in the space. As long as the room is cohesive you can make a real impact.'
Small kitchen color ideas to make a petite space cozy and stylish
Lighter colors will always make a space feel airy and bright but, if you're looking for intimate and cozy kitchen idea, darker hues are a great option.
Allison Lynch, Roundhouse Designer, says: 'Clients are now aspiring to take the plunge and go for beautiful dark colors, particularly the darker blues, dark greys and greens. They mix this with timeless, elegant natural stones and warm, rich timber flooring along with soft textures.'
Helen Parker, Creative Director of deVOL, says: 'There is a sense that big is better but, in actual fact, a small richly colored kitchen can be the most alluring of spaces, holding a certain charm and beauty that is hard to achieve in a large space. Small means intimate, it means cozy and glamorous and petite - these all conjure up something quite special and not a feature to be disappointed by.'
We've asked a host of experts to share their tips on small kitchen colors below for a beautiful bijou space...
1. Pared-back and pretty
Eco paints come in many colors, but lend themselves to this calming, airy feel. 'Opting for a pale neutral is the obvious way to keep the kitchen light, bright and feel more spacious,' says Adrian Bergman, Design Manager at British Standard by Plain English. 'Darker colors can add depth to a small room but it can be trickier to get this right.'
'Using the same color for the walls, ceiling and cabinets is a clever trick as it blurs the lines giving the illusion of more space. This technique works well whether you go dark or light.'
2. Pop a vibrant teal on kitchen cabinets
Kitchen cabinet colors are the perfect place to experiment with bolder shades and breathe life into a small space. Why not try adding a vibrant yet calming hue like teal to liven up the heart of the home?
Elizabeth Sherwin, Designer at Naked Kitchens, says: 'We love a punchy color in a small kitchen - picking a dramatic color can really change your perception of a space and can make the smallest of kitchens a fun and joyful place to be.'
3. Soft green is a sage idea
Our desire to create tranquil sanctuaries at home has seen an explosion in the popularity of sage green kitchen ideas, thanks to its calming effects and biophilic properties.
'With small kitchens, I think there is plenty of scope to play with color to keep the space fresh and dynamic,' says interior designer Brooke Copp-Barton, of @home_at_brookes. 'I prefer to keep ceilings light to give a sense of height, but usually I like color on the units to add warmth and personality.
'With this bijou kitchen, we painted the units a fresh mint green and added a brass splashback and red-orange accents to make it warm and inviting. By keeping the wall and floor units the same color, it helped to zone the kitchen area as one, as this space was also the main hallway through the flat.'
4. Go for a sky blue hue
If you're looking for a biophilic color that connects you to nature but want something more vibrant than earthy tones, blue kitchens are perfect.
Marianne Shillingford, creative director at Dulux, says: 'Paler shades of blue and green that capture the beauty of the sky and landscape make small spaces appear larger.'
Patrick O'Donnell, Farrow & Ball Brand Ambassador, adds: 'Use colors that are easy to live with as kitchens tend to be the most used room in the home. Look to schemes that have integrity and that you won't tire from - this doesn't mean bland, just restful.'
We love how extra visual interest is added in the kitchen above with a patterned curtain, and an accent chair in a shade picked out from the print that contrasts the blue but remains cohesive.
5. Dark and moody
'Dark kitchens are striking yet timeless and are especially good at giving presence to a small room,' says Farrow & Ball's Patrick O'Donnell. 'This is even more true if your cabinets are the lower units - this will provide 'structure' to your room. Think something elegant like our blackest blue Railings.'
He adds: 'To give the illusion of space, paint everything in one color, but in the appropriate finishes.'
Interior designer Brooke Copp-Barton also suggests going to the dark side, commenting: 'Dark colors can bring depth, but I would usually break up the color by adding contrasting accents to keep it fresh - ie. a lighter worktop or backsplash, and/or pops of color.
'Another trick which helps with a small space is to add materials that reflect light, such as ceramic tiles, gloss paint, metallic finishes and mirrors.'
6. Dark green should always be seen
Whether you just have it on your cabinets or on all your joinery and the walls, dark green is a soothing and sumptuous small kitchen color.
Naked Kitchens' Elizabeth Sherwin says: 'A dark color can add drama and can make a small kitchen feel very intimate and even glamorous.'
A deep green manages to combine that relaxing yet statement-making quality. Pair darker cabinets, like deVOL's Bakehouse Green, with a bold hue like Farrow & Ball's Arsenic (a pairing seen in the beautiful deVOL kitchen above), or keep the hue the same all over for a seamless, cozy look.
Raili Clasen, Interior Designer and Founder of Raili CA Design, says: 'I love using dark green paint in my kitchen projects and I think it stands the test of time. I particularly love Sherwin Williams' Ripe Olive.'
Farrow & Ball's Patrick O'Donnell agrees, adding: 'Classic color palettes for kitchens (small or large), such as dark greens, will always look smart, especially on your cabinets, such as our Green Smoke or Studio Green.'
Pair your Studio Green with a timber-clad wall like the stunning kitchen by Roundhouse above for a really inviting atmosphere.
7. Sunny side up
Don't be afraid to experiment with an upbeat, joyful color in your small kitchen. Ruth Mottershead, Creative Director Little Greene, says: 'The kitchen is often the hub of the family home – usually a place of activity, the heart of family life, whatever its size.'
'A kitchen, therefore, is an ideal place to make more adventurous and energetic color choices and certainly the space where you can really experiment with vibrant colors.'
8. No matter the shade, keep everything the same color
'As an interior designer, color will always be one of my essential tools in playing with a room's proportions,' says Linda Holmes, Interiors Director, LuxDeco. 'It's crucial to choose a color that you love, but to discover a selection of hues that will play to your room's strengths or help with its weaknesses.
'If you do want to use color to help your room feel larger, first look upwards and consider how to make it loftier. Painting your ceiling the same colour as the walls means there's no interruption in where the walls start and end. Blurring the lines doesn't draw attention to the ceiling (which defines the room's height), ergo making the ceiling appear higher.
'Painting all the elements in your room the same color can have a similar effect in making it appear more spacious and airy. Radiators, architraves and even furniture in some instances (think built-in kitchen cabinets or pantry storage) painted in the same color as your walls means everything melds into one. Again, it's about giving your eye fewer elements to read.'
9. A game of two halves
Create a vibrant two-tone color scheme by pinching this kitchen cabinet idea and adding one color to the lower cabinets and contrasting colors for walls and upper cabinets.
Ruth Mottershead, Creative Director Little Greene, suggests: 'You could combine neutral walls, perhaps painted in our Slaked Lime, with Hicks' Blue cabinets for a timeless color pairing.' The yellow splashback in this kitchen also adds an extra layer of warmth and color without being overbearing.
10. Pastel perfection
Baby blues and soft pinks are a lovely, tranquil choice for small kitchen colors and work to keep the space airy and light while still adding life and vibrancy.
The fresh aesthetic of pastel hues is ideal for a small space. Graeme Smith, Head of Retail and Commercial Design at Life Kitchens, says: 'Go for warm, earthy tones or pastels if you still want to incorporate color into a small kitchen, as a more subtle approach to color will bring interest into the space without making the kitchen feel enclosed.'
What colors are best for a small kitchen?
Choosing a color for a small kitchen should be a balance of personal preference and what works best in your space.
There are advantages to choosing both dark and light hues. 'Individual color choice is dependent on the overall feel that you are looking to achieve; bold and confident, or calm and coordinated?' says Ruth Mottershead. 'The kitchen is a great space to experiment with color, but if you're looking to create a feeling of space, opt for a warm neutral, versatile color such as Little Greene's Stock, Silent White or Slaked Lime.
'When choosing colors for a small kitchen, it's important to consider the colors that already exist within the space, be that furniture, flooring or appliances, these are all elements that should be included as colors within your palette.'
Over at Naked Kitchens, the experts like to see a splash of bold color. Elizabeth Sherwin says: 'We think your kitchen should reflect your style and personality and love a nice bold pop of color - reds, blues, greens, even pinks. Don't be nervous to add your stamp.'
However, she adds, if you like the minimal look, try pairing your lights with timber for extra warmth and character. She comments: 'Some clients prefer a more natural/minimalist feel, opting for shades of white combined with timber finishes like oak or birch ply - this combination can also create an impact and help to create a clean, uncluttered feel.'
Graeme Smith, Head of Retail and Commercial Design at Life Kitchens, adds: 'Generally speaking, due to the small expanse of space, a lighter shade is great for a small kitchen. However, a bold darker color or deep, rich hue will give the impression of a cozier environment. Lighter colors will draw in natural light - illuminating dark corners can make the space seem larger than it might be.'
Farrow & Ball's Patrick O'Donnell has already sung the praises of dark greens, such as Studio Green, and adds: 'Mid blues, like Oval Room Blue, will bring a timeless elegance. Earth shades from mid neutrals like Bone or Stony Ground to more dramatic darks like Pantalon will deliver a subtle warmth to a small space.'
And Magnus Nilsson, Lead Designer at Blakes London, adds: 'The color you paint your kitchen largely depends on the mood you're trying to create within the space. If you're blessed with lots of natural daylight then you can use color and finishes to make the space feel larger.
'Whites, creams and light colors with blue, aqua undertones reminiscent of the sea and skies will open up the space creating a cooler more spacious ambiance. Soft pinks are also having a real moment and work well with brass finishes in small spaces.
'If your space is compact, north-facing or doesn't benefit from much natural daylight then it might be best to embrace the bijou feel and design a scheme that plays to the vibe.
'Anthracite and black shades always look elegant and sophisticated but if you're looking to be a bit brave, deep teals and even dark purples with blue undertones can create exciting, expressive spaces.'
The Tollgard Design Group prove how sleek a dark small kitchen can look in the image above, which, they say, 'challenges the assumptions of smaller spaces and darker color palettes.
What colors make a small kitchen look bigger?
'To create a light and airy feeling use paler warm tones such as Silent White and Linen Wash, which will give a feeling of an expanse of white, but without feeling too cold or stark, resulting in a bright uplifting interior,' says Little Greene's Ruth Mottershead.
However, she adds, opting for a vibrant, contemporary, tonal scheme with complimentary green shades (try Harley Green and Tea with Florence) can also create an expansive and harmonious feel.
Elizabeth Sherwin says there are other small kitchen ideas you can employ to make a space look larger, adding: 'Choosing a smooth paint finish (rather than textured/grained) on the unit fronts can help to keep things simple. And handleless door styles ensure that there are no pesky protruding handles to bump hips on or catch your sleeves on whilst using the space.'
deVOL's Helen Parker adds: 'It is also a good idea to keep the colors and materials similar, so soft light woods and flooring and similar color walls and cupboards. This will have more of an impact than just painting your walls in a light color. It is also worth mentioning that a small kitchen filled with dramatic colors, textures and eclectic accessories can become big in personality, which can also visually give a sense of a large space.'
Can dark kitchen cabinets work in a small kitchen?
'Don't be afraid to go dark on your cabinetry, especially when paired with a good mid-neutral on the walls,' says Farrow & Ball's Patrick O'Donnell.
Indeed, not only are dark cabinets a huge kitchen trend, they also create a dynamic look in a small (or large) kitchen.
Megan Matharu, Marketing Coordinator at Visual Comfort Europe, says: 'Yes, there are all sorts of ways to balance dark cabinets in your small kitchen. Use light countertops and open shelving to make the space feel more expansive.
'Alternatively, use dark cabinets along the lower part of the kitchen and contrast these with lighter units or walls above. Your eye will be drawn upwards and you'll have the illusion of higher ceilings.'
We love how the light grey contrasts with the charcoal cabinets in this lovely grey kitchen idea, and how the tongue and groove cladding adds the effect of extra height.
Helen Parker, Creative Director of deVOL Kitchens, says: 'Dark cabinets are always used to create mood and drama so, small or big, you will achieve this look with dark cupboards.'
Graeme Smith, of Life Kitchens suggests that painting the rest of the room a white, neutral or muted pastel shade can help provide contrast to dark cabinets in a small kitchen. He says: 'These tones will help bring down the intensity of a dark color in a room and ensure a more understated impact. Look at using more natural materials for the floor like a timber – the visual and textural appeal here can help draw attention away from the bold color.'
Marianne Shillingford, creative director at Dulux, says lighting is important, commenting: 'Dark kitchen cabinets can work in a small kitchen if the lighting is good. Make sure you have lighting that is controllable and layered then consider having dark units on the base and then pale units or open shelving on the walls.'
And Dowsing & Reynold's Xander Shreenan adds: 'If you're opting to use dark cabinets in a small kitchen, think about the materials you use. Choose cabinets with a glass front or gloss lacquer finish to reflect light.
'Careful kitchen lighting will help a room appear bigger so consider layering lighting - combine wall lights, pendants and even spotlights to bring light into all areas of the space.'
The Livingetc newsletter is your shortcut to the now and the next in home design. Subscribe today to receive a stunning free 200-page book of the best homes from around the world.
Ruth Doherty is a lifestyle journalist based in London. An experienced freelance digital writer and editor, she is known for covering everything from travel and interiors to fashion and beauty. She regularly contributes to Livingetc, Ideal Home and Homes & Gardens, as well as titles like Prima and Red. Outside of work, her biggest loves are endless cups of tea, almond croissants, shopping for clothes she doesn't need, and booking holidays she does.