35 of the biggest kitchen trends for 2021
The kitchen trends for the decade ahead: from aesthetics to appliances...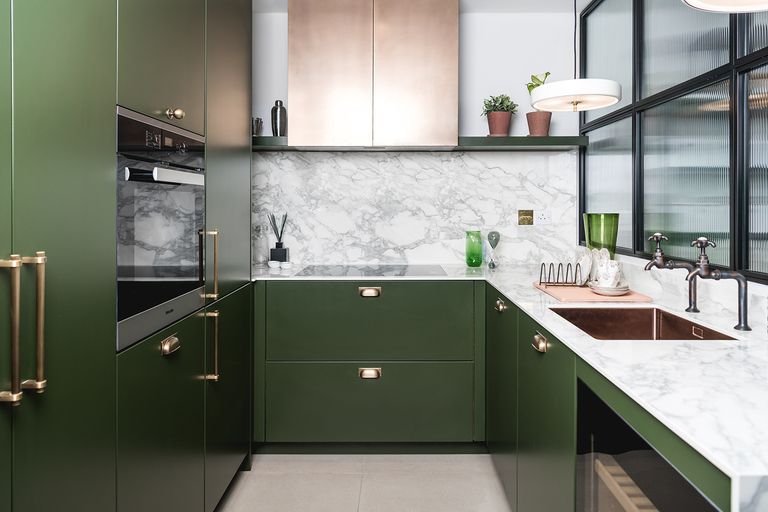 (Image credit: Day True)
What's hot in the world of kitchen trends? From exposed kitchen storage, smart extractors and patterned flooring to raw surfaces, cool colours and fluted glass, there's certainly no shortage of modern kitchen ideas for the decade ahead.
So, whether your current kitchen needs renovating or you simply want to refresh a tired scheme, take inspiration from the latest modern kitchen trends...
1. Green kitchens
Sage green kitchens have become one of the biggest kitchen trends over the past year. Whether it's paint, cabinetry or tiles, the hue is popping up everywhere. Instagram is awash with sage advice, including from cult designer Matilda Goad, who chose the green hue as the backdrop for her kitchen cupboards. 
We've also started seeing a lot of rich dark green kitchen cabinetry – like in this striking small kitchen transformation.
Rich green tones, marble surfaces and brass handles instantly updated a small kitchen.
2. Baby blue cabinetry
While we still appreciate the organic allure of verdant green cabinetry, we're also ready to welcome a soft new shade into our modern homes – a shade that is equally tranquil and perfect for the airy summer months – baby blue. This refreshing hue is set to take over our kitchen after Etsy named sky blue as its colour of the year for 2021, after noting a 39% increase in searches for light blue homeware.
'Opting for pale, pastel blue shades in the kitchen can help create a soothing and calming atmosphere in what is often the most hard-working and busiest room in the house,' shares Rebecca Hughes, Founder of Rebecca Hughes Interiors. 
'This versatile colour pairs well with marble, natural woods, and brass accessories to create a timeless and classic kitchen,' she adds. 
Rebecca's observations are further emphasized by the founder of the eponymously named kitchen manufacturers, Tom Howley, who equally celebrates this emerging shade. Tom, who frequently injects this hue throughout his signature kitchens, also recognizes how baby blue kitchens are 'highly-coveted and popular because they always look so fresh and clean.'
3. Farmhouse style
Farmhouse style is creeping its way into urban kitchens, with details like cut-out holes in pretty shapes (great for ventilation as well as good looks) and pantry-style cabinetry and kitchen storage.
Can't afford a brand new kitchen right now? Instagram has introduced us to a clever sticker hack. Armed with nothing but black sticker dots, a Bath-based interior expert created a country-inspired kitchen from her cream IKEA cupboard (pictured above). Alice Grace shared the finished product on Instagram, revealing how she used 'black stickers' to create 'pretty patterns' that evoke a modern country style. She drew influence from other Instagram designers' whom she later praised on her story while offering a step-by-step insight into her creative process. 
4. Biophilic design
We're constantly trying to find new ways to bring the outdoors in, and have noticed a surge in indoor trees – both real and artificial. Notonthehighstreet.com's co-founder Holly Tucker went all out with an enormous artificial tree at the centre of her kitchen in her impressive detached Victorian house in London.
The jaw-dropping faux olive tree seems to have taken root within the Corian-clad island. Meanwhile this Victorian terraced home in north London wraps around an enormous fig tree which snakes through the middle of the house up to the glass roof. The tree was there before the house and is staying firmly put.
Indoor trees aren't the only way that biophilic design is creeping into our kitchens – we're noticing more hanging plants, living walls and even moss walls too.
5. Wine storage on display
The pandemic has seen the temporary (or sometimes permanent) closure of a lot of bars, pubs and restaurants, so people have been updating their homes with cool wine rooms, home bars and even garden bars.
The chicest of all is the wine room – no longer confined to damp, dark basements, wine storage is being proudly displayed in (or next to) kitchens instead.
Framed by glass or Crittall doors, they offer a sneak peek at a stylishly displayed wine collection – like in this detached Edwardian home in Buckinghamshire.
Taking things up a notch, some of these wine rooms even incorporate a little tasting area, turning them into a home wine bar. Simply stunning.
6. Pantries and larders
Another way in which Covid-19 is shaping design trends is the rise of pantries and larders.
'With families cooking more together, I suspect kitchens as the heart of the home will become even more central" Elicyon's Charu Gandhi predicted a year ago. The storage of food, dry goods, and space for the fridge and freezer all took priority and meant that our kitchens become the hub of the home more than ever before, putting a bigger focus around pantry design.
7. Indoor / outdoor design
Arguably more of a garden trend than a kitchen trend, but outdoor kitchens are more popular now than ever before. 
With searches for 'outdoor kitchen ideas' up 60%, it's clear we're all embracing the shift outwards. And, when it means you can enjoy dinner under the stars, then why ever not?
If, like many of us, you live in a city with limited outdoor space (and lots of rain), chances are that you don't spend huge amounts of time outdoors. Take a leaf out of this family home below, who installed their outdoor kitchen directly next to their indoor one. The outdoor kitchen area is covered so that the barbecue can be used year-round, even if the dining takes place indoors.
Similarly, garden bars are on the rise, and we're seeing an increase in modern kitchens doubling up as a garden bar on the outside.
8. Slab splashbacks
Melissa Klink, Head of Design at Harvey Jones says, 'There is a big demand amongst our clients for their kitchens to make a statement. Slab splashbacks are a great trend, as it opens up a variety of options like specialised marble and other porous stone that you couldn't use for a kitchen worktop.' 
9. Cottagecore
Instagram has been awash with the #cottagecore trend as many seek to capture the nostalgia and comfort of country life in perilous times - and while we wouldn't advocate basing a long term design decision such as a new kitchen on such fleeting fads, there's no denying that country and vintage influences are going strong.
Particularly popular in kitchens are aged brass and bronze finishes. In fact, Perrin & Rowe report that 6 out of 10 customers choose a non chrome finish for their kitchen tap. This Armstrong mixer in the Aged Brass finish can be complemented matching brass sockets and switches, pendant lights, cabinet handles and even small appliances and kitchen utensils. 
10. Superior performance
Ok, so that might sound more like a reference to a new car than a kitchen, but there's no denying Covid-19 is shaping design trends.
Hayley Robson, Creative Director at Day True, says. 'We will all be cooking more at home; therefore the functionality of appliances will become more important and considered. Fridge and freezer capacity will increase to allow for greater storage of food, with water and ice dispensers deemed essential in order to reduce our plastic consumption and encourage a healthier lifestyle. 
The pantry space will continue to be an important part of any kitchen for food storage and preservation and people will grow their own fruit and vegetables in the desire for self-sufficient living.'
11. Metal framing
Daniela Condo, Designer at Life Kitchens, says "Originally used in industrial kitchens, metal framing is growing in popularity. It's an eye-catching design element, the framing works well for open shelving and the dark metal finish can be carried through to features such as taps and table or chair legs."   
12. Sustainable design choices
As we become aware of our consumption habits, many are choosing longevity over novelty and wasting less. "People will remain more adventurous in their choices of colour, pattern and material. Tones that reflect nature, including greens and blues, will remain popular as they provide a rich contrast when combined with a more neutral palette. Materials will be purer and natural, rather than too polished or plastic. The concept of mixing materials will continue and we will see the trend for upcycling, reuse and hand crafted pieces develop. 
Much like fashion, we are conscious of our consumption; we will invest in craftsmanship, timeless and statement pieces - we'll buy less stuff and make it last longer, with the clashing of styles resulting in a timeless aesthetic,: says Hayley Robson, Creative Director, Day True. 
13. 3D surfaces
Last year's supremely popular fluted glass trend is moving into non-transparent materials for 2021 as we seek out new ways to enjoy surfaces with fluidity and vigour. While three-dimensional tiles often follow architectural and geometric forms, on kitchen cabinetry the emerging shapes feel far more mellow. 
Alongside fluted designs, such as this stunning Corian island in Rowson Kitchens' showroom, we're also seeing ribbed and scalloped surfaces coming through. 
The beauty of taking a three-dimensional approach, says Annika Rowson, director of Rowson Kitchens, lies in the way it provides depth and interest, without overpowering. 'As the light changes through the day, so the shadows move and shift across the surface to create new ever-moving patterns,' she says. 'I like to use a pared-back palette of materials in soothing, complementary tones, and let texture bring it all to life.
14. Wood stains
Charlie Smallbone, Founder, Ledbury Studio, says 'I've started applying beautiful coloured stains on wood. Stains allow you to celebrate the beauty of the wood grain while pushing it beyond its raw, natural state to enhance the overall beauty of the kitchen by adding rich texture. 
So far, we've worked with greys, purples, violets and pinks, but clients can have any colour they want. This chimes with increasing consumer demand for personalisation in the kitchen; creating something that is unique to the individual. Personalisation has been gathering momentum for the past three years and I can only see this strengthening in 2021.'
15. Tongue & groove
The long established love for tongue and groove panelling is more popular than ever, according to Merlin Wright, Design Director at Plain English. "Tongue and groove started as a practical way to cover rough walls in the less formal parts of an early Georgian house. These more humble 'below stairs' areas have an enduring appeal," says Merlin.
16. Navy blue colour schemes
One of the strongest style trends that has come through in modern kitchen design is the colour blue, and this can be traced from classic Shaker-style kitchens right through to chic and minimal modern spaces.
Whether it's on walls, floors, cabinetry or splashbacks, blue has been replacing grey as the go-to - and it's navy blue kitchens that are turning heads at Livingetc HQ.
Helen Shaw, Benjamin Moore UK Director comments; "Kitchens can be costly investments and aren't easily interchangeable, so using paint to add a splash of colour to walls, cabinet fronts, tiles, or shelving unit is not only cost effective, but also allows for a unique burst of creativity and personality to be injected with ease. 
We've seen a significant rise in sales of paint for these types of jobs and interestingly the darker hues have been most popular, especially deep blues and greens."
Neptune's ever-popular Suffolk collection – made from timber and renowned for its less-is-more aesthetic – has a new look for 2021. It now comes hand-painted in Ink, a deliciously dark shade that injects instant sophistication and is the perfect backdrop for crockery and glassware.
17. The anti-kitchen
When is a kitchen not a kitchen? When it is concealed with chameleon-like prowess to obscure the functional and put the focus squarely on form. This trend for un-kitchen-y kitchens, creeping up on us in tandem with the open-plan movement has reached peak refined beauty. 
The trick is to select a considered palette of materials and finishes that are more typically associated with living room furniture. Luxurious timbers and exotic stones score highly, plus use fully integrated appliances wherever possible.
18. Fine texture
These cupboard doors in this kitchen from Eggersmann Design are a new composite wood called Maro Ebony, which has an embossed, grain-like texture that changes with the light in the most incredible way. Manmade using sustainably grown timber, it has a three-dimensional grain effect that emulates rare, exotic wood. Like the marble, it has subtle flecks of orange that add extra warmth and interest
19. Concealed extractors
A bulky extractor fan can ruin the look of a super-sleek, minimalist kitchen. Hurrah then for Falmec's barely there Alba design. Its glass frame sits almost flush to the ceiling and is LED backlit.
Choosing the right extractor for an island hob can be tricky, but the Nikola Tesla Switch from Elica certainly makes it easier. The four-zone induction hob has a built-in extractor, concealed by a glass and cast-iron ring, offering a powerful extraction rate of 5.1m per second. 
20. Hexagon detailing
Our love for brass is showing no sign of abating, and it's not surprising with on-point designs like this tap from Abode. The monobloc mixer's hexagonal detailing will add industrial style. It's all about the antique brass finish with a patina that will only get better over time.
21. Precious metals
Known for infusing his brand with a rock'n'roll aesthetic, Massimo Buster Minale of Buster + Punch has drawn on his love of motorbikes to create a new Burnt Steel finish that mimics the rainbow effect of oxidised exhaust pipes. 
Check out this striking look on Precious Bar – a nifty cabinet handle with padlock and chain you can trust to keep tots well away from your whisky collection.
22. Hands-free / smart home design
Imagine asking your tap to dispense 150ml of warm water. Controlled by Amazon's Alexa or Google Assistant, the U by Moen provides any volume of water up to 20 litres and at precise temperatures. It also works manually.
23. Ditch the plastic
Thought your Quooker boiling water tap was a feat of modern day engineering? Then get a load of this; install the new CUBE extension (attached to the existing tank with a CO2 cylinder) and the tap will stream not just filtered, chilled and boiling but a sparkling option too.
24. Indoor gardens
Hydroponics is one of the fastest growing (excuse the pun) horticultural trends, and Ikea has a complete hydroponics collection for cultivating plants indoors all year round. The Växer range includes LED lights, nursery and sprout boxes, cultivation insert sets and growing media, including starter plugs, pumice and fertiliser, all mounted in a stylish cultivating unit.
25. Modular cabinets
Danish company Vipp has unveiled a grey version of its modular kitchen. The design is made from powder-coated aluminium and has a stainless steel worktop. Think of the kitchen as building blocks – there are four modules, including the Island, which gives versatility in an open-plan space, and the Tall for maximum storage. Kitchen Lego for grown-ups – we're ready to play!
26. Textured timber
While an all-out timber treatment might be hard to get right without treading perilously close to traditional lines, we're all over the restrained injection of woody warmth. 
As with most natural materials, the joy of embracing timber in the kitchen lies in its inherent uniqueness. With real wood it's impossible to achieve an exact copy - and therein lies the richness and personality that will ensure your new kitchen stands out.
27. Jagged connections
Ideal for creating a distinction between two zones without the harshness of a straight line, these jagged connections are set to bring kitchen floors to life this year. 
Champion shaped tiles, but choose wisely. The key to a smart connection is exactitude - untidy joints won't cut it. Hexagonal tiles are your six-sided friends, particularly when paired with wood flooring that can be cut with millimetre precision.
28. Fine framework
Crittall converts will fall for this dynamic approach to fine framework, as it moves from architecture to kitchen fittings. We're seeing it used for grid-like shelving, often suspended from the ceiling for maximum impact, or cuboid cubby-style storage in lieu of wall units. As well as within vertical surfaces, such as doors and splash-backs, with contrasting materials recessed in geometric patterns with striking effect.
29. Fluted surfaces
Favoured at various points throughout history – from Greek columns and pilasters to reeded glass in Art Deco, and then mid-century, furniture – the latest fluted revival is firmly kitchen bound.On cabinetry, fluted patterns can be used to provide 3D interest – just enough to bounce the light and add character while staying within the simplicity of modern design – offering privacy and depth.
30. Raw wood or concrete finishes
Bert & May's passion for raw materials runs through to its kitchen designs which reference the past but feel contemporary. We love the reclaimed look of Yard (below). Kitchens start from £25,000, and the new ranges are on display at the showroom in East London.
31. Patterned flooring
Otto Tiles has quickly earned itself a reputation as a go-to for gorgeous handmade tiles with irregular finishes, and its creamy Ecru Zellige tiles alongside the subtle pattern of Pera tiles are perfect for that lived-in look. Ecru Zellige tiles; Pera encaustic cement tiles, both ottotiles.co.uk.
32. Stone sinks
DeVOL's Carrara marble butler sinks bring a slice of cool Italia to its English-country aesthetic. Choose the Milano Penthouse or Tuscan Farmhouse design, with each sink cut from a single block of honed, smooth stone, which ages beautifully over time.
33. Wine storage
Dinner party like a pro with Miele's sleek wine conditioning unit. Not only does it hold up to 83 bottles – which should be more than enough for a riotous evening – but it features a Sommelier set, complete with a glass holder and decanting racks. Independent temperature zones mean you can store reds, whites and champagnes all at their optimum condition inside the same unit.
34. Colourful cookers
Love Le Creuset's casserole dish colours? Go one step further and deck out your appliances in one of its shades. A collab with Italian manufacturer Steel Cucine means cooker hoods, cookers and fridges from its Ascot, Genesi and Oxford ranges are now available in this pretty purple hue and many more Le Creuset colours.
35. 3D tiles
Flat surfaces are a thing of the past, thanks to the rising trend of 3D tiles. And Iris Ceramica's new collection, Bowl, has gone straight onto our shopping list. With an artisanal feel, Bowl is available in 10 x 20cm tiles and comes in 10 shades, including Old Rose and Grey. The tiles will give clever depth to walls, whether you're after elegant modernity or vintage chic.
See Also: The Latest Bathroom Trends
Lotte is the Digital Editor for Livingetc, and has been with the website since its launch. She has a background in online journalism and writing for SEO, with previous editor roles at Good Living, Good Housekeeping, Country & Townhouse, and BBC Good Food among others, as well as her own successful interiors blog. When she's not busy writing or tracking analytics, she's doing up houses, two of which have features in interior design magazines. She's just finished doing up her house in Wimbledon, and is eyeing up Bath for her next project.