The 'back kitchen' is the new big thing in luxury homes, even the Kardashians have one – here's how you can, too
Whether you call it a back kitchen or a scullery, this trend is making a comeback. Here's how to create one (even if you don't really have space for it)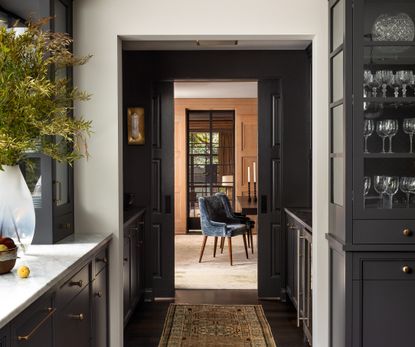 (Image credit: Image credit: Haris Kenjar, Studio credit: Hoedemaker Pfeiffer)
So you've designed the most incredible, show-stopping kitchen space? Now you need a second one, tucked away out the back, to actually cook in. That's the idea behind the rising trend in sculleries, or so-called 'back kitchens'.
Any self-respecting, cavernous celebrity mansion now has one. We've spotted one in Kardashian "Momager" Kris Jenner's house for a start, providing a space for her legion of private chefs to cook, while she enjoys a mess-free "show" kitchen.
Of course, not every home realistically has the luxury of this extra space or room, but it's a concept that's actually less of a luxury than you might imagine in a world where modern kitchens are so commonly open plan. But can every home really have a "back kitchen" of its own? While speaking to interior designers about this trend, I found that it isn't actually so difficult to eke the concept of a back kitchen out of your space in an existing home.
What is a back kitchen?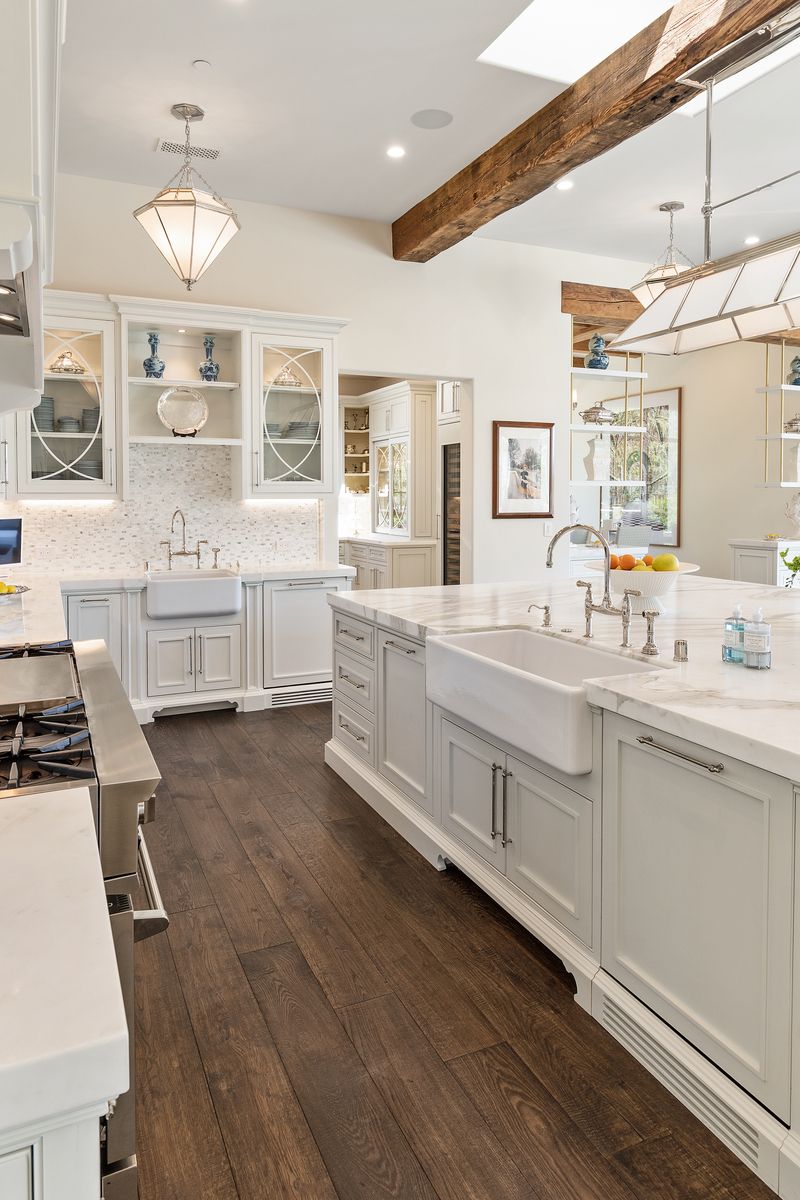 'The primary purpose of the scullery or back kitchen is to handle tasks like cleaning dirty dishes and tackling messy cooking,' says Kashi Shikunova, director of interior design practise Yam Studios. 'Many people opt to have this space when their main kitchen serves as more of a showcase, and when they prefer not to have dirty dishes and mess on display while entertaining. It's essential to ensure that the scullery offers plenty of storage and workspace. Having cleaning facilities such as a spacious sink and possibly a dishwasher, along with cooking equipment and a fridge, is also important to make this space functional.'
If you're remodeling a kitchen and want to add more usability to it, the addition of a back kitchen could be of great use.
However, if you're not in the mood for a reno, then there are a few ways to create the feeling or look of this utilitarian space.
1. Tuck one away at the end of an existing kitchen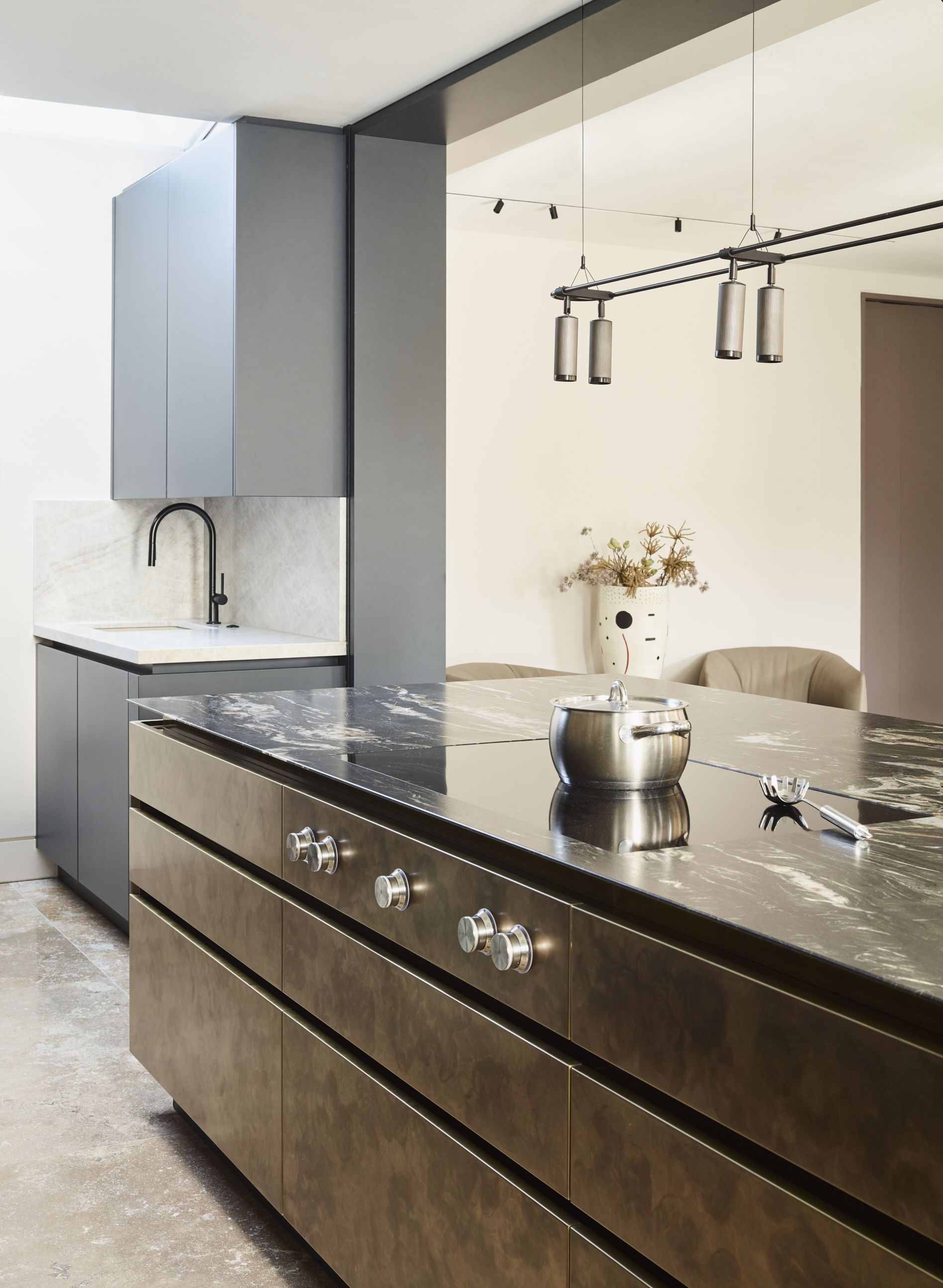 If you have ample kitchen countertop space and can dedicate one counter at the very end of the room to keeping all the mess, then consider this as your makeshift or pseudo 'back kitchen', filled with function and purpose. Use the cabinets below or above for the same use...to store dry food items, cleaning supplies, and washcloths.
This space can also provide extra meal prep area, especially useful if your home has several members. Add a few chopping boards and a set of knives, only dedicated to this area. If you have the budget to add extra counter space to the end of your kitchen, you could choose to use lower-cost, practical finishes.
You might feel you want to create a subtle distinction between this space and the rest of the kitchen. Of course, building a wall or adding a door may not be practical but you could bring in a fabric or wooden screen and place it between this space and the main kitchen. Even a kitchen curtain could do this job.
In this kitchen, this manifests as a place to hide the sink and prep countertop space that's out of sight and out of mind when looking into the kitchen. It's the perfect spot to hide dirty dishes when entertaining at home.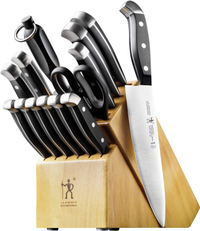 Add this set of lightweight, and easy-to-use knives to chop and prep in the back kitchen area.
2. Eke out one in a pantry or laundry room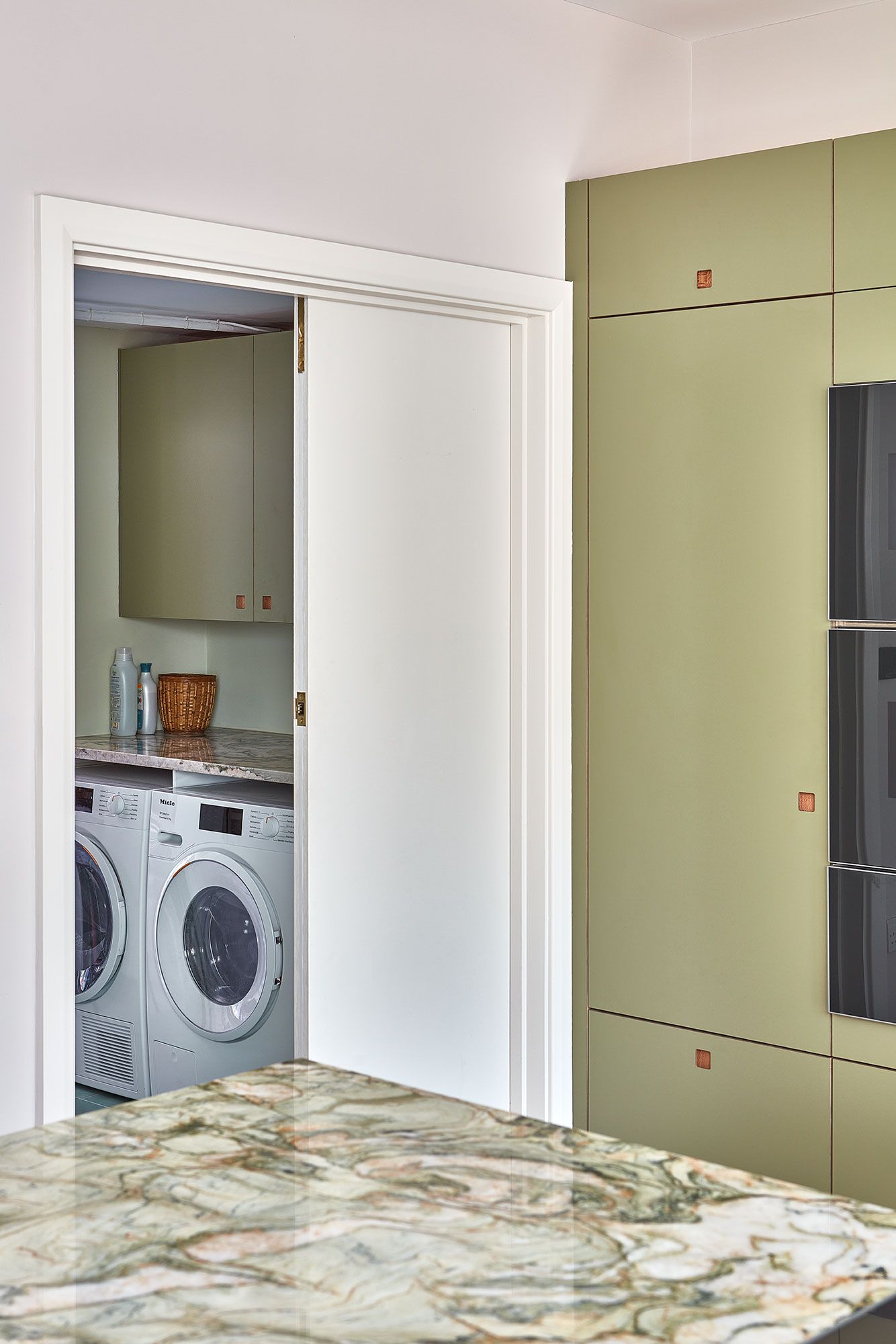 'If you don't have enough space for a separate room, the scullery can be incorporated into the pantry or laundry room instead,' says Kashi. 'This allows it to be conveniently located near the kitchen, already equipped with a built-in sink.'
Use this extra wealth of space to keep pots and pans plus use it as the ideal storage area for small appliances. Most sculleries have floor-to-ceiling cabinetry or base cabinets under the counters and open shelving above the counter. You can also keep dry foods here, paper supplies, and fine china, silverware, and serving dishes. Stash them inside cupboards and ensure all the boxes are properly sealed from any moisture.
'If your utility room doesn't have a sink, I'd say install one, and though it may come at a cost, it's worth it in the long run,' says architect Nishita Kamdar. 'While a stainless steel sink is the most versatile and user-friendly, you could also consider a cast-iron one that looks absolutely beautiful, especially useful if your scullery is inside the main kitchen.'
For more functionality, add extra electrical outlets in this room, so the space can be a home for charging necessary appliances like robot vacuums.
3. Add a scullery in a passageway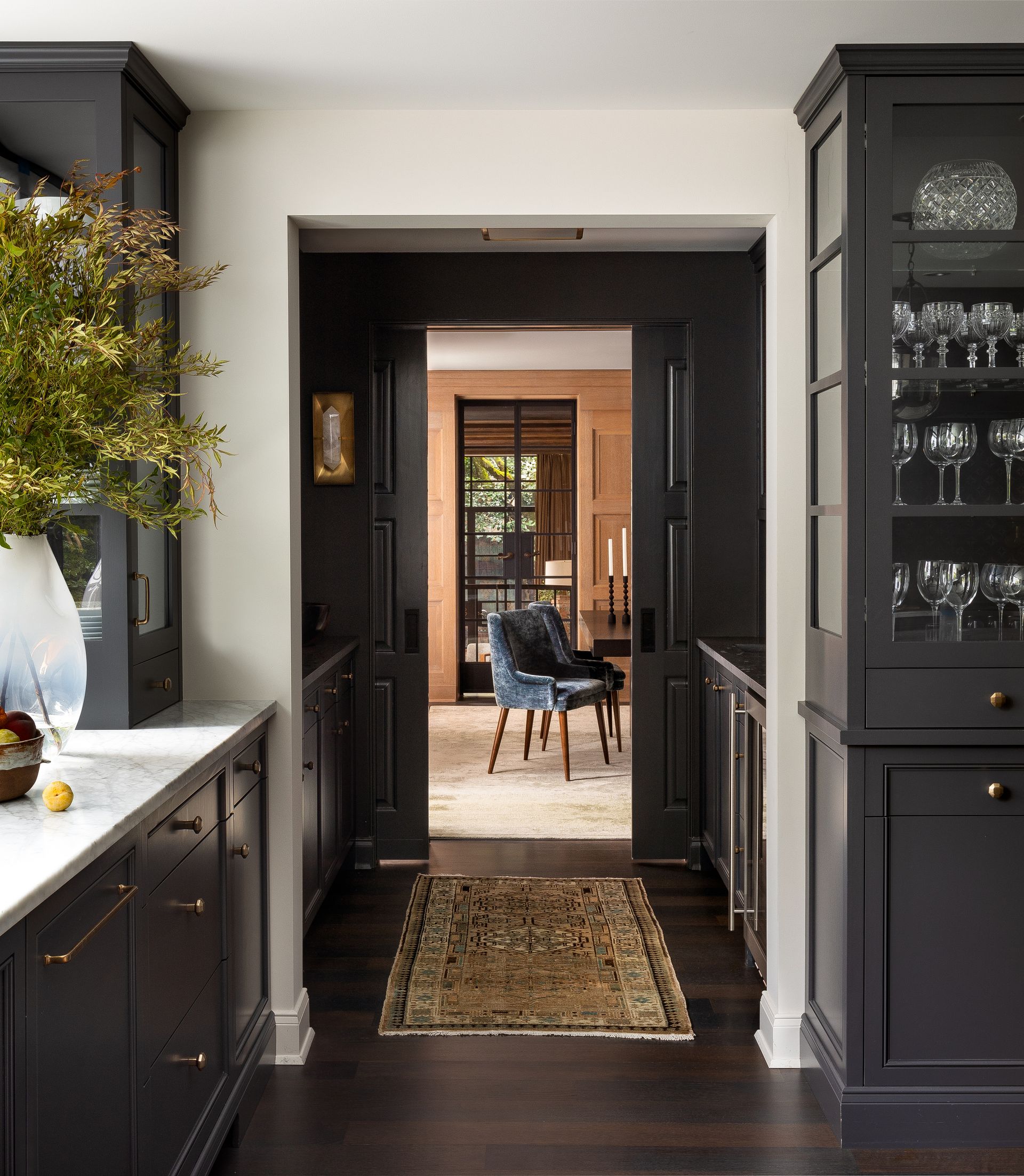 'In a small kitchen layout, efficiency is of top priority so a secondary work/storage space is a welcome addition,' says Julia Mack, founder of Julia Mack Design. 'Add a back kitchen to a passageway next to or behind the kitchen, and store all the things inside closed cabinets. To give it a clean, modern look, consider painting the walls.'
By choosing a dark color for your back kitchen, you're not only making it recede into the background, but you're creating a space that hides dirt and mess better. If you have a small apartment kitchen and are running out of counter space, you could also use this back kitchen to house smaller kitchen items like baking trays, butter paper, or straws.
4. Create one with a portable island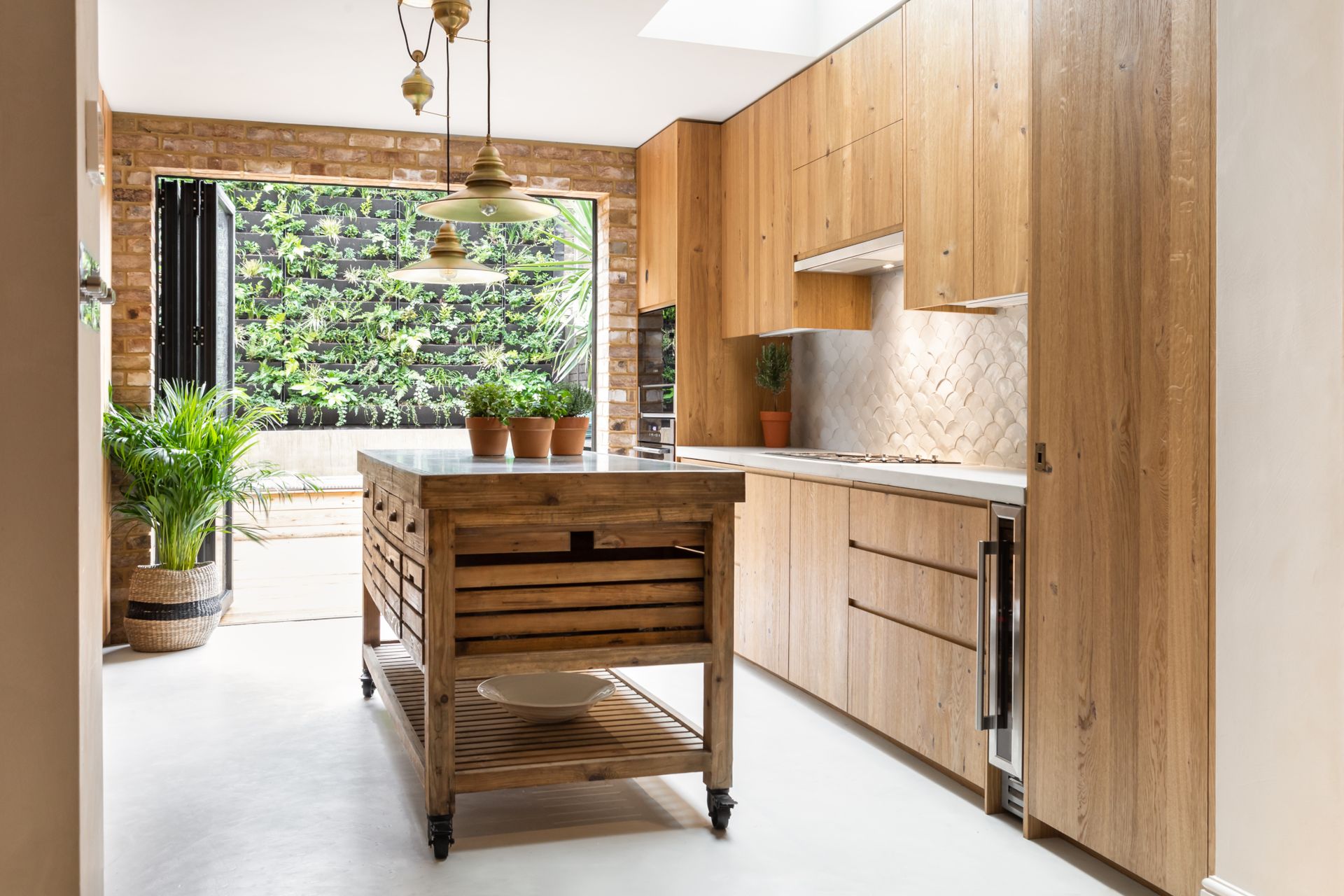 'Consider adding a counter height wooden rolling cart or small kitchen island with integral cutting board and shelving below,' says Julia. 'It can be any size, as long as it fits within a corner in the kitchen. You could also choose a 'floating' island, that can be wheeled in and out as per your needs. Ideally, your cart will have a thick cutting board top, drawers for small knives, and several shelves below. These shelves can hold anything, from small, regularly used appliances like a coffee grinder or hand mixer to pantry basics like olive oil and vinegar. A great place to prep food, and store small essentials.'
The advantage of an island or a cart on wheels is that it can be positioned in any part of the house, and it allows for the flexibility of several functions. When guests are over, this can become a convenient back kitchen.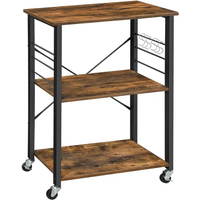 Use this triple tier cart to store china, and even use as an extra counter space in the kitchen.
5. Create the feeling of a scullery at the coffee station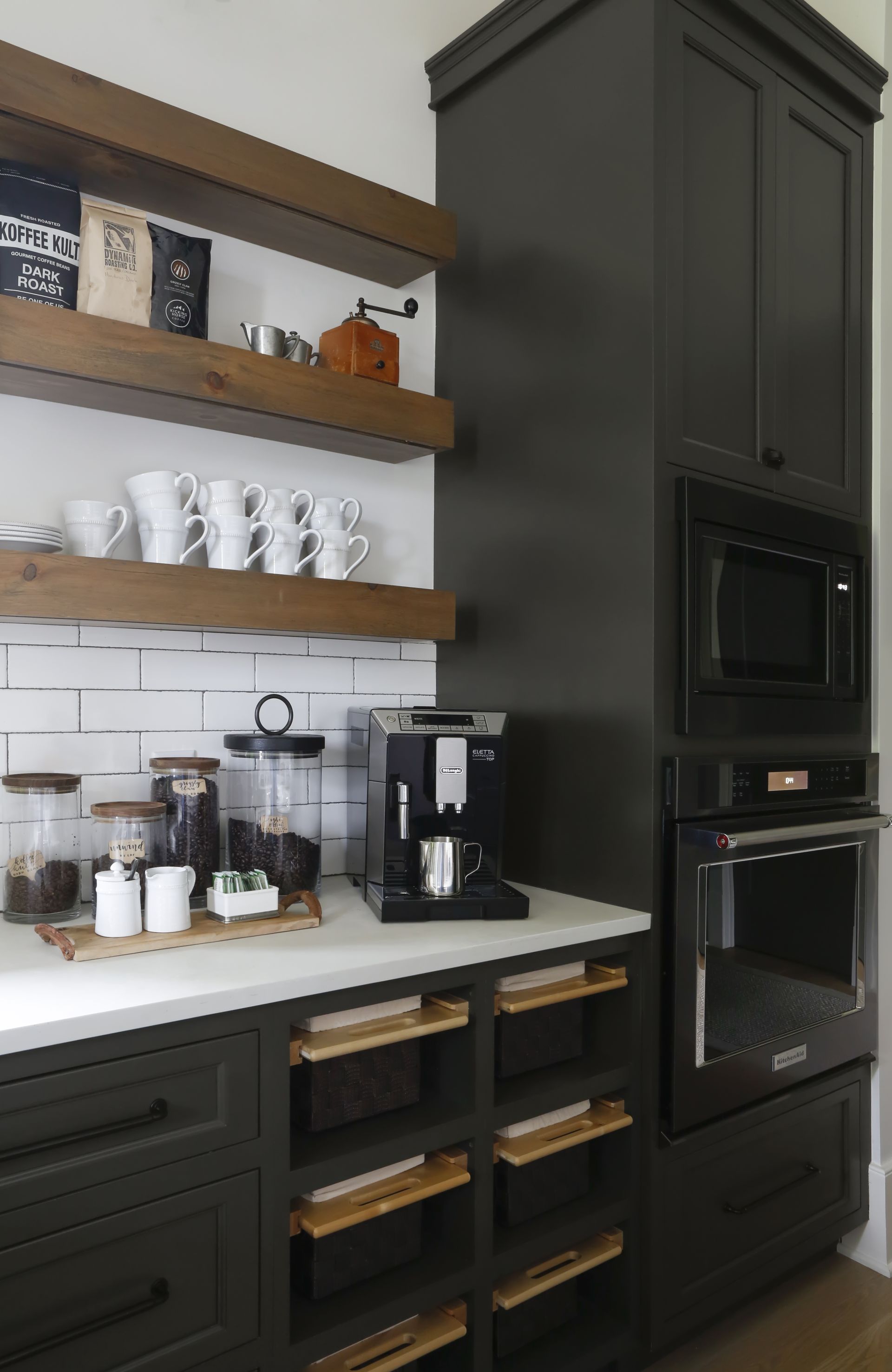 Have an existing coffee station in your kitchen? Expand the use of this small kitchen storage space by treating it like a back kitchen or scullery. Along with housing a coffee machine and cups, use the cabinets and drawers to keep kitchen stationery, soap bottles, sanitizers, sponges, brushes, and cleaning solutions. If you have multiple drawers, remember to label them.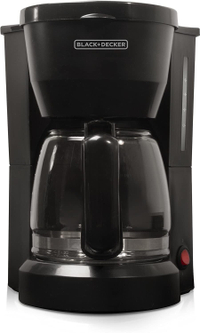 Make your back kitchen a more functional and practical space with this 5-cup coffeemaker that can produce a piping hot espresso in no time.
The Livingetc newsletter is your shortcut to the now and the next in home design. Subscribe today to receive a stunning free 200-page book of the best homes from around the world.
Aditi Sharma Maheshwari is an architecture and design journalist with over 10 years of experience. She's worked at some of the leading media houses in India such as Elle Decor, Houzz and Architectural Digest (Condé Nast). Till recently, she was a freelance writer for publications such as Architectural Digest US, House Beautiful, Stir World, Beautiful Homes India among others. In her spare time, she volunteers at animal shelters and other rescue organizations.