Small kitchen layout ideas - clever and compact design
These small kitchen layout ideas will help you maximise every inch of space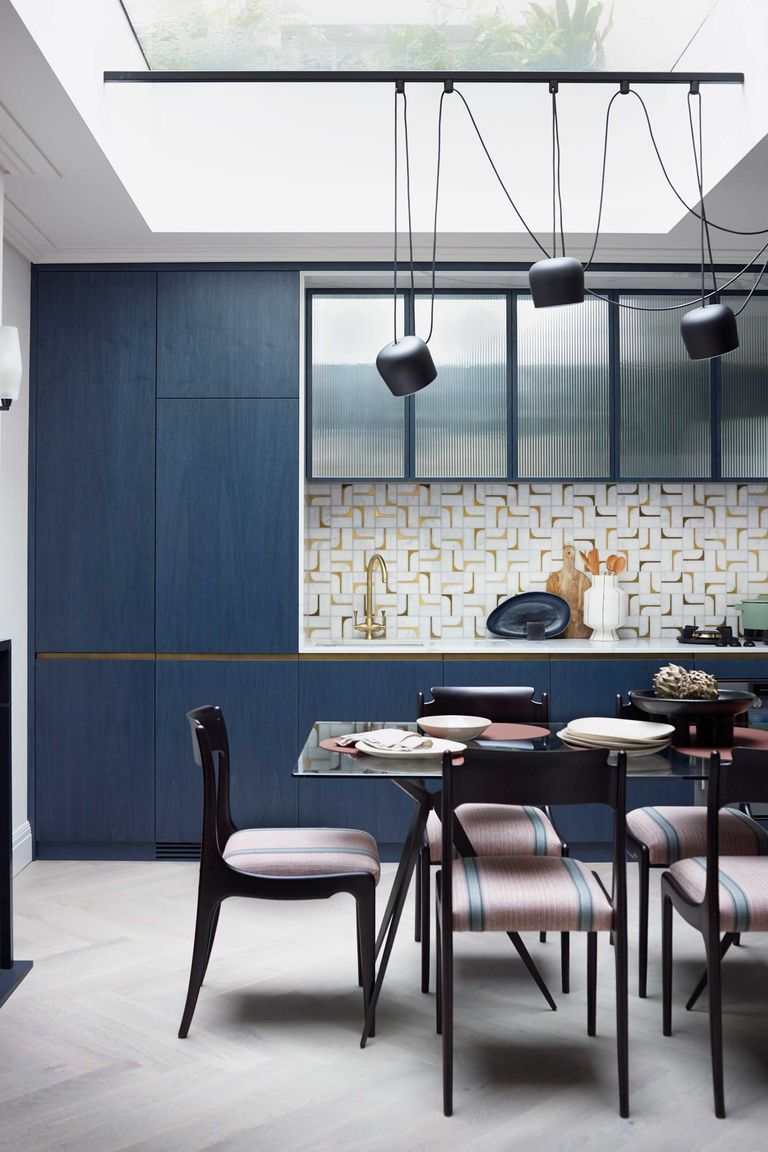 (Image credit: Irene Gunther)
Got a compact kitchen space and need some small kitchen ideas? We've spoken to the experts to find 10 small kitchen layout ideas to make the most of the space you have.
We demand a lot of our kitchens every day, and smaller spaces often need to work harder for us. They should be robust, and most importantly, easy to navigate. 'This is where the working triangle comes in, with sink, cooking and fridge zones all in relatively close proximity,' explains Matt Baker, Designer at Harvey Jones. 'There should be a good-sized worktop run for preparation, preferably next to or opposite the hob zone.'
Multifunctional elements are key to a successful small kitchen layout design – whether it be an oven that doubles as a microwave, or, a L-shaped worktop that can be used as a breakfast bar. Bringing a kitchen designer on board early on in your planning process will be beneficial, as they can advise on how to best to optimise your space. A plus side of small kitchens is you can often choose made-to-measure storage or high quality materials that will stand the test of time, without completely blowing the budget. 'Longevity is a priority for a new kitchen,' says Ben Burbidge, Managing Director, Kitchen Makers. 'So you need to ensure your chosen design and colours are styles that will not only work for you, but that you will love to live with for many years.'
1. GO WITH A GALLEY
Double galley layouts are ideal for narrow spaces. With two runs of cabinetry sitting parallel to one another, you can design your kitchen ergonomically so everything is close to hand. If possible, keep tall and wall cabinets to one side of your small kitchen layout, to allow for more room for preparation and cooking on the other.
2. LET IN THE LIGHT
'The secret to making a small kitchen, to feel big, is to make it feel very light.' says Peter Morris, architect and designer. 'You can do this by introducing natural daylight.
White surfaces help to reflect the daylight, but not too much, splashes of colour and texture are needed too.'
3. ISLAND LIVING
Yes, it really is possible to have an island in a small kitchen layout – if you're clever about it. Avoid installing appliances on an island, as these can take up too much space, and instead focus on utilising the island for storage. You may also want to consider a portable butchers block design, which can be moved around the room if necessary.
4. TIME TO REFLECT
To further maximise the feeling of space, use glossy or reflective surfaces. Here an antique mirrored backsplash was installed to create an illusion of more room, and sits nicely within a handleless wood kitchen design – another modern space-saving tactic so you don't need to worry about squeezing past protruding handles.
5. COLOUR CODING
While light tones and finishes are an obvious choice for a small kitchen, don't be afraid to lean into colour. A dark or bold wall can add a sense of drama, particularly when the cupboard doors are painted in the same colour as the walls. Play around with samples in your space to see what works well alongside the natural light that comes into the room, or take inspiration from the primary pop of this blue kitchen.
6. HIDE AND SEEK
If your small kitchen sits within an open-plan layout, then there may be times you just want to shut it away from the rest of the space. A single run kitchen can be cleverly hidden away with pocket doors, which can slide away into the walls so won't be in the way when the kitchen is in use. Lighting can also play a huge part in how a small kitchen looks and works, as Rohan Blacker, Founder of Pooky Lighting advises. 'There are many ways to include LED strips to the top of your wall or underneath overhead cabinets which will throw light onto your ceiling or kitchen walls which will instantly make the room feel bigger and brighter,'
7. SMART STORAGE
'In terms of space saving with cabinetry, the rule is pull-out,' says Tom Howley, Design Director at Tom Howley. 'Fit deep cabinetry and pull-out drawers or a cage system for a multi-layered, discrete and effective storage system,' he adds. For corner units, look to add a carousel to help you reach items at the back. Interior storage mechanisms such as these will add to the cost of your kitchen, but are a worthwhile addition that allows you to make the most of every inch of space available.
8. BEND THE RULES
Reconfiguring an existing layout can open up the potential of your small kitchen, and another popular small kitchen layout is a U-shaped design. Interior designer Milward Teverini created an optimal design here by incorporating bespoke cabinets alongside sleek built-in appliances, as well as a peninsula breakfast bar to provide a casual seating area.
9. NEW HEIGHTS
The constraints of walls, windows and existing plumbing will often dictate the layout of your kitchen, and it can be tricky to strike the balance of ample storage without the room feeling too crowded. So how do you approach designing a small kitchen well? 'I would usually go about looking to see if a larder cabinet can fit first,' says Matt Baker, Designer at Harvey Jones. 'This takes away from the need to have lots of wall cabinets which can overcrowd the room and make it feel cramped. However adding shelving can be a clever way to still add height but not crowd the room.'
10. TAKE A SEAT
The benefit of opting for an L-shaped or U-shaped kitchen design is to be able to add a café-style seating area and breakfast bar on the outside of the kitchen, which creates a more open feel and makes it easier for a cook to interact with friends or family.