How to design a small kitchen floorplan
Find out how to design a small kitchen floorplan with expert guide to squeezing everything in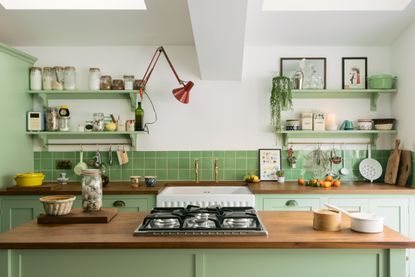 (Image credit: deVOL)
Knowing how to design a kitchen floor plan is the backbone of creating any new space, and it takes on a special importance in all small kitchen ideas which need to start from knowing that room is at a premium and usability is vital. Get it right, and you'll be clambering to cook every night, dinner parties will be stress free and the kitchen – however petite – will truly be the heart of the home. Get it wrong, and you may find yourself relying on food delivery services. We ask the experts for their input so the latter can be easily avoided.
Why you should make a floor plan for a small kitchen
Just because the space is small, it doesn't mean you should do away with traditional design formalities such as the floor plan – in fact the smaller the floorspace, the more vital it is to look at small kitchen layout ideas and make the best of every square millimeter. It may seem like a bit of a faff, but trust us, it'll make a world of difference to your new kitchen, affecting how you move between appliances, prepare food and plate up, and transition from cooking to cleaning.
'Drawing up a floor plan is important for any given kitchen project, but is even more important when you're limited in terms of space as you need to optimize and use every inch' explains Jeppe Christensen, Founder and CEO of Reform.
'A floor plan is a vital part of the design process for any kitchen, from the largest to the smallest,' agrees Daniel Bowler, Director of Eggersmann UK. 'A floor plan is the very best way of determining the layout and making the most of all available space, which of course becomes even more crucial in compact situations where space must be maximized and used in the best possible way.'
'Making a floor plan enables you to understand the constraints of a space and work out the most practical and functional layout that can be achieved,' adds Georgia Clark, Senior Designer at Devol. 'In a smaller kitchen this is especially important – every millimeter counts when space is tight!'
'You have to make sure a small kitchen is practical,' advises Rebecca Nokes, Head of Creative Design at John Lewis of Hungerford. 'With a small kitchen you need to make sure your plans are 100% accurate as there is no room for error. With limited space you don't have the luxury of multiple choices on appliance and cabinet locations, so anything you order that doesn't fit, simply won't work.'
'The last thing you want to do is start building your kitchen just to realize that the refrigerator is too tall or that the dishwasher front is blocked by a radiator,' finishes Monica Born, Founder and CEO of Superfront. 'It's so much easier to foresee and prevent these things if you first draw up the space with the correct measurements to understand the relation between all the elements.'
What is the most important element of a small kitchen?
When you're figuring out how to design a small kitchen floorplan, it's hard to know what to put at the top of the priority list. Work surfaces? Small kitchen storage ideas? Floorspace? Appliances? They all feel important. Luckily, we have experts at hand to share their insight.
'Small kitchens are an eternal balance between workspace and storage room,' says Reform's Jeppe Christensen. 'For any kitchen, big or small, work space is critically important for the many purposes the kitchen serves. Having enough space to throw around ingredients is one of the room's most important features, but at the same time, you don't want to compromise when it comes to storage, and a lack of it can result in an ever-messy space best avoided.'
'The most important element is ensuring you have everything you need and want in the kitchen and that it all works practically within the space,' summarizes Rebecca Nokes of John Lewis of Hungerford. 'If you don't get this aspect right, you'll end up a kitchen you won't want to use because it simply doesn't work for you. With small kitchens you have to be conscious of worktop space, making sure you don't overcrowd it – this is where appliance consideration is key, as they can take up valuable storage and worktop space.'
'Maximize storage!' implores Superfront's Monica Born. 'This is so important with limited space – you want to be able to fit as much as possible inside your cabinets to keep the counter free from clutter.'
'Functionality above all else is the most important aspect of a small kitchen – just make sure it's well thought out!' concludes Devol's Georgia Clark.
How to approach creating a small kitchen floor plan
So, the project is going ahead and you're ready to start designing the floor plan. But what to do first? Initially, think about how you live in your current kitchen, or how you'd like to live in your dream kitchen. Are you a dedicated a chef? Are drinks more important than food? Do you like to chat and cook? Can you do without a dishwasher? This is your kitchen, and its design should reflect your personal needs and requirements. The experts share what would be top of their to-do list.
'Firstly, it's important to understand your needs and lifestyle, which are imperative to a successful design that is not only functional but beautiful,' explains Tom Howley, Design Director at bespoke kitchen company Tom Howley. 'The best way to pull a kitchen together is to see it as a whole, with multiple zones within the space; then break it down into dedicated areas and allocate functions to each zone. This could be an area for cooking, a social dining area, a snug/ lounge or even a compact office space.'
'Before you begin to create the new floor plan, analyze your current kitchen and how you work in it so you can create a space that really suits your personal workflow and lifestyle,' tips Superfont's Monica Born. 'By identifying previous planning flaws, you can avoid repeating them – while the things you are happy with can be copied onto the new plan!'
'Start by making a budget, measuring the space and writing down the specific demands and wishes you have for your ideal kitchen space, in order of preference, 'says Reform's Jeppe Christensen.
'Work out the size and type of appliances that are required, which will then dictate the available space left for cabinetry storage and worktop space,' says Devol's Georgia Clark. 'This will encourage you to really think about the size and necessity of appliances – you don't want to take up a disproportionate amount of room with very large appliances which will eat into cabinet space and worktop prep areas.'
'Try starting by positioning the sink, hob and fridge – make sure the sink and hob are on separate walls or at least 40-50cm away from each other, and aim to have your fridge in another zone of the room,' says John Lewis of Hungerford's Rebecca Nokes. 'Once you have these main elements placed you can then begin to visualize prep and storage space.'
'When making a floor plan it's critical to have accurate measurements, they need to be spot on,' advises Jayne Everett, Design Director at Naked Kitchens. 'There's a lot to fit in, and remember that clean lines and a lack of clutter are essential for a small kitchen. Also ensure you allow space for things like door and window openings, door architraves and light switches.'
What factors should be considered when designing a floor plan for a small kitchen?
Even the most petite kitchen is filled with design details as well as bigger elements, and everything into the space can affect the user experience. Embrace the opportunity for scrutiny that knowing how to design a small kitchen floorplan offers, and remember the tiny aspects as well as the more obvious sections of the room.
'The walkway space should be a key consideration,' says Tom Howley. 'When designing the layout, always leave a metre of walkway space either one or two sides of your worktop, island, or peninsula counter.'
'Maneuverability is essential,' agrees Eggersmann's Daniel Bowler. 'There needs to be enough room for two or more people to access the space, to open cupboard doors fully and for the appliances.'
'Make appliance decisions early,' advises Rebecca Nokes of John Lewis of Hungerford. 'Decide on what you really need and make sure they are placed as far away from each other as possible. Think smart – a boiling water tap for example saves you from having a kettle out and taking up valuable worktop space. Do plenty of appliance research to find out what's available that would work really well in a small space.'
'Cabinet size is vital,' says Devol's Georgia Clark. 'Less is more, fewer but larger sized cabinets work well (opposed to lots of smaller pieces which can tend to look overly fussy and don't offer the most practical storage solutions). 'Often, using shelving rather than fitted wall cupboards can make a space feel more open and give a lighter look and feel to a kitchen.'
'Think about doors,' says Superfront's Monica Born. 'The way the different doors swing can affect your workflow – for example the refrigerator door should be hinged so that it opens towards the work surface so that you do not have to walk around the door every time you transfer groceries in or out. If you can avoid obstacles like this, working in the kitchen will be much smoother.'
What to include in a small kitchen floor plan
As with any floor plan, it's important to map out what you can see in the kitchen, as well as some of the hidden elements of the room, before you can get to the fun part of adding in objects and areas.
'All of the must-haves should be included in the floor plan, so that you then know how much extra space you have to play with, or not as the case may be,' adds Eggersmann's Daniel Bowler. 'Begin with set fixtures such as doors, windows, plumbing and electric points, then add the furniture and any storage ideas where possible.'
'The dimensioned floor plan must detail the position and size of all windows, doors, wall nibs and any other elements of the space that could hinder the placement of the furniture,' explains Devol's Georgia Clark. 'It's also important to bear in mind where water and electrical components are positioned as you don't want to cause any unnecessary work or cost moving these around if they need to remain in their current position.'
'Once you've mapped the measurements of the space plus windows, doors and other components, then start placing the primary elements you personally need in the space, and let the Tetris game begin!' grins Superfront's Monica Born.
How should a small kitchen be laid out?
Most of us have heard about the fabled kitchen design 'triangle' arrangement relating to the sink, oven and fridge. But is it still relevant? And what else needs to be considered?
'It's the layout of the room which makes kitchen design successful,' explains Tom Howley. 'The most important thing to consider is how you use your space, and its overall design should focus on the balance of scale and proportion.'
'Thinking through the ergonomics of a small kitchen is critical to make sure the space works efficiently,' says Naked Kitchens's Jayne Everett. 'Place the oven and hob close together, and group the sink, dishwasher and bin to help with plumbing and efficient work space.
'Remember to consider building regulations for health and safety,' says John Lewis of Hungerford's Rebecca Nokes. 'You need a minimum of 30cm between your hob and sink, any socket placement needs to be at least 30cm away from any water and there should also be a minimum distance from the top of your gas hob to the underside of the unit.'
'Lots of people believe in the 'golden triangle' or kitchen work triangle theory which refers to the supposedly ideal positioning of the sink, cooker and fridge. This triangular layout can really help with the flow and function of the kitchen, but sometimes it just isn't achievable,' explains Devol's Georgia Clark. 'Many kitchens function just as well without this traditional layout – each kitchen should be designed on a case-by-case basis, so be open minded about your layout.'
How to draw up a floor plan
Are kitchen floor plans simply a case of getting a tape measure, ruler and pencil and having a casual sketch, or are they best left to the professionals who have both experience and (probably) access to high tech design visualizers? Can they be a bit of both? Opinions vary, but the experts agree on one thing – accuracy is everything.
'Floor plans are simple enough to draw up at home,' encourages Eggersmann's Daniel Bowler 'Begin by establishing where set fixtures are located –doors, windows anything immoveable – and then add in everything of importance.'
'Measure, measure and measure again to ensure all sizes are correct – floor plans absolutely must be accurate,' explains Naked Kitchens's Jayne Everett. 'A laser measure is a great tool, always backed up by the old-style tape measure for reassurance! Remember that some rooms may have pillars and nooks and crannies which need to be accounted for, and don't forget to draw in windows and doors, include the ceiling height and check if the walls are straight.'
'At Devol, we work with anything from hand-drawn plans to full architect drawings,' explains the brand's Rebecca Nokes. 'It doesn't matter – as long as the measurements are as accurate as possible.'
'Yes, floor plans are really easy to draw yourself if you've got a scale ruler and the ability to visualize the space,' says Rebecca Nokes of John Lewis of Hungerford. 'However, a professional will guide you on the legalities of drawing up a kitchen plan including building regulations, what's right, what's wrong, how the space works and how practical it's going to be.'
'I always recommend using a professional kitchen planner as here are so many unforeseen factors when planning a kitchen,' says Reform's Jeppe Christensen. 'Even if you have good renovating understanding and know-how, it's common for unexpected problems to arise which throw a spanner in the works.'
'If you have a kitchen with awkward corners or quirky spaces, it might be best to turn to a bespoke kitchen designer who will be able to embrace them as part of the creativity of the kitchen,' advises Tom Howley. 'Designers can create specific storage solutions for rooms of any shape or size, leaving you with clean, streamlined surfaces and without wasted space.'
What is often overlooked when designing a layout of a small kitchen?
Fridge, tick. Oven, tick. Cupboards, tick. But it still feels like something's missing… Before you dive into the buying and building, it's imperative to ensure no detail has been forgotten on your small kitchen floor plan.
'Often when people design a small kitchen space, they focus so much on the functionality that they completely forget about the design and aesthetics – I believe that you don't have to compromise on either even though your space is small, says Jeppe Christensen of Reform. 'Make the space special by choosing a playful countertop, eye catching tiles or fronts in different colors, using modern kitchen cabinet ideas – don't think small, make it stand out by being brave and curious when it comes to the aesthetics.'
'Materials and colours are key when designing a small kitchen. Pale wood finishes and paint shades work well to expand the perceived space of the room,' says Tom Howley. 'If you don't want to go for whites or creams, a great compromise is a smoked oak wood paired with a matte grey paint and light-coloured countertops, so the kitchen will look spacious and airy. If you decide on floor to ceiling cabinets, fit them with glass door display cabinets to open up the space in a way that opaque cabinetry will not.'
'Make sure you have used every space. Go for corner caddies to reach into difficult corners, and pull-out cabinets which can be a tremendous storage solution,' says Naked Kitchens's Jayne Everett. 'And don't forget extraction which is critical if the space is enclosed.'
'Lighting is one of the biggest elements of kitchen design which is often overlooked,' explains Eggersmann's Daniel Bowler. 'Lighting really makes a big difference to how spacious the room feels and should really be incorporated into the initial layout so that electrical planning can take place early on.'
The Livingetc newsletter is your shortcut to the now and the next in home design. Subscribe today to receive a stunning free 200-page book of the best homes from around the world.
Amy Moorea Wong is a freelance interior design journalist with a decade of experience in contemporary print and digital editorial, previously News Editor at Livingetc. She writes on a broad range of modern design topics from news and interior zeitgeist to houses, architecture, travel and wider culture. She has a penchant for natural materials, surprising pops of colour and pattern and design with an eco edge.