Small kitchen island ideas – clever styles to prove you can fit in an island
Think you can't squeeze in an island? Let these beautiful and innovative small kitchen island ideas prove you wrong...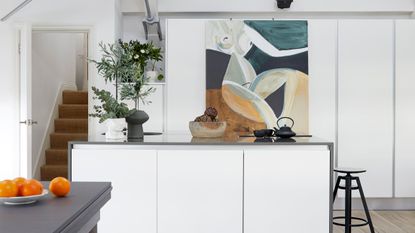 (Image credit: Anna Stathaki)
The Livingetc Newsletter
For style leaders and design lovers.
Thank you for signing up to LivingEtc. You will receive a verification email shortly.
There was a problem. Please refresh the page and try again.
Think your space isn't big enough for a kitchen island? Think again. As all these stylish and practical small kitchen islands ideas prove that you don't need acres of space to make one work. It's just about being clever with your layout, or thinking flexibly, or considering alternative shapes and styles. So long as there's still enough space to move comfortably around your kitchen, adding a kitchen island can be such an asset, and you may even find it makes the space feel larger and more open.
Plus, an island adds extra storage, which is key to making a small kitchen function, it provides more surface space, which again makes a kitchen work harder, and provides a lovely center to your home where you can cook, eat and socialize. So if you need any more convincing than an island is a good small kitchen idea and can work in even the tiniest of spaces, just check out all our favorite inspiring spaces.
1. Go for a butcher's block to add a rustic vibe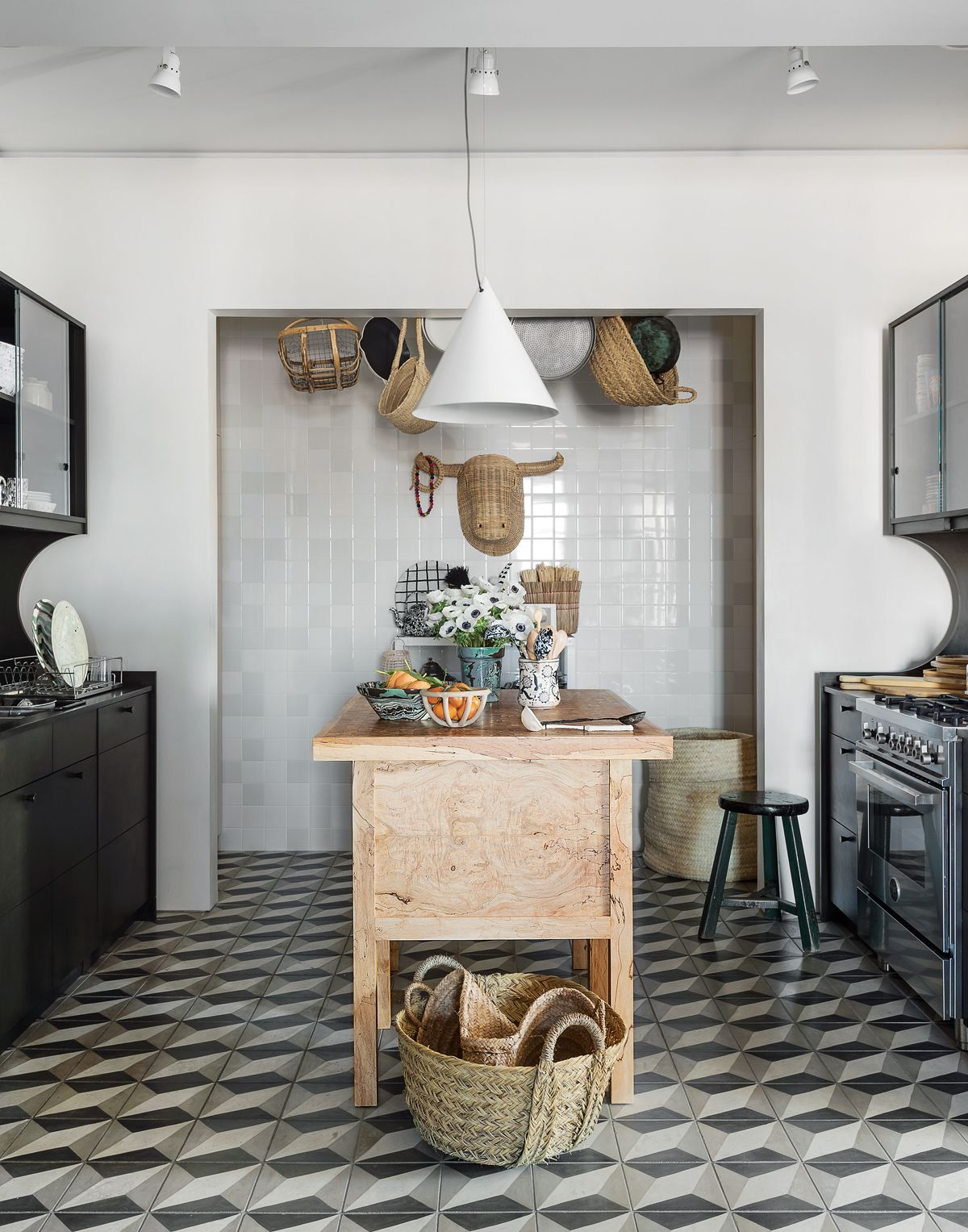 As you'll quickly notice, with a lot of small kitchen island ideas, it's about thinking outside the box. While, you might not be able to fit in a full-sized built-in kitchen island complete with a sink and hob, you may be able to squeeze in a stylish second-hand find.
Butcher's blocks can add so much to a small kitchen, and they work as you can find one to perfectly suit the size of your space. Like all islands, they add extra surface space for prep and storage too, but also bring in a lovely rustic vibe into the space. They add natural texture and character to any style kitchen, even uber-modern ones – the clash between sleek cabinetry and softwood gives a kitchen so much personality.
Trawl online marketplaces like eBay and Etsy and always have your eye out in second-hand stores too. A top tip is to keep your measurements in your phone so you know exactly what size you are looking for and don't get carried away when you see something you love, but it might not be the most practical.
As Ben Burbidge, Managing Director at Kitchen Makers says, 'the practical choice for kitchens an island should be considered carefully before the final design is chosen. You should look to maximize the internal and worktop space but don't be tempted to make the overall dimensions too big as it could dominate or restrict movement around the kitchen.'
2. Choose a peninsular design
A peninsular kitchen island or breakfast bar is ideal for smaller spaces when it's just not an option to have an island in the center of the room. For a kitchen island to really work there needs to be no less than a meter between the edge of the island and either a wall or cabinetry. But, a peninsular island means you can be more flexible with your positioning. Rather than floating in the middle of the room, breaking it up completely, a peninsular design connects to one wall providing more space around the other sides of the island.
You still have all the benefits of an island – the storage, the surface space, and even seating but it just doesn't add as much visual bulk. Plus you can go really narrow without it looking out of place.
Take home tip: note how this island isn't solid. Sure, you might not benefit from any extra storage but it does mean light can flow through the peninsular, keeping the kitchen feeling open and airy. Plus you can add seating too which could neatly be tucked under the worktop when not in use.
3. Blend a small kitchen island into the space
Despite this being a small space, the kitchen island really works. It doesn't feel bulky in the room or make the space feel smaller by breaking it up, in fact, you barely notice the island at all – and that is the very reason it works so well. It essentially blends seamlessly into the cabinetry behind it as there's that cohesiveness between the bleached wood and the sleek white worktops. It also sits at the perfect height, spot on with the worktops so your eye level just sweeps straight over it, rather it breaks up the line of vision.
4. Create an industrial feel with a stainless island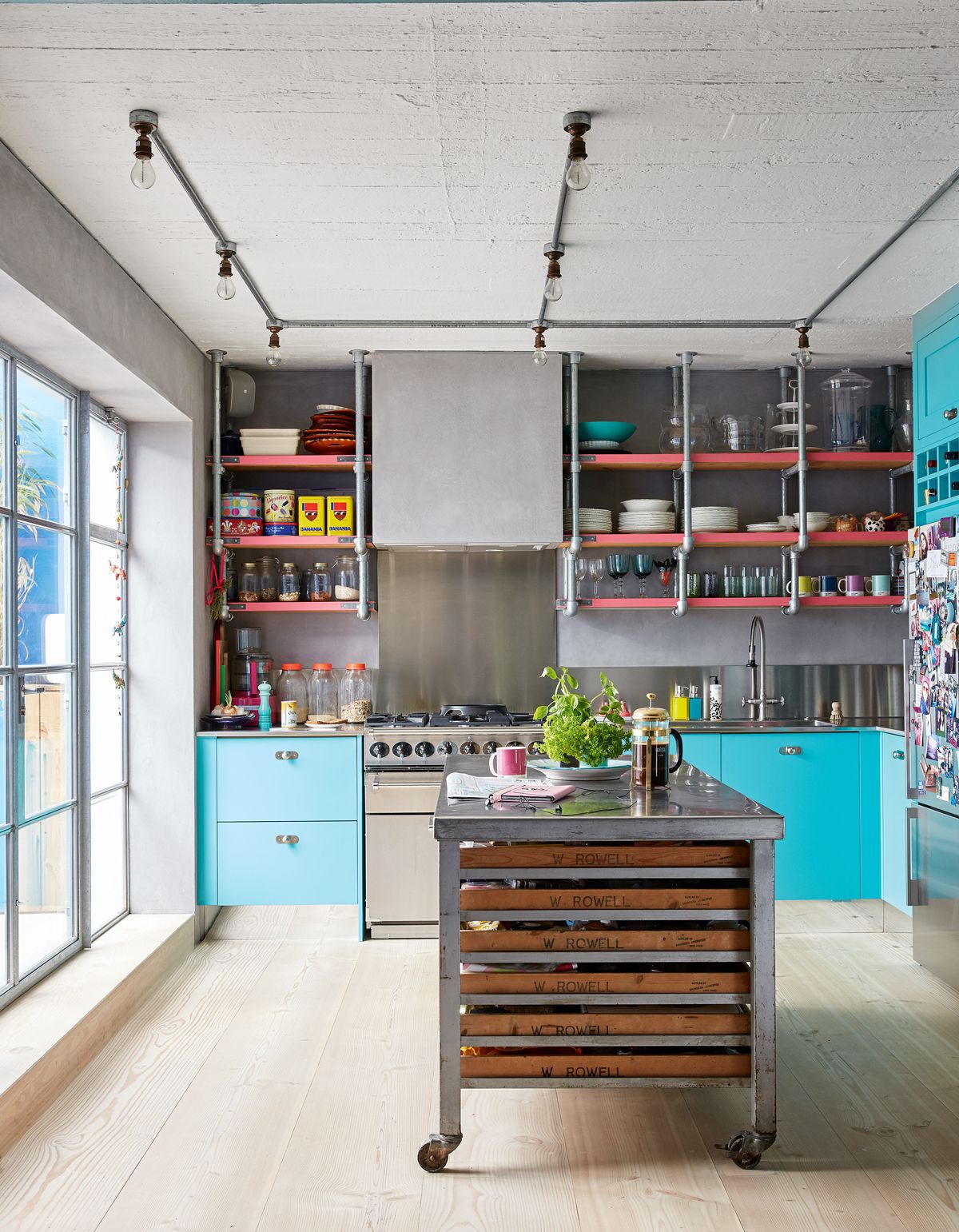 Stainless steel kitchens and worktops are no longer just reserved for functional industrial kitchens, they are seeping into our homes too. And they are a great option for small kitchens as the stainless steel units you find in commercial kitchens are designed for tight spaces, and you can often find some really slimline designs. Seriously, take a look at what you can get on restaurant supply sites, you'll be surprised how sleek, slim and affordable they can be. Just try and envision them filled with your own stamp on them – filled with cookbooks and covered in your own accessories.
This small kitchen island was a second-hand find, salvaged from a bakery, so again a hard-working unit that was designed for a working kitchen. If you are keen on that more rustic look, online marketplaces will be your best bet.
5. Choose a sleek and simple design
Sometimes, in a small space, that age-old rule of less is more applies. This sleek modern kitchen is part of an open-plan space, so although space wasn't as tight as if you were dealing with a single small room, there was still a dining space and a living room to fit in alongside the kitchen. So with so much going and in being so multipurpose keeping things simple made sense.
Now, even if you aren't dealing with an open plan design, there is still plenty to learn from this kitchen. See how there are no separate wall or floor cabinets? Rather there's just a wall of cabinetry that disguises the storage and appliances. This is a great cabinet design to pair with an island in a small kitchen as you don't have all that fuss going on, it's a very clean look, that allows you to add an island without cluttering the space.
6. Make a small kitchen island a major feature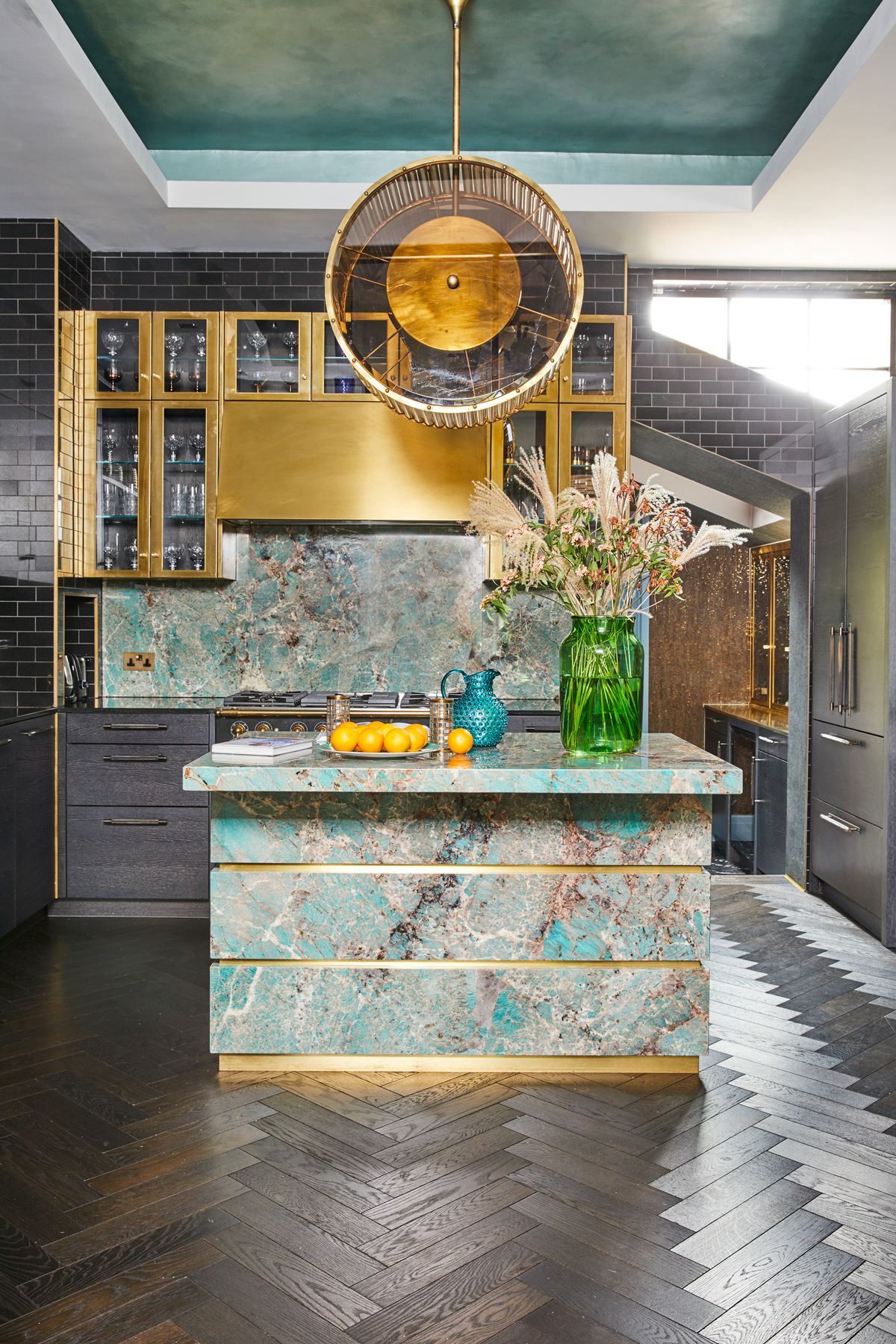 Just because it's small doesn't mean your kitchen island can't be a major focal point. In fact, an island is a perfect place to go bold with your colors and materials and distract from the small proportions of the room.
The gorgeous green and gold tones of the island were the starting point for the whole design of this kitchen, and you can see the gold has been reflected in the cabinetry and even the ceiling above the island has been painted to mirror those teal shades. Keeping things cohesive like this does often work well in a small kitchen as it connects all the different elements of the space, nothing jars or jumps out.
7. Make it moveable
Small kitchen layouts can be really tricky to work with and it gets even trickier when you want to add an island. But a very simple way around is it is to go freestanding, make your layout flexible by having your island on wheels. It may sound a bit... retro, but as this deVOL kitchen proves, it can really well in a contemporary kitchen.
Making an island moveable just gives you that bit of flexibility to be able to move it as and when you need it. Say it can go in the center of the room when you want it to become a sociable hub, but if that's not practical for cooking you can turn it into a peninsular, or when you want all the free floor space just push it up against a wall to become extra cabinets.
'Including a freestanding unit is the perfect solution if you have less room to play with as they provide room for storage meaning you can keep the little bits and pieces out of sight.' explains Stephanie Nix, Kitchen Designer at Neptune. 'Ensuring that you have enough floor space in your kitchen is important so as not to feel crowded or cluttered, so being able to move your units to your desired position will help in creating a dynamic space, no matter how big or small.'
8. Have a small island work harder
If you are dealing with a narrow kitchen, the go-to layout is usually a galley, with walls of cabinets lining either side. While this is efficient in terms of giving you plenty of storage, it can feel a bit imposing, so instead stick with just one bank of cabinetry and add in a narrow island. This keeps the space feeling open and airy and alludes to more space.
Now if you've given up a wall of cabinetry to introduce a kitchen island to your space, you need that island to work hard. So use it to house your appliances, and add a sink or a hob too so you can save surface space elsewhere.
9. Extend the worktop ever so slightly
Want to make your small kitchen island work just a little harder? Double it as a breakfast bar with clever kitchen island seating ideas. Simply exented your island's worktop every so slightly so it creates an overhang that's big enough to tuck a stool under and provide a comfortable place to perch. Just be sure to pick seating that can really easily be kept out of the way when not in use so it's not taking up any of that extra square footage.
Take home tip: we really like how the simple bar stools used in this kitchen have been painted to exactly match the island. It means when they aren't in use they just blur back into the island, adding zero visual bulk and not interrupting that lovely sky blue.
How much space do you need for a kitchen island?
So as all these small kitchen islands prove, you can squeeze one into even a tiny space. But how much space do you actually need for your kitchen island to be an asset rather than an impracticality?
Melissa Klink, Head of Design at Harvey Jones, says 'it is important to keep practical considerations in mind when designing an island. As a rule, the walkaways around an island need to be at least 100cm wide in order to be safe and practical in the kitchen'.
What is the smallest width for a kitchen island?
The ideal width of a kitchen island can come down to personal preference and exactly what you want to use the island for. For example, if you simply want an extra worktop area to prep, you could get away with it being quite narrow, which is fine if you opt for something freestanding or a peninsular design. However, for a built-in island that you'll use regularly and may even have seating added or at least be used as a space to socialize within your kitchen, a practical width would be no less than two feet.
For style leaders and design lovers.
Hebe is the Digital Editor of Livingetc; she has a background in lifestyle and interior journalism and a passion for renovating small spaces. You'll usually find her attempting DIY, whether it's spray painting her whole kitchen, don't try that at home, or ever changing the wallpaper in her hallway. Livingetc has been such a huge inspiration and has influenced Hebe's style since she moved into her first rental and finally had a small amount of control over the decor and now loves being able to help others make decisions when decorating their own homes. Last year she moved from renting to owning her first teeny tiny Edwardian flat in London with her whippet Willow (who yes she chose to match her interiors...) and is already on the lookout for her next project.