Kitchen island trends – 8 shapes, materials and finishes designers are choosing for elevated spaces
Why opt for boring when you could take inspiration from one of these? We're obsessed with top designers' takes on the latest kitchen island trends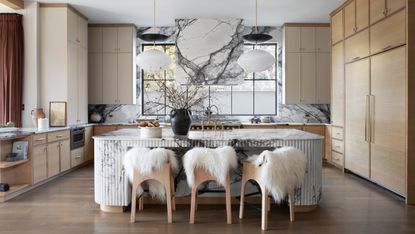 (Image credit: Matti Gresham. Design by Urbanology Designs)
The Livingetc Newsletter
For style leaders and design lovers.
Thank you for signing up to LivingEtc. You will receive a verification email shortly.
There was a problem. Please refresh the page and try again.
The most popular kitchen island trends of today demonstrate that the kitchen really is the room of the moment when it comes to experimenting with color, texture and shape.
Gone are the days of islands taking their design cues from the kitchen cabinetry behind them: instead, designers are creating standalone pieces that are so much more than a functional space, instead defining the mood of the room and adding a welcome point of contrast.
As far as modern kitchen ideas go, then, the kitchen island is a great place to try out the trends of the moment. Take your cue from the designs we've highlighted below – from shapely curves to textured marble, these are the looks we're loving right now.
1. Slim-profile countertops
Kitchen islands are going sleek and sophisticated with slim profile countertops – an elegant contrast to other countertop trends like the chunky designs we've also seen in designer kitchens recently. In this project by Brooklyn designers the Brownstone Boys, the stone is a honed Jadore quartzite from BAS stone.
'It has a subtle green-grey color that balances the grey toned custom cabinets, and it's 3/4" (2cm), so very much on the thinner slim profile side,' explain Barry Bordelon and Jordan Slocum. 'We especially like the way you can see that as it curves around the edge of the island. We love quartzite because it's a natural stone and more durable than many others. This stone was so beautiful we ran it up the backsplash as well.'
2. Textured marble
If you're looking for kitchen island ideas, you've probably spotted the marble blocks that have become popular as people look to integrate more texture and natural materials into their schemes. Textured marble takes the trend a step further, using techniques like fluting to draw more attention to this gorgeous stone.
It's a technique used in this kitchen by Dallas, Texas studio Urbanology Designs. 'The homeowner wanted a wow moment in the heart of their home, and this stunning lilac marble island does just that,' explains founder and CEO Ginger Curtis. 'Each reeded panel in the island was hand-cut and crafted to stay true to the natural veining of the marble. We continued the marble up into a stunning vent hood for a cohesive kitchen look that's luxuriously classic and timeless.'
3. Color contrast
Where kitchen islands used to match with the other cabinetry, designers are now using them as a statement-making piece in their own right. Some use contrasting materials or shapes, but San Francisco-based architecture and design practice Studio PLOW used a striking pink marble for the island-slash-dining-table in this black kitchen. Is there a better kitchen color idea than this?
'We like to think the marble picked us, not the other way round,' says designer Daniel Epperson. 'We were searching for an economic solution for an island/table piece for the cabin and found this vintage Italian marble table on Craigslist. We worked with one of our local marble fabricators to reshape the top and hone the entire piece. We knew there was something beautiful and special hidden beneath retro shape and high gloss protectant sealer on the table. Once the pink marble was revealed we loved how it contrasted with the black Valchromat cabinets.'
4. Stepped shapes
Kitchen islands that step out to form a seating or dining area are a trend that's functional as well as stylish: this kitchen island layout idea allows you to save space where a separate table might otherwise go. They're also a stylish shapely addition in their own right. This design by New York-based design studio SISSY + MARLEY and Jesus Aguilar of Studio Ater reveals itself in layers, running from fully-fledged island to a breakfast bar with a gradually diminishing base and a cantilevered countertop. It's a fabulous way to add interest to a minimalist space by introducing more light and shadow.
5. Square space-savers
People looking for small kitchen island ideas, this one's for you: square islands are a savvy way to save space as well as a smart alternative to the usual rectangular island. This is a trend that doesn't translate too well to larger expanses, so keep the footprint small. Many of the designers we've seen use these include a cantilevered countertop to provide the same breakfast bar functionality that larger islands do.
Functionally, square islands also make for a good filler if your kitchen layout feels a little empty. Take this space by Californian design studio Happy House. 'This kitchen was too small for a larger, rectangular island, but too big not to have a landing area between work zones,' explains founder Melanie Lybrand. 'We discussed the possibility of placing a kitchen table in place of the island, but the client is an avid cook and wanted all the workspace she could get. She also wanted her daughter or friend to be able to sit and visit with her while she prepared meals, so we added the overhang on the back to accommodate this.'
6. Cool curves
Perhaps you've noticed one particular shape that unites many of the spaces in this feature? That's right – curves have graduated from furniture to fixtures, and kitchen islands in sinuous shapes are hot right now. Rounding off the edges of your island can soften harder materials like steel and stone, act as a contrast to straight-edged cabinets, and – as a bonus – are more family-friendly, too. Make like Montreal-based architecture firm yh2 here and use a contrasting countertop to highlight the rounded shape.
7. Tiled islands
In the last year, we've seen tiled surfaces in the kitchen move from backsplashes to countertops and cabinetry, opening up all sorts of design possibilities – tile shapes and sizes and grouting color being a few of them. As much as we love the look of a tiled worktop, the idea of cleaning between them isn't appealing to everyone – but a tiled kitchen island front is a great way to adopt the trend in a lower-maintenance way.
'Tiling an island bench is a versatile way to add colour and texture to a kitchen, especially as an alternative to using tiles on the splashback,' explains Kitty Lee, the Sydney-based architect and interior designer who created the kitchen above. 'In this particular kitchen, the convex tiles were laid vertically to be able to clad the curved shape of the island. The island was designed to suit full tile sizes and the result is a beautifully detailed yet durable and easy to maintain workspace for this kitchen.'
8. Modern metal
We've spotted kitchen islands wrapped in metal finishes in designers' work recently – see the striking peninsula by French interior architecture studio Craie Craie – but this stainless steel kitchen from Montreal-based APPAREIL architecture is an altogether sleeker interpretation of the trend. Reminiscent of a commercial kitchen, it also helps the island stand out from the white cabinetry.
'The kitchen was bespoke to respond to the clients' desire to have a professional, bullet-proof kitchen, that could host and respond to the whole family's needs,' the studio explained. 'At its heart, an enormous island renders the space functional and full of character. Made of stainless steel, it contributes to an industrial aesthetic that contrasts with the white and the residential wood surrounding it, bringing a balance between a cold and a warmer physicality to the space.'
For style leaders and design lovers.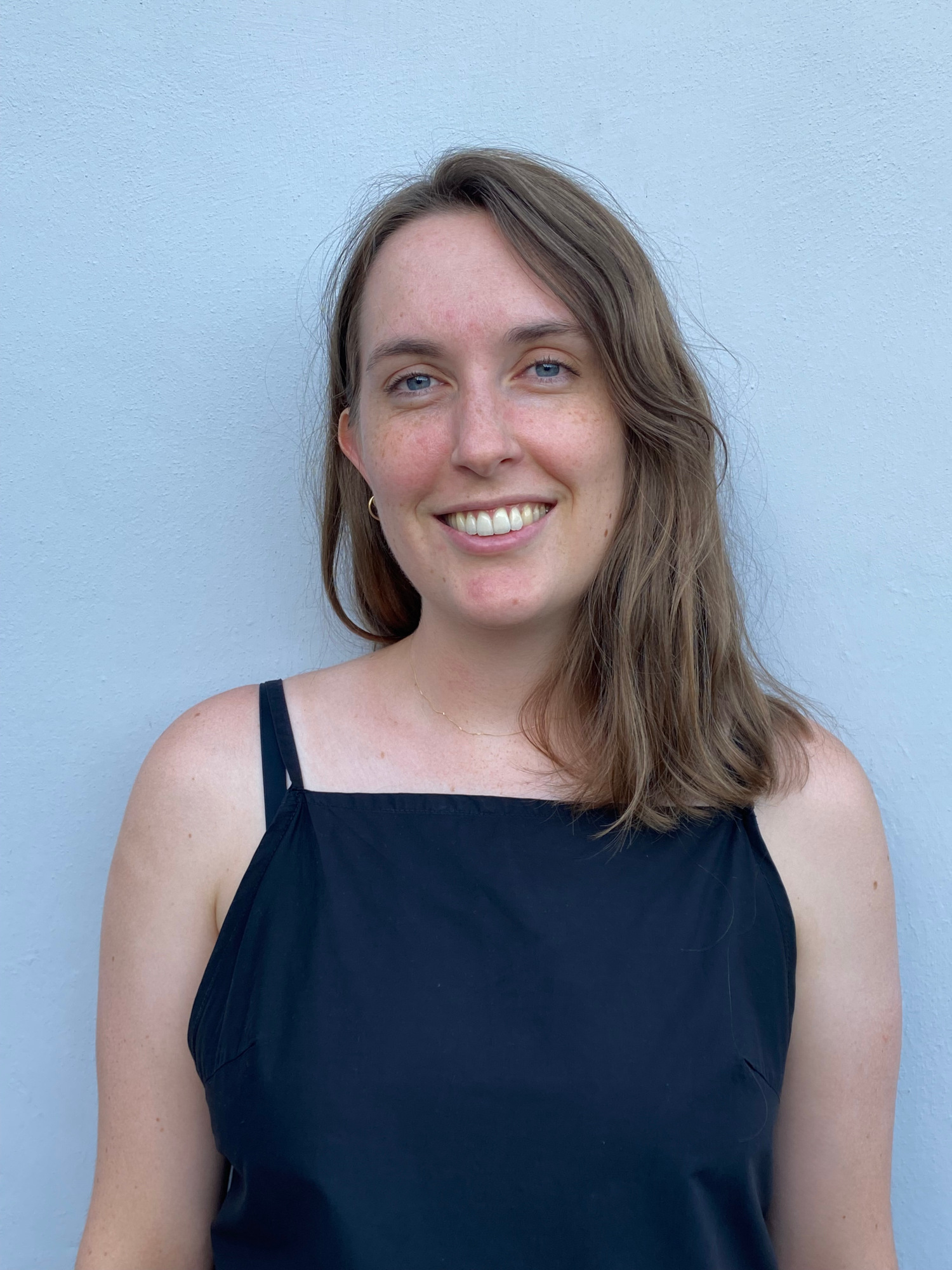 Ellen is deputy editor of Livingetc magazine. She cut her teeth working for sister publication Real Homes, starting as features editor before becoming deputy editor. There, she enjoyed taking a peek inside beautiful homes and discovered a love for design and architecture that eventually led her here. She has also written for other titles including Homes & Gardens and Gardeningetc. While she gets ready to buy a house of her own, she takes inspiration from the works of some of her favourite architects and tastemakers. She has a particular passion for green design and enjoys shopping small, local and second-hand where she can.