Kitchen island layout ideas – what to consider when incorporating your dream island
Inspiring kitchen island layout ideas to consider before adding (or thinking you can't add) an island...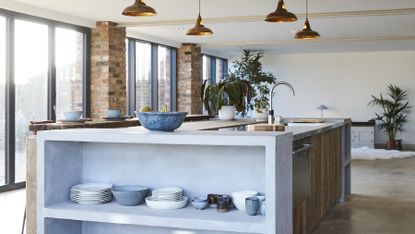 (Image credit: Main Kitchen Co)
When it comes to kitchen island layout ideas, it's key to plan plan plan. Even if you are dealing with a small space where you assume an island was a far-off dream, planning your layout and thinking creatively could prove you wrong. Our attachment to kitchen islands go beyond a practical and additional element to our cooking space. These spaces can become so much more – from reading the Sunday papers whilst the coffee percolates or pouring a glass of wine after a long day, a kitchen island essential creates an instant heart of the home.

Kitchens have become the hub of the home during the past year and as our lives and habits have changed so have the demands for how we need our kitchens to work. Covetable kitchen island ideas can elevate an ordinary kitchen area into something multifunctional, social, and essential. From additional storage to considering overhead lighting, take a look at our inspiring kitchen island layout ideas.
Kitchen Island Layout Ideas
1. Incorporate A Cooking System
If you love cooking while entertaining then islands that incorporate a hob ensure that the space becomes central to the cooking process and so does the chef! This dynamic open-plan kitchen space by Naked Kitchens faces an adjacent sunken living area. The unusual open plan configuration demanded something out of the ordinary to a normal fixed island - elevating the cooking space and beyond.

'We created a stunning solid walnut and marble open island as a central focus,' says Jayne Everett, Design Director of Naked Kitchens. 'Designed as a piece of free-standing furniture, with the function of a kitchen island, all the hob feeds are cleverly hidden. The walnut trestle legs support a super chunky Marquina marble top. A work of art to be much admired.'
2. Consider How Space will work Around the Island
There are emotions and nostalgia attached to that dream kitchen island. Slow reading the Sunday papers whilst the coffee bubbles, spreading out school work whilst eating a comforting dinner or pouring a glass of wine with friends and it's easy to want to steam ahead with implementing that dream but it's important to think about how space around it will be used and what the reality will look like.

'Kitchens need to be as functional as they are beautiful and sacrificing floor space to fit an island will just give an awkward, uncomfortable look,' says Tom Howley, Design Director of Tom Howley Kitchens. 'The importance of walkway space should be a key consideration. When designing your layout always leave a meter of walkway space either one or two sides of your worktop, island, or peninsula counter. This is a functionally and aesthetically effective dimension to keep in mind.'
3. Incorporate a Compact Breakfast Bar
If you have a compact kitchen slim breakfast bars are the ideal way to incorporate small kitchen island ideas into your space. We love this charming sunny yellow design from Plain English which incorporates yellow tongue and groove cabinets, eclectic accessories, and rustic bar stools - and the slim breakfast bar feels a natural part of all the elements rather than standing out as a statement island.

'Islands are usually used in conjunction with an L-shaped or single run of floor cupboards,' explains Adrian Bergman, Design Manager at British Standard by Plain English. 'In either case the island serves as a barrier between chef and guests while providing storage and an extremely useful work surface. Islands can accommodate sinks or hobs but for this to be practical the island must be of sufficient size for the task and issues such as extraction have to be considered. An alternative to a full height fitted island is a worktable on legs; it still has storage but the space below and between the legs makes it feel lighter and less dominating in a smaller space.'
4. Generous and Practical
If you spend a lot of time socializing in the kitchen, one way to make sure there are elements that lend themselves towards that goal is installing a large kitchen island that people can gather around to cook, eat, and chat.
'An island or breakfast bar can work as both a storage area and a place for dining.' says Sinead Trainor, Kitchen Category Manager at LochAnna Kitchens. \While from first glance an iconic design element has been created for the home, the cupboards that fit beneath the island are also a useful place to keep pots, pans or food. Larger islands or breakfast bars also mean that a hob or sink can be fitted in as well, again utilizing every inch of surface space. The current trend is finishing the worktop ends to the floor as a wrap-over with seating on one side.'
5. Opt for a Moveable Island in a Small Space
This delightfully small kitchen and scullery is a little nostalgic and incorporates a freestanding island that lends a casual feel to the room. The kitchen furniture is painted and arranged in a modest way with not too many cupboards and a little butcher's block table in the middle which allows for flexibility of layout in the small space.

'Group your tall cupboards together on the end of a run for an uncomplicated look,' says Helen Parker, Creative Director at deVOL 'This includes integrated or freestanding appliances and add shelving, wall cupboards or hanging rails if you need extra storage. If your kitchen is big you can add an island or prep table. This will create a galley-style workspace when parallel to the main run, as well as a place for people to sit up and be part of the action. A table works just as beautifully or even a little butcher's block.'
6. Plan the layout with Storage in Mind
Kitchen islands are a perennial favorite but are even more in demand are islands that work hard to incorporate all the extra elements from multifunctional living. This island is a beautiful piece of furniture and houses reams of storage underneath as well as open shelving to display books and glassware - doubling up as a display cabinet too.

'At the planning stage try to make your island as large as you can comfortably fit into your kitchen,' says Sam Hart a designer at Roundhouse Kitchens. 'If it's too mean in size you won't get the benefits it will bring. It will become a focal point and you'll want enough space around it for people to sit and socialize. If you integrate a sink and hob, the cook can be at the center of things rather than tucked away from the action.'
'Make sure it has plenty of built-in storage, good extraction, and a robust work surface for food prep. If you have a large open plan space an island is great for zoning it and creating a natural barrier between the cooking/living/dining areas. A further big plus in an open-plan space is that an island can be made to look more like a piece of furniture.'
7. Think about the ceiling when planning
Ideally, a kitchen island would sit smartly in the middle of a space un-encumbered by the areas around it – but often the architectural design of the existing space needs a little workaround and how to incorporate kitchen island lighting ideas needs some consideration.

'In our Heathwood Gardens project, you will see from the image that there is a beautifully large skylight over the right hand side of the island,' says Jayne Everett, Design Director of Naked Kitchens. 'This meant that the right-hand side of the room was glowing in natural light and therefore didn't really need the benefit of extra lighting. Also, because of this large skylight, it meant that the best place for the lights was to the left due to the shape of the ceiling. The left-hand side would have been rather dark without the lighting so this was the best and natural place for them to sit.'
8. Incorporate a Perch for Tucking Away Stools
Making the most of the space you have and maximizing your layout is essential at the best of times and especially when you have a small kitchen. This sweet mid-century-style basement kitchen by Pluck Kitchens maximizes the configuration of the island by incorporating a ledge that juts out of the main island and becomes a storage spot to slide your kitchen island seating. It also creates a perfect perch for checking emails and sipping on coffee in the morning.
Where should an island be placed in a kitchen?
Kitchen islands need to be positioned based on what it's used for. The dining and cooking islands should be placed in the middle of the cooking area. Islands that need electric power should be positioned near outlets. While an island designed for cleanup should be situated near the dishwasher and garbage areas.
How far should kitchen island be from cabinets?
42 inches of space is recommended between islands and cabinets or appliances. If you will be sharing cooking duties with a family member or roommate, you might wish to leave 48 inches instead.
The Livingetc newsletter is your shortcut to the now and the next in home design. Subscribe today to receive a stunning free 200-page book of the best homes from around the world.
Rohini Wahi is Content Editor for Livingetc Online. With a decade-long career in the interiors and design industry working as a journalist for premium lifestyle publications then delving deeper into the business as a trend forecaster, Rohini has amassed a wealth of global design knowledge that informs her work. She loves a period drama and keeps a tidy home.