Kitchen island ideas with seating - 15 transformative built-in seating ideas for your kitchen island
These striking kitchen island ideas with seating are as eye-catching as they are practical and space-saving...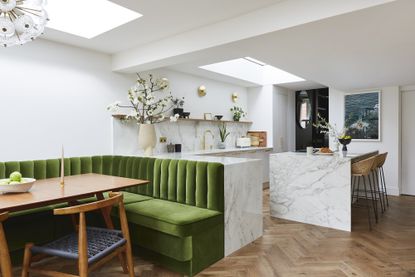 (Image credit: Kasia Fiszer)
As you'll see from the striking kitchen island ideas with seating below, creating built-in seating for your modern kitchen island or breakfast bar is as eye-catching as it is practical and space-saving.
Whether you have a separate dining space or not, informal seating that is integral to the kitchen will always be used. Meals can be served immediately, you can chat to family and friends while you are preparing food and it's a good place to chill with a coffee. And there are lots of variations – comfortable banquette seating, upholstered stools, wooden, rattan or metal stools, stools that fit underneath the kitchen worktop - the choice is huge.
Camilla Clarke, Interior Design Director at Albion Nord says "One great way to make the most of a kitchen space is by using multi-functional furniture, like extendable dining tables, and folding chairs that can be tucked away when you don't need them. Another important pointer is to place large pieces of furniture against walls so the open space in the middle is not broken up."
Here's our edited collection to inspire you...
1. Colour bomb
Now this is what we mean by banquette seating. An L-shaped island is perfectly suited to an upholstered bench seat on the other side. It's not near the hob, so there are no safety issues and it adds a burst of colour to a monochrome scheme, especially in this funky honeycomb design.
The glass table is moveable too so it's truly versatile
2. Shelf life
In this contemporary kitchen, a breakfast shelf has been added to the side of the island with stand-out designer brackets. The shelf doesn't take up a lot of room so it's ideal for quick meals and drinks and the stools echo the modern shape of the brackets. This kitchen has a great colour scheme too.
3. Separate and stylish
An island often separates the working kitchen from the rest of the room, so make a feature of it with a different flooring in each part and smart, upholstered stools to define the areas.
The stools complement the Marine Blue wall colour beautifully and painting the lintel in the same colour adds to the cohesive feel.
4. Add drama
Choosing a dramatic finish for a kitchen island really makes a statement. This is a man-made material inspired by Patagonian Natural Stone. Then at one end a recess has been designed for two stools. The recess is decorated to match the black wall cupboards and is positioned away from the cooking and food prep area, whilst still being part of the action.
5. Updated country
A modern country kitchen style, again the L-shape creates space for banquette seating on the other side, this time in wood with upholstered seat cushions. It's central to the room, so there is plenty of space to move around, and a mixture of dining chairs has been chosen for an individual look. A bench seat would also work well.
6. Clever seating
If you have low windows and don't want to block them with kitchen units, consider a window seat. It's a great idea for 'dead' space that may not otherwise be used and is a nice place to sit with a coffee.
The kitchen units can be stepped down towards it which makes it look like a design feature rather than a 'solution'.
7. Go large
If you have a large kitchen, you can have a large island! And this one is huge, so there is plenty of room at one end for seating. These stools with a low back are on two sides so perfect for chatting to the cook while the food is being made, or for children to do their homework, but they don't encroach into the working kitchen.
8. Small space living
Although you might not have a lot of room In a penthouse kitchen, you can still make a statement, like this stunner, The Modulnova Fly Collection from Design Space London from £25,000.
The large island comes out from the wall, then a breakfast bar is attached at one end that overlaps the island and forms a sculptural block, which means there is no need for a separate dining table.
9. Open plan
With a large space like this, you can have the best of both worlds. The main kitchen is open and spacious then on the other side of the return is a modern banquette seating with a dining table and chairs. It's a sociable space and can accommodate a lot of people comfortably.
10. Wood is good
A classic set up - a large, wooden, rectangular island with an overhang and stools tucked neatly beneath.
The warm wood is complemented by pale grey tongue and groove underneath as a contrast which is echoed in the floor and elsewhere in the kitchen, the school-style stools add to the overall look.
11. Low level
The ultimate minimal kitchen design. The dark grey, porcelain peninsula has been extended at a lower level to create a table and seating area. It's a decent size, and perfect for children at this height too. Simple stools tuck neatly beneath out of the way.
12. Compact space
Don't despair if you have a small kitchen, a compact island unit can still have seating beneath with some clever design. This is perfect if you are short on space, where you don't have room for a separate dining table.
13. Double up
This fabulous kitchen from John Lewis of Hungerford belongs to interiors influencer Gold Is A Neutral and incorporates fabulous bench seating with an Art Deco feel in olive velvet that backs onto the kitchen. Jess has stools at the kitchen island too – so plenty of seating - perfect for big family parties.
14. Make it cosy
Isn't this fabulous? In an open plan space the kitchen and bench seating backs onto the lounge with a stunning wallpaper as a backdrop. The whole space works together perfectly for a comfortable and lived in family room.
15. Double up
And if you have the space why not have two islands? One for cooking and another for prepping and informal eating. This one was designed around a family of five who all love to cook and entertain. Both islands have the same finish and the same fantastic chandeliers above. It's also the perfect party space.
Alison Davidson is well-respected British interiors journalist, who has been the Homes Editor of Woman and Home magazine, and the Interiors Editor for House Beautiful. She regularly contributes to Livingetc, and many other titles, and often writes about kitchens, extensions, and decor ideas. She is the go-to for information about green energy, sustainable home improvement and eco design ideas.