10 kitchen diner ideas – how to create a stylish and functional open plan space
Let these kitchen diner ideas help you design the dream space to cook, dine and entertain...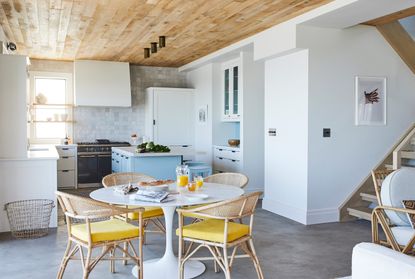 (Image credit: Genevieve Garruppo (@garruppo))
Looking for stylish (but practical) kitchen diner ideas? Not everyone has the luxury of having a separate dining room, and even if you do, there are still so many benefits of adding a dining space to your kitchen. It creates an open-plan space that's ideal for entertaining and socializing while you cook and eat.
Kitchen diners have to be practical above all else, so of course, you want it to be a stylish space but it also has to be functional and work for you and your family. So when deciding on the design and layout of your space it's worth considering your lifestyle – how often you will use the space and what's the number of people you'd like to be able to comfortably seat? Would you like easy access to the garden or would a nice view of it suffice? Do you want the dining space to double up as a workspace too?
Once you've considered how you will use the space, the room layout can take shape. The look and style of your kitchen will obviously influence an adjacent dining area too, so when you've decided on the materials and colors you'd like on the walls, floor and cabinetry, ideas for the dining table, chairs and other furniture will emerge.
We've pulled together plenty of dining room kitchen ideas and expert advice to get you inspired...
1. Choose the right layout for your space
As with any open-plan space, you want to think carefully about the layout. You want a kitchen diner to be a functional space, with good ergonomics so that people can easily move around.
As Lucy Robinson, Kitchen Designer at Neptune explains, 'The beauty of a kitchen diner is that size doesn't matter, to an extent. Including a space to eat within your kitchen can be done in any home, but it is always important to consider how you're going to be using the space, whether you want it to be cozy and snug, or if you want a more spacious area, which of course would require more room.'
'You should think about the layout from the very beginning so that you have a clear idea of how much space you have to play with to include the kitchen cabinetry and the fixed and freestanding furniture, and when zoning the room, consider lighting and soft furnishings. Adding a rug, or a throw, or even a small armchair can really make the room feel more at home, and separate from the cooking space.'
If you have been blessed with a lot of square footage then you might want to consider zoning the space with an L-shaped or U-shaped kitchen or a kitchen island that breaks up the room and creates a divider between the kitchen and the dining space. Just make sure that the walk from the kitchen space to the dining area isn't too long that it makes the space impractical. You want the dining space far enough away from the kitchen that it feels like its own separate zone, but close enough that it's easy to take food to and from the table.
If you have a small space and therefore the dining table will be within the prep and cook space just be sure to always make sure there's plenty of room around the table so it never feels like it's in the way. Consider the shape of your dining table – for a long galley kitchen you might want to mirror that floor plan with a long narrow table, or if space is tight in a small kitchen a compact circular table might be a better option.
2. Unite the areas with a cohesive scheme
Even if you want your kitchen diner to feel like two separate zones, you still want there to be a unity with those spaces. So mirror the style of your kitchen in your dining space, pick a cohesive color scheme and use similar materials in both spaces.
If you have a kitchen island, consider creating a sense of symmetry by mirroring the shape of the island with your dining room table, and use the same lighting in both zones for even more symmetry. Pick up on key colors and bring those into the dining space too. And even decor can tie a space together – matching vases in the kitchen and dining table, mirrors used in both spaces, a table cloth in the same print as tea towels used in the kitchen.
See how in this kitchen wallpaper has been used to zone the spaces, so there's still that feeling of the areas being separate, but the blue of the kitchen cabinets has been brought into the dining area with the blue in wallpaper, and the soft green of the chairs creates an overall calming, cohesive color scheme that's perfect for both kitchens and dining rooms.
3. Think about lighting
Kitchen diners are multifunctional spaces that require different kinds of lighting for different tasks so it's key to get your lighting scheme spot on. As with any effective scheme, you want there to be three layers – accent lighting, ambient lighting, and task lighting. You need to ensure there's a strong enough light in the kitchen space for your to prep and cook by so consider adding spotlights directly above your work surfaces.
In the dining space, you want a more ambient light, something soft and glowy that pools around the dining table. Pendant lights are perfect for this, as they also make a distinction between the kitchen and dining space. If the dining table doubles as a space to work from consider adding dimmable switches so you can switch to task lighting over the table should you need to.
4. Zone the space with a kitchen island
A kitchen island is a really easy way to divide up an open plan kitchen diner, plus is adds extra surface space and storage. It can also be a nice way to hide an un-aesthetically pleasing clutter that might be in the kitchen like plates or food prep. Strategically place your island and slightly raise it so it's higher than the worktops so that when sat at the dining table you can't see fully into the kitchen space.
5. Double up an island as a dining space
A kitchen island can also double up as your dining table, creating an informal eating spot that can also be used to prep too. Of you could copy this kitchen diner idea and build in a bench into the end of the island to provide extra seating for a small dining table. You don't have the visual clutter of lots of dining chairs in the middle of the kitchen but can still have plenty of seating.
6. Use banquet seating to make the most of space
If you want to really maximize seating in a kitchen diner, switching out traditional tables and chairs for a built-in bench that hugs the wall, saving on space and creating an instant cozy nook that feels separate from the kitchen. Plus, you can add in some extra handy storage within the bench should you need it. Be inspired by this kitchen diner idea and hang a single statement pendant light above a circular table to enhance the coziness and make it feel more like its own zone.
7. Pick a circular table in a small kitchen diner
Want to add a dining space to a small kitchen? Opt for a circular table rather than a square design, you can be more flexible with where the seating is positioned, plus it gives a softer look, adding shape to a space that's usually filled with clean, straight lines.
Pick furniture that's going to add texture as well, kitchens can be tricky places to add warmth and wall-to-wall cabinetry can make a room feel very functional and not overly inviting. Choose rattan, wood or can chairs to bring in some raw natural materials.
8. Introduce plenty of natural light
A kitchen diner is often at the heart of the home, the place you spend the most time, so it's important to maximize the amount of natural light coming into the room to make the space feel light and airy. Glass doors, large windows, and roof lights will all ensure the room is flooded with natural light and can create that effortless flow between indoors and outdoors too.
You can enhance the amount of natural light with your design choices – light-tones cabinetry, pale floors, and walls will all help bounce light around the space too.
9. Embrace the trend for dark shades
Since kitchen diners do tend to be larger, more open and airy spaces you can be braver with your color choices too. Take influence from this kitchen diner idea and contrast neutral cabinetry with a wall of a deep inky shade.
Break up the dark color with floating shelves for decor and storage and keep the woodwork crisp and fresh with white or cream to give the space a lift. To warm up those cool tones pick a wooden dining table and bring in wooden accessories throughout the rest of the space too.
10. Use a rug to anchor a dining table
An area rug that runs underneath the dining table and chairs is a really easy way to anchor the furniture within the larger space. Choose a shape that mirrors to shape of the table, and do make sure it's large enough for all the furniture to sit on top. Think practically too, this rug is going to see a lot of wear and tear so pick a fabric, pattern, and color that can handle that. Rattan rugs are great for kitchens and dining rooms as they are so hardwearing and won't show stains easily.
What do you put in a kitchen diner?
The most important thing to put in a kitchen diner is of course the dining table and chairs. Not only do they need to look stylish and fit in with the overall style of your kitchen, but they also need to be practical. Obviously, think about how many people your table needs to sit on a regular basis and consider getting an expandable design if this is your only dining table. Think about the shape as well as the size too. Circular dining tables tend to work better in smaller kitchen diners where they can be tucked into a corner, and for larger rooms, a big long farmhouse style setup can work well.
If your dining space is separate from the kitchen area, consider adding some storage that's closer to the dining table. A compact console table or (if space isn't an issue) a dresser can provide extra storage for plates and glasses and can be a good extra surface space to keep drinks near to hand.
What is a good size for a kitchen diner?
The best size for a kitchen diner will in some way depend on the layout you are going for. If you intend to have a layout where units hug the walls and a table sits in the center, nothing smaller than 20m² would work, you just always want to make sure you have enough space to move around the area easily. If you want to go more open plan with a U-shaped or L-shaped kitchen and a separate dining space you'll want to allow for around 30m².
The Livingetc newsletter is your shortcut to the now and the next in home design. Subscribe today to receive a stunning free 200-page book of the best homes from around the world.
Hebe is the Digital Editor of Livingetc; she has a background in lifestyle and interior journalism and a passion for renovating small spaces. You'll usually find her attempting DIY, whether it's spray painting her whole kitchen, don't try that at home, or ever changing the wallpaper in her hallway. Livingetc has been such a huge inspiration and has influenced Hebe's style since she moved into her first rental and finally had a small amount of control over the decor and now loves being able to help others make decisions when decorating their own homes. Last year she moved from renting to owning her first teeny tiny Edwardian flat in London with her whippet Willow (who yes she chose to match her interiors...) and is already on the lookout for her next project.