How to use colored concrete – 5 homes that make a case for this new industrial trend
Durable, energy-efficient and super stylish, colored concrete is the new on-trend material bringing a raw industrial vibe to any space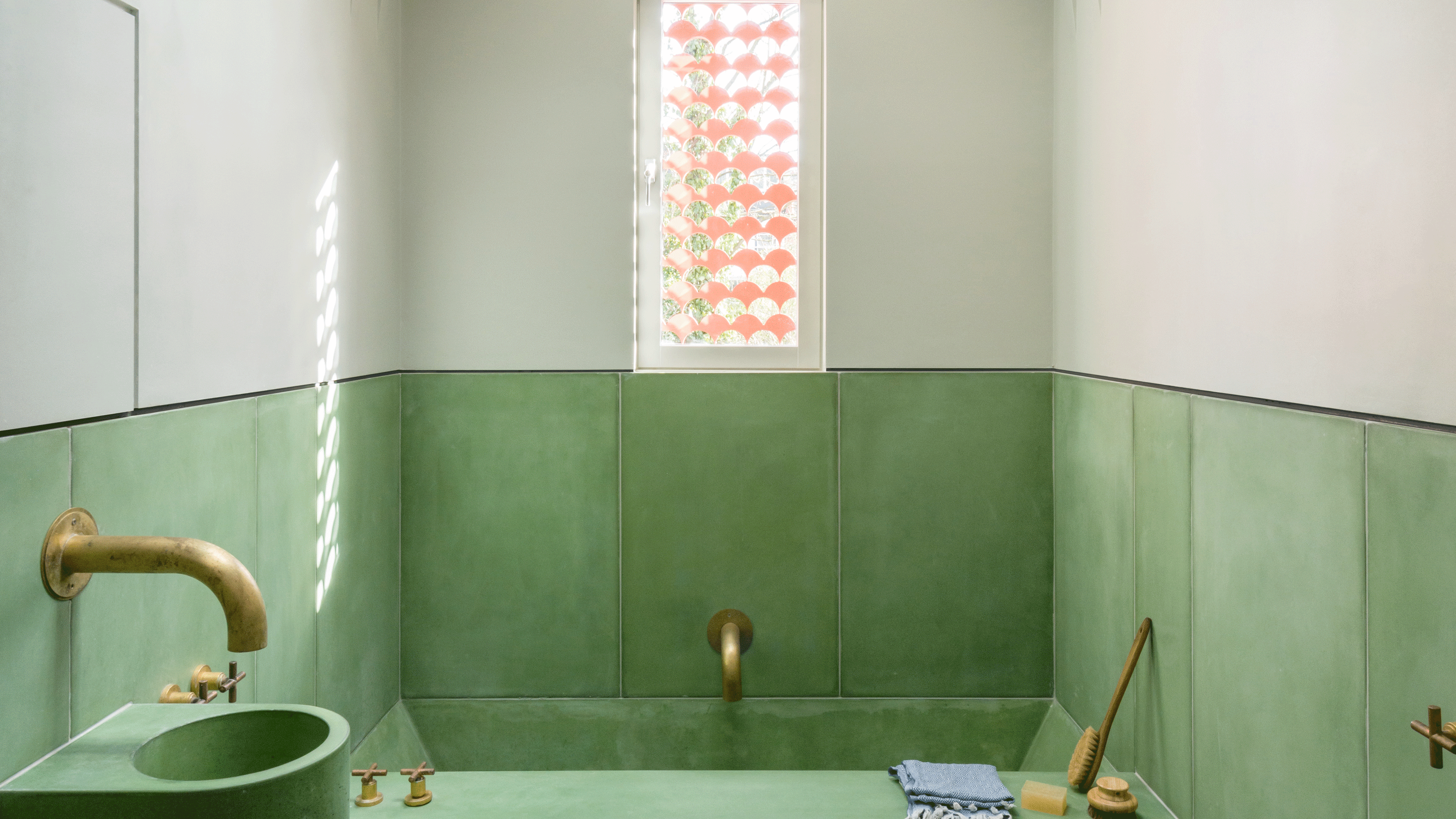 (Image credit: French and Tye)
While concrete started out as a structural building material, in recent years it has become an indoor architectural and decorating staple. Its unrefined, utilitarian aesthetic has been used to create seas of grey floors, walls, and ceilings as well as pieces of furniture, lighting, and accessories. And now colored concrete is upon us, the material moving even further from its functional origins and into the ornamental, merging its edgy tactility with shades from every point in the rainbow.
'Adding color to enhance concrete's appearance is gathering momentum as the next logical progression for the material,' confirms Gus Colley, owner, and MD of artisan concrete company Concreations. 'It provides an enormous opportunity for creativity and setting the mood of a space.'
'Coloring concrete enhances it, celebrating its rich textures and unique markings,' agrees Tom Gresford, Founder of Gresford Architects. 'Colored concrete has a rich, tectonic beauty and juxtaposes raw, unforgiving and brutal materiality with the delightfully lively effect adding color achieves. Colored concrete really lifts and enhances a space in unexpected ways – it can be physically hard and visually soft at the same time.'
Here are five ideas on how to use bring this hot new interior design trend into your home...
1. Use a soft pink to create a striking contrast
This Victorian home in Hackney was given a rose-hued extension with a colored concrete wall (tinted with a powered dye) that merges indoor with out. At the forefront of current architecture trends it leads a cozy living room out into the light-filled glass extension.
'We wanted to highlight and celebrate the concrete addition to the building rather than disguising it, improving the connection between old and new spaces,' explains Tom Gresford, Founder of Gresford Architects.
'The color creates a series of contrasts, such as the contrast of the smooth unexpected shade against the traditional brick wall.' The surface's characteristic imperfections such as air bubbles and other marks add charm and a sense of history to the build.
2. Go white to maximize natural light
Australian firm Carter Williamson opted for a subtle pale blonde concrete for the ceiling and floor of this soothing neutral living room to maximize light, emphasize texture and give breathing room to the muted tones in the rest of the space.
The generous thickness of the pale concrete ceiling is emphasized by the shapely cutout light well, while the concrete for the white floor was mixed with local pebbles, adding depth, tactility and individuality.
'We chose a soft white as a response to the nature-inspired home's holistic material palette – it's simple, refined, and will last for years to come,' says Ben Peake, Associate at the practice. 'We wanted the masonry elements to carry a warmth which people may not generally expect from concrete.'
3. Choose green in the bathroom for a more cocooning feel
Vivid green concrete floods the lower half of this statement, hammam-like small bathroom, used to line the walls and floor as well as three-dimensionally cast into the bespoke bath, basin and benches, a lesson in the infinite design possibilities colored concrete creates.
'We explored an architectural approach with this bathroom, creating a very strong sense of enclosure,' explains architect Ben Allen. 'The pigmented concrete was pre-cast off site which meant that installation was fast, but required a lot of forward planning'. The concrete was heavily sealed to ensure the surfaces remained watertight, and were finished with patinated gold-toned brassware to add texture.
4. Consider a colored concrete kitchen worktop for a sense of playfulness
The pea-green concrete kitchen countertop gives this space a sense of playfulness, as well as imparting important practical benefits. 'The kitchen top is pigmented with a powdered dye which was added directly to the concrete mix, so while it's incredibly robust, if it does eventually chip the marks won't show up,' explains architect Ben Allen. 'The material also means that the sink and drainage could be seamlessly integrated.' The surface was finished with a porous sealant that lets moisture move in and out of the concrete, so it will develop a unique patina as it ages.
5. Use intense colors for a more striking effect
For more intense colors, renders can be used in place of concrete to create a similar feel. 'For this project, we wanted a very controlled, even coloration and surface finish as well as graphic curved forms which would have been incredibly difficult to achieve with concrete, so we chose to use a silicone render instead,' explains Richard Bridges, Founding Director of Alexander Owen Architecture. 'The material guarantees a uniform color and creates a really vibrant color pop', and like concrete creates a statement texture – this mix is combined with 1mm render granules for a rough, tactile finish.'
Is colored concrete expensive?
Colored concrete can be up to 30 percent more expensive than standard concrete because of the color that is added to the concrete mix. It is an investment but the great advantage is that you can have a bespoke color that matches your other decor and create a truly unique, eye-catching look.
Does colored concrete last?
Colored concrete is lasting because it is a permanent surface. With color-through concrete, which is when the color is added into the grey concrete at the time of mixing, the color goes through the entire slab, which makes the color of your choice durable and highly unlikely to fade.
But while concrete may be hardy and durable, but it must be properly protected to survive life in the home, which is where sealant comes in. Once the concrete is no longer damp, seal it to lock in color and shield the surface. 'Decorative concrete is similar in durability to marble or wood – if used correctly and treated with respect it will last many years,' says Gus Colley.
The Livingetc newsletter is your shortcut to the now and the next in home design. Subscribe today to receive a stunning free 200-page book of the best homes from around the world.
Amy Moorea Wong is a freelance interior design journalist with a decade of experience in contemporary print and digital editorial, previously News Editor at Livingetc. She writes on a broad range of modern design topics from news and interior zeitgeist to houses, architecture, travel and wider culture. She has a penchant for natural materials, surprising pops of colour and pattern and design with an eco edge.