Small bathroom ideas: 22 super chic ideas for bijou bathrooms
Super chic small bathroom ideas that don't compromise on style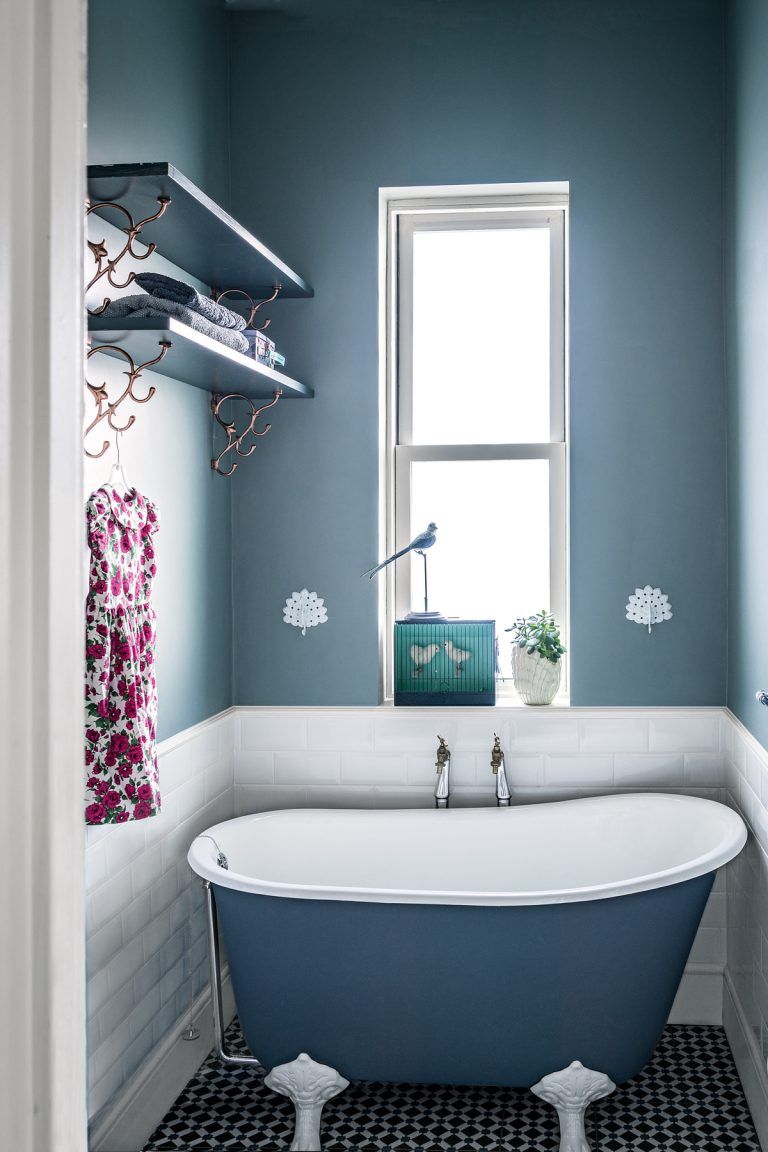 (Image credit: James Merrell)
These small bathroom ideas prove that you don't need oodles of space for a bathroom with impact.
We've searched the Livingetc archives for the best small bathroom inspiration, and have curated a mix of inspired solutions.
Wall-mounted loos with built-in cisterns also help create more floor space, while also creating a handy alcove area above the loo for loo roll and bathroom accessories.
Create alcove shelving in shower spaces too, to keep soaps and sponges within arm's reach. Plus, they look incredibly chic.
Natural light is also key to make a small space feel bigger, and skylights are a great option for when windows aren't enough.
Light bright colours make rooms appear larger, as do floor-to-ceiling tiles, and wet room layouts. You can't go wrong with a clean, streamlined look, but sometimes it can pay off to go for a bold approach with a more adventurous idea.
There are so many ways in which you can make the most of even the smallest of bathroom spaces — without sacrificing an inch of style. Whatever kind of inspiration you're looking for, there's a small bathroom idea for everyone.
From clever small bathroom storage ideas to home spa-inspired shower room ideas ideas that make the most of every square inch of space, these carefully considered small spaces all make the most of their limited square footage.
1. Make every inch count
The narrow corridor space below has been transformed into a compact but stylish wet room which utilises every inch of floor space.
2. Add some luxury
Marble-effect porcelain looks so indulgent, but it's practical and hard wearing too. It's a great small bathroom ideas, as it helps to make a small bathroom feel luxe. Combine it with a Crittall style shower screen like the below example.
3. Ideas worth stealing
This tiny space is full of small bathroom ideas; it's kept light and bright, with floor to ceiling metro tiles and a space-saving small sink area on legs, avoiding a bulky vanity and giving the illusion of more space. The toilet is wall-mounted, with the cistern built-in, thus creating a handy tiled shelf above the loo for loo roll and bathroom accessories. The towel rail is mounted in the alcove, so that it's not encroaching on any personal space.
4. Opt for wall-mounted taps
Wall-mounted taps, a counter-top sink and under sink storage are just some of the small bathroom ideas in the rustic scheme below.
5. Create a home spa feel
If you're looking for small bathroom ideas that are a little more luxe, this spa bathroom might hit the spot. A round bath frees up space for a ledge for books, bath salts and flowers. A wall mounted shower head also helps to save space. The slatted woodwork create a spa-like, grown-up atmosphere. It might be a small space, but it oozes luxury spa vibes.
6. Small tiles to make the space seem larger
This smart, small bathroom space is covered head to toe in tiny black chevron bathroom tiles, giving it a cool hotel bathroom look – plus the small tiles make the space seem larger, by fitting more in it.
7. Wall to wall wet room
By opting for a wet room, there's no need for visible shower trays or shower screens, and you can use every square inch of space.
8. Create an alcove nook
You might find that you can borrow some extra space from behind a wall, to create a little bit of extra storage. A built-in shower nook provides pretty storage while towel hooks instead of shelves help free up space. Extra large white tiles in a herringbone formation also help make this light and bright space appear more spacious.
9. Step up
The below showcases one of the more unusual small bathroom ideas, with small steps that help to separate, zone and define separate areas of the bathroom. Aside from adding interest, it can also make a room feel larger.
10. Corner shelves
This small ensuite bathroom makes the most of the space with wall mounted taps, corner shelving above the sink, and under sink storage.
11. Mini roll top bath
Who says you can't have a roll top bath in a small space? This cute bathtub is from a restoration yard and is the perfect fit for this bijou space.
12. Sink as a shelf
In this glamorous small bathroom, a bespoke guitar-shaped marble basin doubles up as a shelf.
13. Utilise dead space for extra storage
Shelving above the loo make the most of otherwise dead space.
14. Wall to wall
This wall-to-wall tub sits snugly against the back of this small bathroom, offering views from the bath, while no space around the bath is wasted.
Natural slate, a petrified tree stump and botanical prints bring an organic warmth to the look.
15. Use the height
Make the most of the height of a tall bathroom space. Large-format tiles in a pale shade accentuate the height of this small bathroom. A design suggested by the architect means the ornate cornicing remains intact and the owner has somewhere to put their speakers. Plus, you could incorporate a whole wall worth of built-in storage as the storage only needs to be a few cm deep to house beauty and hygiene products. Sliding doors would be the best option to stop it from encroaching too much.
16. Dare to create drama
Mustard walls, raw concrete shower space and geometric tiling add instant drama to this small shower room. Forgoing a bath also helps to save space.
17. Floating basin
Avoid a bulky vanity, instead opting for a floating sink or a sink on legs or with open shelving.
A floating basin creates more floor space, while a small alcove behind the bath provides a handy shelf. There's also a cupboard behind the mirror.
18.
A sliver of space in the hallway was converted to create an en suite for the master bedroom. A compact sink and loo were chosen, and a walk-in shower separated by a simple glass screen.
19. Bold ideas can pay off
This bathroom is functional, but packs a punch too. Sometimes it pays to be bold with an idea.
20. Or keep it simple
Livingetc are big fans of clean, streamlined and minimalist looks – and this wet room ticks a lot of boxes.
The Carrara marble mixed with the black brassware gives a slice of drama to this classic and beautiful design, as does the recessed LED lighting.
21. Shower screen
Incorporating the shower into the rest of the space by unifying the flooring to create more of a wet room feel will make the whole space feel bigger.
22. A pedestal basin for an eye-catching look
A pedestal basin is a chic addition to this compact shower room space. The lack of a bath also helps to save space.