27 clever small bathroom ideas that will breathe new life into size-challenged spaces
Any of these small bathroom ideas can make your room all the brighter, airier and more spa-like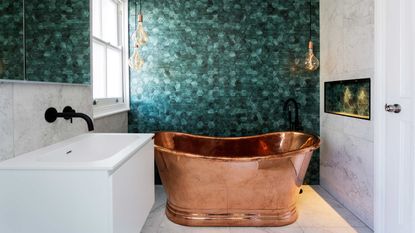 (Image credit: Zulufish)
The Livingetc Newsletter
For style leaders and design lovers.
Thank you for signing up to LivingEtc. You will receive a verification email shortly.
There was a problem. Please refresh the page and try again.
Small bathrooms are tricky to get right. It's all about balancing form and functionality while taking into consideration elements like the sink, shower, vanity, storage, the bath. Meanwhile, you have to weigh up the design aspects, and you might feel that less is available to you when space is at a premium.
But there are clever design tricks you can do to make the most of the space you have, and sometimes, it's about spinning the design on its head and embracing the lack of space, creating a small powder room feel that has serious wow-factor.
Our list of modern bathroom ideas for small spaces is proof that you can get it right. Read on for ideas from the designers for how to make the most of even the narrowest of spaces.
Aditi is an experienced homes writer and editor. She has written hundreds of articles for various international titles helping readers make the best home design choices, and spends her days interviewing interiors industry experts to bring the latest ideas to her readers. For this piece she spoke to the world's best designers to compile fresh bathroom looks to inspire.
24 small bathroom ideas you can steal
1. Don't be put off the freestanding bathtub
The epitome of the luxury modern bathroom, the freestanding bathtub gives a spa feel to the space and reinforces the idea that your bathroom is a place for relaxation and pampering, and not just a practical zone. Your bath has the potential to become a beautiful aesthetic focal point and the ultimate sumptuous setting for nourishing the body and mind, so don't ditch your hopes of a freestanding bathtub just because you have a smaller space.
'When designing a compact bathroom, most opt for a boxed-in bath to try and maximize the space,' explains Emma Joyce of House of Rohl. 'In reality, the result can feel claustrophobic and the room may feel like it's dominated by a bath.
'A freestanding bath is an intelligent design solution as it can open up the floor and wall space, creating an illusion of light and airiness.'
For smaller bathrooms, a small or short freestanding bath can come in anything as small as 47 inches. Consider a slipper bath - an asymmetrical freestanding bath raised at one end so the bather can be immersed. 'A short roll-top or back-to-the-wall design with at least 100mm round each of the edges is also good for smaller bathrooms,' says Barrie Cutchie of BC Designs.
If you are going small in size, you can make up for it in material. This design by interior design service, Zulufish have included a smaller bath but allowed the piece of furniture to really take center stage in wow-factor copper.
2. Paint the ceiling
Draw the eye upwards by exploring the options with the 'fourth wall'. You might be tempted to paint your bathroom light and neutral, going white, cream, grey and beige. These hues reliably bounce light across the space.
'Keep it light and bright,' suggests Aaron Markwell of COAT Paints. 'It may be tempting, but you don't have to reach for a pure white paint to lighten up your space. Opt for a light green or pale pink to create an airy bathroom, a pastel shade can soften the room, creating a peaceful retreat and spa-like space.'
'Whatever color you pick, think about painting your walls, ceilings, and doors the same color, this elongates the room, making the space seem higher and creates a cocooning effect.'
In this example, the lack of color in the lower part of the bathroom is made up for with a pop of bold pink on the painted ceiling.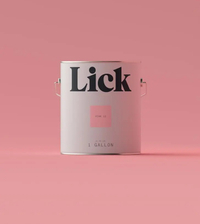 A bright cheery pink, perfect for the ceiling. Just make sure you add a sealant. As steam rises from your bathtub, there is potential that it might damage the paintwork.
3. Eliminate visual clutter
In a small bathroom, there are plenty of small jobs you can do to eliminate the visual clutter that changes the room's energy to a space that is stressful when it should be calming. Too many elements in a small bathroom will create visual clutter, leading to the experience of an even smaller space.
'Ensure the space feels clutter free and calm with details like larger tiles and minimum grout lines, concealed cisterns, a wall recess and frameless shower screens,' says Cagla Akguner-Taylor from CHEG Architecture, who designed this sleek, elegant bathroom. 'This will eliminate visual clutter and allow the bathroom to breathe and feel more spacious.'
4. Work your way into the walls
Get clever with the architecture of your room and if you can, push the walls into the space to try and create more room for shelving, or in this case, a small sink. 'We highlighted the niche with a colorful tile selected from Hudson Penny Round Emerald and added solid walnut shelf accents,' explains Denise Hall Montgomery of DHM Architecture.
'The wall sconce adds a touch of sparkle without sacrificing space.' Meanwhile, the space is really highlighted with beautiful bathroom tiles.
5. Reconfigure the layout for better space management
Sure, most bathrooms have a standard layout where fixtures go. But if you're up for a remodel, then changing up the room's layout and design may be in your best interest. You can move the small bathroom shower, bathtub, or vanity area round in such a manner that they open up more circulation room. Plus, a bathtub by the window will not only open up views but will distract attention away from the room's small footage.
'This bathroom was originally a cold room with a pitched ceiling,' says interior designer Lonika Chande. 'Bathrooms are so often clinical spaces, but I like them to feel warm and inviting. Choice of materials and including fabric and rugs help. We reconfigured the layout, positioning a bath in front of the window, adding tongue and groove paneling, and replacing a cold tiled floor with warm oak engineered boards. We added storage, a relaxed Roman blind in a favorite Robert Kime linen, and antique kilim rugs.'
6. Add a chic vanity to style up the small space
You'll be surprised at how a stylish bathroom vanity can uplift even the most staid space. To make your tiny room look like a million bucks, consider a fluted vanity in a deep tone. Add an equally eye-catching mirror above to create an interesting vignette.
⁠'This 1980s Texan home turned sleek and modern dream,' says Eddie Maestri, founder of Maestri Studio. 'No space is off-limits when it comes to the magic that a little architectural design on the vanity, that can transform a space.'
7. Think of creative ways to lay tiles
'Small bathroom tiles can bring the space to life,' says Amanda Telford of CTD Tiles. 'Try to be creative with the way you lay them out. Think focal point backsplashes, interesting layouts, etc. There are so many ways to use rectangular metro tiles for instance, whether that's stacking them vertically, which can make the room appear larger, or creating a herringbone effect for maximum impact. Small bathrooms are often a place where you can be a bit bolder with your design choices, consider opting for pinks, greens, blues, or even blacks for a designer statement.'
8. Bring in an eye-catching wallpaper to distract attention from the small square footage
When it comes to a fearless choice in color and pattern, bathroom wallpapers are just the solution. These not only inject vibrancy into the interior but also distract attention away from the room's small dimensions and give it a compact, jewel box-like appearance.
'We took this windowless powder room and turned it into a glowing rich space with high gloss black printed floral wallpaper from Brett Beldock of Brett Design, which we applied to both the walls and the ceiling,' says Erin Fearins, partner at Studio SFW. 'We worked with the existing modern brass and black marble washstand and added beautiful vintage touches like the towel ring and inlaid bone mirror to give the space some interest and personality.'
Since this is a wet space, it's best to use waterproof wallpaper or murals in a small bathroom which has a shower or a bath, as condensation can cause damage to standard papers. For your best bet, save the wallpaper for a small guest bathroom or powder room, which won't suffer the same everyday use as your family one.
9. Add a sense of luxury with marble
Just because the space is small doesn't mean it can't be luxe. A great way to make the tiny, minimalist bathroom feel modern, slick, and smart is with marble, with the material running up the walls and the sink.
'A perfect representation of stripped-back craftsmanship and simplicity, the bathroom floor is lined with white statuary marble giving an illusion of space,' says Ali Baldiwala, founder of Baldiwala Edge. 'The addition of a cone laundry basket is a stylistic borrowing from the Japanese school of design, juxtaposed with gold fittings by Kohler that add a touch of luxury to the space.'
10. Dress up the windows with vibrant shutters
Sometimes a small bathroom has no space for extra frills and decoratives, which is where modern window treatments come into play.
The advantage of choosing vibrant blinds or shutters is that the classic, hardwearing and practical addition will allow filtered light inside, open up views when you feel cramped in, offer privacy with style and also discourage people from noticing the small dimensions of the room and instead, look outwards at the beautifully framed vistas.
'Window dressings are an ideal way to add an accent color to a small bathroom,' says Sally Denyer of Shutterly Fabulous. 'Colourful shutters will reflect the natural daylight from the window, making the impact of your chosen shade more striking. They will also draw the eye to the window which makes the bathroom more inviting.'
11. Try the color drenching trend
Going all in on one color is an interesting way to tackle the proportion issues of a small bathroom. The so-called 'color drenching' trend sees all the elements of a room in the same hue. By painting the ceiling and the walls the same color, you can trick the eye into thinking the room is bigger than it actually is.
So, why not go bold with your color drenching choice, like this small bathroom? 'In a small bathroom, experiment with bold colors and decors and inspired layouts and patterns,' suggests Andrew Bendall of Craven Dunnill Jackfield. 'The bathroom is the perfect space to make a distinctive design statement that is uniquely individual. Bringing texture up onto the walls through tiles adds tactility and allows light to beautifully reflect off the glazes, bringing vitality to a space.'
12. Create drama with wall paint
No rule says that a small bathroom cannot be bold and daring with color. Add a big boost of personality to this small cloakroom and make it one of the central features of the home.
'For smaller spaces like bathrooms we love combining paint that is playful and bold with undertones that can work on a multitude of hardware finishes and classic, subtle tile selections for more flexibility down the road,' say Alice Arterberry and Barrett Cooke, founders of Arterberry Cooke. 'A playful choice for bathroom walls is hushed, light corals. This happy choice looks sophisticated when paired with natural materials like terracotta or terrazzo and against the richness of oak cabinetry and furniture. When partnered with crisp whites it looks fresh and perky.'
While trending and earthy colors could transform the look of the space, you could also choose saturated hues for an eye-catching look.
'I love saturated, moody greens or bold emeralds that impart drama to a bathroom, which can bring life to a smaller powder room that would otherwise feel dark or drab,' says Sue Wadden, director of color marketing at Sherwin-Williams.
13. Install a large mirror above the vanity
In the tightest bathrooms or powder rooms, have a bathroom mirror stretch across the wall or along with the vanity. This will not only create an illusion of more space but also enable two people to use the room at once. In less-than-ideal space conditions, every inch helps.
'Proper space planning is always incredibly important, especially when working with smaller spaces,' says Ali Budd, creative director of Ali Budd Interiors. 'In small bathrooms, you want to ensure you're maximizing storage and optimizing flow as much as possible. A big (properly sized) mirror above your vanity is a clever technique for creating the illusion of more space.'
14. Opt for a glass shower door
A frameless glass bathroom shower enclosure can fit into any style and appeals to modern tastes. It is an elegant and classic look. The door does not break up visuals and makes the bathroom seem like one large, seamless space. Plus, it disallows the water from reaching other parts of the bathroom and helps keep the space clean and dry.
'If you're starting your small bathroom design from scratch, consider scrapping the curtain entirely,' say Mitul and Mehul Shah, principal architects at Studio Yamini. 'Glass shower doors in a small bath will help open up the space. Light doesn't only apply to walls and tiles but also t furniture and bathroom fixtures.'
15. Incorporate multiple mirrors
Mirrors aren't simply for checking your reflection; these serve several purposes. Mirrors help expand light, create an illusion of extended space and also make a room seem endless. If you're looking for small bathroom storage ideas, a clever solution is to hide it behind the mirror to give the room a neat look.
'Rather than just hanging one above the vanity, consider mirroring a whole wall of your tiny bathroom,' say Mitul and Mehul. 'The reflection of light and pattern (and, sometimes, that open door) will do the same good work a window does. If mirroring an entire wall won't work in your space, you can just add multiple mirrors to one wall.'
16. Add style, storage and hide plumbing
Adding a stud wall to a small bathroom may appear to go against 'making most of the space', but if you have plumbing that you want to hide, say if you have a floating sink with wall-mounted taps as seen here, chances are you'll have to build a forward wall to hide the plumbing. And while it may slightly eat into the square footage, it does create a very minimalist too with zero ugly pipes and very handy shallow bathroom shelving – perfect for storage and decor.
A design like this that's simple, sleek and doesn't break up the room works perfectly. Keep the look really seamless by tiling floor to ceiling, not just the stud wall to keep that continuity.
17. Create useful space around a bathroom sink
When you don't have room for a double-sized vanity or stretches of endless countertop space, you need to make your bathroom sink ideas work harder for your design.
In this design by California-based Nash Design Group, a smaller, undermounted sink has been used, allowing designer Kendra Nash to create a wider countertop surround that makes the space much more practical.
Not only does this create more useable countertop space, but it also looks more streamlined, reducing the clutter on the countertop compared to if a surface-mounted sink had been chosen. This is important for making a small bathroom feel less cramped.
However, by choosing an undermount sink, you do forfeit some storage in your bathroom vanity – ask yourself the question, is this worth the trade-off when it comes to your requirements for the space?
18. Save space with wall-mounted faucets
Another simple space-saving trick is to incorporate wall-mounted faucets into your small bathroom design.
'We use them in all our small bathrooms,' says Kevin Sawyers, the San Francisco-based designer behind Sawyers Design. 'Not only do they increase space, but the backsplash makes a perfect a base for a mirror, which all goes to visually expanding a countertop.'
When choosing a bathroom backsplash idea, consider a pattern or color that can flow over to the floors, so that the visual looks neat, unified and seamless.
19. Mix materials to add depth and interest
We all too often are told to play it safe in a small space, and don't worry we are not advocates of breaking that rule, however sometimes in a small bathroom a neutral color palette does work best. Simple, timeless and adaptable to so many styles, sticking with whites, creams, greys and blacks can be a sure-fire way to make a small bathroom feel bigger.
And neutral doesn't have to mean boring, as this gorgeous rustic bathroom designed by Jamie Haller proves. The key is to add interest in ways other than bold colors – mixing different materials, shapes and textures to give a bathroom depth. Particularly consider your small bathroom tile ideas. Here there are so many different finishes going on from the gloss white subway tiles to the matte black bathroom floor tiles.
'The simplicity of black and white elevated with the sophistication of the marble bath surround and set against the antique wood window felt like the perfect timeless look for this 1905 Craftsman bathroom.' explains Jamie. 'The antique porcelain light shades were sourced from local garage sales of this historic neighborhood and paired with antique replica bases in a warm brass for the perfect mix of old and new.'
20. Switch a traditional layout for a wet room design
Wet room ideas can work so well in small spaces as they don't break up the room with separate shower trays or full enclosures. Light can flow around freely and the eye can move around the room without obstruction.
'When it comes to showers, a separate shower can often be considered a luxury if space is tight,' explains Barrie Cutchie, Design Director at BC Designs. 'However, there are a couple of clever ways around it including wet rooms and folding shower screens that take up much less room than a typical shower. Wet rooms tend to not need enclosures or bulky shower trays and can blend into the aesthetics of the rest of the room.'
'We're seeing a growing trend for folding shower screens. These can easily be folded back when the shower isn't used, helping to create a sense of space as well as the ability to easily use the bath when bathing children.'
21. Choose a wall-mounted vanity to make the floor look larger
In a similar vein of not adding too much visual bulk to a room, wall-mounted units that float above ground keep floor space free, again creating the allusion of a larger room. So ditch the 'legs' on vanities, WCs and any other bathroom furniture.
'To make a small bathroom look bigger, choose a wall-hung bathroom vanity idea or one with slim legs,' recommends Irene Gunter, founder of Gunter & Co. Creating more visible floor space opens up a room and gives the illusion of more space. For the same reason, I would also always recommend a wall-hung WC for a small bathroom.'
22. Go even bolder with a wall mural in a small bathroom
You might think wall mural ideas are best suited to a large, expansive room in the home, but they can actually work incredibly well in very small spaces, such as compact bathrooms. It creates a magical moment, a hidden wonder for guests to discover and, most importantly, you won't spend all day looking at it, so it's sure to stay in your favor for longer.
'The powder room can be a departure from the rest of the house and is the perfect place to take chances,' says Holly A Kopman, an interior designer from Mill Valley, California. 'This custom wall painting by Caroline Lizarraga here transforms this small powder room into an experience. The asymmetrical layout of the vanity is unexpected and allows the bronze sink and the Crystal sconce each a place to shine.'
23. Create a bathroom niche for handy storage
Small shower storage ideas might not be the most exciting aspect of bathroom design, but it's one of the most important. And recessed shelving is a chic way to add storage without protruding into the room and adding too much visual bulk.
'Avoid a floor of toiletries or an overcrowded caddy by installing a recessed shower shelf,' explains Interior Fox's Jen and Mar. 'It's a practical and streamlined way to add storage space, without taking away elbow room. Make a feature out of the area by using a colored trim that contrasts against the wall tiles.'
Interior designer Irene Gunter agrees. 'Clutter can make a small bathroom look even smaller,' she says. 'Keep yours organized by incorporating a recessed shower niche into your design. It's a good way to add storage that doesn't take up elbow room in the shower. Make a feature of the niche with tiles that strike a contrast with your wall tiles.'
24. Allude to height with wall panelling
Bathroom wall paneling ideas can be a really easy way to create height – they can draw the eye upwards and add an elegant airy feel. This small bathroom has relatively low ceilings, hence squeezing in a compact tub rather than going for a shower, but the vertical lines of the subtle paneling allude to there being more height.
And if paneling isn't an option for your bathroom, a striped wallpaper or something with a vertical print will have a similar effect. It's the oldest trick in the interior design book for a reason, it works.
Sam Bramley, a color specialist at Lick Paints, also suggests 'tiling or paneling your walls to dado height and then wallpapering above. This adds a sense of space and draws the eyes up to your wallpaper. It also allows the wallpaper to stand back from the hardworking areas, taking center stage.'
25. Light a small bathroom effectively
Small bathroom lighting is key to making the space feel inviting, making sure it functions efficiently and doesn't feel tiny or boxy. As with any good lighting scheme we'd suggest covering the three main types – accent, ambient, and task. You want something stronger like spotlights or wall lights around the vanity area, and then keep it soft and diffused throughout the rest of the room. And get decorative – lighting can double up as decor in a small bathroom so consider bathroom pendant lighting or statement wall lights that add more than function to the room.
'Bathrooms are now as much relaxation spaces as practical spaces, so consider your lighting at the planning stage to maximize opportunities.' says Peter Bowles, Founder of Original BTC. 'Asking your electrician to install several circuits means you'll be able to introduce texture and depth, which is particularly useful in smaller bathrooms where there is often little natural light. Most bathrooms will benefit from a central lighting source in the form of a ceiling light and a combination of practical, space-saving wall lights and spotlights – wall lights are a great choice for bathrooms, especially if you have low ceilings.'
Natural light can be a game-changer in a small space so really maximize that by keeping your window treatments simple and window ledges free from clutter. 'There's nothing like natural light to make a space lighter, brighter, and give the feeling of more space. If your small bathroom doesn't have wall space for a window, install a skylight instead.' suggests Irene Gunter.
26. Expand space with stripes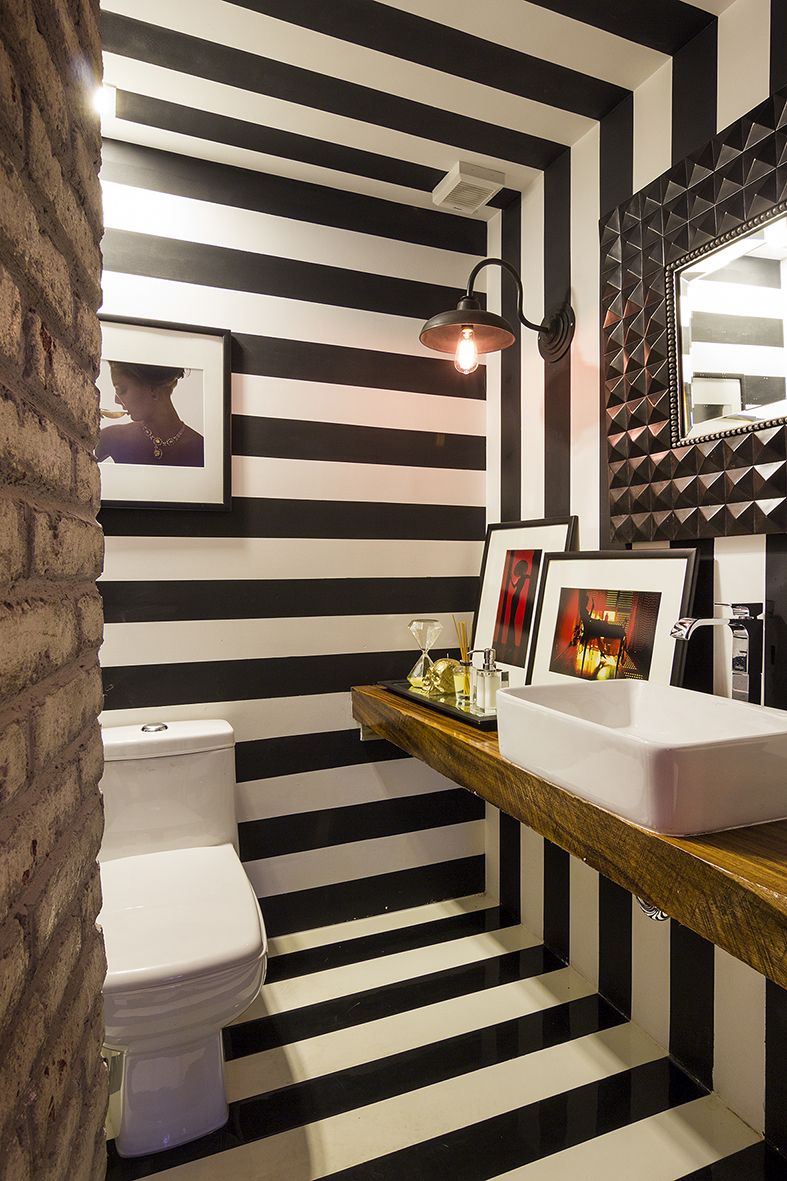 How fabulous is this powder room designed by Olga Hanono? So bold and intriguing for such a small space – we have always thought that powder rooms are spaces that should surprise and feel decidedly different from the decor throughout the rest of the home. And of course, stripes are doing what they were made to and making this small space feel so much larger.
'Bathrooms are a great space to experiment with pattern and color. I love to bold patterned walls that surprise and delight you every time you walk into the room.' says Damla Turgut, founder and creative director of Otto Tiles.
'Whilst most people will tend to opt for whites, neutrals, and lighter tones on bathroom walls, using bold, bright, or dark colors and patterns can add a real sense of luxury to bathroom space. We love to use striped tiles, they're somewhat of a signature for us and can really add a fun element to the bathroom wall.'
'As a design, they also create the illusion of a much larger space tricking the eye to add length or width to a space which makes them a good choice for smaller spaces.'
27. Keep things simple with clean lines
There's a lot to be said for simplicity in a small bathroom, as this space designed by J.Patryce Design demonstrates. The clean lines of the room – from the vanity and mirror, right down to the chic matte black taps and the stipes of the floor tiles. The whole space feels bright, lighting, and calming thanks to this small bathroom flooring idea.
'For this project, we were aiming for clean, simple, and somewhat budget-friendly,' explains Joan Enger founder of J.Patryce Design. 'We splurged on the custom vanity painted in a deep, matte finish and used economical floor tile installed in a clever pattern to make it less ordinary. The end result… a chic, timeless look.'
For style leaders and design lovers.
Aditi Sharma Maheshwari is an architecture and design journalist with over 10 years of experience. She's worked at some of the leading media houses in India such as Elle Decor, Houzz and Architectural Digest (Condé Nast). Till recently, she was a freelance writer for publications such as Architectural Digest US, House Beautiful, Stir World, Beautiful Homes India among others. In her spare time, she volunteers at animal shelters and other rescue organizations.
With contributions from