Small bathroom ideas – 24 creative and clever ways to stretch out this space for style and function
Choose these small bathroom ideas to boost this pocket-sized space's identity and use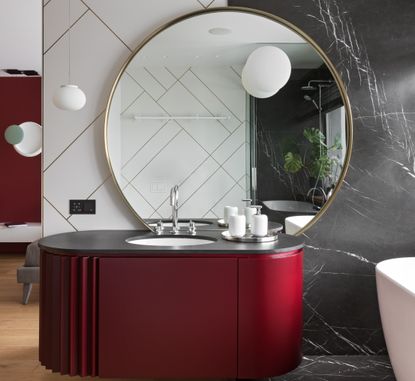 (Image credit: JL STUDIO. Photo credit Egor Piaskovsky)
In small bathrooms, it can be difficult to fit in style, functionality, and design when a whole load of bulky elements like the sink, shower, WC, vanity, and storage cabinet take space. Add in standard measurements and clearances to meet permit requirements, and you can be left without much of a footprint with which to get fancy.
But things needn't be as bleak as you think so. With creative ideas, visual tricks, and bold color schemes, you can not only save space but also make your bathroom the home's style central.
Our long list of bathroom ideas is proof. Get right in and find out how you too can make the most of this slim room.
Aditi is an experienced homes writer and editor. She has written hundreds of articles for various international titles helping readers make the best home design choices, and spends her days interviewing interiors industry experts to bring the latest ideas to her readers. For this piece she spoke to the world's best designers to compile fresh bathroom looks to inspire.
24 small bathroom ideas you can steal
1. Reconfigure the layout for better space management
Sure, most bathrooms have a standard layout where fixtures go. But if you're up for a remodel, then changing up the room's layout and design may be in your best interest. You can move the small bathroom shower, bathtub, or vanity area round in such a manner that they open up more circulation room. Plus, a bathtub by the window will not only open up views but will distract attention away from the room's small footage.
'This bathroom was originally a cold room with a pitched ceiling,' says interior designer Lonika Chande (opens in new tab). 'Bathrooms are so often clinical spaces, but I like them to feel warm and inviting. Choice of materials and including fabric and rugs help. We reconfigured the layout, positioning a bath in front of the window, adding tongue and groove paneling, and replacing a cold tiled floor with warm oak engineered boards. We added storage, a relaxed Roman blind in a favorite Robert Kime (opens in new tab)linen, and antique kilim rugs.'
2. Add a chic vanity to style up the small space
You'll be surprised at how a stylish bathroom vanity can uplift even the most staid space. To make your tiny room look like a million bucks, consider a fluted vanity in a deep tone. Add an equally eye-catching mirror above to create an interesting vignette.
⁠'This 1980s Texan home turned sleek and modern dream,' says Eddie Maestri, founder of Maestri Studio (opens in new tab). 'No space is off-limits when it comes to the magic that a little architectural design on the vanity, that can transform a space.'
3. Think of creative ways to lay tiles
'Small bathroom tiles can bring the space to life,' says Amanda Telford of CTD Tiles (opens in new tab). 'Try to be creative with the way you lay them out. Think focal point backsplashes, interesting layouts, etc. There are so many ways to use rectangular metro tiles for instance, whether that's stacking them vertically, which can make the room appear larger, or creating a herringbone effect for maximum impact. Small bathrooms are often a place where you can be a bit bolder with your design choices, consider opting for pinks, greens, blues, or even blacks for a designer statement.'
4. Bring in an eye-catching wallpaper to distract attention from the small square footage
When it comes to a fearless choice in color and pattern, bathroom wallpapers are just the solution. These not only inject vibrancy into the interior but also distract attention away from the room's small dimensions and give it a compact, jewel box-like appearance.
'We took this windowless powder room and turned it into a glowing rich space with high gloss black printed floral wallpaper from Brett Beldock of Brett Design (opens in new tab), which we applied to both the walls and the ceiling,' says Erin Fearins, partner at Studio SFW (opens in new tab). 'We worked with the existing modern brass and black marble washstand and added beautiful vintage touches like the towel ring and inlaid bone mirror to give the space some interest and personality.'
Since this is a wet space, it's best to use waterproof wallpaper or murals in a small bathroom which has a shower or a bath, as condensation can cause damage to standard papers. For your best bet, save the wallpaper for a small guest bathroom or powder room, which won't suffer the same everyday use as your family one.
5. Add a sense of luxury with marble
Just because the space is small doesn't mean it can't be luxe. A great way to make the tiny, minimalist bathroom feel modern, slick, and smart is with marble, with the material running up the walls and the sink.
'A perfect representation of stripped-back craftsmanship and simplicity, the bathroom floor is lined with white statuary marble giving an illusion of space,' says Ali Baldiwala, founder of Baldiwala Edge (opens in new tab). 'The addition of a cone laundry basket is a stylistic borrowing from the Japanese school of design, juxtaposed with gold fittings by Kohler that add a touch of luxury to the space.'
6. Dress up the windows with vibrant shutters
Sometimes a small bathroom has no space for extra frills and decoratives, which is where modern window treatments come into play.
The advantage of choosing vibrant blinds or shutters is that the classic, hardwearing and practical addition will allow filtered light inside, open up views when you feel cramped in, offer privacy with style and also discourage people from noticing the small dimensions of the room and instead, look outwards at the beautifully framed vistas.
'Window dressings are an ideal way to add an accent color to a small bathroom,' says Sally Denyer of Shutterly Fabulous (opens in new tab). 'Colourful shutters will reflect the natural daylight from the window, making the impact of your chosen shade more striking. They will also draw the eye to the window which makes the bathroom more inviting.'
7. Try the color drenching trend
Going all in on one color is an interesting way to tackle the proportion issues of a small bathroom. The so-called 'color drenching' trend sees all the elements of a room in the same hue. By painting the ceiling and the walls the same color, you can trick the eye into thinking the room is bigger than it actually is.
So, why not go bold with your color drenching choice, like this small bathroom? 'In a small bathroom, experiment with bold colors and decors and inspired layouts and patterns,' suggests Andrew Bendall of Craven Dunnill Jackfield (opens in new tab). 'The bathroom is the perfect space to make a distinctive design statement that is uniquely individual. Bringing texture up onto the walls through tiles adds tactility and allows light to beautifully reflect off the glazes, bringing vitality to a space.'
8. Create drama with wall paint
No rule says that a small bathroom cannot be bold and daring with color. Add a big boost of personality to this small cloakroom and make it one of the central features of the home.
'For smaller spaces like bathrooms we love combining paint that is playful and bold with undertones that can work on a multitude of hardware finishes and classic, subtle tile selections for more flexibility down the road,' say Alice Arterberry and Barrett Cooke, founders of Arterberry Cooke (opens in new tab). 'A playful choice for bathroom walls is hushed, light corals. This happy choice looks sophisticated when paired with natural materials like terracotta or terrazzo and against the richness of oak cabinetry and furniture. When partnered with crisp whites it looks fresh and perky.'
While trending and earthy colors could transform the look of the space, you could also choose saturated hues for an eye-catching look.
'I love saturated, moody greens or bold emeralds that impart drama to a bathroom, which can bring life to a smaller powder room that would otherwise feel dark or drab,' says Sue Wadden, director of color marketing at Sherwin-Williams (opens in new tab).
9. Make room for a small bathtub to instill a luxe feel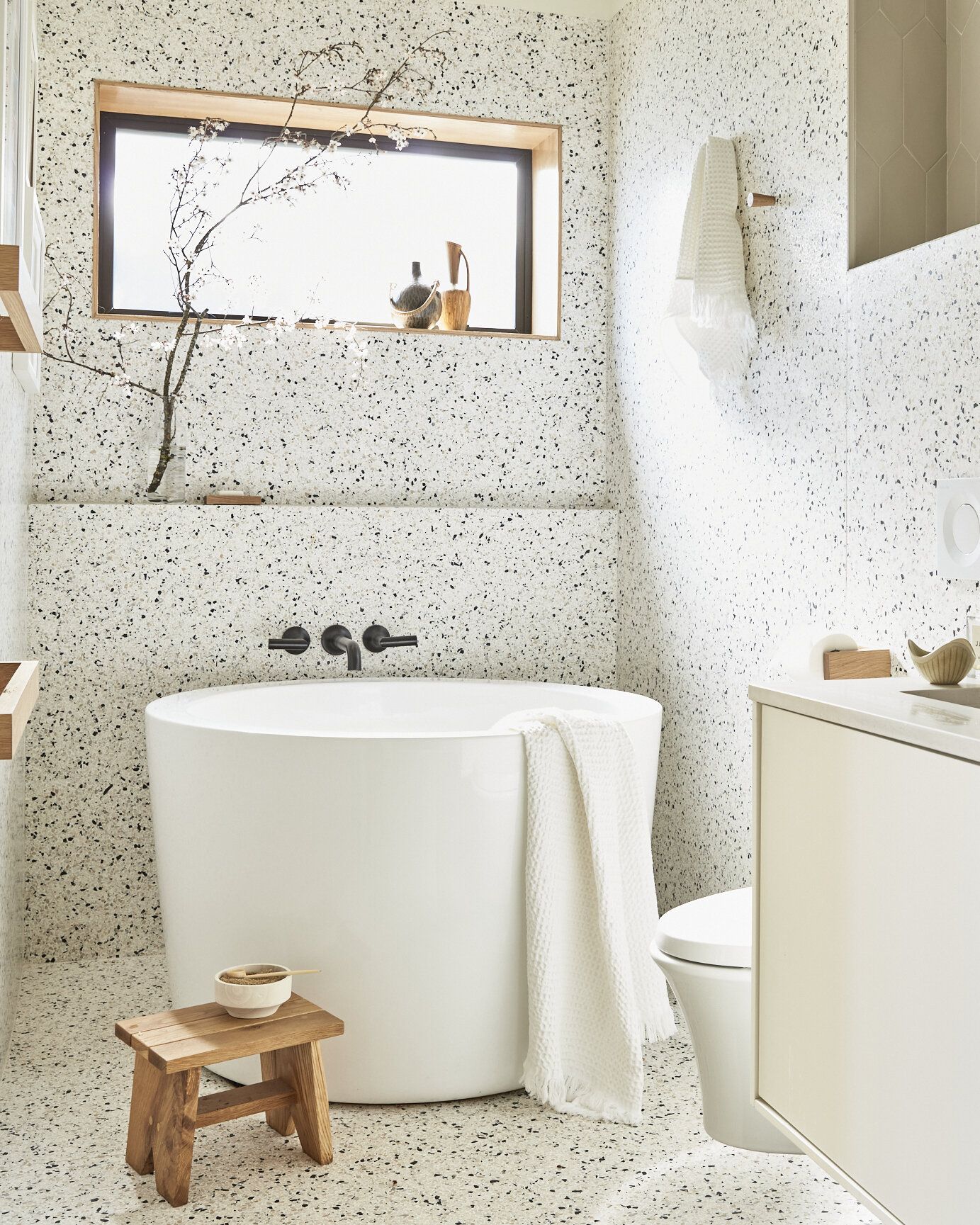 As opposed to the popular opinion of keeping a small bathroom humble with downsized elements, we suggest you think differently. A compact bathtub could add a luxurious touch to the space and make it feel like a spa bathroom.
'In this project, the bathtub appears small, but the experience of a deep soak while being seated is like no other,' says interior designer Lisa le Duc (opens in new tab). 'Wall-hung fixtures eliminate the fuss, keeping the area sleek and cleaner.'
10. Install a large mirror above the vanity
In the tightest bathrooms or powder rooms, have a bathroom mirror stretch across the wall or along with the vanity. This will not only create an illusion of more space but also enable two people to use the room at once. In less-than-ideal space conditions, every inch helps.
'Proper space planning is always incredibly important, especially when working with smaller spaces,' says Ali Budd, creative director of Ali Budd Interiors (opens in new tab). 'In small bathrooms, you want to ensure you're maximizing storage and optimizing flow as much as possible. A big (properly sized) mirror above your vanity is a clever technique for creating the illusion of more space.'
11. Opt for a glass shower door
A frameless glass bathroom shower enclosure can fit into any style and appeals to modern tastes. It is an elegant and classic look. The door does not break up visuals and makes the bathroom seem like one large, seamless space. Plus, it disallows the water from reaching other parts of the bathroom and helps keep the space clean and dry.
'If you're starting your small bathroom design from scratch, consider scrapping the curtain entirely,' say Mitul and Mehul Shah, principal architects at Studio Yamini (opens in new tab). 'Glass shower doors in a small bath will help open up the space. Light doesn't only apply to walls and tiles but also t furniture and bathroom fixtures.'
12. Incorporate multiple mirrors
Mirrors aren't simply for checking your reflection; these serve several purposes. Mirrors help expand light, create an illusion of extended space and also make a room seem endless. If you're looking for small bathroom storage ideas, a clever solution is to hide it behind the mirror to give the room a neat look.
'Rather than just hanging one above the vanity, consider mirroring a whole wall of your tiny bathroom,' say Mitul and Mehul. 'The reflection of light and pattern (and, sometimes, that open door) will do the same good work a window does. If mirroring an entire wall won't work in your space, you can just add multiple mirrors to one wall.'
13. Add style, storage and hide plumbing