22 stylish small bathroom ideas for bijou spaces
Super chic small bathroom ideas that don't compromise on style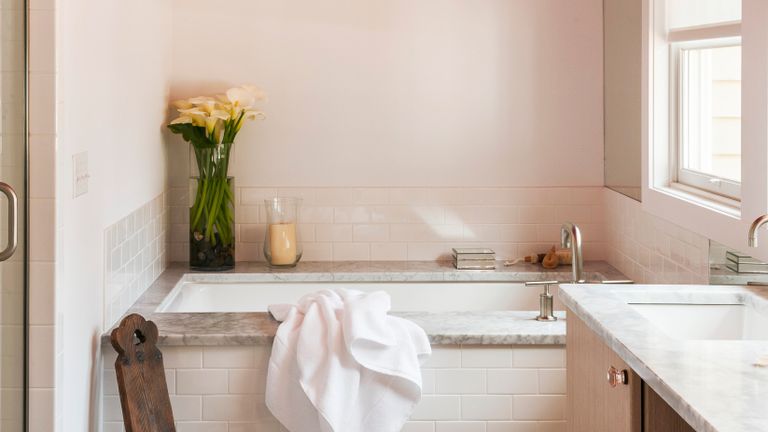 (Image credit: Matthew Williams)
While we all may dream of a huge bathroom, with walk-in showers, freestanding tubs and storage galore, these small bathroom ideas prove that you don't need oodles of space for a bathroom with impact. We've searched the Livingetc archives for all inspiration you need to create a space that's stylish, functional and makes the most of that limited square footage.
Whether you are stuck on where to start with a diddy power room or want to 'expand' space in a smaller than desirable wet room, there are plenty of clever modern bathroom ideas that will help you rethink your space and make it work harder.
1. Make every inch count
A walk-in shower may sound like something that's reserved for larger bathrooms, but they make total sense in a small bathroom because you don't have to break up the space with shower doors instead keep it open like a wet room.
See how the narrow corridor space in this small bathroom has been transformed into a compact but stylish wet room which utilizes every inch of floor space.
2. Add some luxury
Marble-effect porcelain looks so indulgent, but it's practical and hard-wearing too. It's a great small bathroom idea too, as it helps to make a small bathroom feel luxe, plus all those light colors are only going to help bounce more light around. Combine it with a Crittall style shower screen like in this gorgeous space.
3. Go for an all white scheme
This tiny white bathroom is full of small bathroom ideas; it's kept light and bright, with floor-to-ceiling metro tiles and a space-saving small sink area on legs, avoiding a bulky vanity and giving the illusion of more space.
The toilet is wall-mounted, with the cistern built-in, thus creating a handy tiled shelf above the loo for loo roll and bathroom accessories. The towel rail is mounted in the alcove so that it's not encroaching on any personal space.
4. Opt for wall-mounted taps
Wall-mounted taps, not only look gorgeous but save of space as you don't have to make room for them behind the basin. Instead, opt for a small countertop sink with either a slimline vanity or a compact built-in unit like the lovely rustic unit used here.
5. Create a home spa feel
If you're looking for small bathroom ideas that are a little more luxe, this spa bathroom might hit the spot. A round bath frees up space for a ledge for books, bath salts, and flowers.
A wall-mounted shower head also helps to save space. The slatted woodwork creates a spa-like, grown-up atmosphere. It might be a small space, but it oozes luxury spa vibes.
6. Go all over with dark tiles
This is a smart small bathroom idea if you love a dramatic feel. This bathroom is covered head to toe in tiny black chevron bathroom tiles, giving it a cool hotel bathroom look – plus the small tiles make the space seem larger, by fitting more in it.
Also note the cleverly planned mix of light sources. As interior designer Sara Slade says, 'small bathrooms often lack natural light, but this is not to say you can't have a beautiful room. A trick we have been using is to not only have the standard lighting in the ceiling such as downlighters, we also add wall lights or a couple of hanging pendants near the sink to add a little more glamour.'
7. Wall to wall wet room
Ditch the shower enclosure and instead go for a walk in shower or wet room. That way you there's no need for visible shower trays or shower screens that will only visually break up the small space. Tile the whole space for practicality, but note how in this small bathroom the tiles stop before they reach the ceiling, alluding to more height.
8. Create an alcove nook
You might find that you can borrow some extra space from behind a wall, to create a little bit of extra bathroom storage. A built-in shower nook provides pretty storage while towel hooks instead of shelves help free up space. Extra-large white tiles in a herringbone formation also help make this light and bright space appear more spacious.
9. Create levels to expand a small bathroom
Showcasing one of the more unusual small bathroom ideas, with small steps that help to separate, zone and define separate areas of the bathroom. Aside from adding interest, it can also make a room feel larger.
10. Squeeze in a mini roll top bath
Who says you can't have a roll-top bath in a small space? You can find really diddy freestanding bathtubs that can squeeze into the smallest of spaces. Keep the rest of the room very simple, with freestanding sanitaryware so the space doesn't feel too cluttered. And take inspiration for this simple blue and white color scheme too.
11. Double up a sink as a shelf
If you have a really diddy space, going double duty is always the way. In this glamorous small bathroom, a bespoke marble basin doubles up as a shelf and offers a handy space to store toiletries and towels.
And don't forget the space expanding effects of mirrors! 'The best trick all designers use with great effect is to use mirrors - but think big! An oversized mirror above the sink always looks amazing and the shape lets your eye flow around the room.' recommends Sarah Slade.
12. Utilise dead space for extra storage
Squeezing in storage into a small space can be tricky, but take inspiration from this small bathroom idea and make use of the dead space you often find above sanitaryware. A couple of floating shelves above a toilet or sink could be all you need to create a clutter-free space.
13. Go wall to wall with a bath tub
This wall-to-wall tub sits snugly against the back of this small bathroom, offering views from the bath, while no space around the bath is wasted. Natural slate, a petrified tree stump, and botanical prints bring an organic warmth to the look.
14. Accentuate height in a small bathroom
Make the most of the height of a tall bathroom space. Large-format tiles in a pale shade accentuate the height of this small bathroom. A design suggested by the architect means the ornate cornicing remains intact and the owner has somewhere to put their speakers.
Plus, you could incorporate a whole wall worth of built-in storage as the storage only needs to be a few cm deep to house beauty and hygiene products. Sliding doors would be the best option to stop it from encroaching too much.
15. Choose a dramatic color scheme
Mustard walls, raw concrete shower space and geometric tiling add instant drama to this small shower room. Forgoing a bath also helps to save space, and the large mirror does exactly what it was designed to do and 'expands' the bathroom.
16. Float a basin for a minimalist look
Avoid a bulky vanity, instead opting for a floating sink or a sink on legs or with open shelving. A floating basin creates more floor space, while a small alcove behind the bath provides a handy shelf. There's also a cupboard behind the mirror for extra storage.
17. Go bold with small bathroom ideas
We know it might be design 101 that small spaces need light, bright colors to make them feel bigger. But, as this small bathroom proves, sometimes it pays to be bold. There's so much fabulous going on in this bathroom – the sea-green tiles, the sea-inspired wallpaper, the gold ceiling – that the size of the space is the last thing you notice.
'I personally love a dark color in a small space to give a more dramatic look, but also in such a small space using a patterned wallpaper can look stunning.' explains Sarah Slade. 'There are some amazing wallpapers around, and if you tire of the paper in a few years it's not quite such a drama to replace it.'
18. Or keep it simple
We are of course also big fans of clean, streamlined and minimalist looks – and this wet room ticks a lot of boxes. The Carrara marble mixed with the black brassware gives a slice of drama to this classic and beautiful design, as does the recessed LED lighting.
'Just remember that a small bathroom doesn't mean to say you have to buy small items, scale up on the size of tiles and if you have a shower why not think about a wet room and taking the tiles into the shower area. The less you break up the space the better.' advises Sarah.
19. Choose a walk in shower for a small bathroom
You often find walk-in shower in large, luxurious bathrooms, but actually they work so well as a small bathroom idea because they don't break up the space. A slimline screen and tiles that run throughout the whole floor means you barely notice the shower in this room, the space feels open and as a result larger.
20. Add color to the ceiling of a small bathroom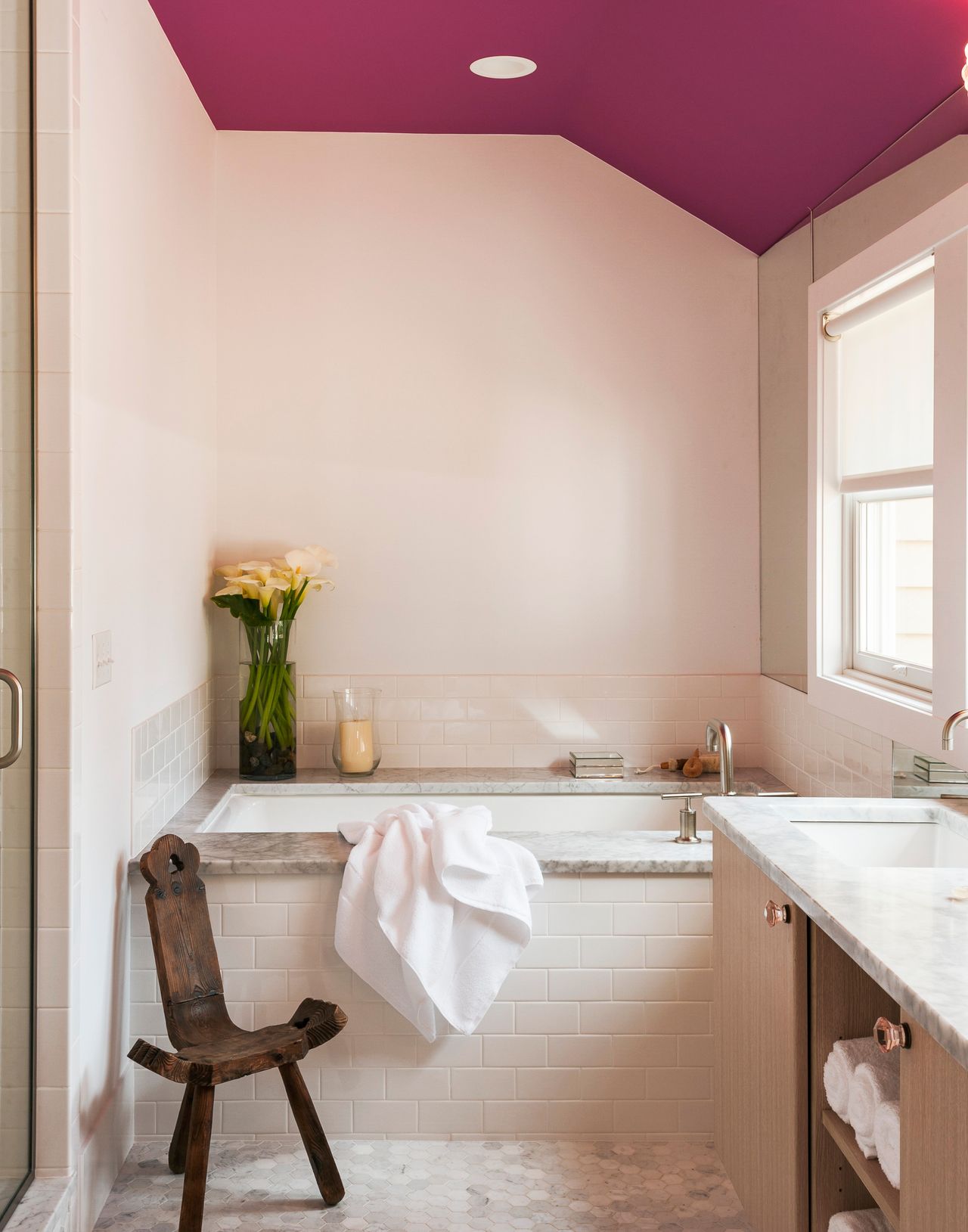 Bold color can be a bit intense when used on the walls of a small bathroom, so instead embrace the trend for painted ceilings. For more interesting than a feature wall and you don't have to work about it shrinking the space as you can keep the walls light and bright.
The bright pink ceiling in this small bathroom works perfectly with the palest of pink walls, adding something unexpected to this otherwise pretty neutral space.
21. Create the allusion of height with panelling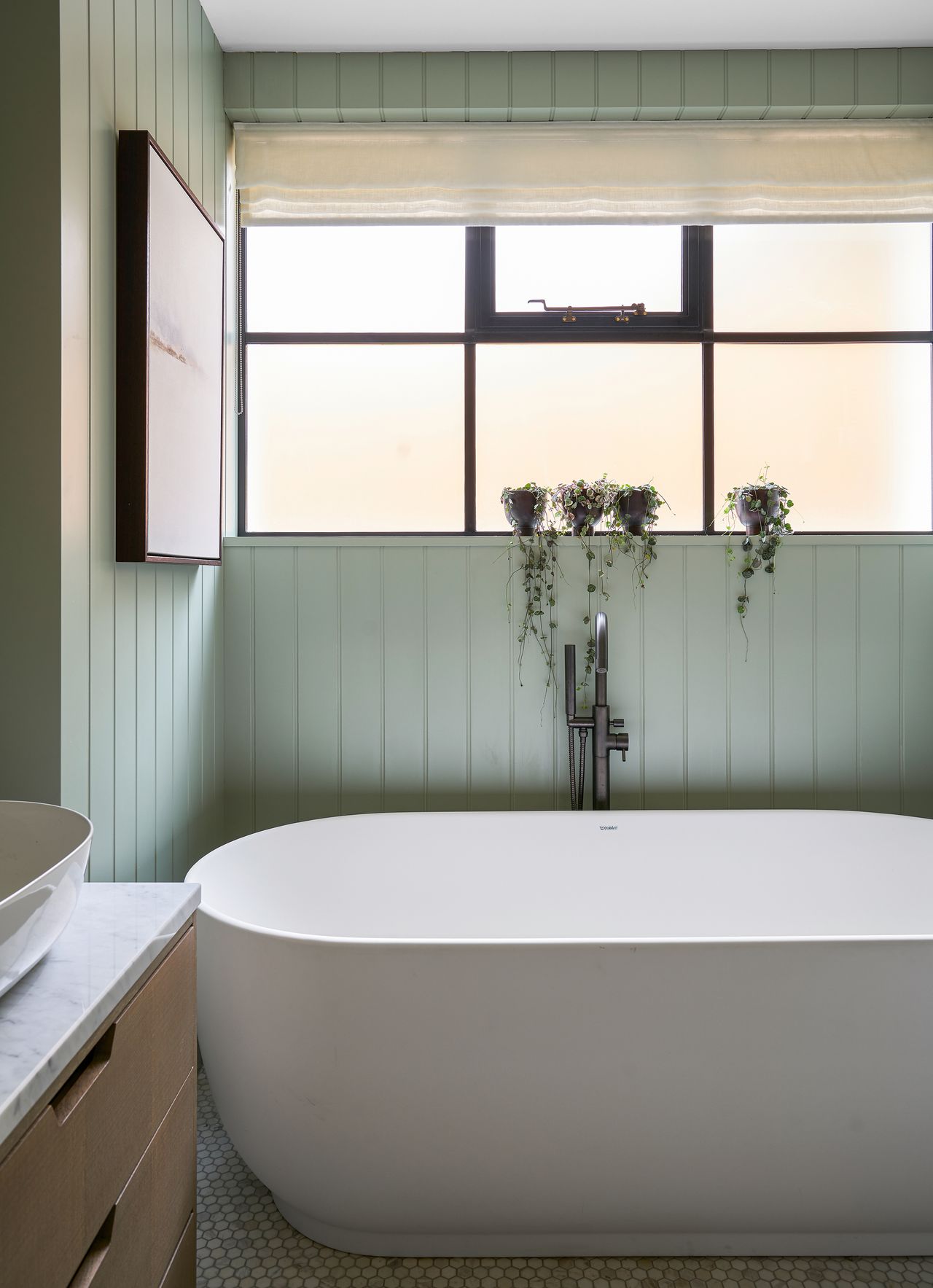 This small bathroom has relatively low ceilings, hence squeezing in a compact tub rather than going for a shower, but the vertical lines of the subtle panelling allude to there being more height. And if panelling isn't an option for your bathroom, a striped wallpaper or something with a vertical print will have a similar effect. It's the oldest trick in the interior design book for a reason, it works.
What is the best color for a small bathroom?
If you want to play it safe, the best colors for a small bathroom tend to be light, neutral tones like white, cream, grey, and beige. These hues will bounce more light around the space and can have space-expanding qualities.
However, that's not to say dark colors should be avoided. As some of these gorgeous small bathroom ideas have proved, sometimes being bold and going for a more dramatic color scheme can pay off. Either the bold color scheme totally distracts from the dimensions of the room or if you opt for something really dark like black, navy blue or forest green, the dimensions of the room can become blurred and in fact feel bigger.
How can you make small bathroom look luxurious?
The key to making a small bathroom feel more luxurious often comes down to tile choice, since this is what takes up the majority of walls and floors. Marble bathrooms of course always feel very luxurious, so choose large marble tiles (or marble-look) and run them over the walls and floors. Mixing simple metro tiles with a fun, whimsical wallpaper can add a very hotel-like feel to a small bathroom too, especially if you pick a dark prink and pair it with an equally dark, glossy tile.
Lotte is the Digital Editor for Livingetc, and has been with the website since its launch. She has a background in online journalism and writing for SEO, with previous editor roles at Good Living, Good Housekeeping, Country & Townhouse, and BBC Good Food among others, as well as her own successful interiors blog. When she's not busy writing or tracking analytics, she's doing up houses, two of which have features in interior design magazines. She's just finished doing up her house in Wimbledon, and is eyeing up Bath for her next project.