Walk-in shower ideas - how to achieve these designer-approved bathroom looks and trends
Walk-in shower ideas from cool Carrara and trending terrazzo to fluted glass and bold black frames. Design experts explain how to get them right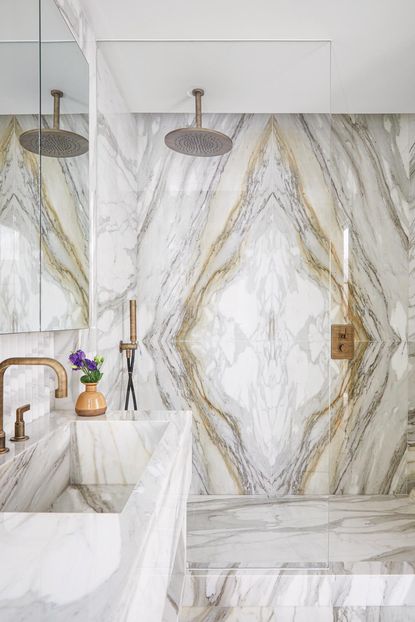 (Image credit: Future / Anna Stathaki)
Walk-in shower ideas might be concerned with one of the smallest rooms in the home, but there is much to consider.
'A bathroom is one of the most expensive rooms in the house to create so it's important to buy products that will stand the test of time, both from a style point of view and functionally,' says James Lentaigne, Creative Director of Drummonds.
'Spend on the main pieces, which will create the overall look of the room and dedicate as much space as you can as this creates an extravagant feeling.'
The first thing to understand when it comes to walk-in shower ideas is that you don't need as much as space as you perhaps think you do. As long as you have 36 inches by 36 inches, you can fit a walk-in shower into your home. Katie Agombar, designer at West One Bathrooms, recently completed a compact one - and managed to include a freestanding bathtub too - and had a lot of advice to offer about the process.
'The entire floor needs to be tanked, to prevent leakage,' Katie says. 'Then the area around the shower needs to be tiled, and then a discreet drain added to make it an entirely practical zone.' Katie recessed the shower head into the ceiling so that it took up even less space, and felt streamlined, tidy, even Zen-like. See below for how it turned out.
From surface materials such as luxurious marble, geometric tiles or cool terrazzo to fixtures in polished, burnished or matt metal finishes, there's a host of styles to choose.
Yet it doesn't stop there. Shower screens are a large part of the walk-in shower look too. Fluted glass is a big trend that has made its way to the bathroom, as well as Crittal-style frames.
With so many fabulous bathroom ideas available, it's necessary to whittle down your favorites. So peruse the looks with style longevity and pin those that best suit your space.
Jacky is an experienced homes writer and editor. She has written hundreds of articles for various titles helping readers make the best home design choices, and spends her days interviewing interiors industry experts to bring the latest ideas to her readers. For this piece she spoke to the world's best bathroom designers, studios and brands to compile fresh walk-in shower looks to inspire.
Walk-in shower ideas
1. Recess fixtures for a streamlined space
With the aim of getting a walk-in shower into a compact space, designer Katie Agombar of West One Bathrooms knew she had to employ a few design tricks and small bathroom tile ideas.
'The starting point was to clad the far wall, opposite the entrance door, in dramatic ribbed black marble tiles to draw the eye along the length of the room and add impact to the new walk-in shower area,' Katie says. 'The entire floor is tanked to prevent water leakage, then tiled, and finished with a discreet drain at the bottom of the marble wall, so that it makes an entirely practical zone. A panel of bronze tinted glass prevents water splashing on to the adjacent basin vanity area, and zones the showering space without cramping the room.' The rainfall shower head is recessed into the ceiling for a streamlined finish.
2. Introduce a cool color
Color has returned to the bathroom in a big way but if you're using it on tiled surfaces, think about it's longevity. If a shade is too on-trend, it will date quickly, so when considering small bathroom color ideas, opt for natural tones, which will stay looking stylish for longer.
'We recommend you choose a material that you love, rather than following a particular trend and marble is a true classic,' says Lee Thornly, founder, Bert & May.
'Consider whether to use the same materials throughout – such as plain or patterned tiles, or a natural material such as marble on both the floors and walls of the shower, and throughout the room. The material needs to be durable and waterproof, and if it's being used on the floor it also needs to be non-slip.'
3. Stick to the budget by panelling the walls
Marble and natural stone tiles are beautiful but they are expensive and need maintaining, so are an investment. If you know you're not going to be living in your property for the long haul, however, there are alternatives.
'To avoid the cost of tiling the walls, install simple panelling,' says James Lentaigne, Creative Director of Drummonds. 'This works well visually without costing a great deal if your budget can't stretch to expensive tiles or marble. It's also relatively inexpensive to change if you want to give a room a fresh new look.'
4. Boost the mood with lighting
Fixtures and fittings are obviously important; they're what you notice first, but do consider bathroom lighting ideas in your shower design. This is not just for the aesthetics but for well-being benefits too.
'Many of my clients ask for coloured LEDs to be installed in the ceiling of their shower,' says Charu Ghandi, founder of Elicyon. 'This is more than just a decorative detail: it's also therapeutic. Benefits of chromotherapy (as this type of lighting is known) include boosting energy and relieving tension.'
5. Accent with black fixtures
Black taps and shower fixtures are one of the biggest bathroom trends. So it makes perfect sense to pair them with crittal-style steel framed windows and glass panels or doors.
With two trends nailed in one, the bold black accents in this shower room are offset against the soft rustic style and timeless feel of the limed wood panelling and natural stone surfaces bringing balance.
6. Coordinate stone surfaces
This natural Larkivite stone from Lundhs with its lustrous blue and grey feldspar crystals is extremely beautiful and hard-wearing. Having taken millions of years to form, it is highly scratch and stain resistant too, so makes a great choice where walk-in shower ideas are concerned. It's easy to maintain too, which is important in a room that's used everyday.
To create a seamless and stylish look repeat the stone surface across walls, floors and vanity unit. Vary the shape of the tiles or slabs to add interest.
7. Buy the best you can afford
'Decide on the items that need to last. These are often the fittings such as the showers and taps which are mechanical and get a lot of wear and tear,' says James Lentaigne, Creative Director, Drummonds. 'Quality comes at a cost but it's important to buy the best quality products you can afford as these will last longer than cheaper alternatives and are more cost-effective in the long run.
Also, the flooring: you don't want to be replacing a floor, so invest in good marble or tiles that will withstand water and heat.'
8. Trim with coloured tiles
Focussing on small bathroom shower ideas, this room was too small for a bath. Instead, interior designer Christian Bense spent a lot of time working out the best use of space to ensure the largest walk-in shower possible.
He's given the space personality by creating a trim around the edge of the room in bold coloured tiles. 'This isn't a forever home, so it would have been a waste to spend too much on the fittings in the shower room,' he says.
9. Use border panels
Even when working with small bathroom shower ideas, there are a number of beautiful bathroom trends that you can include. Terrazzo tiles, brass fittings and fluted glass are all key looks for 2022.
'Framed screens are proving really popular,' says Emma Scott, Director of Design at C.P Hart. 'We're seeing a shift to border panels rather than the crittall style as it's a simpler look. Likewise panels that run right up to the ceiling are also being requested more often. Matt black and brushed brass finishes are still in vogue, especially for the shower fittings, but we'll be seeing matt pastel shades used more in the coming year both for the screens and the fittings from the likes of Drench, Dornbracht, Meta and Vola.'
10. Go for all-out luxe
Glamorous and tactile materials such as marble, natural stone, solid wood, glass and mirror instantly scream luxury and create a wow factor in the bathroom. 'To achieve a luxurious look it's important to choose materials which have real design integrity and solidity,' says James Lentaigne, Creative Director, Drummonds.
'Large statement pieces such as a walk-in shower are part of a trend for ever more luxury in the bathroom; we see this too in the increasing popularity of elements such as freestanding. baths, underfloor heating, large heated towel rails and generously sized basins.'
11. Create a stylish shower corner
If there's enough space in a corner area, a simple fixed screen can look effective. 'Think about whether you want a tiled floor or a shower tray,' says Emma Scott, Director of Design, C.P.Hart.
'Trays are easier and cheaper to install but if it's raised you'll need to consider if it's big enough to contain the shower spray. As there is no way to get it back to the drain if it falls outside the area. A flush floor tray is a good alternative and there are lots of options outside of white, so you could blend it with the rest of your flooring if you choose.'
Is a walk-in shower a good idea?
'It depends on the space you have available, the functionality of the shower for you personally and the look you're trying to achieve,' says Emma Scott, Director of Design, C.P. Hart.
'A walk-in shower offers a more seamless, simple look, is easy to maintain and the layout can be created to suit the space. However, be mindfuit can sometimes feel colder as it's not as enclosed, so doesn't contain the steam and often requires more space than an enclosure to ensure the water from large shower heads , waterfall spouts or body jets is contained.'
Can I put a walk-in shower in a small bathroom?
If it's a second bathroom or ensuite then definitely. 'Since the chances are that the main bathroom will already include a bath, a luxurious shower area is often a better option for a second bathroom,' says Colin Roby-Welford, Fired Earth's Creative Director.
'An average bath will take up around 175cm in length whereas even 120cm will feel generous for a shower. A beautifully designed, spacious-feeling bathroom with no bath will be much more of an asset (and far more enjoyable to use) than a cramped bathroom with a bath.'
If it's your only bathroom, consider how often you use the bath. If you enjoy a long soak, it may not be worth the sacrifice, but if you rarely use the bath, a walk-in shower will be a good option. Alternatively, a good bathroom design company may be able to reconfigure the space to accommodate both.
Jacky Parker is a London-based freelance journalist and content creator, specialising in interiors, travel and food. From buying guides and real home case studies to shopping and news pages, she produces a wide range of features for national magazines and SEO content for websites
A long-time contributor to Livingetc, as a member of the team, she regularly reports on the latest trends, speaking to experts and discovering the latest tips. Jacky has also written for other publications such as Homes and Gardens, Ideal Home, Red, Grand Designs, Sunday Times Style and AD, Country Homes and Interiors and ELLE Decoration.