Small bathroom tile ideas – how to make a big splash in a little space
Small bathroom tile ideas show that compact spaces are some of the most fun to get creative in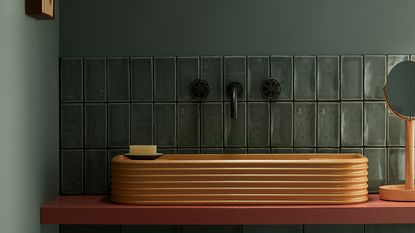 (Image credit: Maitland Poate)
We can't get enough of small bathroom tile ideas - they are the decorative icing on the cake of any interior. They're proof that you don't need a big spa-style space in order to add a little pattern or texture or character or charm or, happily, all four.
Over here on Livingetc we think small bathroom ideas are some of the most fun to consider, guaranteeing an endorphin hit upon entering that functional room, and an exercise in restraint when it comes to design.
"Write a list of your 'must have' items – for example; double or single basin? Bath or shower, or both? Then start to configure the layout," suggests Rebecca Milnes, senior designer, C.P.Hart. "Toilets will need to be placed strategically due to the waste pipe but avoid putting them directly in front of the door, so it isn't the first thing you see when you walk into the room. If you're tight on space, wall-hung toilets and vanity units give the illusion of more floor area." And once that is all figured out, you can get back to the fun part - those tiles.
Small bathroom tile ideas
Use a colorful accent splashback
Many associate incorporating tiles into any space with a big budget but using a small amount of tiles can make a big impact without breaking the bank. We love it when bathroom tile ideas pack a small bathroom with print and pattern, creating a maximalist look with an accent backsplash as a central feature.

"With small spaces it's easier to create a maximalist look as there is less space to fill," explains Yellow London designer Cath Beckett. "There is always something to look at and it detracts from the size of the room and takes your attention to colours, patterns or contents of the room, which creates an encompassing feeling."

This cheery small bathroom in Notting Hill by interior studio Yellow London uses large square tiles in multi-colored pastel hues just around the edge of the bath - ideal for any ensuite ideas. The room picks out colors from the palette of the tiles and incorporates it in into the rest of the maximalist space with floral prints and bright blue wall.
Go all over white for a bigger small space
It's no news to most of us that using one color throughout makes a space look bigger but we love seeing how striking this looks in action every time - a much easier way to increase size than worrying about small bathroom layout ideas.

"White is a clear color choice to make your room appear larger" explains Colin Roby-Welford, Fired Earth's Creative Director "Think about using the same tiles across walls and floors as well as wash-benches and bath surrounds. This creates a seamless and contemporary wetroom-effect, and it will also help to draw the eye around a small bathroom, instantly making it appear larger."

This small bathroom exudes luxury and space enrobed in floor to ceiling white tiles on all surfaces. We love how it has taken the opportunity to play with a mix of styles and the dark grouting used gives the look a graphic monochrome edge.
Go dark and glossy
Don't be tentative about using dark colors in a small space, they can fool the eye into thinking a ceiling is higher than it is and a dark tone is a practical choice for this area of the home. This is a trick often used in powder room ideas.

"We wanted a feeling of enveloping comfort in the bathrooms and the shower" says designer James Thursten Waterworth "So we used burgundy colored tiles as the darker colours. In a space that is relatively small, they work to create a lovely warm environment. We also wanted to exhibit historical nods by using Victorian inspired sanitaryware with antique mirrors.."

This bathroom's shower at The Bradley Hare in Somerset, uses floor to ceiling chocolate brown tiles with a rustic grey slate tray and minimal glass door giving the whole space a modern rustic look. Keep the tiles high gloss to reflect maximum light and create a sense of space.

Choose a Soft Palette when incorporating Pattern
Shower enclosures can be used as their own design vehicle - allowing you to create an eye-catching area in a bathroom that can become it's focal point. It's tempting to go all out when we decide to do down the pattern route but often restraint can have more impact - think about using a minimal color palette and a hint of a pattern to create a space with finesse, an approach that folds in well to current bathroom trends.

"Using a patchwork tile to define and zone a shower or bath area can create a real statement and a wow factor. says Damla Turgut, founder and creative director of Otto Tiles. "Striped tiles are a great way of making a small bathroom look wider or longer and we highly recommend them as a way of adding interest to a small bathroom or wet room. Likewise, a checkerboard tile can have the similar effect."
Layer tiling into your scheme
Why not take a decorative approach to your small bathroom tile ideas and fold them into a layered scheme? As above, you might not have thought of blue as one of the colors that goes with green, but by being adventurous, you can create a big impact.
This bathroom at The Bear Inn designed by Octavia Dickinson has been softened to look less like a functional space and more like a sitting room! Fabrics have been introduced and glossy green wooden shelves face the bath for the user to reach over and pluck a book! A small wall of blue bathroom tiles peek out here - an exercise in how tiles can be layered into a room and can add a little glint of charm.
"Don't be afraid to give as much thought to small (bath)rooms as bigger ones, in fact small rooms often need more thought on how to be clever with the space," advises Octavia. "I like to try and de-functionalize a bathroom to give it a softer feel with less harsh edges; ways to do this include introducing fabrics where possible (blinds/curtains, shower curtains, fabric covered stools/chair seats, lampshades), with wallpaper and hanging antique mirrors, pictures and china on the walls - of course you then have the functional items which are just as beautiful - like the sweet blue tiles that add a change of pace in material and a flash of colour ."
Trick the eye with Floor Tiles
You'd be forgiven for thinking smaller tiles work better in small bathrooms but oversized pattern and larger tiles add a sense of drama and a little visual trickery. When it comes to floor types, these generously sized encaustic tiles from Maitland Poate in a softly worn color palette fool the eye into thinking the floor is bigger than it is.

"Any type of patterned tile will work in a smaller bathroom if you keep the patterns to the floor and your walls relatively plain." explains Chris Brookes of Maitland Poate "with a tiled floor you can go bold and simply trick the eye into thinking your room is more spacious and open than it may be."
Vintage Tiles with a Twist
Classic tile patterns will always stand the test of time, but it's fun to see them brought up to date keeping longevity in mind. This bathroom at The Siren Hotel in Detroit features a vintage inspired chequerboard tile. Slightly flecked, it has the feel of terrazzo flooring. Coupled with a bright blue terrazzo sink and red gloss bathroom doors is is a riotous but restrained mix of materials and pattern.


Which tiles are best for a small bathroom?
"Any type of patterned tile will work in a smaller bathroom if you keep the patterns to the floor and your walls relatively plain." say Chris Brookes of Maitland Poate "with a tiled floor you can go bold and simply trick the eye into thinking your room is more spacious and open than it may be. Add plain or just textured tiles in other areas and keep your cabinetry natural woods or simple block shades."
Which Color is best for bathroom tiles?
"The best shades to pick would be pastel shades, soft greys, and subtle yellows" advises Chris "each of these colours will help reflect and inject additional light into a smaller bathroom, making it feel light, open, and inviting. White is a clear colour choice to make your room appear larger but try using greys instead for a less stark and softer choice, it's also great for mixing with any shade of accessory and creates a sophisticated and elegant shade."
Rohini Wahi is Content Editor for Livingetc Online. With a decade-long career in the interiors and design industry working as a journalist for premium lifestyle publications then delving deeper into the business as a trend forecaster, Rohini has amassed a wealth of global design knowledge that informs her work. She loves a period drama and keeps a tidy home.