Small bathroom layout ideas: How to create the perfect layout
Small bathroom layout ideas are essential so you can squeeze every drop out of your bijou space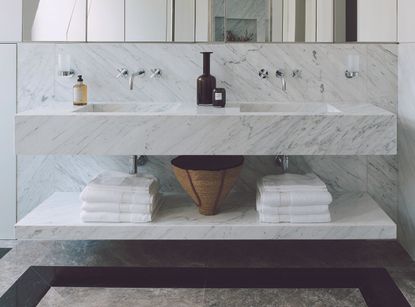 (Image credit: Elicyon)
Small bathroom layout ideas are the urban homeowner's dream. They give you the ability to turn a box room into a bathroom, or make a big splash in a small space. Because while cavernous spa-sized bathrooms might be the dream, getting a lot form just a little room is more likely to be the reality.
Before we get into the small bathroom ideas, it's worth thinking about what sort of space can actually be one in the first place. "If a room hasn't been a bathroom before, you'll need to check how it can be adapted to accommodate the plumbing - and at what cost," says James Lentaigne, creative director of Drummonds. "Soil pipes will need installing and this requires careful consideration: how will it fall, is there space under the floor, are the joists or steels laid to accommodate this or does it need to be boxed in above the floor etc. These basic layout checks will determine where fittings can be placed. Large statement pieces such as a freestanding bath or shower are part of a trend for luxury in the bathroom; as well as underfloor heating, large heated towel rails and generously sized basins. Dedicate as much space as you can as this creates an extravagant feeling."
The average bathroom often isn't much bigger than a king-size bed, yet it's one of the hardest working spaces in the home. It's usually where we begin and end the day, from kickstarting the chaotic morning routine to winding down in the evening, so it's got to be blissful as well as super functional. For many of us, this also means the dream situation is to have a shower AND a bath, yet this isn't always easy to achieve in a small bathroom layout. On top of that, there's sanitaryware, storage, drainage, lighting, heating and hardware, all to cram into one tiny room, so spending time planning your space down to the last square-inch will pay dividends.
Small bathroom layout ideas - the expert guide
Decide what you need for the perfect bathroom
Decide which camp you sit in – are you a serial soaker or do you prefer a good drenching? This will largely determine your layout. For bath-lovers, dedicating the space to a fabulous freestanding design with a bath-shower mixer might be best, or a shower-bath combo if you want the best of both worlds. If you rarely take a dip, go for a wetroom. They feel gloriously spacious and seamless without enclosures or trays, but it's a pricier option as you have to tank the space to make it waterproof. A shower room is the go-to if the budget is tight.
Once you've decided on the key pieces you want to include, sketch out your floor plan and cut out the elements to scale to play around with a layout that works best, although you might find there's not much wiggle room. "Often with small spaces, your furniture only sits in a certain arrangement and you don't always have an option to move things around," says Gwendoline Alderton of GA Interiors. "There are limitations – the bath will always need to sit across the longest wall and the toilet close to the drain." Design director Sophie Schofield of Ribble Valley Bathrooms agrees. "The most important starting point is accepting the reality of the space and choosing fixtures, fittings and furniture that best suit the dimensions and will maximise the space."
The great advantage about converting a room into a bathroom is that you don't need planning permission. "There's no need to obtain planning permission to convert one room to another or change the space within your property, it's only necessary if you're extending your property or changing the exterior in some way," says Hayley Robson, creative director of Day True. "It's still advisable to seek professional advice though as you might be able to use your space more efficiently, for example placing a bath at a different angle or borrowing space from another room. Really take time to think about how you live, what your wants and musts are. You might forego a bath for a wet room; do you need two sinks for the morning rush, or are small bathroom storage ideas more important?"
Be savvy with the pieces you buy
Short of playing tetris with your sanitaryware, there are clever ways to claw back precious floor space by being savvy with the designs you pick - as anyone who has ever grappled with en suite ideas knows.
"There are plenty of small-scale products that are specifically designed for tiny bathrooms that can help create the illusion of space, while also providing the functionality you crave," says Imperial Bathrooms' creative director James Stevenson "Using short-projection ceramic ware and slim-line furniture is a clever way to reclaim a few extra inches. Wall-hung vanities offer a practical solution that don't impose on the surroundings, and corner vanities are a godsend when you're faced with a tight space that has the added complication of being an awkward shape."
As with cloakroom ideas, it's important to prioritise what you include. "Focus on maximising the sense of space, rather than attempting to squeeze too much in," says Colin Roby-Welford, creative director of Fired Earth. "Think clever storage such as washstands and glazed cabinets. A beautifully designed, spacious-feeling bathroom with no bath will be more enjoyable and a bigger asset than a cramped bathroom with a bath."
Embrace awkward corners
If you've got the extra challenge of working with sloping ceilings, use your head – suspend basins or loos from the low-level walls, saving the full ceiling height for precious shower space and make the most of eaves by incorporating storage.
Eaves are notoriously tricky spaces when thinking about small bathroom storage ideas, but with a bit of clever planning, they can actually be turned into a chic space. A bath-shower combo is an excellent choice, with the shower at the tallest point, and a bath making use of the full width at the bottom. "Bespoke angular shower screens are pricey, so a super-short bespoke shower curtain rail is a great solution – it also makes it easier to jump out the shower," says designer Naomi Astley Clarke.
Prioritise storage
It's the little things that can make a big difference too. "Mirrored storage works wonders in small bathrooms because it serves a dual purpose – it creates the illusion of space as well as being super functional," says interior designer Emily Rickard. "Also fit a towel rail over the top of your radiator, not in a separate spot, and always factor in shower niches. A wet-room style layout with shower screen saves space on shower doors needing to open and close."
Having too much storage is never going to be the problem, it's always about finding space for enough. But even this is doable if you tackle bathroom storage ideas head on. "My approach is to build in as much inconspicuous storage as possible without affecting the aesthetic," says Charu Gandhi, founder and director, Elicyon. "The more storage you have, the more functional your room and the easier it is to keep it looking fabulous. A vanity with discrete push-to-open drawers is my storage go-to. Or, if I'm planning a big mirrored wall, I integrate a hidden cupboard behind it."
Blessed with tall ceilings? Take advantage by incorporating hidden storage behind doors disguised as panelling. "If you can recess medicine cabinets into adjacent walls it's a good way to save precious floor space," says interior designer Caroline Cobbold, who utilised either side of the bath to house toiletries and towels in this scheme, below.
Maximise the light
Even when there isn't much space, you can still employ a few tricks as part of your bathroom lighting ideas. "One of my favourite tricks is to install a hidden LED strip on the underside of a vanity," says Charu Gandhi, founder and director, Elicyon. "This skims light across the floor and creates a soft atmospheric glow. It's practical too, particularly during late-night visits to the bathroom."
Increase the natural daylight, too
If you're designing a small bathroom as part of a master suite, don't box it in. Max out the space available by removing walls and replace them with on-trend fluted glass panels instead. "Using glazed partitions lets in plenty of natural light, but still allows an element of privacy," says designer Krystyna Martin-Dominguez. "A half-height stud wall cleverly conceals plumbing and a compact tub saves space and water." Crittall-style doors and panels are a bathroom designer's best friend.
Place your big pieces counter-intuitively
When working with a super-narrow space, think outside the box – interior designer Lizzie Green flipped the bath lengthways to sit behind the shower in this tight 1.2m-wide bathroom. "Placing the step up to the wet-room space allowed us to get away without using a shower tray so all the pipework was hidden away neatly underneath," says Green. As a bonus, the tub has a tree-lined view, providing the perfect backdrop for a relaxing soak.
Hang furniture instead of fix it to the floor
When working with a small bathroom floor plan, wall-hung furniture is often a go-to solution. "Design storage units that float," says Beth Dadswell of Imperfect Interiors. "This maximises the feeling of space as it leaves the floor free, which also makes it easier to clean as a bonus." This wrap-around vanity unit with handleless drawers effortlessly hides chargers and bathroom essentials, while shallow shelves show off prettier lotions and potions.
Rethink your door
Replacing a hinged door can work wonders in a small bathroom layout – usually they swing into the bathroom, restricting where you can place your sanitaryware or shower. A slick pocket door or bi-fold design will free up valuable wall space and avoids awkward clashes with a shower door.
Mount mirrors from the ceiling
Try using a shower screen as a second wall – by splitting the shower partition into part wall, part glass, there's suddenly an opportunity to hang sanitaryware on the other side of the shower. Ceiling-mounted mirrors are a genius finishing touch in this design by McCrum Interior Design.
Work around what you've got
Future-proof your design
"Think about how your bathroom usage might change over time. Just because you don't need a bath or shower now, doesn't mean you won't in a couple of years, so consider what you require to future-proof your new bathroom," says Barrie Cutchie, design director, BC Designs. "A separate shower can be considered a luxury if space is tight. However, there are clever ways around it including wet rooms and folding shower screens that take up much less room than a typical shower."
By the same token, it can perhaps be sensible not to follow bathroom trends too slavishly, when every inch counts. "I recommend traditional style taps in an interesting finish; polished nickel is a lovely warm metal that is timeless but looks more premium than chrome," says Beth Dadswell, interior designer and founder, Imperfect Interiors "Get samples of your chosen tiles, hardware finishes, surfaces and wall colours and put them next to each other in your new bathroom space in daylight to check that they work well together. Be wary of anything that's popular on social media - tile colours and styles, tap finishes and lighting. The last thing you want is to tire of your expensively renovated bathroom in a few years, so choose pieces that won't date instantly and add colour on walls which can easily be repainted."
What is a good size for a small bathroom?
You don't generally want a bathroom to be any smaller than around 35 square feet. Once you go below this, it'll be tricky to fit even the bare necessities into the space you have. Don't be daunted by having a small space - it can be a good lesson in prioritizing what is important when it comes to design.
How much space does a toilet need?
The smallest of toilets need a space of 15 inches - minimum - when measured from the center of the toilet. This means that walls, vanity units, bathtubs or other shower cubicles need to be no closer than 30 inches from the centre of the toilet. Keep in mind that this is the bare minimum, and more space is generally preferred.
The Livingetc newsletter is your shortcut to the now and the next in home design. Subscribe today to receive a stunning free 200-page book of the best homes from around the world.