Ensuite Ideas: 17 clever ideas for an ensuite bathroom
We've found 17 stunning ensuite ideas for a stylish and practical ensuite bathroom. Whatever your style, and whatever the size of your ensuite, you're bound to find an ensuite bathroom idea here for you.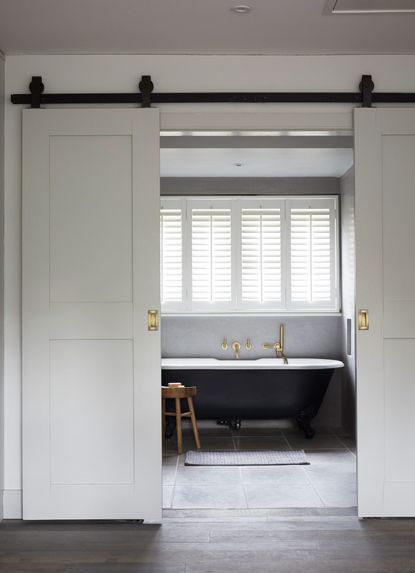 (Image credit: Paul Massey)
We've found 17 stunning ensuite ideas for a stylish and practical ensuite bathroom. From clever partition wall ideas to divide the ensuite from the master bedroom – including sliding pocket doors, barn doors, modern Crittall doors and even just partition screens – to luxe details like lighting, tiles and brassware, these ensuite bathrooms all inspire in their own way.
There are ensuite ideas for small bathrooms too. Wood panelling can add texture to a small space, making it feel extra cosy. You could forego walls and instead zone the two areas by changing up the floor height – creating a step down (or step up) to a luxe bathing space. Or switch up the flooring itself – for example from wood or carpeting in the sleeping area to tiles around the bath or shower.
To remove the boundary between the bedroom and bathroom completely, why not move the bath to the bedroom instead? When done right, it can create a boutique hotel vibe.
Whatever your style, and whatever the size of your ensuite, you're bound to find an ensuite bathroom idea here for you.
1. Divide with sliding barn doors
Divide your ensuite bathroom from the bedroom with sliding barn doors for a country-inspired look.
2. Divide the bathroom area with flooring and curtains
The below ensuite bathroom features two different types of flooring, separated by a lip to signify the change in wet area from dry area.
3. Install a bath in the bedroom for a boutique hotel look
A bathtub in a bedroom creates a luxe, hotel-inspired vibe. The freestanding bath below is framed by elegant panelling, with an en-suite shower room tucked beyond the new stud wall. The soft pink colourway is a good counterbalance to the simple, functional aspects of the room.
4. Choose space-saving pocket doors for small rooms
A small space between the master bedroom and ensuite bathroom below has been cleverly utilised as a dressing room. Two sets of sliding pocket doors separate the different spaces in a tidy way, without having doors swinging open and encroaching into this compact area.
5. Install Crittall-style doors for a modern look
Separate your ensuite bathroom from your master bedroom via Crittall doors – you'll want to move the loo to a separate powder room / cloakroom for privacy.
6. Add texture to small spaces with woodwork
Tongue and groove panelling in the ensuite bathroom below lend a rust, country look. A modern bath and modern bathroom fittings keep it fresh.
The serene grey bathroom scheme below features modern wall panelling, recessed nook storage and a roll top bath. Aside from giving the space texture, the panelling also helps to create a rustic, country-inspired look.
7. Install a partition screen
Install a dividing partition wall to separate a bath or loo from your sleeping zone, like the designers achieved in this modern house in Mexico.
This way the bathroom is still connected to the bedroom area, but there's an element of privacy too.
The dividing brick partition wall below creates a cool and convenient separation between the bedroom and walk-in shower.
Similarly, the ensuite bathroom below is segregated from the bedroom by a partition wall.
8. Consider double doors that reveal a surprise feature
Double doors reveal an unexpectedly glamorous bathroom, with a feature wall of shimmery gold tiles. The metallic tiles really make this ensuite bathroom pop.
9. Introduce floor pattern
Floor pattern works in small bathrooms too, as the below ensuite demonstrates.
The geometric floor tiles, freestanding tub and brass details keep this bathroom firmly on trend.
10. Zone the different spaces
This stunning ensuite bathroom is connected to the master bedroom via a wide and open doorway, making the luxe bathing space feel part of the master suite.
11. Brave a bold colour scheme
For a grown-up, chic and sultry look, dive in with a dark shade.
The ceiling and vanity below were painted the same bold blue as the bath, creating a cohesive look. The steel-framed shower enclosure acts as a contrast to the more traditional panelling and vanity. Wall-mounted taps, a wall-mounted towel shelf and a clear, acrylic side table all help to make this bathroom feel spacious.
12. Install unexpected statement lighting
Who said bathroom lighting had to be boring? In this day and age there are numerous cool brands popping up, offering bathroom lighting that makes an impact.
Or for a simple refresh, update your bathroom wall lights with some colourful new lampshades.
13. Get a brassware update
Un-lacquered brass by Studio Ore adds warmth, modernity and glamour to this serene bathroom space. We love that striking modern pendant too.
14. Dive in with all-out opulence
It's easier to go OTT in a room you don't spend huge amounts of time in, as it'll be a pleasant surprise each time you see it rather than overkill. Here this flamboyant floral bathroom wallpaper has been teamed with richly veined marble and brass detailing to dramatic effect.
15. Add an eye-catching mirror
The gorgeous bathroom mirror makes a great wake up call in this beautiful marble ensuite bathroom.
16. Opt for a floating vanity for a contemporary look
The deep drawers in this wall-hung vanity unit provide ample room for towels and toiletries, while its 'floating' style frees up floor space.
17. Heritage details
In a small space it makes sense to keep materials to a minimum, so the bath panel blends with the grey timber flooring. Heritage details such as the towel rail, mirror and wall lights add character to this loft ensuite bathroom.
Lotte is the Digital Editor for Livingetc, and has been with the website since its launch. She has a background in online journalism and writing for SEO, with previous editor roles at Good Living, Good Housekeeping, Country & Townhouse, and BBC Good Food among others, as well as her own successful interiors blog. When she's not busy writing or tracking analytics, she's doing up houses, two of which have features in interior design magazines. She's just finished doing up her house in Wimbledon, and is eyeing up Bath for her next project.