10 genius bathroom partition ideas that will help you zone your space stylishly
These examples of clever and chic partitions will show you how to create zones to boost your bathroom's functionality and style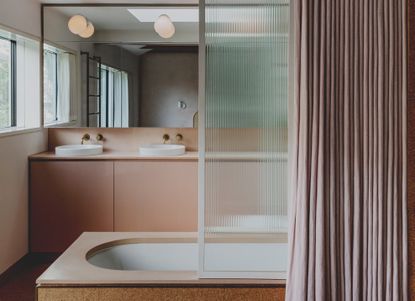 (Image credit: Mariell Lind Hanse. Studio credit Studio Hagen Hall)
The Livingetc Newsletter
For style leaders and design lovers.
Thank you for signing up to LivingEtc. You will receive a verification email shortly.
There was a problem. Please refresh the page and try again.
Looking for bathroom partition ideas without the headache of a full renovation? The good news is, you can create separate zones in your bathroom using clever partitions that look smart, add to the aesthetic value of the room, and make the room doubly useful and functional.
We reached out to experts who, armed with several clever ideas offered solutions to tackle this issue. From soft partitions like curtains, and glass to more architectural additions such as platforms, pony walls, and more, these suggestions help create distinct modern bathroom ideas.
Here are a few room partition ideas that blend function with style.
Aditi is an experienced homes writer and editor. She has written hundreds of articles for various international titles helping readers make the best home design choices, and spends her days interviewing interiors industry experts to bring the latest ideas to her readers. For this piece she spoke to the world's best designers to find out how to design a bathroom partition.
10 bathroom partition ideas for inspiration
1. Use a shower curtain for soft partition within the bathroom
Shower curtains get a bad rap, but they can add a soft, charming touch to the bathroom used in the right way. They can wonderfully a shower and also provide privacy and a subtle partition in the room
Curtains add fluidity to the room, such that moving between zones is easy and convenient. They can be pulled back to ensure that the sightlines of the room aren't compromised, and also provide an opportunity to inject color, pattern, and a strong style element into the room.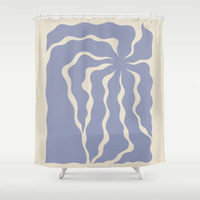 Abbot Kinney shower curtain, Society6
Want to make the shower curtain the focal point of your bathroom? Choose this eye-catching design that will add color and personality to the space.
2. Consider reeded glass
Sliding glass doors are a great modern solution, giving the space a luxury bathroom vibe. These provide a sleek, transparent barrier between the bathing and changing spaces. Plus, these are great space savers and allow natural light to pass through the space, illuminating each element well.
'The client wanted to create a bedroom with an en-suite bathroom that felt like one large, luxurious space for relaxing in – a private retreat away from the busier open plan social spaces on the floors below, where the couple could spend time relaxing together at the end of the day,' says Louis Hagen Hall, founder of Studio Hagen Hall.
'The reeded glass screen folds back on itself so that the space can be fully opened up to the sleeping area, and the heavy linen curtain can be drawn all the way across for more privacy if required,' adds Louis.
3. Use a pony wall for uninterrupted sightlines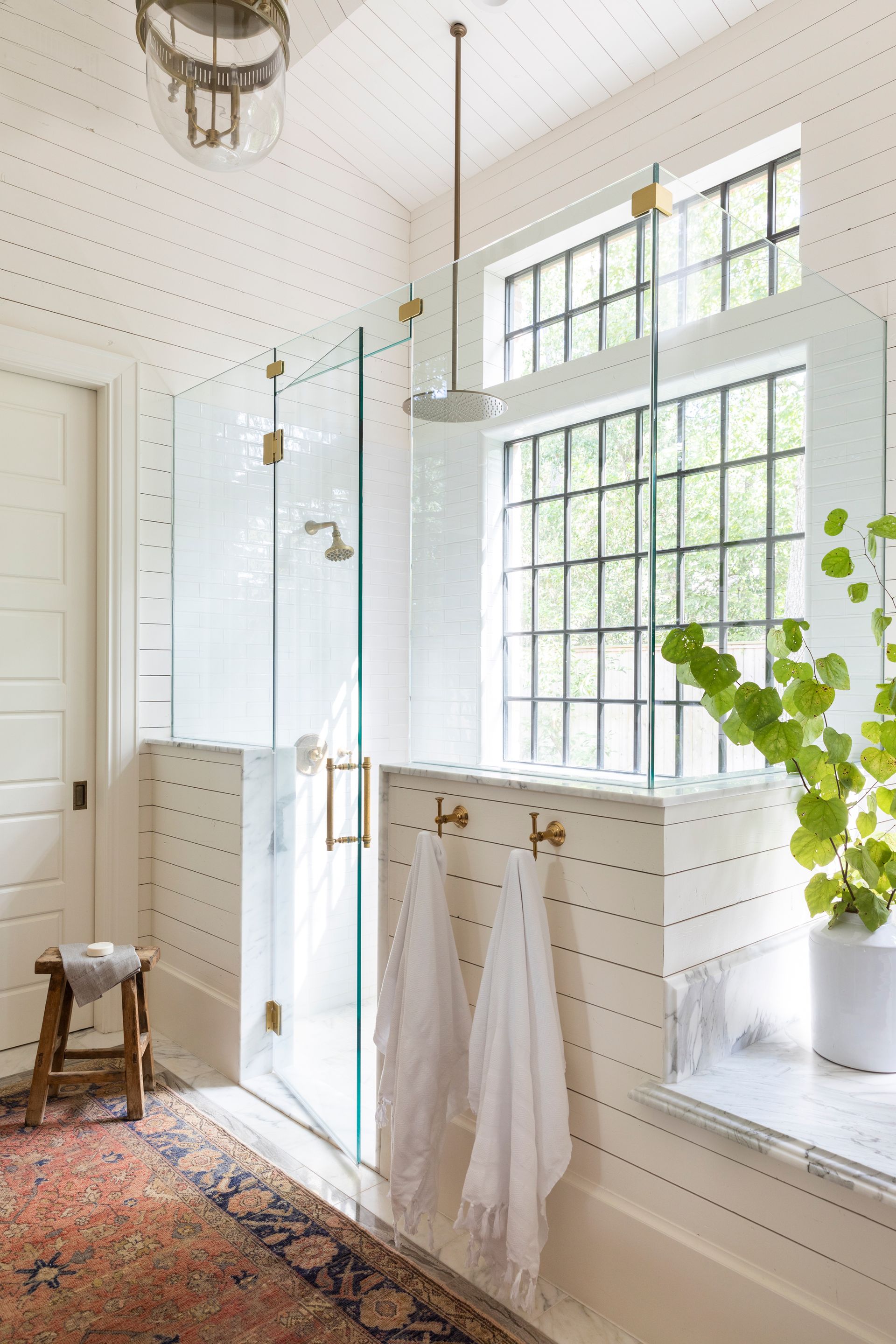 A pony wall is a short wall that extends from the floor halfway to the ceiling and can be a useful design feature if you want to have a more tangible partition but don't want to reduce the visual footprint of the room. While it is used as a room divider it doesn't have the effect of making the room feel smaller as some dividers do.
This is especially useful if yours is a shared family bathroom. In fact, ironically a pony wall can give you a sense of more space. You can create two solid, separate areas, like a bathroom within a bathroom to be used freely by more than one person.
What's more, this wall can also double as a storage space. Install a wall-hung shelf and place shampoos, conditioners, and soaps on it.
4. Create a divide between the wet and dry areas
A half bathroom wall is an aesthetic addition and a great way to enclose a space, creating several varied experiences in the bathroom. They're ideal for wet rooms when you need to section off the shower area to prevent water leakage.
'Movement through the space becomes a fluid sensorial delight; bodies in space acting to mediate the abundance of light and to frame particular views and stripped columns,' says architect Aaron Roberts, director at Edition Office, of this contemporary bathroom. 'The curved forms invite light and shadow to drift around corners and allow for a sanctuary of shadow and the textural delight that comes with it. Privacy is maintained within the restricted sight-lines of the curved glazed façade.'
Want to give these half-walls more character? Consider tiling them for an eye-catching focal point.
5. Partition with an internal courtyard
'For this project, we decided that instead of permanent, solid partitions, fixtures, and walls, we wanted to create a softer element as a bathroom partition,' says Tanijiri Makoto, founder of SUPPOSE Design Office. 'The bathroom garden not only divides the space but gives it a refreshing touch.'
In this scheme, the courtyard introduces natural elements that instils the sense of a a spa bathroom with natural materials and lots of greenery.
6. Use glass bricks for texture and zoning
Glass bricks are another bathroom trend that have come back into fashion, and are a fantastic addition to a room that deserves a touch of luxury and modernity. These are thick and stand up to the elements well, plus are easy to customize, you can design a one-of-a-kind bathroom that looks good for decades.
Glass brick walls are a great way to add personality and even an architectural element to a space. These inject texture and dimension, and provide privacy while allowing light to flow through a space.
7. Create a tiled bathing section in an ensuite
Love the idea of an ensuite bathroom but would prefer some privacy and zoning between the sleeping and bathing areas? Consider creating a half-enclosed zone, and giving it a separate identity with patterned tiles.
This will not disturb the sense of flow in the room while giving each area its functionality and look. If the room has lovely views of the lush landscape or mountainous outdoors, do not add doors or screens between spaces, and position the bathing and sleeping areas facing the windows.
8. Cocoon the bathroom within an enclosure in a room
This project takes the idea of an ensuite bathroom to a unique level. Ensconced within the room, much like a room-in-room, is this bathroom with a semi-open wall that creates the feeling of connectedness yet complete privacy.
The small bathroom layout built on a slight platform feels like an experiential space, like a tiny jewel box in the bedroom.
'The bathroom was designed in such a way that it could be used in two ways – as an object in space or as a closed bathroom that allows complete privacy,' says Olivier Caluwier, creative director at 5AM. 'It is half open so that you can see the sleeping area and TV from the bath.'
9. Use a freestanding basin and shower wall to create zones
Shower panels, curtains, half walls, and plants aside, another effective way to zone the bathroom is with a freestanding basin and the shower wall. These physically split the room into two zones. Plus, you can also induce the color on the vanity for added flair.
'We specially custom designed the freestanding cabinet, that also leans against the shower wall covered in resin,' says Marco Rulli, co-founder of 02a.
10. Use architectural pillars
If you have a large bathroom and plenty of circulation space, a built-in pillar is a great way to add a permanent separation between the wet and dry areas; the changing and the showering area. The pillar will add an architectural edge to the room, making it look grander. It will also add the illusion of height, making the eyes travel up and around the room, making the space feel taller.
Want to give it a grander look? Consider painting the pillar, or adding bathroom tiles to it. Perhaps insert recessed lighting within it, making it look like a stand-out piece in the room.
What is the cheapest way to divide a bathroom?
If you want to create usable, functional zones in your bathroom, the most budget-friendly way to do so is with curtains. These can create distinct spaces between the shower and the vanity. Plus, the sheer or polyester ones allow plenty of light to bounce around the room, unrestricted.
Apart from curtains, you could also place a bathroom storage unit in the middle of the room, such that it has drawers on both sides and can be used conveniently. Other than that, also consider shower doors which are the easiest way to segregate areas.
For style leaders and design lovers.
Aditi Sharma Maheshwari is an architecture and design journalist with over 10 years of experience. She's worked at some of the leading media houses in India such as Elle Decor, Houzz and Architectural Digest (Condé Nast). Till recently, she was a freelance writer for publications such as Architectural Digest US, House Beautiful, Stir World, Beautiful Homes India among others. In her spare time, she volunteers at animal shelters and other rescue organizations.