Freestanding basins are the big trend that can help you get creative with your bathroom's layout
Freestanding basins are not only smart centerpieces but also open up the room for more functionality, better storage and less clutter, too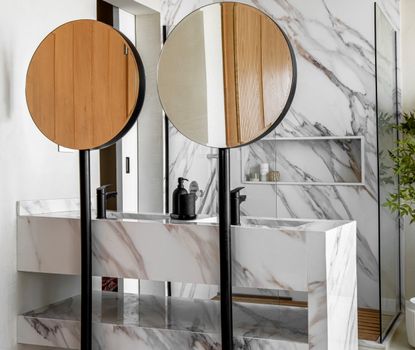 (Image credit: LOAK)
The Livingetc Newsletter
For style leaders and design lovers.
Thank you for signing up to LivingEtc. You will receive a verification email shortly.
There was a problem. Please refresh the page and try again.
Freestanding basins, in simple terms, are sinks that don't need to hang off the wall. These stand on the floor instead and comprise two pieces – the leg (or pedestal), and the sink. Unlike conventional designs, their drain and supply pipes enter from the floor instead of the wall.
While there are several types, styles, and ways to install a freestanding basin, there's a growing love for ones placed in the center of the room, and rightly so. Not only do these serve as accent pieces, but they also free up room for more storage. To help you understand this style better, we reached out to top designers.
Take a look at these modern bathroom ideas and find out why this basin is perhaps the one you've always been looking for.
Aditi is an experienced homes writer and editor. She has written hundreds of articles for various international titles helping readers make the best home design choices, and spends her days interviewing interiors industry experts to bring the latest ideas to her readers. For this piece she spoke to the world's best designers learn more about the current trend of freestanding basins.
What are freestanding basins?
Freestanding bathroom sinks have always been a fashion statement and continue to be one of the hottest interior design trends in bathroom design. These are floor-mounted rather than fixed against a wall. Also called cylinder or bucket basins, these are usually tall in design and shape, and feature a bowl at the top of the base.
Freestanding sinks do not feature an attached vanity unit or cabinet (unless, of course, customized) and are simply standalone sinks.
'Freestanding basins or sinks are an elegant and classic choice for a bathroom and are oftentimes more graceful than a standard boxy vanity,' says Brooklyn-based interior designer Julia Mack, founder of Julia Mack Design. 'They can be placed anywhere in a bathroom, depending upon the design criteria and available plumbing and come in a multitude of design styles from traditional to modern. With their small footprint and absence of a lower cabinet, a pedestal sink adds luxury and high style to any space.'
What should you keep in mind before installing one?
'The first thing to consider is the bathroom aesthetic – the basin should fit into the style you already have,' says Julia. 'Be certain that your selection matches the bathroom's look and the color of other fixtures. A modern space should typically have a linear, more streamlined design, and a traditional space can have a heavier, more detailed basin.'
Unlike large vanity units, freestanding sinks do not have a lot of storage options due to their slim profile. If this is a hassle, consider customizing one for your bathroom with a storage cabinet underneath, or utilize your walls to increase bathroom storage with extra cabinets and shelves. You may also have to incur additional costs for floor plumbing and new base molding for freestanding sinks.
All these details apart, do consider the size of the room as well. A freestanding sink does free up the area around it but if yours is a tiny bathroom with very little circulation space, you're better off with a traditional sink attached to a wall, leaving the center of the room for moving around.
'This freestanding basin was designed to orient the ritual of the bathroom around being aware of the body rather than seeing oneself in mirror,' says Bryan Boyer, co-founder of Dash Marshall. 'By removing the mirror as the primary focus, the sink and console were freed to float in the center of the room. It's a place to wash up, access toiletries (the center of the console flips up), and deposit laundry via a pull-out hamper. For additional storage, we installed closets around the edges of the room.'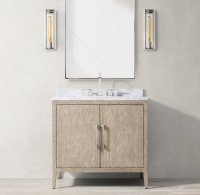 Want to add a single vanity for extra storage, next to your freestanding basin? Consider this clean-lined piece made in solid oak, available in several interesting textures.
What are the advantages of this basin?
The biggest benefit of freestanding basins as a bathroom trend is that they allow you to save space, as the function of washing hands and more is moved to the center of the room, freeing up walls for more storage and other design additions. Interestingly, freestanding sinks, when placed in the middle of a large space like a master bathroom, can make the space look grander and even bigger.
'The big advantage is that it makes the bathroom easier to clean,' says Julie Niass, Senior Associate and Head of Interiors, at Carter Williamson Architects. 'It also makes the room feel bigger than it is, by keeping a majority of the floor space open. Having a floating vanity below a surface-mounted or wall-mounted basin maintains the minimalism of only having a basin, but with the utility of added storage.'
Not to mention, these look like striking, decorative pieces that enhance the look of the room. Add an interesting pendant light above and make it look like a piece of jewelry.
'We wanted to create an atmosphere that could lead to relaxation and introspection, so we chose to create a spa-like space with a freestanding sink, along with mirrors, a bathtub, and a reading corner, all designed to generate a connection with oneself,' says Lucía Soto, co-founder of Comite de Proyectos. 'The basin is the main architectural object of the space. We wanted it to be to center the attention. This terrazzo piece along with the mirrors transmits the idea of introspection.'

What are the different styles of freestanding basins?
Freestanding basins are available in a wide range of colors, designs, and materials such as ceramic, stainless steel, marble, natural stone, and more. When it comes to choosing the right freestanding sink for your big or small bathroom layout, you have multiple options.
You could go in for the square designs with accent curves on the sides. A small round sink too can look stylish and eye-catching. Consider adding tall, unique mirrors too, to make these look one-of-a-kind. If you're looking to add a little retro feel to the space, consider a vintage pedestal sink. You could paint these old adornments in bright popping colors.
Where can you place a freestanding basin?
If you're wondering how to remodel a bathroom and figuring out the placement of all the main fixtures, consider the position of the sink too, such that it maximizes space in the room. Apart from placing them in the middle of the room, consider placing these sinks against the wall opposite the shower, the bathtub, or even in the corner of the room. These can also be placed at the entrance of the bathroom such that the long walls are free for more storage.
When placing it against the wall, make sure it is at least 15-20 inches from the back wall, so its 'freestanding' look isn't compromised.
'These sinks appear lighter in weight and are like a piece of utility and functionality rather than part of the room itself,' says Simon Astridge, founder of Saa Workshop. 'Obviously, they can't be moved because they're plumbed in but the idea is that they look and should be used more like furniture.'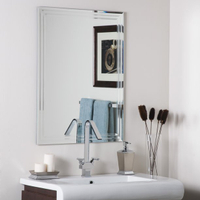 Rectangular Mirror from Walmart
Have a freestanding basin placed against a wall? Install this beveled glass mirror above it, and make the entire area an accent feature.
For style leaders and design lovers.
Aditi Sharma Maheshwari is an architecture and design journalist with over 10 years of experience. She's worked at some of the leading media houses in India such as Elle Decor, Houzz and Architectural Digest (Condé Nast). Till recently, she was a freelance writer for publications such as Architectural Digest US, House Beautiful, Stir World, Beautiful Homes India among others. In her spare time, she volunteers at animal shelters and other rescue organizations.