Bathroom wall tile ideas – from bold and bright to subtle and sleek
Bathroom wall tile ideas are what give your bathroom personality, adding color, texture and depth – here are our favorite looks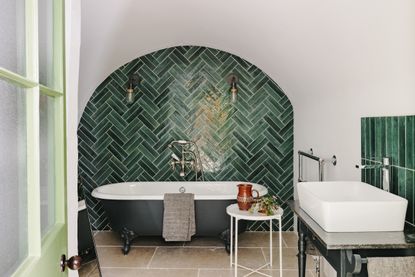 (Image credit: Inigo)
Surely the most exciting part of designing a bathroom is choosing what bathroom wall tile ideas to go with? It's the equivalent of choosing a wallpaper for your bedroom or picking out your kitchen cabinet colors, wall tiles are what give your bathroom character and personality. They can add color or texture, shape, and intrigue into a room that's often designed as a purely practical space.
But there are so many options out there where do you even start to choose the best for your space? Might we suggest right here, with our pick of the chicest, sleekest, boldest, bathroom tile ideas out there. And there's something to suit all styles, whether you want to be brave with something really eye-catching or keep it simple and subtle we've covered all the styles to get you inspired.
1. Pick bathroom wall tiles with character
Bathrooms, by their very nature, are practical spaces. Function has to come first, form follows. But see your bathroom wall tiles as a sure-fire way to inject a ton of character and personality into your space. Use them to bring in color, texture, depth, and shape.
Louisa Morgan, Creative Director of Mandarin Stone's advice is to 'Initially consider the overall look and feel of the style of bathroom you wish to create. A great starting point is Instagram and Pinterest for gathering ideas, and from that an overall mood board can be created. Whilst it's important to consider current tile trends and look at the very latest tiles out there, it's essential to opt for those that you really love.'
'All interiors should be based upon what you actually like rather than what you think you should like! There are no hard and fast rules with tiles. I've seen some bathrooms that look fabulous using just one style of design for floors and walls to provide the overall backdrop and other elements can create the character to the space. Alternatively, the tiles can create the character, by choosing a combination of perhaps two or three in different shades and textures, the tiles themselves really become the key feature of the design.'
2. But think about the practicalities too
And alongside thinking colors and shapes, do be thinking practically too. There's no point choosing beautiful tiles if they aren't right for your space.
'Practical elements are important to consider with tile choices.' continues Louisa. 'Are you restricted to certain thicknesses of tiles, especially for floors? Are you having underfloor heating? Are tiles being used to create a wet room-type floor or is a tray being used? Are you tiling full wall, or partway and then edge finishes and corner finishing will need to be considered?'
'Small or large format tiles are also an important consideration. Large-format tiles can be used in small bathrooms, they often create the illusion of a larger space with fewer great joints. Fewer grounds joints are also great for cleaning too! However, smaller tiles can create more interest and a cozier space. Tiles can also be used to zone different parts of the bathroom which can be really effective.'
3. Create art with swathes of pattern
As this walk-in shower proves, not all bathroom wall tile designs need to be made up of lots of individual tiles with structured, visible grout lines. For a more stunning and seamless look, use mosaics to create a display that's almost like wallpaper in its detail and depth. Look closely at this space and you'll see it's made up of hundreds of tiny petal shapes glass tiles set into a neutral grout.
This bathroom was designed by Kimberley Harrison who told us that 'This client wasn't afraid to be different and did not want white and grey subway tile and Carrara marble like everyone else. The bathroom is also small so we designed the space with the walk-in shower as the focal point. As such, we knew we needed a showstopper and selected this gorgeous blue and grey toned glass mosaic tile from Artistic Tile for the shower surround and complemented this with the dreamy glass mosaic for the shower floor.'
4. Allude to more space with stripes
It's design 101 that stripes make a space feel larger, and since bathrooms tend to be the smallest room in the house, it makes sense to create this classic pattern in tile form to create the allusion of a larger room.
'Bathrooms are a great space to experiment with pattern and color. I love to bold patterned walls that surprise and delight you every time you walk into the room.' says Damla Turgut, founder, and creative director, Otto Tiles.
'Whilst most people will tend to opt for whites, neutrals, and lighter tones on bathroom walls, using bold, bright, or dark colors and patterns can add a real sense of luxury to bathroom space. At Otto Tiles, we love to use striped tiles, they're somewhat of a signature for us and can really add a fun element to the bathroom wall.'
'As a design, they also create the illusion of a much larger space tricking the eye to add length or width to a space which makes them a good choice for smaller spaces.'
And you can go as bold or as subtle as you like. Striped tiles don't always have to be brave designs of block bathroom colors, you could create the same space expanding effect with neutral hues or a monochrome combination.
5. Add interesting textures for subtle style
Subtle doesn't have to be bland. Tiles in neutral hues may not add color to a bathroom but they can add texture, and done in the right way they can be just as bold.
See how in this black and white bathroom the marble of course gives loads of texture, but the black wall tiles with the undulating curves and contours give even more depth and even more interest to the space.
'This Zephyr Nero floor to ceiling tile by Artistic Tile with its inlaid brass and curved lines over handcarved ridges is the show stopper of this guest bath.' explains Kimberley Harrison. 'We selected this tile to meet the client's aesthetic of masculine and modern but also to bring some textural element to the space to bring warmth and visual interest.'
6. Keep it sleek and simple with large stone tiles
For a sleek and seamless look, large-scale tiles are the way to go. While metro tiles will always be a popular choice, there's no denying that all those grout lines cause a lot of... distractions, and in some spaces, particularly smaller ones they are just going to overwhelm.
'Large natural stone tiles such as terrazzo are still very popular for walls and we're now seeing a trend for using these large format tiles across both bathroom walls and floors.' says Damla. 'These tiles are also the most durable and versatile. Their matte, smooth finish provides good anti-slip resistance whilst still offering a contemporary finish and they also hide everyday dirt and dust well as bathrooms are high traffic and high usage areas.'
Consider taking those large wall tiles, down onto the bathroom floor tiles too. A great trick for making a small bathroom feel bigger as it works much like color drenching and blurs the edges of the room.
7. 'Double' your space with mirrored tiles
Mirrored tiles can be a tricky look to get right, but we think this bathroom gets it spot on. The key is to go big – take it floor to ceiling and 'double' the space. And don't go too...shiny either, you want your mirrored tiles to have a bit of age, an antiqued look that isn't going create a really stark, clear reflection.
A wall of mirrored tiles also allows for more lavish decor. Imagine this space without the reflection, it would feel cramped and busy, with way too much going on for the size of the room. But add in the mirror and instead, the gallery wall feels elegant, the layered rugs add a coziness to what appears to be a large room and the roomy freestanding bath is perfectly in proportion.
8. Warm up a bathroom with peachy pink tones
Not ready to go too bright with your bathroom wall tiles, but still don't want the potentially clinical feeling of an all white bathroom? Pink tones are the perfect way to create a space that errs on the side of neutral but still creates a room an inviting feel.
'Tiles in gentle, sophisticated pinks are perfect contemporary alternatives to pure white if you're creating a restful spa-style scheme. These pinks exude warmth, and they're also really flattering (they look particularly pretty in candlelight).' says Fired Earth's Creative Director, Colin Roby-Welford.
'Subtly-veined white marble tiles are a lovely option too, introducing touches of barely-there color and pattern, and adding a wonderfully luxurious feel. Look for marble tiles with more color variation if you prefer a slightly less neutral scheme. With tiles like these, where natural color variation is very much part of their appeal, always plan your layout before you start fixing the tiles to the walls. This will mean that you can ensure an even spread of color across the bathroom, preventing any areas from standing out because they look too light or too dark.'
9. Go half and half with tiles and wallpaper
Have we really got this far without mentioning a subway tile? Although it's not so much the shape of these tiles we are obsessing over, it's that deep, inky, sea green shade. The classic shape gives familiarity but the shade feels so... unique and unexpected.
'We're seeing more and more green in the bathroom, whether you choose a warmer emerald or a cooler sage. Green adds a freshness to the bathroom, and complements whites and neutrals, as well as gold, brass, and copper finishes.' explains Lee Thornley founder of Bert & May.
And another thing to take from this bathroom is the flexibility here to create a totally different look. As Lee says 'Tiles are difficult to change – so be sure about your choice before you make it. We recommend you think carefully about the style you would like to achieve with the bathroom, so the tiles you choose really bring the room together.' But by only tiling half the wall you're less committed, you could switch up whatever's going on above whether that be wallpaper or paint, changing the style without the lengthy process of ripping off tiles and replacing.
Which are the best tiles for bathroom walls?
The best tiles for a bathroom wall will mostly come down to taste. What styles are you drawn to? Classic subway? Luxurious marble? On-trend terrazzo? Have an idea of how you want your finished bathroom to look, and then you need to start thinking about practicalities too – size, shape, grouting colors. Do you want smaller tiles for a busier look or large format for something cleaner and minimal? Essentially there is no 'best' tile for a bathroom, the choice should be made on what you like and what's going to work best in your home.
Is tile on bathroom walls outdated?
There has been a slight shift in bathroom trends recently towards creating softer and warmer bathrooms, and that has meant a rise in different paint effects and wallpapers. But that doesn't mean tiles are outdated, with so many options to choose from they never could date, plus there are by far the most practical option.
What is fashionable in bathroom tiles?
'Zellige tiles are for bathroom walls are definitely having a moment, especially so on the walls of shower enclosures. Their natural nuances and high gloss glaze I think really work in a bathroom environment and create a luxe spa-like feel.' says Damla Turgut.
'Patchwork tiles are also becoming more and more popular within a bathroom space. These mixed patterned tiles bridge the gap between plain and decorative designs and feel expressive whilst being entirely liveable and are great for those who are unsure of how to mix color and pattern.'
Hebe is the Digital Editor of Livingetc; she has a background in lifestyle and interior journalism and a passion for renovating small spaces. You'll usually find her attempting DIY, whether it's spray painting her whole kitchen, don't try that at home, or ever changing the wallpaper in her hallway. Livingetc has been such a huge inspiration and has influenced Hebe's style since she moved into her first rental and finally had a small amount of control over the decor and now loves being able to help others make decisions when decorating their own homes. Last year she moved from renting to owning her first teeny tiny Edwardian flat in London with her whippet Willow (who yes she chose to match her interiors...) and is already on the lookout for her next project.