Kitchen tile ideas – 10 on-trend looks for walls and floors
Plain or patterned? Bold or subtle? Large or small? Our Kitchen tile ideas cover all the styles, shapes and finishes so you can make the best choice for your kitchen walls and floors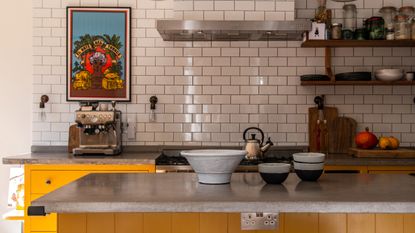 (Image credit: British Standard)
Kitchen tile ideas are by far the most exciting part of designing a kitchen. Tiles are how you add color, texture, character. They are a chance for you to get creative and make some purely aesthetic decisions in a room where so many choices have to be practical. Whether you are going for tiles on the walls or floors or both, you can use them to really make a statement in your space. And don't worry colorphobes, that doesn't always been going bold with color – pattern, material, and layouts even in neutral hues can add just as much interest.
But when it comes to kitchen tiles the options really are endless, and while lots of choice is no bad thing, it can make it a bit of a minefield when navigating designs. So we've rounded up all our favorite looks, from chic marble backsplashes to on-trend penny tiles, to give you all the kitchen ideas and tile inspiration you need...
1. Opt for on trend penny tiles
Mosaics tiles or penny tiles have been a kitchen flooring trend for a few years now adding a touch of texture and as much pattern and color as you choose. They have a bit of a chic bistro feel to them, and in fact we saw them being used in our favorite bars and restaurants far before they seeped into our homes.
What is so great about penny tiles is that they can be super affordable, and you can get really creative with the patterns you want to create. You can keep it simple by just going all over with one color and matching grout, or creating whimsical prints like this classic black and white floral design. We've also seen motifs and slogans created with penny tiles if you want to create something really personal to your home.
2. Add a rustic touch with brick flooring
Brick tiles are such a lovely way to give any style of kitchen an instant rustic touch. They work in more traditional spaces like this black kitchen by deVOL but look equally at home in contemporary spaces, or minimalist Scandi kitchens to add character and extra texture.
'I love creating indoor-outdoor spaces, and brick feels like an extension of the outside when it's incorporated in the house.' explains designer Amber Lewis. 'Brick is – obviously – traditionally used for exteriors, but as an interior material, it brings in beautiful texture, a wonderfully rustic feel, and has an incredibly warming and inviting coloring.'
'Why does brick flooring work so well in the kitchen? Because it's so durable! The kitchen typically gets a lot of foot traffic, so materials, such as bricks, that can withstand wear and tear should be a go-to.'
'Brick floors are versatile and mix well with different textures and tones. Brick is warm and neutral, and I'm always guided by the material – I personally love layering a vintage rug or runner over a brick floor, that extra layer adds so much coziness to the space, which is a feeling I'm always trying to achieve in my designs and which helps make the kitchen the center of the home.'
3. Or switch classic subway tiles for brick slips
And bricks can work just as well as kitchen wall tiles to add a slight industrial vibe. They work really well in nooks or alcoves, acting almost as a feature wall. In this classic white kitchen designed by Lava Interiors, the brick gives the neutral color pallette a lift, adding a focal point and grounding all those pale hues.
'I skip the expected white subway tile because it's already been done, and keeping the white clean takes away from the joy of cooking and baking.' says designer Meg Lavalette founder of Lava Interiors.
'Instead, I like to use unexpected materials to make it visually interesting, like a historical brick that has authentic patina. We uncovered original brick walls in a Brooklyn townhouse and instead of covering them back up with drywall and putting a tile over for a backslash, we repointed them (and even had a decorative painter tint the mortar color so it looks authentically aged) and then sealed the brick so it won't absorb grease and stains.'
No brick wall to reveal in your kitchen? No problem. Brick slips, which work just like any other tile can create a really authentic look in any space.
4. Bring in plenty of texture with zellige kitchen tiles
Zellige tiles are handcrafted, which guarantees texture. They are known for their irregularity in finish, shape, and glaze adding imperfect charm to a kitchen. Which is why we love them used as a backsplash idea in a neutral kitchen where you have to look for other ways to bring in interest beyond color. No tile is the same, so the result is a lovely rainbow of tones.
'I find zellige tile both practical and pretty as a backsplash especially when skipping the grout, which is how I approached the Hudson Valley kitchen shown. We installed the handmade terracotta tile from Riad very closely together and without grout, so there's nothing to seal nor scrub as the glazed surface of the tiles easily wipe down.' explains Meg.
5. Embrace the trend for high gloss
For years matte has been the go-to finish – matte paints, matte woods, and matte tiles have reigned in the world of interior design trends but in recent months there's been a shift to high gloss. Extra shiny glazed tiles may sound a tad dramatic, but you can really go as bold or as subtle as you look. If you want them to up the drama in your space, go for a bright or moody hue and take them right up to the full height of the room. A more subtle take on the trend, be inspired by this kitchen tile idea by British Standard.
The olive green is approachable, acting as almost a neutral hue in this warm-toned space. But the gloss makes it more...exciting, more unexpected, and more luxurious.
Adrian Bergman, Design Manager at British Standard, says, 'One the rise are eye-catching sink walls featuring glazed tiles. Their rich, glossy depth of color provides a great textural contrast against pared-back, hand-painted wooden cabinetry. Easy to clean and wear-resistant, they are also highly practical.'
Take home tip: if space allows, scrap wall cabinetry and instead opt for kitchen shelving. Tile all the way up the wall and take it behind the shelving to provide a colorful backdrop for your display.
6. Take subways tiles up to the ceiling
See, subways tiles can be exciting and bring tons of interest to a kitchen. They have gotten a bit of a bad rep in recent years for just being a bit... blah, but you can still create drama while playing it safe as this yellow kitchen proves. The key to ensuring subway tiles have impact is to take them across large surfaces areas and go all the way up the ceiling so you get the full effect of this classic pattern. And experiment with different grout colors and finishes too.
'Rectangular tiles will echo the lines of kitchen cabinetry, enhancing a linear feel.' explains Colin Roby-Welford creative director of Fired Earth. 'Metro-style tiles have long been a popular choice for kitchens – looking clean and fresh – and there are countless inexpensive designs to choose from so there's something for every style of kitchen. For a contemporary take on the look, try slim-format glass or metallic brick-shaped tiles. Shimmering surfaces like these will really come into their own if you're entertaining friends to a candlelit kitchen supper, introducing a glamorous touch.'
7. Create a traditional feel with terracotta
Doesn't this farmhouse kitchen just transport to a rustic French home? It's such a lovely look and one we are all so keen to recreate. There are a few kitchen ideas to take from this space to help achieve that ever-on-trend bucolic vibe, but an easy one to bring into any kitchen are the terracotta floor tiles.
Terracotta gives that instant European, farmhouse feel but can blend with any style of kitchen. There are plenty of shapes to choose from and you can pick between glazed and un-glazed depending on the effect you are after. But just be warned since terracotta tiles are porous they are susceptible to stains, so just be sure to wipe up any spills quickly and only use recommended cleaning products. If treated properly, terracotta tiles will last decades and wear beautifully.
This kitchen also makes a very strong case for taking tiles over every wall. It's a look that does risk looking a bit clinical, but to avoid any abattoir feels, pick tiles with a slight texture and be sure to pick floor tiles that contrast the wall tiles to avoid any starkness.
8. Keep it chic and simple with marble slab tiles
Large format tiles are great if you want to create a sleek, fuss free look. Minimal grout lines, swathes of interrupted pattern and a seamless finish, opting for marble slabs is such an elegant backsplash idea that's never going to date. Plus for an even more minimalist look, you can flow that marble from the backsplash over the kitchen countertops too.
'Elegant, tactile, and organic, marble is making a comeback as the most popular choice for splashbacks and work surfaces. Richly veined varieties such as the piece seen in this Streatham kitchen, are a great way to make a statement if you are not looking to use bold color or pattern and can look particularly luxurious when paired with metallic lighting and hardware,' says Adrian Bergman of British Standard.
And if you like the natural shapes and patterns of marble but want to go for something really striking, heavily veined marble will give you every bit as drama as the brightest of tile. Or if it's color you are after, marble comes in an array of lovely hues from pinks, reds and soft browns to greens, blues and blacks.
9. Expand a space with classic stripes
Stripes, in any form, are ideal for making a space feel larger and more open. We love the striped floor in this blue kitchen, but if you want to embrace this look on a smaller scale, a striped backsplash would also create a really eye-catching focal point.
And while covering your kitchen floor in stripes might sound bold, we think this kitchen is actually really soft and liveable, the flooring doesn't overwhelm the space or even feel overly brave. The size of the stripes definitely contributes to this, so we'd say as a rule of thumb, finer stripes equal soft and subtle whereas broad stripes are where the drama is created. But the limited color palette makes this space work too. The classic blue and white kitchen color scheme creates a very cohesive look that's very sleek and minimalist despite the bold choice in tile.
10. Make more of a feature of a stove backsplash
Tiles can be a lovely and practical way to make more of a feature of your stove or oven. Now stoves are busy spaces, and you need to think practically when deciding on what tiles to choose to sit behind it. They need to be easy to wipe clean, hide everything splashes and spills and be heat resistant too. But that doesn't mean these tiles can't be a real feature in your kitchen too.
The encaustic tiles used in this kitchen, give a slight European charm, with the muted hues working perfectly with the soft neutrals and warm hues used elsewhere in the kitchen. Subtle but also a sure focal point of the room.
What is the best type of tile for a kitchen?
The best type of tile for a kitchen will depend on where exactly you want to put your tiles. The best tile for a kitchen floor will differ from the best tile for a kitchen wall.
In terms of flooring, Rob Whitaker Creative and Product Director of Claybrook recommends porcelain tiles. 'Porcelain is undoubtedly the most practical floor option for kitchens, designed to be stain and water-resistant, once laid it will simply need a hoover and a mop.'
And he recommend opting for larger scale tiles too, for look as well as practicality. 'As many of us opt for spaces that take in both a kitchen and dining zone in one, the floor area requiring coverage has increased in the last 2 decades. Larger format porcelain (think 80cm x 80cm and above), is ideal for drawing the eye across the floor, making the area feel attractively open. Stick to paler colors but something with a little pattern or movement. Darker floors tend not to hide scrapes or crumbs but counter-intuitively show them up more.'
For wall tiles they are plenty of practical options, from simple subways tiles to flutted 3D options, so these are more about personal style. Just be sure to consider how easy your wall tiles will be to keep clean and wether they need to be heat resistant or not.
What tiles are are on trend for kitchens?
Texture is big in kitchen tile trends right now. Flutted designs, zellige tiles, and terracotta are just some of the most popular options right now. This of course reflects the ever-popular rustic kitchen trend that want to make kitchens feel softer, more inviting, more like a living room filled with tactile finishes.
Despite many a debate, we of course have to mention subway tiles too. They are a kitchen tile trend that just won't quit and a classic if you are after a design with longevity. You can mix up the look too by experimenting with different finishing and grout colors.
The Livingetc newsletter is your shortcut to the now and the next in home design. Subscribe today to receive a stunning free 200-page book of the best homes from around the world.
Hebe is the Digital Editor of Livingetc; she has a background in lifestyle and interior journalism and a passion for renovating small spaces. You'll usually find her attempting DIY, whether it's spray painting her whole kitchen, don't try that at home, or ever changing the wallpaper in her hallway. Livingetc has been such a huge inspiration and has influenced Hebe's style since she moved into her first rental and finally had a small amount of control over the decor and now loves being able to help others make decisions when decorating their own homes. Last year she moved from renting to owning her first teeny tiny Edwardian flat in London with her whippet Willow (who yes she chose to match her interiors...) and is already on the lookout for her next project.