Brick flooring – an expert guide to the latest rustic design trend
Brick is back! Architects and designers are bringing a touch of country chic to urban refurbs with rustic bricking flooring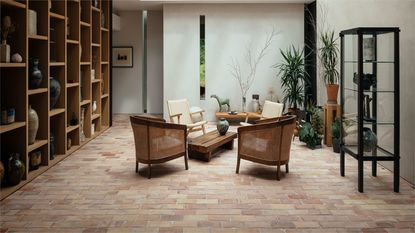 (Image credit: Jim Stephenson / Mclean Quinlan Architects)
Cozy brick flooring reminiscent of rustic farmhouse kitchens are making a comeback in the most modern of homes. They bring warmth and character to ultra-contemporary spaces, they're timeless and they're durable, so we can see why they're the latest project must-have.
From basketweave to herringbone, indoor brick flooring has been used for centuries, withstanding all sorts of conditions, but they've only recently come back into fashion. Nowadays, in addition to reclaimed brick floors, it's possible to buy modern engineered brick, and coupled with the use of water-based sealers, water damage is now less of a problem.
Brick is great because it's strong, but it can be a bit uncomfortable underfoot so you might want to add in something cozy, like a sheepskin rug, to help add some comfort. What's more, brick floors are often not completely level, but this just adds to the rustic charm. 'The benefits of a brick floor is that they are hard-wearing, warm-up beautifully over underfloor heating and have a wonderful warmth as a material,' says John Norman, Director at Mustard Architects.
'Bricks offer a timeless quality, unlike smooth polished flooring which requires work to keep it looking fresh. Bricks on the other hand age and wear and look better for it.' says Ian Bramwell, Director at Mole Architects. 'The mottled pink and orange hues of bricks add warmth and richness to spaces, an important quality often missing in new homes.'
In terms of cost, brick flooring can be quite expensive compared to other flooring types, but it's comparable with stone flooring. There are cheaper alternatives that aren't reclaimed but they won't be as interesting.
An expert guide to brick flooring – how and why to bring this new trend into your home
1. Brick floors are timeless
A brick floor is defined as a floor surface constructed out of many individual bricks laid like tiles, either with or without mortar or grouting. Brick flooring is derived from pavers, which are thinner than the regular bricks used to form walls.
Whether you opt for modern kitchen ideas or something more traditional in your new kitchen, a gorgeous brick floor is sure to stand the test of time. The terracotta floor in this deVOL kitchen is by Baked Earth, a manufacturer & importer of natural handmade terracotta tiles; which are suitable for indoor and outdoor use and underfloor heating.
'The soft dark paintwork, aged brass taps, and subtle brass door furniture look classic and understated. Nothing is too much here and that's what makes it perfect; the combination of new and old styling and design in just the right quantities.' - Helen Parker, Creative Director at deVOL .
2. Brick floors are durable
'Brick floors have a practicality, robustness, solidity, and calmness that makes a home feel relaxed. They're not precious and can cope with muddy boots or the dog coming in, without the need to quickly follow with a mop,' says Ian Bramwell.
'In this project, the brick flooring is actually clay tiles cut in half. Bricks bring a sense of intimacy to the space and they're immediately familiar - they have anthropomorphic qualities; everyone knows the size of a brick, it's about the same as a human foot.'
Fancy a new floor for your kitchen? Check out our pick of the best kitchen flooring ideas.
3. Brick floors add charm
This richly colored kitchen is the result of a collaboration between Australian brand Laminex and Melbourne-based architecture studio Kennedy Nolan. Incredibly contemporary block colors, sleek kitchen cabinetry and modern furniture contrast beautifully against the raw terracotta brick floors, which add warmth, character, and much-needed handmade texture.
4. Brick floors add texture
A modern house with high ceilings is complemented with a sliced brick floor from Lubelska, creating a totally welcoming space. A GoProtect sealer creates a dusty finish and untouched look.
'The interior spaces are punctuated with tactile and textured materials: reclaimed terracotta, rough sawn oak and clay plaster, to ensure that internally the building feels connected to the garden that inspired it,' says mother and daughter architecture practice Mclean Quinlan.
Partner Kate Quinlan adds that 'brick floors bring the outside into the home, blurring the boundary between inside and out. They're hardwearing, heavy-duty and offer a classic feel.'
'We would suggest avoiding a brick with a very textured surface as it can be difficult to keep clean but there are lots of smooth surface options to choose from and they can often be matched to bricks used externally giving a wonderful inside to outside flow,' adds John Norman.
5. Brick floors connect with outside
Reclaimed terracotta brick flooring has been used in the kitchen, garden and up the wall in this small kitchen extension. 'A brick floor adds warmth, texture, and character; a perfect example of how contemporary and rustic can work really well together,' explains Neil, Director at Neil Dusheiko Architects.
'We used the brick pamments inside and out to connect the house to the garden. The earthy quality of the clay brick floor works well with the oak wall linings and skylights. It's a sustainable material as it's reclaimed and made from natural clay but it needs to be carefully laid to avoid cracking.'
Are brick floors waterproof?
Brick flooring is waterproof with the right sealant applied. A brick floor is sustainable so is considered eco flooring, but it is fairly porous, so if you spill water it can penetrate down into the brick and cause damage below, plus stains can appear on untreated brick.
A sealant will need to be applied to the bricks every so often to protect against mold and cracking. Even though bricks resist rain vertically, when laid horizontally, moisture can build up and seep beneath the surface.
What is the disadvantage of brick flooring?
The disadvantage of a brick floor is that it can be expensive as well as bumpy underfoot and porous so you need to make sure it's sealed properly. If you love the brick look but prefer a more modern feel then laying tiles in a brick format might be more your vibe. It's a cheaper option, too.
'Each color comes in a random mix of 15 very subtly different shades, which gives the floor a soft mottled texture, similar to the patina you see on old tiles and brickwork,' explains David Eland, Director at OEB Architects. 'The range is also suitable to be used externally, so the same floor can run from inside to outside.'
As the Houses Editor on Livingetc, Rachel has been obsessed with property ever since she was a kid. With a diploma in interior design and more than a decade working on interior magazines under her belt, she feels very at home sourcing the best contemporary houses the world has to offer for Livingetc. It's not just the day job either, she admits she's spent a scary amount of her own time researching schemes for her own renovations - scrolling Instagram, stalking Rightmove and Modern House, flicking through magazines and snooping in other peoples' windows - so she really does live and breathe houses on a daily, if not hourly, basis. Before Livingetc, Rachel had a stint finding homes for Ikea Family magazine where she was lucky enough to gallivant around the world on shoots meeting and interviewing interesting people, all with a very keen eye for blending high-end design with everyday items from Ikea. It inspired her to not be afraid of mixing new and old, expensive and affordable, vintage and modern and so Rachel's current Victorian terrace in north London is very much an updated, contemporary take on a period property; think open-plan modern kitchen with concrete floors, feature fireplaces and her grandmother's paintings on the walls. Rachel is currently crushing on reeded glass, large gingham prints, squishy curved furniture; like Buchanan Studio's Studio chair, and vintage wall sconces; she especially adores Retrouvius for sourcing antique finds and feels inspired by Lonika Chande, Beata Heuman and Matilda Goad and already can't wait to start planning her next home, wherever that might be.