Bathroom floor tile ideas – 10 on-trend looks to add color, shape and pattern
From bold chevron layouts, to luxurious marble slabs, these bathroom floor tile ideas are sure to bring heaps of style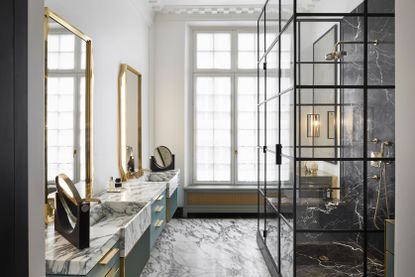 (Image credit: Humbert & Poyet)
Choosing bathroom floor tile ideas has got to be one of the most exciting jobs when designing a bathroom. Being such a practical space, you do have to be very practical in the majority of your design decisions but tiles, tiles are the fun part. Of course, there are practicalities to consider here too like size, shape, and material, but come on picking colors and finishes and patterns has got to beat choosing a toilet or a shower enclosure right?
The choices of bathroom floor tile really are infinite, and like many interior design decisions, it can be overwhelming trying to pick the perfect tile for your space. But fear not, as we have done a lot of the leg work for you and rounded up all of our favorite looks, from bold chevrons and quirky mosaics to classic marble and minimalist stone. There's a bathroom idea to suit everyone.
1. Allude to more space with a bold chevron
Despite its obvious grandeur and luxurious feel, this marble bathroom designed by Humbert & Poyet isn't a huge space. It's awkwardly narrow. However, chevron tiles are doing exactly what they are known for and making the space feel larger and more open.
The chevron pattern of the floor tiles also gives this classic, simple bathroom a focal point, a modern edge that seems to both clash with the grandeur of the room and yet compliment it at the same time, which of course was the intention.
Christophe Poyet and Emil Humbert the founders of the studio explain 'The master bathroom exemplifies the infusion of our signature flair, with Alexis Mabille's (the owner) own design style. We love to balance time periods, classical and modern, through the details, choice of moldings, decoration etc. We wanted to reinterpret the apartment's classical herringbone wooden floor in the bathroom by creating a monochromatic inlay.'
2. Add a twist on the traditional with color and pattern
Tiles, we always find, are a really easy way to mix and match styles, something that always gives bathrooms more character and personality. Case in point with this small bathroom designed by Katie LeClercq. From the floor up the bathroom is very traditional with a classic white scheme, pretty spotty wallpaper, and wooden accessories. However, the floor takes this simple bathroom from being bland to filled with color and pattern.
'Colors and patterns are a great way to modernize a traditionally styled room.' says Katie. 'Don't be afraid to push your comfort level a little further. Explore a bold pattern in a colorway that pleases your eye. You might be surprised how well it compliments the other components in the room!'
And for you colorphobes out there who can't imagine ever parting with your white subway tiles, note that the shades of these bathroom floor tiles aren't anything groundbreaking or bold. Even just a touch of a lovely soft muted shade or a slightly darker, moodier hue can give a neutral bathroom an edge.
3. Give a bathroom a rustic feel with encaustic floor tiles
Ever popular, encaustic floor tiles are the best way to give a bathroom a rustic feel. They are a wonderful way to add texture and shape to a space that's so often made up of clean lines. You'll often find encaustic tiles to have a slightly worn finish which instantly adds character and an almost historic feel even to a modern bathroom.
Encaustic tiles come in all colors and patterns, the choice is totally endless, but we are personally drawn to the palest of blues and soft teals of these tiles. They add just the right amount of bathroom color – not too bold it overwhelms the room but not so subtle the tiles go unnoticed. The blues also work wonderfully with the warm wooden furniture, and the black found in both the tiles and the freestanding bath ground the overall look and prevent it from becoming too soft and neutral.
Can we also just give some attention to the checkered bath mat? The layering of pattern adds to the bathroom's very relaxed, bohemian feel.
4. Trick the eye with large format stone floor tiles
For a fuss-free clean look, large format stone floor tiles will create a seamless, almost uninterrupted bathroom floor. The larger the tile, the less grout lines, and the less the space appears broken up as you can see in this black and white bathroom designed by Michelle Boudreau.
'I used large format Terrazzo tiles, with an aggregate of black, charcoal, and white to create a dark base with character for the floor, and used small minimal grout lines for less visible breaks and a more continuous floor surface. The Terrazzo gives the appearance of a smooth poured terrazzo floor. The dark floor tile brings a modern edge to a bright white room. An updated classic.' explains Michelle.
5. Create something bold and unique with mosaics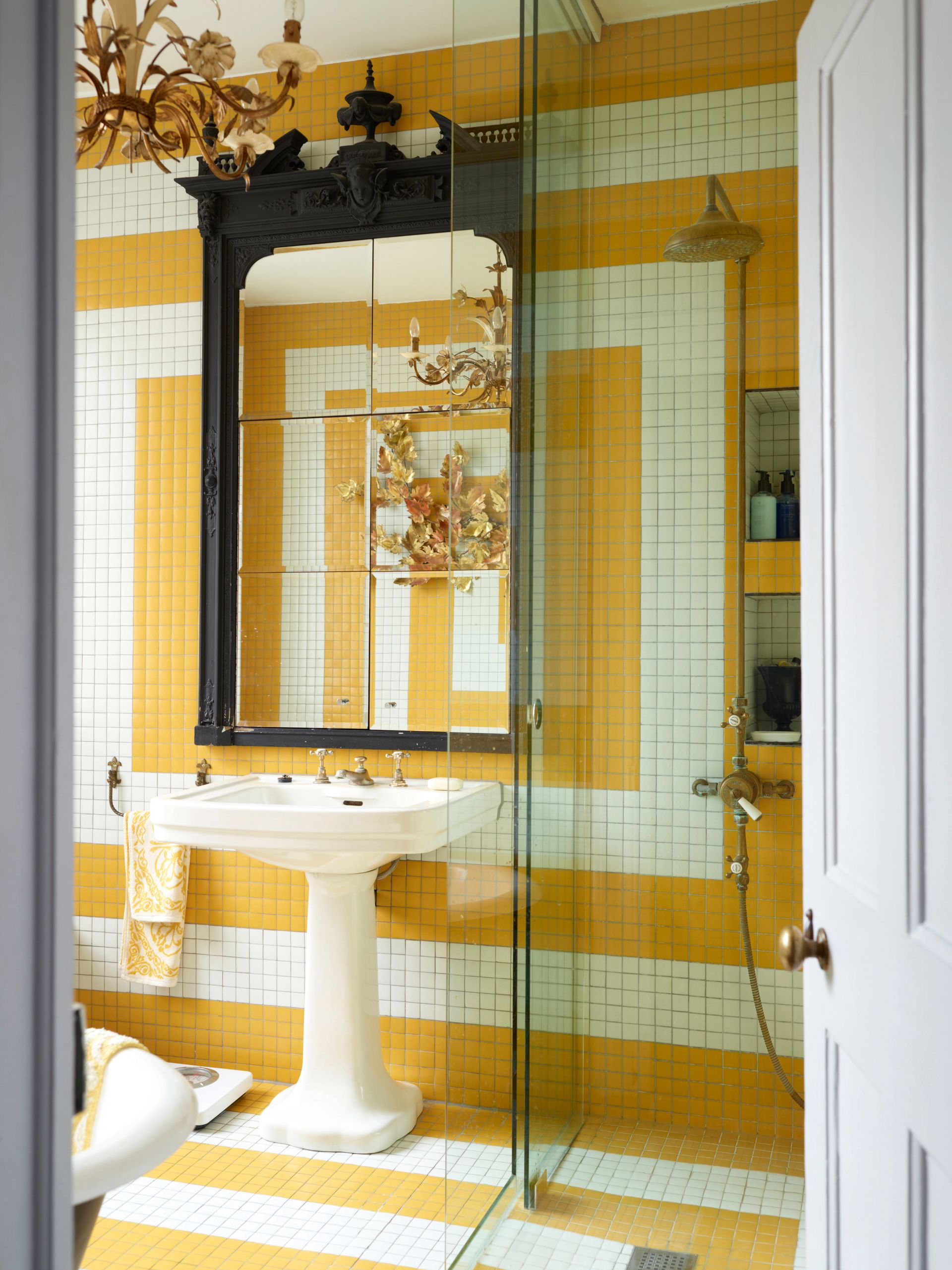 What a showstopper. Who knew yellow and white stripes taken all over every wall and floor could look so... chic? It definitely comes down to the immaculate styling, the contrast of such a bold color scheme, and the vintage fixtures and fittings.
What's so great about choosing mosaic tiles is they can be used to create whatever pattern you like – stripes, spots, lettering, murals. And they are a really affordable and practical choice for a bathroom too. As Colin Roby-Welford, creative director or Fired Earth rightly points out, 'Slip-resistance should always be a starting point when choosing bathroom and wet room floors, so begin by checking that the tiles you love are recommended for bathrooms.'
'Mosaics are ideal for adding a lovely sense of texture underfoot – the extra grout lines will help increase slip-resistance too – and there are options for every style of bathroom. Marble mosaics are a wonderfully luxurious yet surprisingly affordable choice, particularly since bathroom floors tend to be quite compact, making them relatively inexpensive to tile.'
'Eye-catching geometric designs including basketweave and hexagon mosaics are perfect for modern bathrooms. Think about combining them with different tile formats from the same range for a subtle visual contrast, perhaps using marble hexagons on the floor with brick-format marble on the walls.'
6. Combine different shapes but stick with a clear color scheme
Monochrome schemes are a classic look in a bathroom, but the simplicity of them does risk turning out a bit...clinical. The key to preventing this is texture. Texture, texture, texture, and that can easily come from mixing and matching your tiles. Choosing bathroom wall tile ideas that are a contrasting shape, finish, and material to your floor tiles will add the interest and contrasting textures without having to interrupt your limited color scheme.
With so many gorgeous tile options out there, why limit yourself? As Louisa Morgan, Creative Director of Mandarin Stone explains, 'Traditionally bathrooms have been clean, white, sterile spaces but more recently bathroom designs have become far more considered, with a bolder use of color and can be a true reflection of your personality. Perhaps the advancement in design technology of beautiful tiles has in part led to this, and due to the amount of choice available, people are now reluctant to just use one tile.'
7. Keep it classic with checkerboard tiles
Checkerboard floor tiles are a classic, timeless design, but despite often being associated with period styles and properties, they can also work in contemporary bathrooms too. For a pared-back take on the style keep it simple with black and white or, as can be seen here, grey and white, and rather than high-gloss bathroom floor tiles, add some elegance with marble.
Large-scale checkered patterned can make for great small bathroom tile ideas as, much like a chevron, they can create the allusion of a wider space.
'In smaller guest bathrooms, you can have a little more fun. A diamond design cement encaustic tile for example on a floor can add a pleasant and surprising pattern and pop of color, whilst glossy zellige tiles can really look great as a splashback to a basin/vanity unit.' says Tom Rutt of TR Studio.
8. Opt for luxurious dramatically veined marble
For the most sophisticated of looks, you can never go wrong with marble floor tiles, and we say the more dramatically veined the better. Let the floor be the focus, and treat it almost as you would a feature wall, keeping the rest of the bathroom walls clean and simple.
'Noble materials are used here – marble, wood, and brass – the materials were selected for their character and harmony. Marble for its richness, color, and presence it brings to a space. Wood for its warmth and richness. Brass, we enjoy working with, it highlights the other materials.' explains Christophe Poyet.
And how gorgeous is the mix of black and white marble? All those natural shapes and textures create such a dramatic space despite the really simple design and minimal color palette.
9. Break with traditional and choose hexagonal tiles
Hexagonal floor tiles have been a bathroom trend for a few years now, adding something more than a classic square or rectangular shape, but without feeling OTT. The one drawback of hexagonal tiles is they result in a lot of grout lines and can make a bathroom floor look overly busy, so our top advice is to match your grout color to your tiles.
Loving the greyscale here too, the contrast of colors is interesting enough to add something extra to the room but it doesn't mess with the soft neutral color scheme or dominate the space. Want a bolder look? This tonal style would work with any color scheme – we'd love to see it in a plethora of pinks.
10. Create a cohesive look by taking floor tiles up the walls
A time not so long ago we would have shunned a square white tiled bathroom suite, but there is something so cool about the 70s retro-vibe of this bathroom, that we have clearly been proven wrong with this bathroom tile trend. Despite the squares, this bathroom is full of curves and soft lines with the floor tiles flowing up, over and into the bath and across the sink.
'When using tiles in a master bathroom suite, we like to use the same tile across the floor, side of the bath, shower enclosure and as a splashback, connecting and unifying the room and creating a visually spacious and harmonious look.' says interior design Tom Rutt.
Colin Roby-Welford agrees, adding 'If you have a built-in bath, think about extending floor tiles across the bath surround to create a flowing effect. This can work particularly well in a compact bathroom, drawing the eye up from the floor and creating the impression of more space.'
Excuse us while we go and tile our entire bath.
What tiles are best for a bathroom floor?
The best tiles for a bathroom floor will of course come down to personal style but practicality should dictate your decision too. 'Practical elements are important to consider with tile choices. Are you restricted to certain thicknesses of tiles, especially for floors? Are you having underfloor heating? Are tiles being used to create a wet room-type floor or is a tray being used? Are you tiling a full wall, or partway and then edge finishes and corner finishing will need to be considered?' says Louisa Morgan.
'Small or large format tiles are also are an important consideration. Large-format tiles can be used in small bathrooms, they often crate the illusion of a larger space with fewer great joints. Fewer grout joints are also great for cleaning too! However, smaller tiles can create more interest and a cozier space. Tiles can also be used to zone different parts of the bathroom which can be really effective.'
What bathroom floor tiles are popular?
'At TR Studio, we love to use timeless, natural materials in our projects. When it comes to bathroom floor tiles, marble, terrazzo, zellige, and encaustic cement are what we favor but of course, it's dependent on where you will use them and the look you are trying to achieve.' says designer Tom Rutt.
'Marble tiles are always a popular choice for a modern and luxurious look on bathroom walls or floors. In large format, there are fewer grout lines making a bathroom less busy, more serene and appear more spacious. Likewise, a textured terrazzo can have the same effect. To complement these types of tiles we also love to use waterproof plaster-like Tadelakt which can really enhance a bathroom's palette.'
The Livingetc newsletter is your shortcut to the now and the next in home design. Subscribe today to receive a stunning free 200-page book of the best homes from around the world.
Hebe is the Digital Editor of Livingetc; she has a background in lifestyle and interior journalism and a passion for renovating small spaces. You'll usually find her attempting DIY, whether it's spray painting her whole kitchen, don't try that at home, or ever changing the wallpaper in her hallway. Livingetc has been such a huge inspiration and has influenced Hebe's style since she moved into her first rental and finally had a small amount of control over the decor and now loves being able to help others make decisions when decorating their own homes. Last year she moved from renting to owning her first teeny tiny Edwardian flat in London with her whippet Willow (who yes she chose to match her interiors...) and is already on the lookout for her next project.