10 bathrooms that nail the natural wood trend in surprisingly different ways
These wood bathroom ideas prove that this trend can work for any style of bathroom, from modern, minimalist spaces to rustic retreats with a natural feel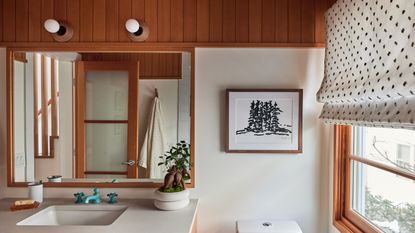 (Image credit: Wing Ho. Design: Project Refuge Studio)
Wood is a material that can really work magic in any room in the home, bringing a tranquil feel, reinforcing ideas of nature, and ultimately calming any space it's used in.
In the bathroom, it might not be the most reliable material in terms of dealing with moisture and damp, but when properly specified, protected and sealed, it can bring a soothing and homely look to the space. 'Wood is a wonderful material for bathrooms,' agrees Victoria Sass, principal and direct designer of Project Refuge Studio. 'It's warm, absorbs sound beautifully, and can take heavy wear and tear,'
From the simple addition of a wood framed piece of wall art to lift the space, to the vanity cabinet, to clever paneling, these are our favorite modern bathroom looks incorporating wood in different ways to inspire your own space.
Oonagh is a homes and interior design editor and writer. With a wealth of contacts in the world of bathroom design, she has collated the best ideas for curating a beautiful bathroom with a wooden interior and decorative touches.
10 wood bathroom ideas to bring nature into your space
1. Go for a simply designed wooden vanity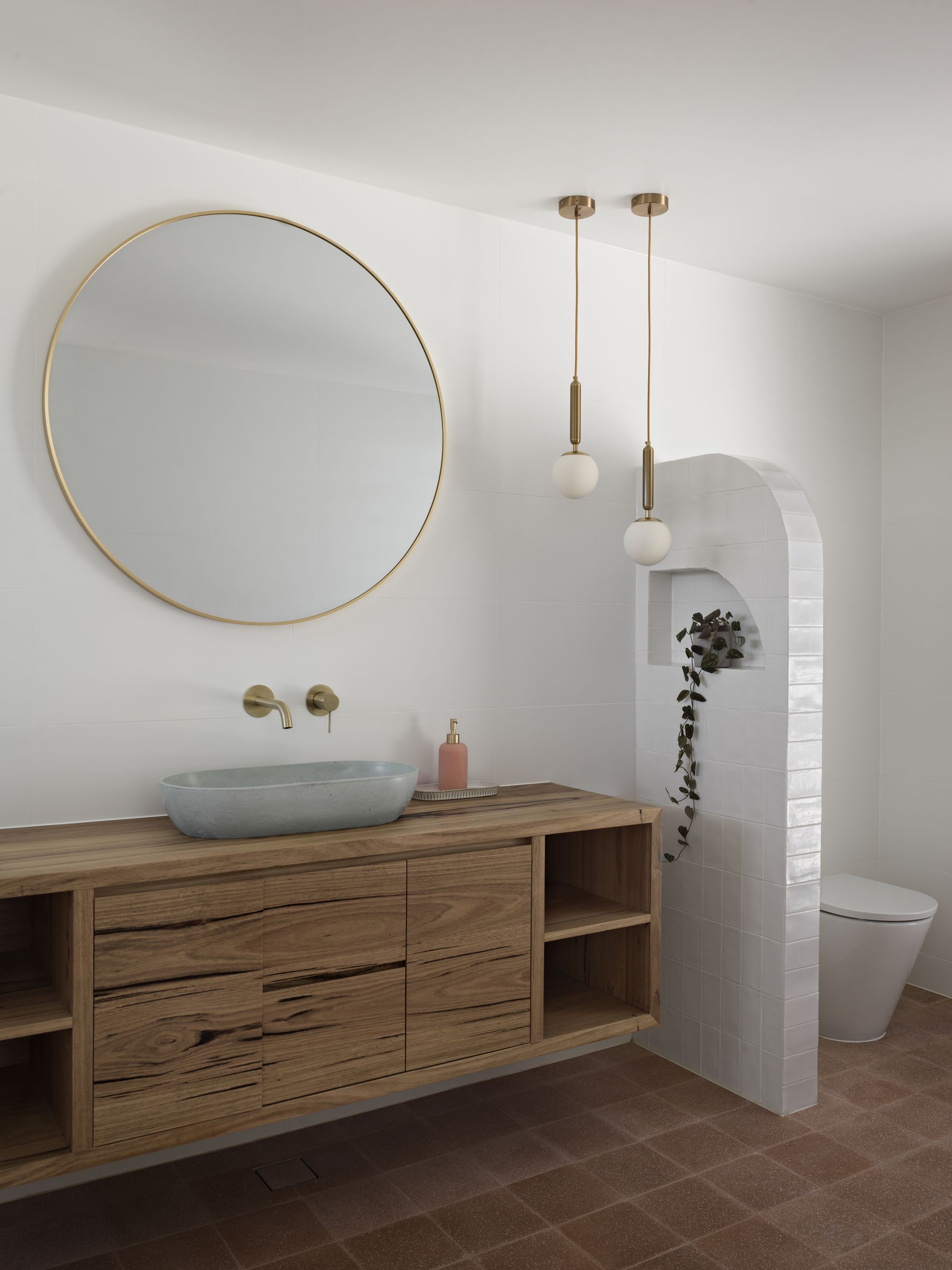 The bathroom vanity is a hugely important consideration for your bathroom. It's home to your sink and bathroom storage, provides that all-important surface area for decor and makes for quite the centerpiece. There are so many elegant styles to pick from, but solid wood is a firm favorite material choice for a bathroom vanity cabinet, and is only gaining popularity.
Strong, durable, and aesthetically pleasing - just make sure your wooden vanity is sealed and varnished to ensure it lasts.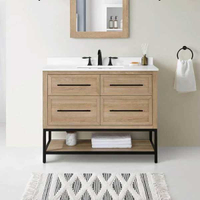 This modern bathroom vanity will bring warmth to a bathroom design, and is easy to incorporate into a range of styles.
2. Use wood to bring in fluted textures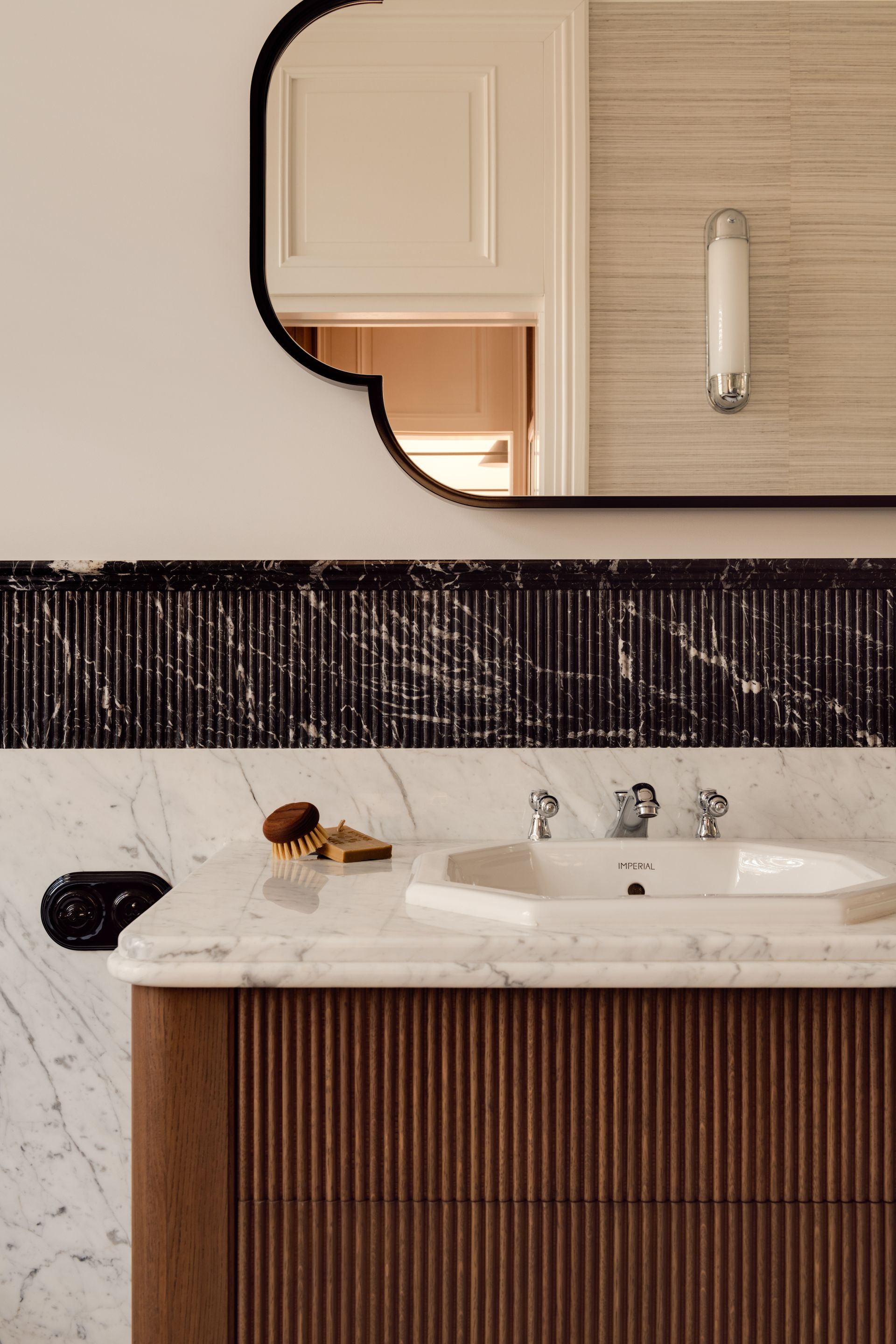 The fluted look is proving popular in modern bathroom design, signaling no signs of slowing down and bringing a touch of Art Deco design and glamor to your home.
This decorative trick can be used in your bathroom vanity to add texture to the space, as shown in this delicate design, another space from JT GRUPA. 'It brings an impression of lightness and delicacy,' says Tomasz. 'We love to make beautiful furniture as well as practical.' The wood and marble combination works in harmony, reinforcing the idea of using natural materials in the space, and bringing a luxurious feel to any room.
3. Take wood panelling onto the ceiling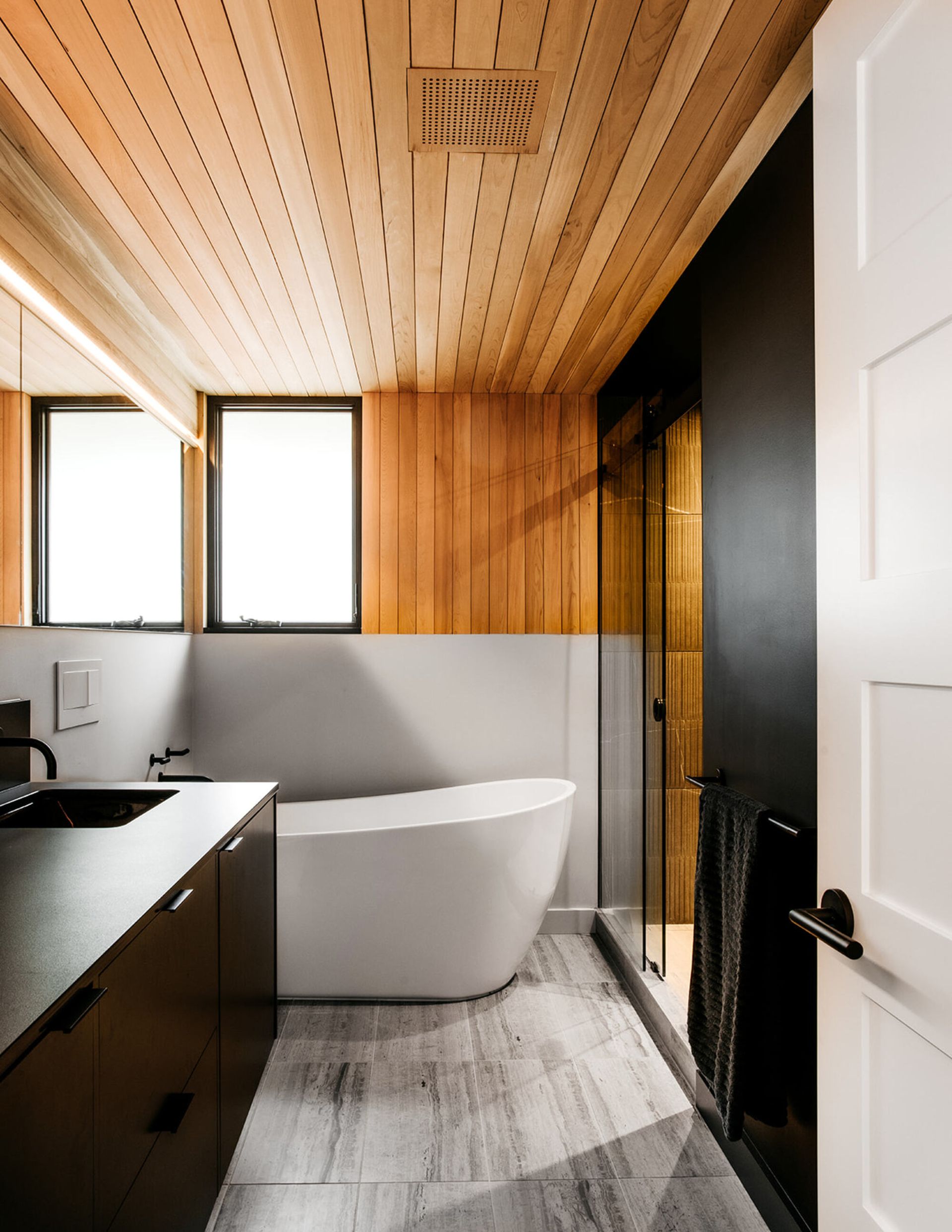 Embrace the bathroom wall panel trend in a modern way and bring a rustic feel to the space by taking the paneling across the ceiling. In this example from MENT Architecture, the paneling gives a luxurious sauna-like feel to the space, but it also helps to protect the wall and the ceiling. Our bathrooms paint jobs might be quick to discolor and bathroom tiles can look and feel cold, but wood paneling feels warm no matter the levels of natural lighting in the room.
'The wood is clear tongue and groove cedar, and since the project happened during covid, it was impossible to find the right profile, so the general contractor actually bought flat stock cedar and milled it themselves, especially for this project,' says Adam Lawler of Oregan-based MENT Architecture. 'The cedar brings a sense of calm and warmth to a space, reminiscent of a spa-like bathroom. It smells great! Along with the other design elements and material choices, the cedar helps create an extremely comfortable space.'
As an alternative to wood paneling, MDF or other sheet material paneling is the best choice for a bathroom, as it's moisture resistant and can give the look and feel of hardwood. Unlike wood, it won't expand and contract as the humidity in the air moves around. Finish off with a sealant and you won't have a problem.
4. Frame a mirror with wood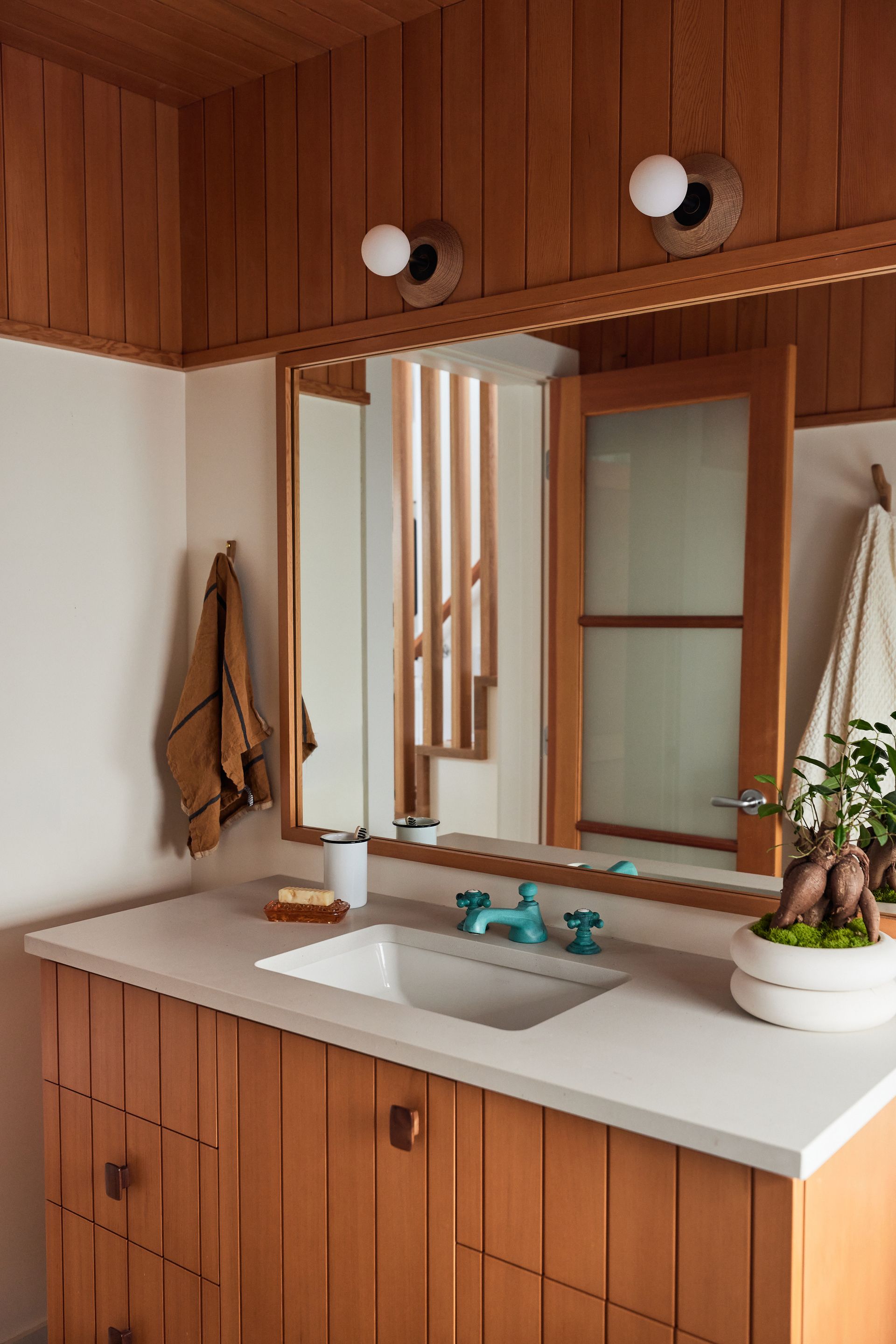 If you're looking for a decorative touch, try the simple addition of a wooden framed bathroom mirror. It's the smallest of touches that can bring warmth to even the starkest of spaces. In this project by Project Refuge Studio, an award-winning interior design firm based in Minneapolis, a wooden mirror matches the tone of the room.

'While this property is tucked neatly within a residential urban neighborhood in Minneapolis, the city is a wealth of green space, lakes, and parklands - providing plenty of natural beauty for our Wes Anderson, Moonlight Kingdom, Boys basecamp inspired the concept for this bathroom,' explains Victoria of Project Refuge Studio.
'The existing home had beautiful oiled fir doors and trim, which we happily brought into the architectural wall and ceiling treatment, as well as the vanity. It has kind of a scandi-camp sauna energy to it. The knobs on the vanity are also a little wooden treat - they are solid teak and the same ones that are on my personal houseboat! A fun nod to another outdoorsy adventure. Perfect for a young and growing family like this one.'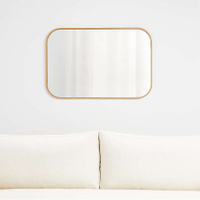 5. Tread carefully with wood flooring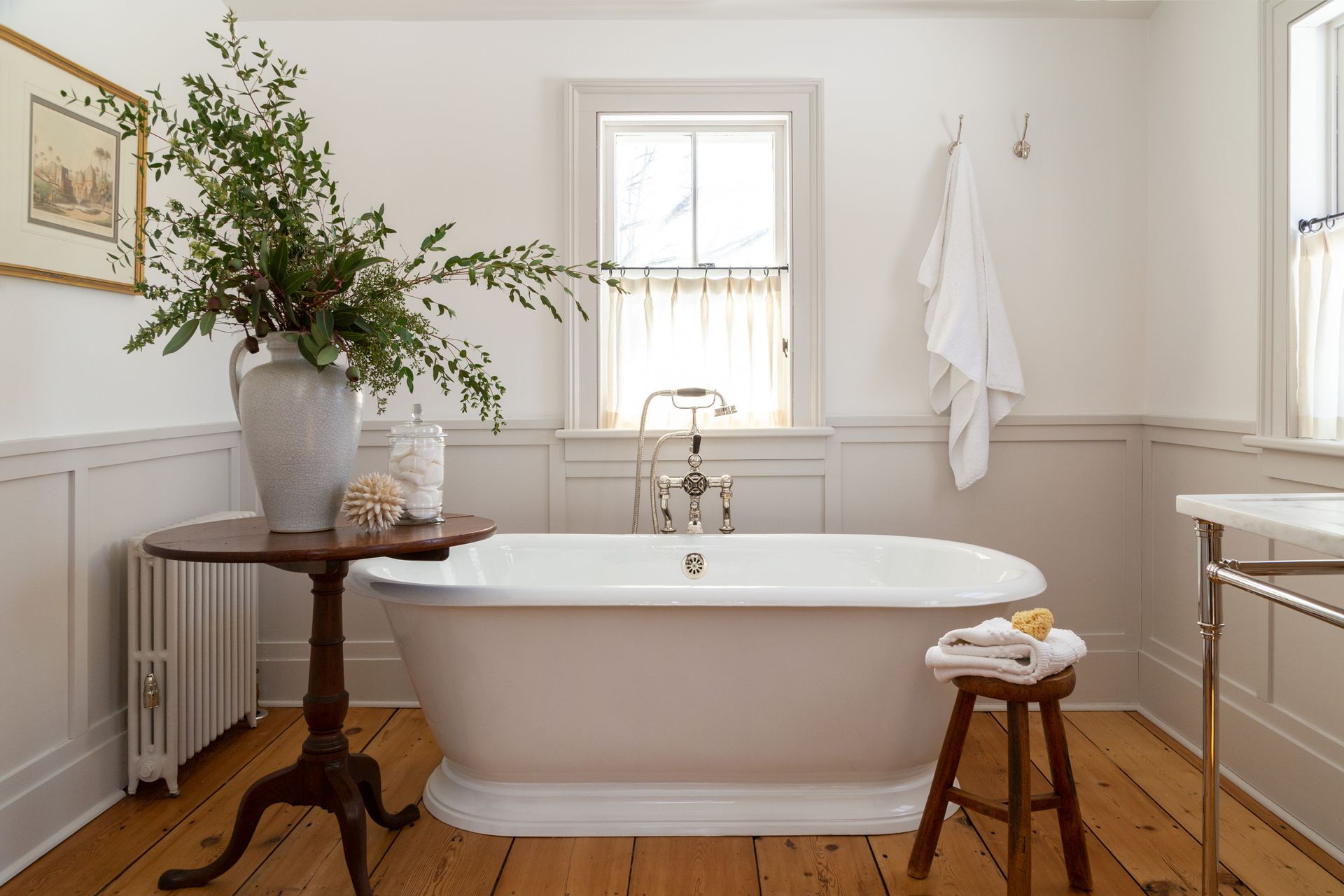 Solid wood flooring is a luxury bathroom look, and coupled with a freestanding bath with claw feet and a roll top and you've got a seriously indulgent set-up, but you have to weigh up the practicalities of what happens when wood meets water.
Make sure your bathroom flooring is finished and sealed, and you've got to be hot on the case for any splashes of water. It's also crucial that your bathroom is well-ventilated as steam and humidity can damage the wood. In this example from White Arrow, the bathroom has excellent ventilation and causes no issue for the antique pine wood floor.
6. Use wood for functional and beautiful shelves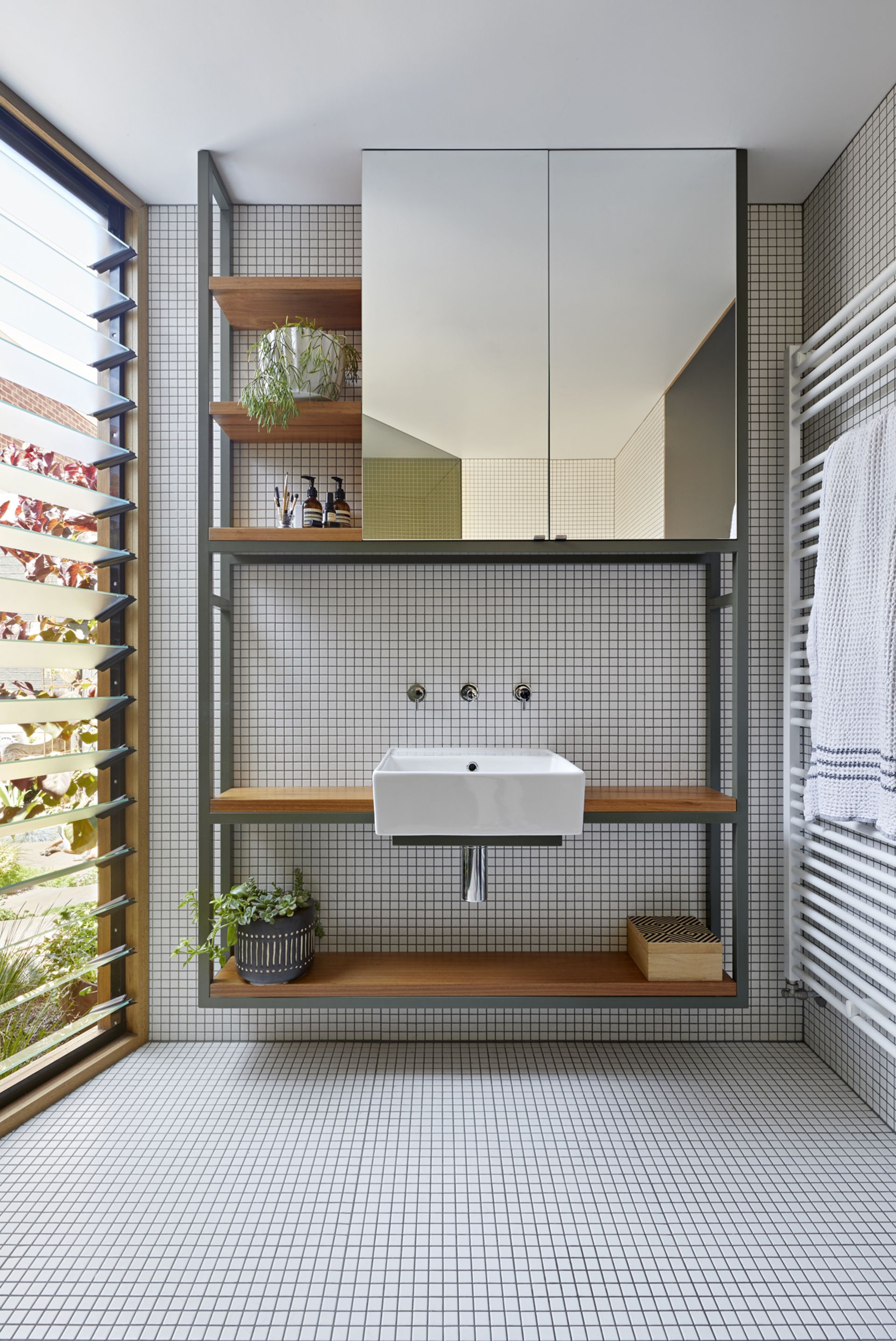 One way to add wood in a subtle way that doesn't involve a total refurbishment of your interiors is to use wooden bathroom shelving to bring the natural feel of wood.
Go for freestanding shelves, or a shelving unit with wooden surfaces, and the color will bring add warmth. 'Wood is a natural material that people inherently gravitate towards,' says Paul Porjazoski director of BENT Architecture, a multi-disciplinary architecture studio based in Melbourne, who designed this space. 'In the smallest of doses, it adds softness and warmth to the interior spaces.'
7. Try wood to warm up a monochromatic space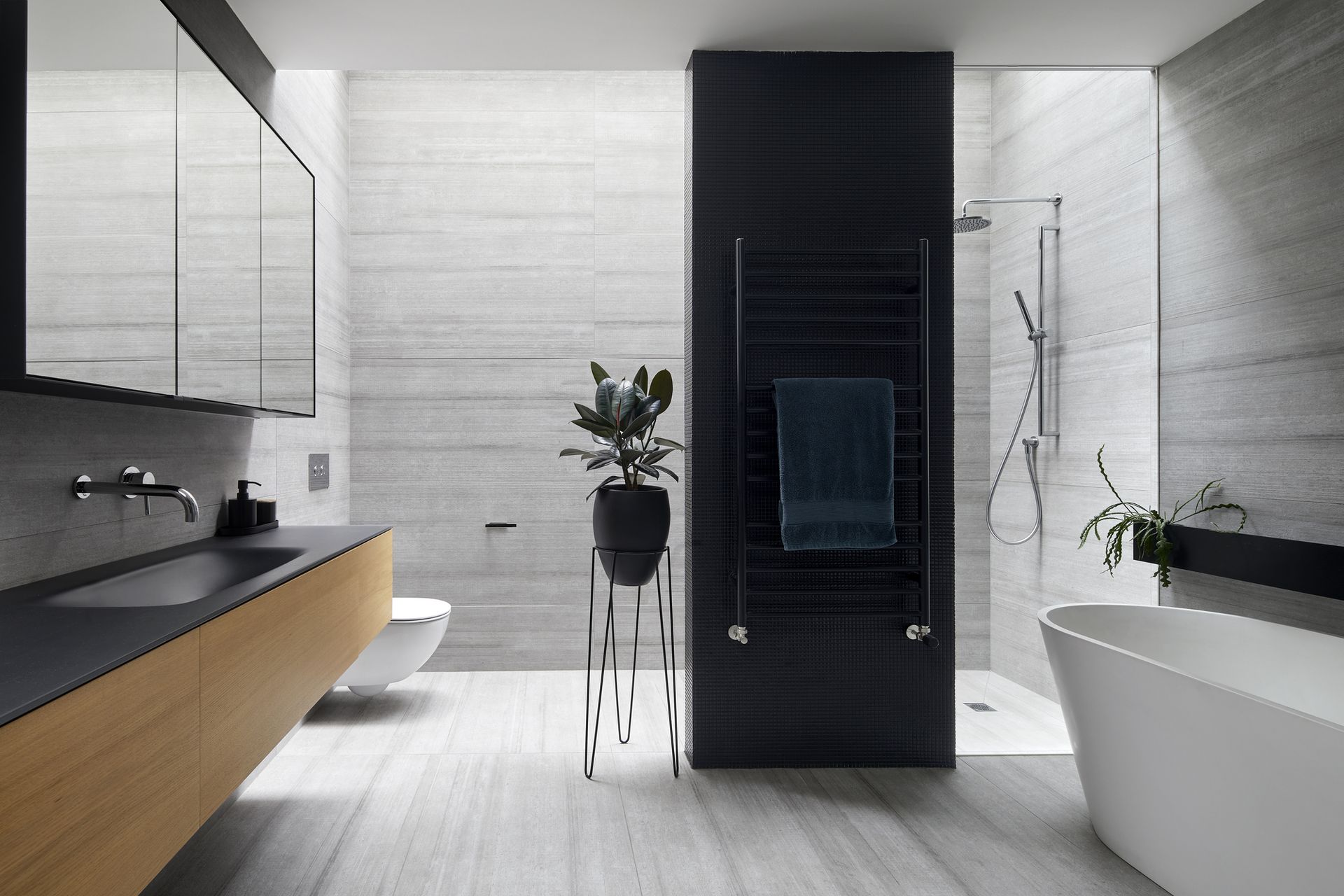 When it comes to bathroom color ideas, think of wood as a color as well as a material, and use its rich and natural tones to break up a monochromatic or overly white and stark bathroom.
'Wood is a natural material that people inherently gravitate towards. It adds softness and warmth to the interior spaces,' says Paul. 'In this example, the timber used throughout the bathrooms was an American White Oak veneer over an EO MR MDF substrate.' The coloring beautifully breaks up the monochrome color palette.
8. Try reclaimed wood furniture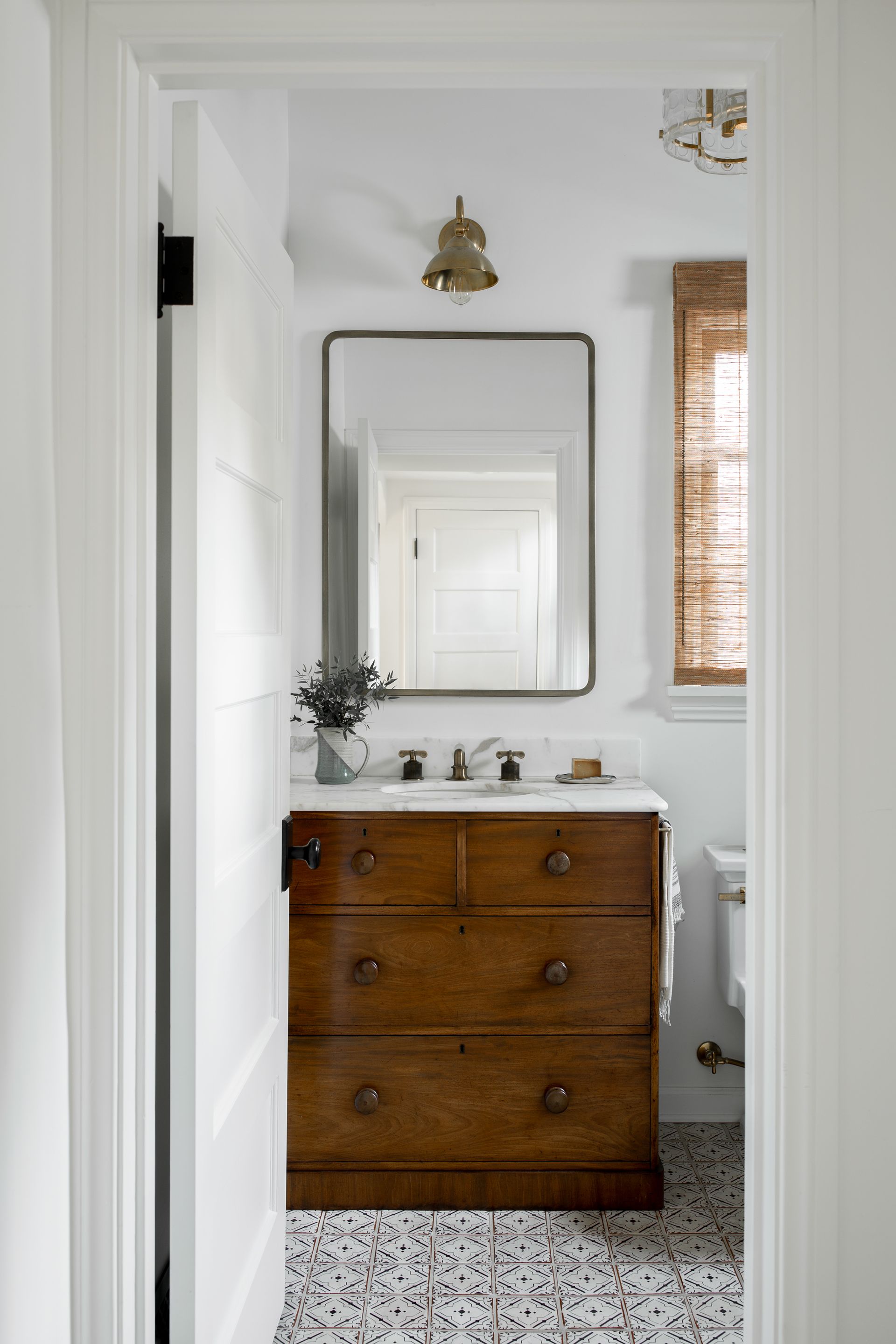 While many of these wood bathroom ideas feel distinctly contemporary, wood can also be used to bring the patina of age to your bathroom. Repurposing old furniture, or shopping vintage or antique, makes this way of including wood easy to achieve.
'The vanity could be repurposed with a vintage chest or you could use salvaged wood to design a custom vanity,' explains Californian interior designer Sarah Solis, who designed this small bathroom. 'Even if you built it in a very modern shape it provides that rustic element that really makes the space sing.'
9. Line a bathroom niche with wood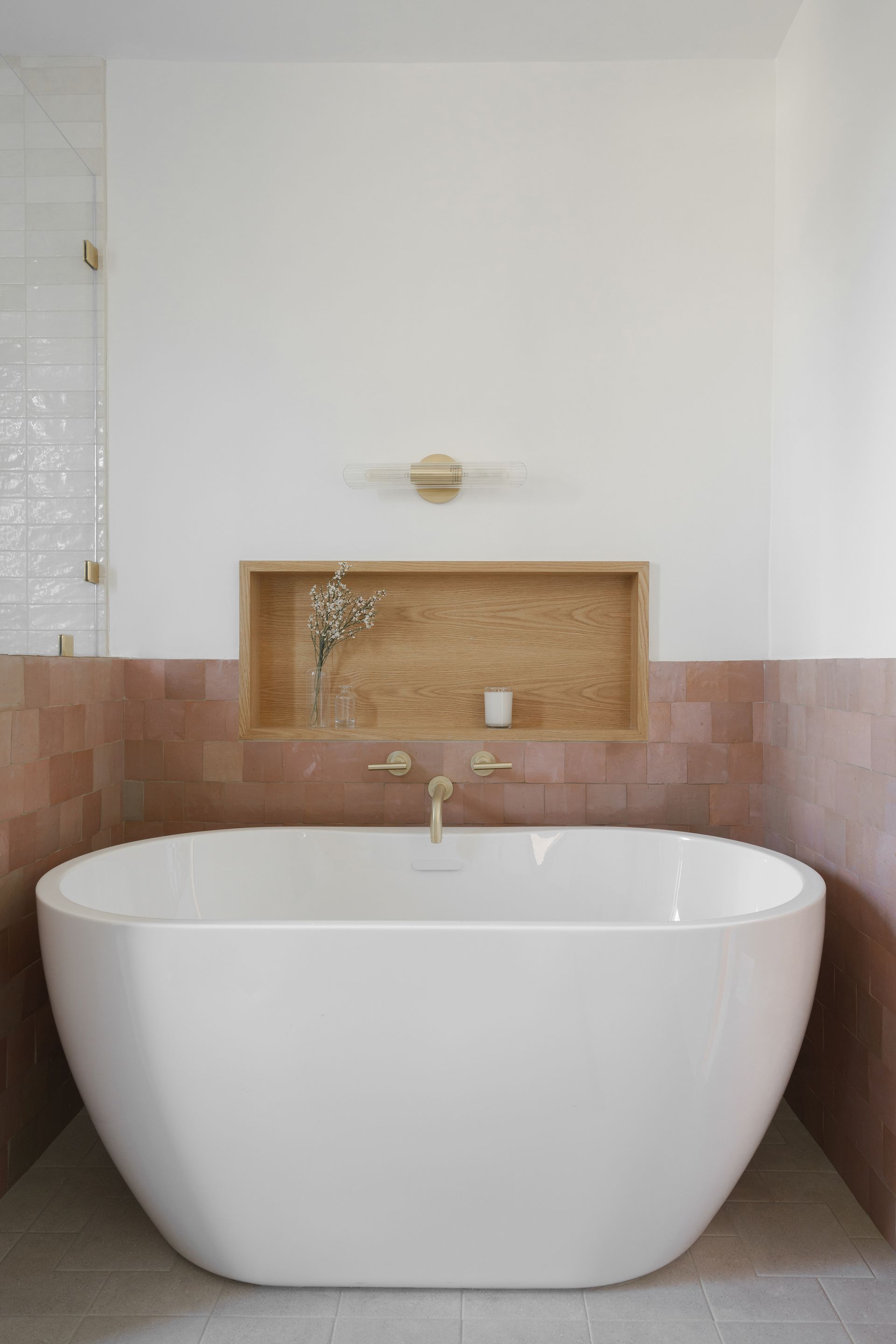 Wood is a great choice for wall paneling or large furniture in a bathroom, but it can easily be used as a smaller detail within your space too. 'We love the warmth that this white oak bathroom niche added,' explains San Diego-based interior designer Abbie Naber. 'I love using wood and veering from the predictable path of tile niches.'
This design works perfectly above a bath, while it wouldn't fair so well in a shower enclosure.
10. Make the switch to wooden shutters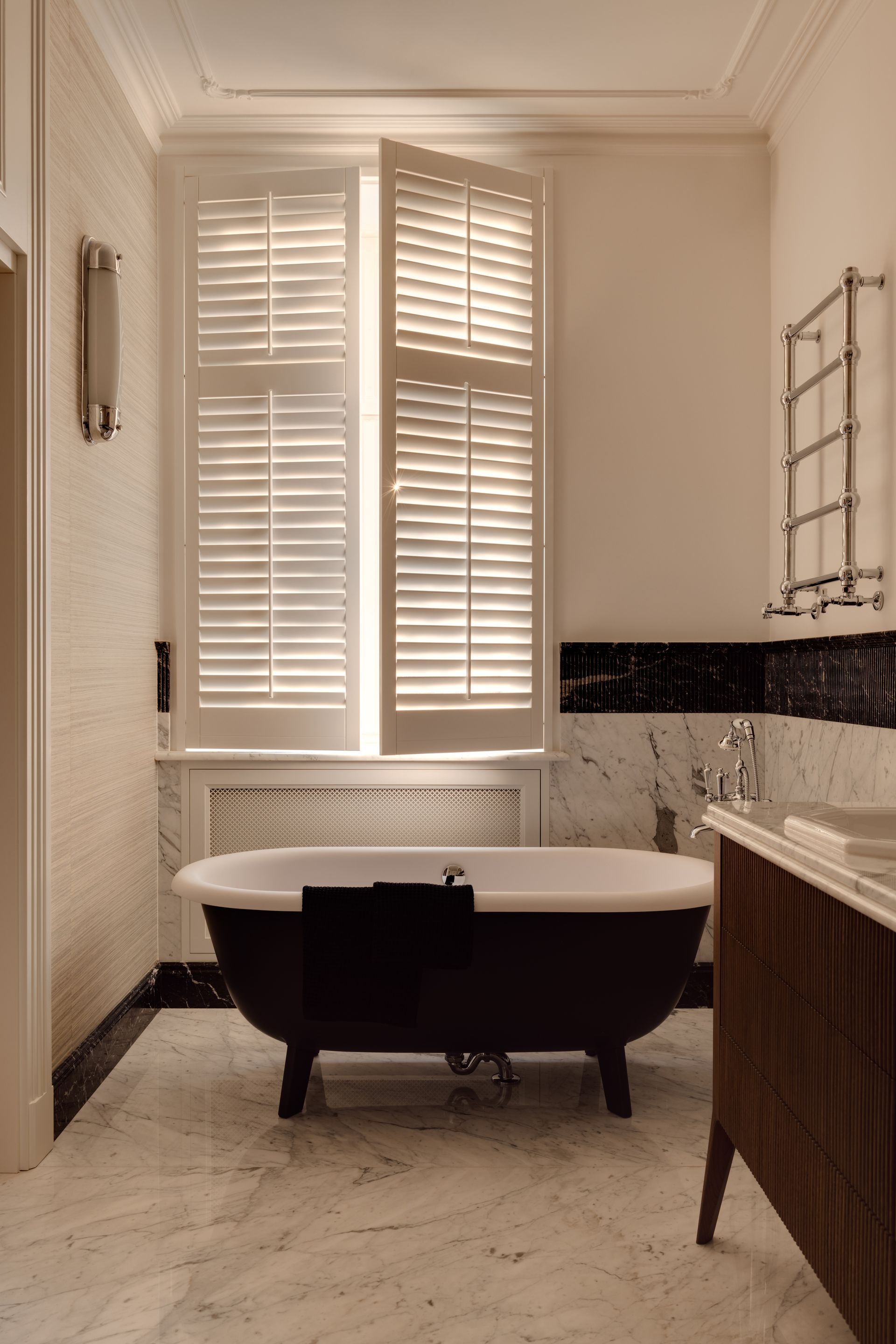 One way to bring the warmth of wood to a small or master bathroom is through shutters. Fabric in the bathroom doesn't mix particularly well, as moisture and dampness can impact any curtains and how long they last, while blinds can look a little clinical and void of any personality.
For the designers of this apartment in Warsaw, the idea was to recreate the romance of the old tenement house and use historical references to bring the space to life. 'This unique space, full of the memories of the past influenced our choices,' explains Tomasz Ziolkowski of JT GRUPA. 'We wanted an elegant effect with a touch of vintage and to create an atmosphere of a bathroom salon, which is why we used 'soft' material wood shutters.
'We created delicate paneling with soft edges and we think that this use of wood brings coziness, a touch of the spa mood, and real elegance.'
The Livingetc newsletter is your shortcut to the now and the next in home design. Subscribe today to receive a stunning free 200-page book of the best homes from around the world.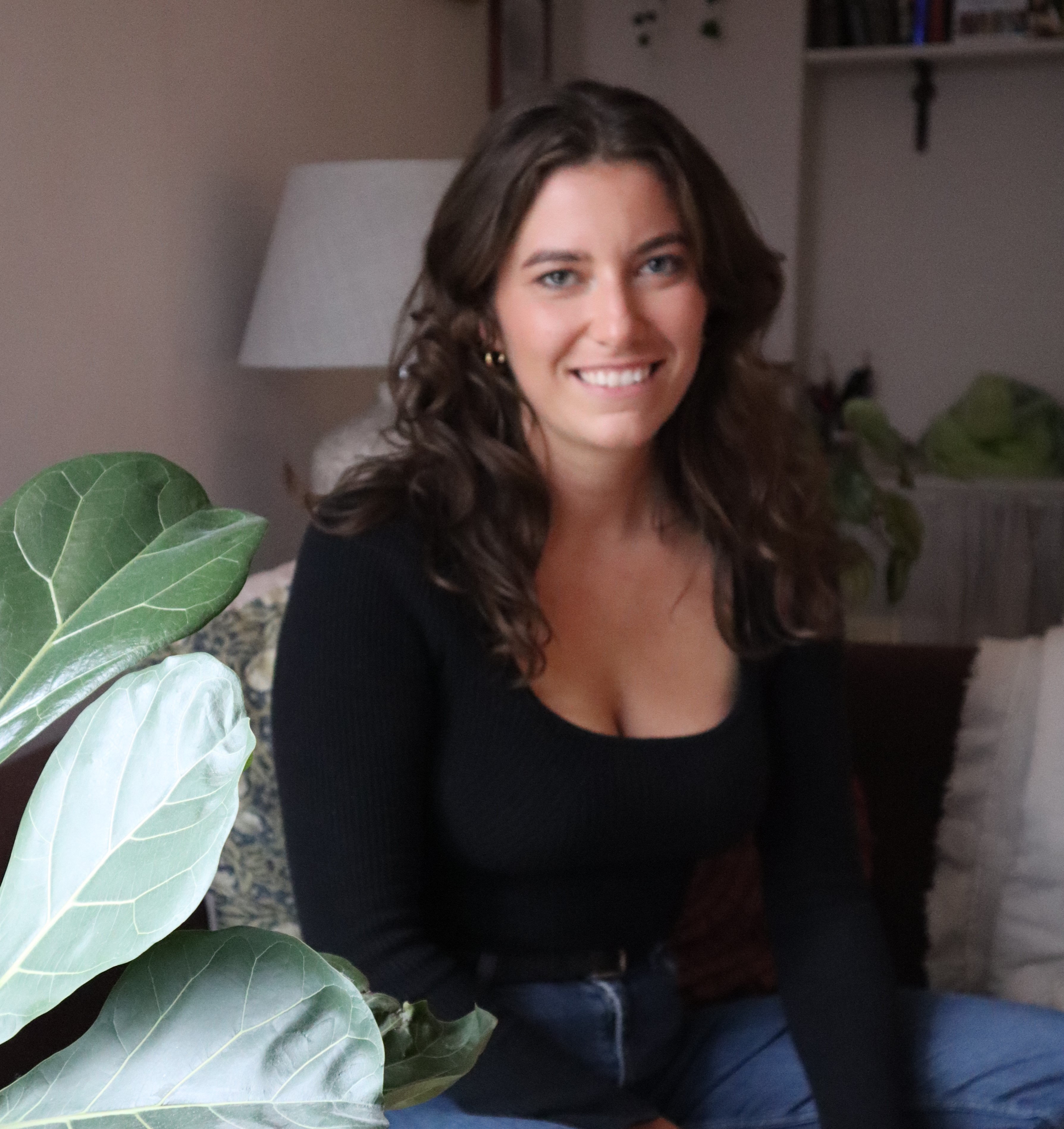 Livingetc content editor and design expert
Oonagh is a content editor at Livingetc.com and an expert at spotting the interior trends that are making waves in the design world. Writing a mix of everything and everything from home tours to news, long-form features to design idea pieces on the website, as well as frequently featured in the monthly print magazine, she's the go-to for design advice in the home. Previously, she worked on a London property title, producing long-read interiors features, style pages and conducting interviews with a range of famous faces from the UK interiors scene, from Kit Kemp to Robert Kime. In doing so, she has developed a keen interest in London's historical architecture and the city's distinct tastemakers paving the way in the world of interiors.