Gorgeous Grey Kitchen Ideas
Every one of them chic, smart and timeless...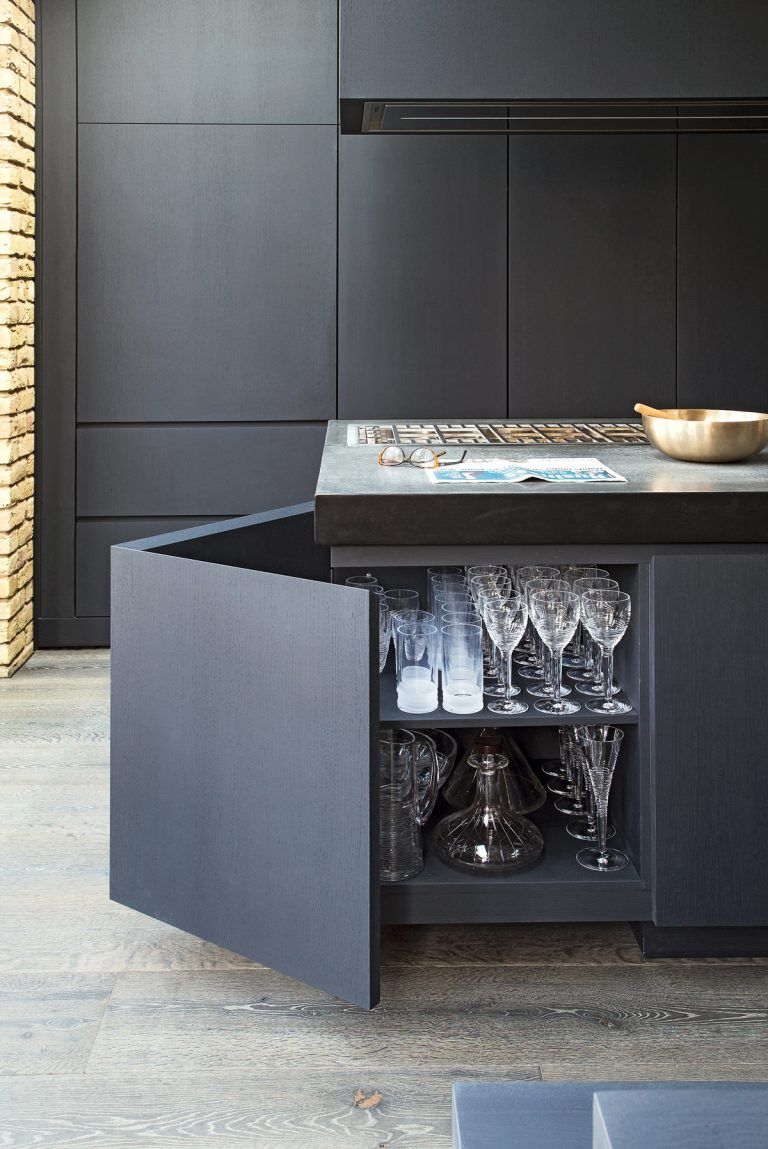 (Image credit: Future)
When it comes to kitchen colour ideas, grey is the shade of the moment. Smart, stylish and endlessly versatile, grey kitchen cabinets have the power to suit many types of scheme; from modern rustic style kitchens with Shaker-style painted cabinetsto utilitarian and industrial schemes with polished or rough concrete surfaces.
More dramatic shades of matt grey create instant impact, while the metallic shine of chrome and steel creates a clean, modern aesthetic. A modern kitchen island in chrome or painted in a deeper or contrasting colour to the wall cabinets will make it a focal point in a grey kitchen.
See more kitchen colour ideas.
Paler shades of grey are chic and sophisticated while steely, charcoals and graphites make for a moodier, more dramatic space.
You could go for wall-to-wall grey, or mix different shades together, painting walls with a shade at the paler end of the spectrum to create a restful scheme. For something a little bolder,contrast grey cabinetry with a completely different colour, or mix in some patterned tiles – or other materials, such as rich timber or luxurious marble.
Base cabinets in darker shades than wall cupboards help ground the design and prevent it looking top heavy, while dark grey walls against white cabinetry and shelving creates an eye-catching contrast that looks fresh and modern, as you will see in the examples ahead.
Of course painted walls and painted cabinetry aren't the only options for introducing this popular neutral. Nuanced grey tones can be brought in through concrete work surfaces or a beautiful lime plaster finish on the walls, like the one that interior designer, Mark Lewis has created in a converted gothic church. There's also interesting flooring options, such as the poured resin you'll see below in Pippa Paton's kitchen.
When it comes to the finishing touches, brass kitchen handlesand other brass or copper finishes will instantly add warmth to coolgrey cabinetry, while chrome and steel will keep things cool.
Beautiful backdrop
Despite its contemporary feel, the kitchen is filled with touchstones that add a note of history and tradition. The white china was a gift from the owner's mother-in-law, who runs a cookery school, while the pendant light was brought back from a trip to France.
On the edge
The kitchen units and marble work surface were already in place when the family moved in, but interior designer, Athena Calderone, added the brass trim.
In the raw
Interior designer Mark Lewis wanted to nudge the conversion back to its origins. That meant a raw feel to the walls, traditional flooring and recycled fittings. A lime plaster, with a mid-grey pigment, adds a fittingly dramatic backdrop for the original carved stone church column.
Mix it up
Warehouse lighting, stark tones, brass, free-flowing art and roughed-up textures lighten charcoal-grey rooms – it's a compelling remix.
Cool contrast
One of the designers, Pippa Paton's starting points for the scheme was a large vintage table in the adjoining dining area. It has an agricultural look that she wanted to offset with precise lines and clean, smooth materials, such as the poured-resin floor and stainless-steel island. The acid-etched steel splashback echoes the 'rusty, agricultural look' Pippa wanted to achieve.
Colour splash
The arched alcove was crumbling, so the owner seized the opportunity to add pattern and colour with tiles. The bespoke cement tiles are based on Moroccan mosaics she had seen on her travels.
The right lines
This kitchen extension was designed and built by the owners' design and build studio Freeman & Whitehouse.
Cool and calm
High-street carcasses are masked by bespoke cabinetry and a calming grey and white paint palette, which amplifies the sense of light in this space.
Natural look
The designer-look kitchen is actually home-made units decorated with a stencil and sprayed with grey spray paint. Previously separate from the main living space, a wall was knocked down to open it up and provide a clear flow through to the back door.
Nip and tuck
Simple Ikea units were restyled for a decidedly upmarket feel. New side panels were cut, bespoke kickboards added, while beautiful mouldings completed the look.
Simple elegance
The owner wanted it to feel simple and streamlined in the kitchen, 'with a grown-up fridge that made ice'.
Beautifully bijou
The mix-and-match approach of a British Standard by Plain English kitchen proved suitably classic but flexible. Vintage tin ceiling tiles add a layer of decorative texture.
Super sleek
Light floods down in a row of windows and glazed portions of ceiling onto this sleek Boffi kitchen.
Country style
This kitchen is deliberately created with a toned-down palette to make the most of details such as original tiles.
Streamlined
The crisp, streamlined kitchen has a timeless design. And when you get bored of it, it can be simply updated with different handles.
Industrial chic
In this kitchen, a monochrome palette is teamed with sleek metal details to give this space a cool, industrial-style edge, while the wood flooring and chairs add a more organic, earthy feel. This king-size island has a generous amount of storage and makes a striking centrepiece, providing a great spot for family and friends to gather.
Darkest grey
This dark kitchen is a black-walled space leavened only by a trio of white pendants and a touch of wood. It doesn't get much light, so it was purposefully made even darker. The bespoke kitchen features a huge slab of black granite work surface with a tactile brushed finish. Just as dark are the walls, units and painted brickwork.
Warm concrete
A rustic feel has been created in this kitchen with reclaimed scaffold boards, concrete work surfaces and plenty of wood and aluminium accessories: utilitarian, practical and beautiful. People often make the assumption that a concrete home will be cold and uninviting, but this kitchen is actually a very cosy space – and for colder months there's underfloor heating.
Concrete tops
The cool concrete worktop adds a raw texture to the more traditional cabinetry.
Concrete effect
In this grey kitchen, walls are painted with a sort of concrete looking effect. The kitchen cabinets conceal fold-out larder storage and the appliances.
Functional first
This kitchen is sleek, functional and ultra-modern in design.
Chrome beauty
Technically this kitchen is more silver than grey, but it's still echoes the look. The scheme here was driven by the wall clock, with the stainless-steel island specially positioned to highlight it.
Silver stud
In this kitchen, the scheme is a professional run of stainless steel, but its no-nonsense approach gets a twist with some oversized toy figures and a playful light. The pendant is both delicate and decorative combined with harder contemporary lines.
Complementary Colours
Who says you have to stick with just one grey? This kitchen seamlessly blends two grey shades together.
Great Heights
Another great example of complementary shades of grey. The kitchen island is the focal point of this kitchen, with the Skygarden pendant accentuating the height. The cupboards and kitchen island were designed to the owner's specifications.
Marble Walls
Marble covers the entire walls (and even the extractor hood) in this light and airy kitchen. As a result, the space feels comfortably luxe.
Blue-Grey
Whisper blue-grey walls set the tone for the kitchen, where bespoke joinery is offset by brass handles and a Victorian-style tap. The bespoke kitchen includes deeper-than-average work surfaces, with tops made from Carrara marble.
Sliding Doors
To maximise space and to make this storage area more practical, a sliding door has been installed in this grey kitchen. Get the look: John Lewis has a range of Kilner and screw-top storage jars.
Traditional
Dark grey cabinetry sings in this traditional style kitchen. The drama is in the detail – the factory-style lights; the subtle gleam of polished wood, marble and plaster; and the painted windows add definition. The exposed brick wall in the kitchen, with its whispers of old paint apparently flaking off, is actually a new addition. That juxtaposition of polished-plaster floor, brick and the crystal chandeliers is magic.
Pale Grey
The kitchen has a three-metre island topped with seamless Arabesque marble. The pale grey and black painted cabinets work well with the marble surfaces and vintage chairs.
Industrial Edge
This kitchen has an industrial edge, with hard surfaces and simple, practical fittings.
Added drama
Here, grey gets a more dramatic look with dark grey painted modern cabinetry.
Colour Punch
A punch of yellow punctuates what could be an otherwise featureless grey space. Marble surfaces give it a chic edge.
Floor To Ceiling
Floor to ceiling grey cabinetry makes the most of kitchen space, while a real life tree takes centre stage right through the middle of it.
Colour Match
Proof that you don't have to stick to one palette; here, grey kitchen cabinets are complemented by a practical, stainless-steel table and pinky-lilac walls.
Lotte is the Digital Editor for Livingetc, and has been with the website since its launch. She has a background in online journalism and writing for SEO, with previous editor roles at Good Living, Good Housekeeping, Country & Townhouse, and BBC Good Food among others, as well as her own successful interiors blog. When she's not busy writing or tracking analytics, she's doing up houses, two of which have features in interior design magazines. She's just finished doing up her house in Wimbledon, and is eyeing up Bath for her next project.