Small kitchen lighting ideas – 10 illuminating ways the right light can transform your cooking space
Here, our experts share their clever small kitchen lighting ideas that can totally change the look and feel of a space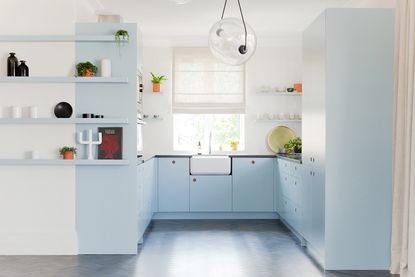 (Image credit: Naked Kitchens)
The Livingetc Newsletter
For style leaders and design lovers.
Thank you for signing up to LivingEtc. You will receive a verification email shortly.
There was a problem. Please refresh the page and try again.
Small Kitchen lighting ideas are a key part of your design scheme. The right lighting can have a transformative effect on a more compact space by making it appear bigger and highlight various work 'zones' so it functions more effectively. Since we now entertain in our kitchens, it is important to explore kitchen lighting ideas that can change the mood and ambience of the room according to what you need to do.
It's not just ceiling and wall lights you need to think about. 'Making sure that kitchen worktops are well lit is essential in a small kitchen, you don't want to be wielding a sharp knife or cooking in the dark!,' says Irene Gunter, founder of designer studio Gunter & Co. But your kitchen is struggling for natural light, there is a solution. 'If your countertops need additional illumination, fit a series of small lights or an LED strip under wall cabinets,' suggests Irene. 'Both options provide an excellent source of shadow-free light to countertops.'
Here are 10 more great lighting ideas from our experts that will inspire your kitchen design.
1. Match your light to your cabinetry style for a streamlined look
If you want a look that creates visual harmony, one important small kitchen idea is to think of your kitchen lighting as an extension of your kitchen cabinetry design.
'One of the easiest ways to create a cohesive and streamlined look in the kitchen is to match your fixtures and accessories to the style of your cabinetry,' says Melissa Klink, creative designer of Harvey Jones. 'In this space, we chose a minimalist and contemporary ceiling light to complement the sleek design of the kitchen and the linear handles. The color of the light adds interest and provides enough of a contrast against the white cabinets, whilst at the same time tying in nicely with the dark kitchen island.'
2. Choose an oversized task light as a kitchen focal point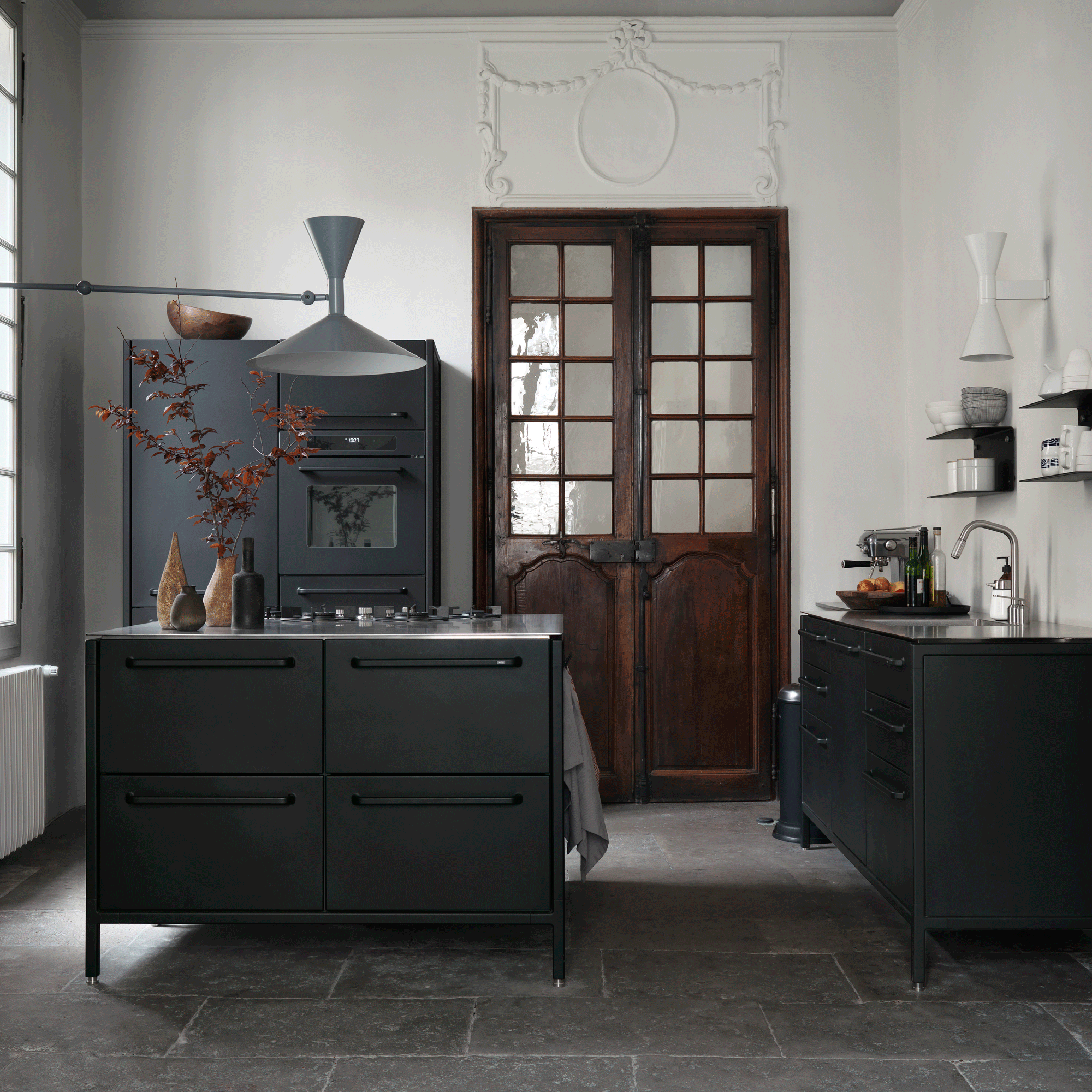 In a small kitchen, it is important not to make it look too busy and cluttered and there is lots of expert advice on how to get the best out of a small kitchen. One good tip is to pare back the design and let one piece do all the talking. In this French townhouse, the oversized Lampe de Marseille from Le Corbusier is the star of the show in this simple black steel kitchen by VIPP.
The large light anchors the space while the smaller version plays a supporting role. 'We fell for the industrial look that stands in sharp contrast to wooden doors and detailed ornaments,' says owner, furniture-maker Chris McCourt.
3. Play with a smaller scale to achieve a more delicate look
While there is much to be said about large statement pendant lighting, a cluster of small delicate pendants can have more of a decorative, colorful effect and soften the harder elements of the kitchen.
'You can easily tire of statement pieces and of large bold themes that dominate your room, lighting is a big one,' says Helen Parker, creative director of deVOL.
'We see so many lighting schemes and it's always the discreet and understated ones that catch our eye and that we don't tire of. Having said that, a statement light can look stunning if carefully chosen, chandeliers are about as bold as you can get but they look great because they have some character – go for faded glory not bling!'
4. Use track lighting to focus on what is most needed
It is understandable to be more attracted to the more decorative side of small kitchen lighting — it is an opportunity to show our personality and flair, after all. But it is also important to keep an eye on the functional side, which is why interior designer Irene Gunter chose track lighting for this London kitchen.
'This gives the homeowner complete flexibility, allowing them to move the lights to where they need them most,' she explains.
'Some of the spotlights are angled towards the wall cupboards while others are focused on the kitchen island. I aligned the track with the edge of the kitchen island worktop; the spotlights can then be angled to cast light across the worktop. The position of the track and the angle of the spotlights is important because you want to make sure that when someone is standing at the worktop, they don't block the light and cast a shadow across their food preparation.'
5. Highlight an island with a finish that matches your hardware
As it often serves as the main area for food preparation, an island needs to be well-lit, particularly in its center. Keeping the lighting finishes in line with the brassware is an easy way to get a cohesive look.
If you're lucky enough to be able to incorporate a small kitchen island, you might need more than one lighting fixture.
'In this spacious kitchen, we opted for three eye-catching, heritage-inspired pendant lights with beautifully reflective fluted glass shades and an antiqued brass finish to match the traditional look and brassware of the kitchen,' says Melissa Klink, creative design of Harvey Jones.
6. Zone your lighting to help define the space
'If the kitchen is part of a larger space, go for task lighting in the kitchen area and mood lighting in the social space – think about how to zone different areas,' advises Allison Lynch, senior design consultant at Roundhouse.
If you've chosen a plain kitchen it's a chance to bring in more interest, texture and color, according to Allison. 'Go for pendants in coppers and metallic. In a more contemporary kitchen, industrial-looking lighting would be an on-trend choice.'
7. Use the good quality concealed lighting to enhance your kitchen cabinetry
Lighting inside your cabinets has the obvious functional element of being able to help you find what you are looking for and is a great kitchen storage idea. It is a beautiful way of highlighting curated crockery and treasured pieces. When it comes to concealed lighting, however, the color quality is key according to Jack Trench, founder of the bespoke kitchen and furniture brand.
'We can't stress enough the importance of good color quality when specifying integrated kitchen lighting,' he says. 'In practice, this means ensuring your lighting has a CRI value (color rendering index) of at least 90 CRI. The colors and tones of wood cabinetry, marble surfaces, and even your food will be more accurately rendered whereas lighting with a value of 80 CRI or lower will make everything look horribly flat and washed out.'
8. Illuminate surfaces to add texture to your kitchen design
If you fit your lighting close to natural surfaces, it will play on light and shadow and help enhance various elements like texture and patination which is a useful kitchen countertop idea. This will bring the materials to life and add movement to a kitchen design.
'To really maximize beautiful surfaces, select fittings that are low glare and provide discreet illumination,' says Luke Thomas, design director, John Cullen Lighting.
'Recessed downlights or spotlights with frosted glass lenses create a diffuse light for a soft wash, while linear LEDs give a continuous, even glow. It's critical to use lighting with excellent color rendering properties, CRI 95 is best, so materials, particularly natural materials, are seen in their true form without color warping or flat lifelessness.'
9. Use your lighting finish as part of your kitchen accent
A well-chosen light can be an eye-catching accent, whether it is because of its colour or finish. In this black and white kitchen, with its striking dark island created by Caesarstone, the simple monochrome scheme is punctuated with flashes of brass. This is seen through the cabinetry to the stool legs and complemented by the sculptural light.
10. Add minimal lighting to highlight key work zones
For a simple but impactful look, use pared-back lighting to focus on the key working areas.
'If there's a hob on the island the lights should sit behind the hob on the seating side or either side of the hob as its task lighting,' says Allison Lynch, senior design consultant at Roundhouse.
In this kitchen, the trio of bulbs highlight the island's Antique Bronze metal wrap and handleless cabinets.
Allison adds: 'An island that zones the rest of the space is a great opportunity to do something really beautiful and decorative with lighting as it can help with the flow of the space.'
What lights are best for a small kitchen?
The ideal small kitchen lighting would be a mix of functional and decorative. Task lighting is important for directly above the cooker, sink, and any prep areas. If you have high ceilings, you may want to consider uplighters to provide added brightness. Being able to create an ambiance is important for a modern kitchen design so it is a good idea to have the lights on a dimmer so you can enjoy different moods.
Are LED lights good for the kitchen?
LEDs (Light-Emitting Diodes) are perfect for modern kitchen designs. They have a low heat emission so are energy efficient and are smaller and easier to conceal than fluorescents. While there may cost a little more initially, you are likely to save money on energy bills in the long-run.
For style leaders and design lovers.
As the Deputy Editor of Livingetc, Busola Evans works across both print and digital and specialises in kitchens, bathrooms and projects. She is an expert at explaining how to improve, extend and convert your home. Prior to her current role, she was Associate Editor on both Livingetc and Homes & Gardens. A journalist for more than 20 years, she has written for a number of newspapers and magazines including The Guardian, The Sunday Times Magazine and Grazia, and was an interiors columnist for the London Evening Standard's ES Magazine.