Kitchen storage ideas – 15 ways to ensure a functional and clutter-free space
These clever kitchen storage ideas will help make the most of your space...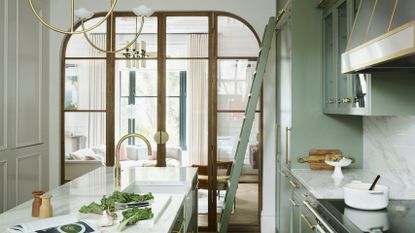 (Image credit: Irene Gunter)
Kitchen storage ideas may not be the most glamorous part of kitchen design. Deciding on how you will store your pots and pans is hardly as thrilling as choosing a kitchen style and choosing draw depths isn't half as thrilling as picking out your kitchen color. But for all the fun that comes with these more design-led choices, your kitchen won't be functional unless you nail the storage too. So it's worth planning in early.
'When planning a kitchen homeowners can often prioritize aesthetic over practicality, however, innovative storage solutions mean it is no longer necessary to compromise space for style.' explains Ben Burbidge of Kitchen Makers. 'Storage should be practical and functional but also a beautiful stand-out feature of your kitchen, that you take pride in.'
So whether you are designing a totally new space and really want to max out the storage potential, or looking for ways to add more storage to your current kitchen, we have pulled together plenty of advice and clever kitchen ideas to ensure a clutter-free space.
1. Assess your kitchen storage needs
For all the time you spend painstakingly choosing the perfect kitchen color you should spend at least that time deciding on the best kitchen storage for your space and your lifestyle. How much storage do you realistically need? Do you work better with cupboards or drawers? Would you consider adding an island or go floor to ceiling with cabinetry to maximize storage space?
As Alex Main, Director, The Main Company says, 'Kitchen storage is personal. Every household will differ so it's important to firstly consider what you will be storing before you start designing your space. If you need space for wine, for example, think about integrating some dedicated shelving or a wine fridge. If you would like to keep your small appliances out of sight, consider space for your toaster, kettle and/or coffee machine to be neatly tidied away.'
'Think about ergonomic storage, the use of drawers for plate stacks, pull out shelves instead of scrabbling around in the back of a cupboard only to find an out-of-date packet. Also, consider finding a static home for heavy appliances, this should help to free up extra work surface space.'
Ben Burbidge, director of Kitchen Makers adds, 'When planning a modern kitchen try to include more storage than you think you will need; this will allow you to optimise your organisation and grow into the space. Getting creative with storage solutions allows you to maximise your space without overcrowding and compromising the aesthetic.'
2. Hang shelves to add character to a kitchen
Shelving ideas make for amazing style and storage solutions in any room, but they are especially lovely to bring into a kitchen as they give you the opportunity to get a bit more creative and add some of your personal style into an overall very practical space.
'Open shelving in the kitchen is a great way to showcase pieces you're proud of while at the same time keeping cooking essentials close to hand. The beauty of shelves is that they slot in almost anywhere, regardless of how shallow or narrow the gap.' says Charlie Smallbone, founder of Ledbury Studio. 'If you covet open shelving but don't want to sacrifice wall cupboards, another option is open shelving on the island. It's the best of both worlds, with open space to or display pretty things combined with closed cupboards for storing less attractive essentials.'
Now, we aren't saying kitchen shelving has to be all form and no function, you can still curate shelves that are both stylish and can be used for storage. Display your nicest crockery, turn your ever-growing glass collection into decoration, or mix and match your cookbooks with some of your more aesthetically pleasing pots and pans.
3. Build storage into a backsplash
Much like shelving, a kitchen backsplash can work harder and incorporate storage as well as adding so much character to a space. This is such a clever and easy idea to copy in your space, rather than sit almost flush to the wall this gorgeous dramatically veined marble backsplash protrudes further into the room making it deep enough to add alcoves.
These cubbies break up that solid slab of stone, adding contrast color and texture that make the overall look even more eye-catching. Note how this design also creates a shelf above the backsplash that's perfect for keeping your most frequently used (or just best looking) pans within easy reach.
4. Take your cupboards up to the ceiling
The standard kitchen layout more often than not is a combination of wall cupboards and floor cupboards. It makes sense, you get plenty of storage and plenty of surface space. However, you are left with a huge gap in the middle of the two, which really could be put to much better use. If you can forgo surface space, say you have plans to have a large island or you could go for the classic floor and wall cupboard layout on one side of your space, go for floor to ceiling cabinets. They look sleek and provide so much more storage. A perfect small kitchen storage idea actually too.
'Maximise storage in your kitchen by running the cabinets to the ceiling. It eliminates this otherwise dead space and creates a smooth continuous look. Don't forget that you'll need a means to access the top shelves. In this Notting Hill apartment, we fitted the kitchen with a rolling library ladder that not only serves a practical purpose but adds a decorative detail. If a ladder doesn't suit the style of your kitchen, keep a stylish step ladder to hand.' explains Irene Gunter, founder of Gunter & Co.
5. Incorporate plenty of drawers as well as cupboards
The majority of kitchen storage is of course going to come from your kitchen cabinets, but also ensure you have a good balance of cupboards and drawers. You might find in fact more drawers than cupboards works better in your space. And drawers don't have to look like drawers as this kitchen proves. Deep drawers can look just like cabinets if you pick the right style, and offer more, easier to access storage.
'Drawers are an essential part of kitchen design, as they provide us with multiple storage options – whether deep or shallow. Deeper drawers allow you to store pots and pans and the addition of shallow drawers on the top of them are great for utilizing further space, perfect for spatulas, corkscrews, and the like.' advises Graeme Smith of Life Kitchens.
Charlie Smallbone adds, 'Drawers are obviously a lot easier to access than cupboards, and there's no time wasted reaching to the back to find what you need. I use deeper drawers for storing bulky pots and pans, and reserve shallow drawers for cutlery and cooking essentials. I also advise my clients add bespoke drawer inserts to ensure cutlery, utensils and spices are stored in the most efficient way.'

'That said, cupboards have a place in the kitchen too. Generally cheaper than drawers, cupboards can be really useful because they allow for more general storage. That's why I like to use a mix of both.'
6. Make a kitchen island work hard
Kitchen islands are the ultimate kitchen storage and if you can squeeze one in do so. They create an instant centre to your home, somewhere to cook from, work from, eat from, socialize from, they have got to be the hardest working piece of furniture in the home. And ofcourse, they are filled with kitchen storage opportunities.
'Some people may prefer to opt for an island over a prep table as they can incorporate appliances, bins, and full depth cupboards, as the island is more varied in terms of storage and cupboard options.' says Helen Parker, Creative Director of deVOL.
'An island or peninsula can be an incredibly versatile space and a worthy investment. When you're considering the size of your island, look to maximise the internal and worktop space but don't be tempted to make the overall dimensions too big as it could dominate or restrict movement around the kitchen.' advises Ben Burbidge.
'Considering the area under the island's worktop is also essential as it offers ample space for storage and kitchen essentials such as low fridges, deep drawers or the all-important wine fridge. In a kitchen, islands, along with subtle, hidden storage options, such as pull out racks and vertical towers, help create a clean, clutter free space.'
7. Bring in freestanding storage
Opting for a freestanding kitchen storage piece is a great way to add in some extra storage to your current space, or to bring extra character into a new kitchen. Your best bet for these pieces is to shop secondhand, keep an eye out on online marketplaces like eBay and Etsy and hunt around in your local thrift and antique stores too.
'If you are looking to create more space in an existing scheme consider thinking vertically or incorporating free-standing elements. Free-standing designs are versatile, customisable and flexible which can help you to reconfigure your original layout and allow for additional storage without additional expense. When considering your space it's important to think about proportions and whether it would suit a larger or more compact design.' advises Ben Burbidge.
Yes, we'd say getting the scale right is key to making this mix of old and new work. You don't want a huge dresser imposing on a small minimalist kitchen, so get some ideas of size and write down your ideal measurements in your phone so you always have them to hand should you come across something you like the look of.
8. Add a pantry cupboard for style and storage
Pantries are the thing of kitchen dreams right? But, as this pantry idea proves, you don't need copious amounts of space to incorporate one into your design. Pantry cupboards can provide all the food storage you need and fit seamlessly into your kitchen design. This is the perfect approach if you want a more of a minimalist look, where your pantry essentially just looks like a kitchen cabinet from the outside. You could even add pocket doors so you have the option to have your storage open when you need easy access but then can hide away the clutter when you want.
'Larders with storage racks on the inside of the cabinet doors are just brilliant at giving you a place to group like things together. You can put all your spices in them so you have everything close to hand when you're cooking. Or, turn one of the racks into a breakfast pantry with teas at the top, jams and preserves in a row beneath, and boxes of lovely-looking cereal below that.' says Stephanie Nix, Kitchen Designer at Neptune.
9. Or opt for a breakfast cupboard to conceal appliances
Smaller than a classic walk-in pantry, but still with all the room you need for storage and 'breakfast' appliances, a breakfast pantry is the perfect kitchen storage for hiding away the clutter and freeing up surface space.
'I'm a huge fan of the breakfast cupboard. It's the ultimate storage solution where you can hide all the paraphernalia that usually clutters up worktops – kettle, toaster, coffee machine. The other great benefit of a breakfast cupboard is its flexibility.' says Irene Gunter.
Again, a pocket door would work wonders here and build-in lighting too that automatically turns on and off when you open and close the doors. You could also add your microwave as seen in this gorgeous white kitchen to rid your space of one more piece of essential, but let's face it a bit of an eye-sore, tech.
10. Make the most of cupboard space
If you just want to add more storage to your current space, organizing your kitchen so it works harder could be all it takes. Dedicate a whole weekend to it, and get everything out so you can see what you have to store. Have a cull before you even think about putting things back too. Then just get clever with making the most of the space you have got. It's not glamourous stuff, but drawer dividers, shelf inserts, racks, hooks, jars, etc. all will help your space function better and you'll find you can fit more in too.
'Incorporating pull-out drawers and door-hung racks can maximize the potential of cabinets and larders, allowing you to utilize the full depth of the space. This is particularly useful in kitchen corners and behind doors which may otherwise be hard to reach or forgotten about areas.' explains Ben Burbidge. 'Door spice racks, drawer dividers and pull-out storage solutions allow you to effortlessly show off not only your kitchen but also your organization skills. To elevate your cutlery drawer consider integrated wooden dividers. Opting to combine painted and wood finishes creates a contemporary feel that will remain on-trend for years to come.'
Need help to maximize your kitchen cabinet space? See our edit on kitchen organizers and get shopping.
11. Break up banks of cabinetry with glass doors
You want your kitchen storage to be aesthetically pleasing where possible, especially when it comes to the main component – cabinetry. As with most design decisions in the kitchen you want there to be a balance between form and function and we think this pretty pink kitchen gets it spot on.
The mix of solid and glass-fronted cabinetry works perfectly, no storage space is compromised but the wall cabinets add so much more than just storage – light, texture, shape, it's all there.
As Irene Gunter rightly says, 'When all the cupboards in a kitchen have solid fronts, it can sometimes feel a little imposing. To break up the monotony – as well as lighten the overall look of the kitchen – we design wall cupboards with a variety of glass fronts.'
'To maximize the flow of natural light, I suggest keeping it simple with transparent glass. If clients prefer not to have the contents of their cupboards on display, I recommend smoked glass. Keep in mind that whatever is on display will need to look pretty, so be prepared to do some styling when specifying glass-fronted cabinets.'
12. Use hanging rails to keep every accessible
Hanging rails look cute and add some really handy extra kitchen storage, which works especially well if you are tight on space. What we love about a hanging rail is they add that instantly rustic, slightly farmhouse charm to any style and is a really quick, easy, and affordable update too that you can easily do yourself.
In terms of where to hang a rail, they always work well above a cooker to keep utensils close at hand. They also look lovely ran along the top of a backsplash or underneath the bottom of wall cabinetry.
13. Bring back the plate rack
The plate rack is making a strong comeback. Once reserve for stuffy, stately kitchens, we are now seeing them being incorporated into every style from more rustic rooms like this gorgeous deVOL kitchen to very modern and minimalist spaces. It's the color used here that turns this simple piece of storage into a focal point, the deep rich red really stands out against the pale putty pink, creating this lovely warming, tonal effect.
You'll find most kitchen companies will make a plate rack that can be incorporated into your design, but we think for the best look go for the real deal, something vintage with texture that's not only going to provide a handy space to store your crockery but will add character to the room too.
14. Clear clutter into cute baskets
Easiest kitchen storage idea out there? Store any clutter in stylish baskets. If you have a gap between your cabinets and the ceiling, this is prime real estate for filling up baskets with your lesser-used kitchen equipment and storing them out of sight.
The baskets will add a rustic touch, and don't worry about them all matching, it looks more characterful if they don't in fact. No one need ever know they are filled with a pasta maker you bought in the first lockdown, or all the KitchenAid attachments you swear you would use but never quite got round to getting out of the box.
15. Use narrow shelving for easy to reach ingredients
Another really quick and easy storage idea that you can add to your current space, a narrow shelf that runs between a worktop and wall cabinets. It's the ideal space for storing spices, tea, coffee, sugar, oils, etc, whatever items you reach for most. And turn it into more of a feature by decanting your dried goods into storage jars, or picking out the most colorful packaging for your essentials so the shelf really adds something to the room too. Depending on how narrow the shelf needs to be to still be practical, you could also use it to house a few houseplants, some bud vases, or a selection of leaning prints.
How can you add more storage to a kitchen?
The best way to add more storage to a kitchen is to really make every cupboard, every drawer, every shelf work hard. That means investing in pieces that are going to make these spaces more efficient – drawer dividers, shelf insets, hooks, rails, jars, canisters, bins, boxes, baskets. It's all these small accessories that are going to really max out the storage space in your kitchen.
Now in terms of design, if kitchen storage is really key to you and your lifestyle it should dictate all of your design decisions. You should always be thinking, will that compromise on storage? Is there a way this layout can add more storage? You might want to consider going floor to ceiling with your cabinetry or at least taking your wall cabinets all the way up the ceiling so you aren't wasting space. Adding and island will also provide you with plenty of storage and surface space which can mean you can forgo worktops elsewhere in the kitchen and add full height cabinets.
Hebe is the Digital Editor of Livingetc; she has a background in lifestyle and interior journalism and a passion for renovating small spaces. You'll usually find her attempting DIY, whether it's spray painting her whole kitchen, don't try that at home, or ever changing the wallpaper in her hallway. Livingetc has been such a huge inspiration and has influenced Hebe's style since she moved into her first rental and finally had a small amount of control over the decor and now loves being able to help others make decisions when decorating their own homes. Last year she moved from renting to owning her first teeny tiny Edwardian flat in London with her whippet Willow (who yes she chose to match her interiors...) and is already on the lookout for her next project.