20 Stylish and practical kitchen storage ideas for a clutter-free kitchen
These 20 clever kitchen storage ideas will help make the most of your space...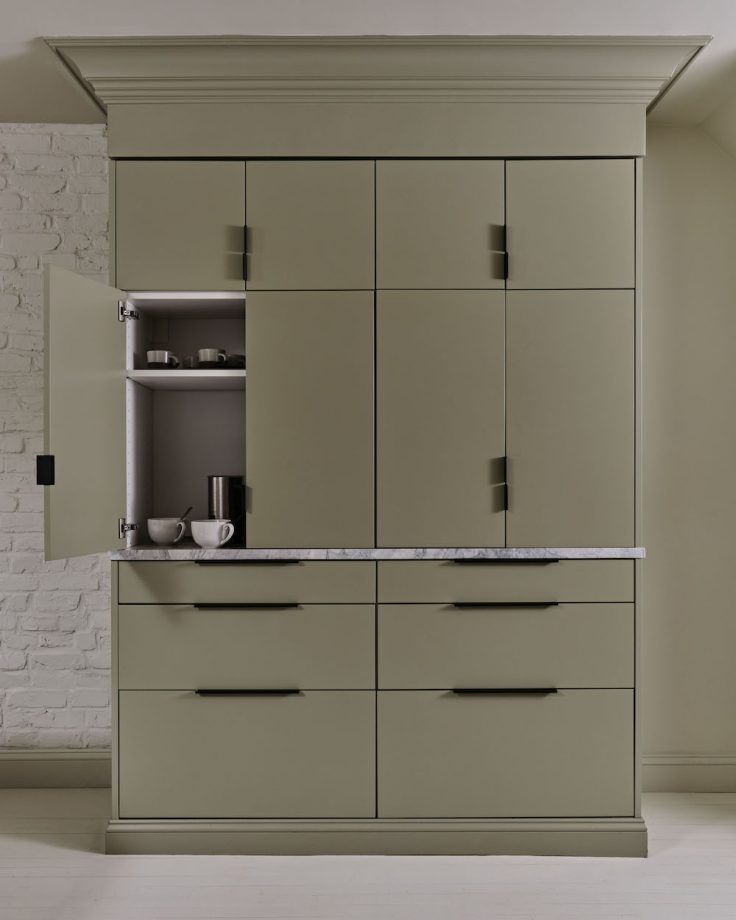 (Image credit: Claire Esparros)
Looking for modern kitchen storage inspiration? Who doesn't want a clear, clean and clutter-free kitchen that feels organised and makes the most of every inch of space?
From counter-top storage and built-in cabinets to open shelving, there are plenty of well-considered ways to minimise clutter, and keep your kitchen super organised. Here we look at a few clever and stylish kitchen storage solutions to inspire a more organised space.
You could go minimal with seamless, handleless cabinetry or use open shelves to display special dishes or a collection of striking cookware.
And why not turn an unused broom cupboard or cloakroom into a to-die-for pantry, hidden behind sliding doors?
Don't forget the space inside your kitchen island either, not just for displaying favourite cookbooks but also for built-in drawers and cupboard space.
A rail along a stove splashback is ideal for hanging utensils, whilefloor-to-ceiling built-in cupboards in adjoining corridors to help keep kitchens clutter free.
You could even create a a drop down rack from the ceiling for storing plates and pans, and a narrow cupboard beside the range cooker for instant access to oils, vinegars and spices while you cook.
Still got room to spare? Banish the bar cart and go for grown-up glamour with a built-in home bar area or statement wine storage to house your wine and liquor collection.
Intrigued? Let these fine kitchen storage ideas whet your appetite.
Read Also: Chic Utility Room, Scullery and Laundry Room Ideas
1. Wall to wall
In this kitchen, storage wraps around the walls, leaving the centre of the kitchen more spacious and free of cabinetry.
Two banks of tall cabinets provide ample storage, which disappears against the white walls.
2. Low storage
Instead of overhead units, the focal point of this bespoke kitchen is the row of Indian glass paintings and a super-wide shelf displaying glass and crockery. It's complemented by the antique chandelier, hung deliberately low to relax the lofty proportions of the interior.
3. Sliding doors
A sliding door maximises space and makes this storage area even more practical.
4. IKEA hack
This kitchen wall cabinet was made using IKEA frameworks, but with new fronts.
In the white kitchen below, simple Ikea carcasses were dressed up with marble worktops and bespoke brass handles. Amazingly, the entire kitchen budget came to under £5,000.
5. Walk-in pantry
The brick wall gives a kick of vibrancy that lifts the whole look.
6. Island storage
This stunning kitchen keeps wall space relatively free, while maximising the kitchen island with cupboard space and drawers.
7. Cook's kitchen
Designed to suit the needs of a large family who are all keen cooks, this kitchen includes a range cooker, deep larder and chalkboard for recipe essentials. The simple scaffolding shelving makes it easy to grab utensils when they're needed. Instead of neutral tones, the large room is punctuated with deep-black doors, which define the white space and lead to the new larder and utility area.
8. On display
The blue-green ceramics in this kitchen are by potter Derek Wilson and were given to the architect of this property, so that the Corian work surface could be colour-matched. More hand-thrown pots were commissioned for a display in the kitchen.Hanging plants against the wall add to the relaxed, neutral scheme.
9. Sneak peek
The inspiration for this white kitchen below came from old French bakery cabinets. Glass doors keep everything visible so you can clearly see where everything is.
10. Floor to ceiling storage
This kitchen takes kitchen storage to the max – there is a place for everything, with cabinetry stretching from the floor to the ceiling, and wrapping all the way round.
The owners mentally unpacked all of their kitchenware before designing the storage so everything they need is close to hand.
11. Include the corridor
The wall space has been maximised in this kitchen, with floor-to-ceiling push-open cabinetry lining the corridor and the walls that surround the kitchen area. Perfect for storing those special occasion glassware, or rarely used picnic hampers.
12. Butcher's Block
For kitchens that lack surface area / worktop space, and without the floor space for a kitchen island, a butcher's block could be the answer. It gives the space for food prep, chopping etc, and can even incorporate storage underneath. These days you can find ones with wheels, so you can move them around or out of the way.
A practical, stainless-steel table provides additional storage and worktop space in this industrial-style kitchen.
13. Use ceiling height
Ever thought about using your ceiling space for storing extra bits and pieces? Thisbright and airy open-plan kitchen shows you how it's done.
14. Utilitarian / Industrial style
This kitchen is sleek, functional and ultra-modern in design, and the kitchen cabinetry gives the space a raw, edgy look.
The bespoke cabinets below are built in premium-grade birch-faced plywood, which has a smooth, knot-free finish. The tall cabinets draw your eyes upwards, plus, it helps prevent any phobias of grease and dust that usually collects at the top of cupboards.
15. Seamless storage
Pale wood floors, bare plaster walls and seamless, handleless cabinetry give a softness and serenity.
Handleless cabinetry also gives this kitchen a clean, streamlined look.
This island unit houses pots and pans. It was designed by the owner, who is a builder, and has a composite-stone worktop, all beautifully bookmarked, as if it were made of solid marble.
To make sure that no other element upstaged the vintage kitchen dresser in the modern kitchen below, new additions are more low-key – such as the flat-fronted, handleless cabinets and a resin floor. Pared-back contemporary cabinetry highlights the ornate beauty of the vintage cabinet. The resin flooring feels modern but at the same time fades slightly into the background.
16. All white
A minimal, distraction-free scheme maintains the clean, white aesthetic.
17. Go for glam
This kitchen was inspired by the look of Thirties Parisian pharmacies. The island was designed to look like a freestanding piece of furniture and the unlacquered brass brings warmth and depth to the space. The Forties circular light is the pièce de résistance. Brass shelving also make an eye-catching feature.
The back of the open shelves are a glimmering gold. The contrasting colour makes the featured display items pop.
18. Open shelving
Open shelving can offer extra storage for glassware and crockery, without encroaching into the kitchen too much.
19. Shaker style
Shaker style is the classic country look that never seems to go out of style.
This pantry-style kitchen is full of tucked-away storage – including inside the kitchen island.
20. Check mate
Can't decide on whether you want a neutral or a bold colour? You could try and go for a colour pairing instead.
Lime green and grey chequerboard cabinetry lends a playful feel in this kitchen.
Lotte is the Digital Editor for Livingetc, and has been with the website since its launch. She has a background in online journalism and writing for SEO, with previous editor roles at Good Living, Good Housekeeping, Country & Townhouse, and BBC Good Food among others, as well as her own successful interiors blog. When she's not busy writing or tracking analytics, she's doing up houses, two of which have features in interior design magazines. She's just finished doing up her house in Wimbledon, and is eyeing up Bath for her next project.