Kitchen storage ideas – 15 expert-recommended ways to boost the functionality of this space
These kitchen storage ideas ensure the room is clean, clutter-free, and easy to use at any point of the day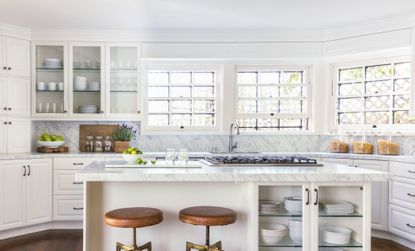 (Image credit: Joshua Smith Inc)
The Livingetc Newsletter
For style leaders and design lovers.
Thank you for signing up to LivingEtc. You will receive a verification email shortly.
There was a problem. Please refresh the page and try again.
Kitchen storage ideas are of prime importance. A kitchen, no matter how beautiful it may be, needs effective storage solutions so that all the clutter and kitchen essentials are always at bay, making this room easy and practical to use.
'When it comes to kitchen storage, a big advantage is with an island that can add oodles of functionality as it is not just an extra counter space for chopping or meals but also an opportunity to add more cabinets and drawers to the room,' says Joshua Smith, principal designer and founder of Joshua Smith Inc. 'This is particularly helpful if the kitchen is of a smaller size.'
We asked top experts to share more storage solutions to help increase this room's usage. Here are some of the best ideas.
1. Consider shaker style cabinets
The classic shaker kitchens have been around for a long time and while the true shaker cabinetry was once quite plain in its squareness, it has now seen a more modern rendition with bright colors and even textures.
'Our goal was to accentuate the historic character, details, and flow of spaces wherever possible while implementing a more modern design in this kitchen,' says Mindy O'Connor, principal designer of Melinda Kelson O'Connor Architecture & Interiors. 'We added a grounding dark blue in the shaker cabinetry and backsplash, with an airier white feel above. The pendants add a little fun to the color story and connect to elements in other spaces of the home. Overall, it is a true blend of vintage and modern – practical and pretty.'
Recommended Primer & Undercoat: Dark tones
Price: $40 for 3 litres
Drench your kitchen cabinets in this deep navy hue, and create a richly dramatic space with a more contemporary finish.
2. Store all the china inside the island
There are a lot of ways to boost the usability of a kitchen island. Along with adding kitchen island seating, also include a glass cabinet to store and show off your choicest china. Consider fluted glass that looks stylish and still gives a little privacy to the contents of the cabinet.
'In this kitchen, we opted for glass cabinets to showcase finer dishes and give the illusion of a larger space,' says Joshua Smith, principal designer and founder of Joshua Smith Inc.


3. Hang shelves to add character to a kitchen
Shelving ideas make for amazing style and storage solutions in any room, but they are especially lovely to bring into a kitchen as they give you the opportunity to get a bit more creative and add some of your style into an overall practical space.
'Choosing a bold color becomes a statement and creates a focal point, adding excitement and interest into an otherwise traditional kitchen,' says Eddie Maestri, principal architect, creative director, and owner of Maestri Studio.
4. Build storage into a backsplash
Much like shelving, a kitchen backsplash can work harder and incorporate storage as well as adding so much character to a space. This is such a clever and easy idea to copy in your space. Rather than sit almost flush to the wall this gorgeous dramatically veined marble backsplash protrudes further into the room making it deep enough to add alcoves.
'Maximizing storage in a kitchen backsplash is not only functional but also aesthetically pleasing,' says Ajay Arya, founder & interior designer at A Square Designs. 'One effective approach is to integrate open shelves or cubbies directly into the backsplash. This clever design strategy allows you to keep essential kitchen items organized and easily accessible while maintaining a clean and uncluttered countertop. By incorporating this element, you can strike a balance between functionality and visual appeal, enhancing both the practicality and the overall look of your kitchen.'
5. Take your cupboards up to the ceiling
The standard kitchen layout is a combination of wall cupboards and floor cupboards. It makes sense, as you get plenty of storage and plenty of surface space. However, you are left with a huge gap in the middle of the two, which really could be put to much better use. If you can forgo surface space, say you have plans to have a large island or you could go for the classic floor-and-wall cupboard layout on one side of your space, go for cabinets. A perfect small kitchen storage idea too.
'Maximise storage in your kitchen by running the cabinets to the ceiling,' says Irene Gunter, founder of Gunter & Co. 'It eliminates this otherwise dead space and creates a smooth continuous look. Don't forget that you'll need a means to access the top shelves. In this home, we fitted the kitchen with a rolling library ladder that not only serves a practical purpose but adds a decorative detail. If a ladder doesn't suit the style of your kitchen, keep a stylish step ladder to hand.'
Material: Steel
Price: $49
Have cabinets going all the way to the ceiling? Consider this clean, sleek step ladder that will make reaching to the top cabinets a breeze.
6. Incorporate plenty of drawers as well as cupboards
The majority of kitchen storage is of course going to come from your kitchen cabinets, but also ensure you have a good balance of cupboards and drawers. You might find, in fact, that more drawers than cupboards work better in your space.
'When it comes to innovative drawer designs for kitchens, there's a world of possibilities to explore,' says Ajay. 'Consider concealed drawers that seamlessly blend into cabinet panels, providing a sleek and minimalist appearance. These hidden storage solutions not only maximize space but also contribute to a streamlined and clutter-free kitchen. Additionally, pull-out tray dividers for utensils and deep pot drawers offer optimal storage and organization for your cooking essentials. These thoughtful designs not only enhance functionality but also elevate the overall efficiency and aesthetics of your kitchen space.'
7. Bring in freestanding storage
Opting for a freestanding kitchen storage piece is a great way to add some extra storage to your current space, or to bring extra character into a new kitchen. This is a space-saving kitchen storage trick professional organizers love. Your best bet for these pieces is to shop secondhand or buy one online.
'A well-chosen freestanding storage unit can be a game-changer in your kitchen, offering both style and functionality,' says Ajay. 'One excellent option is a sleek rolling cart with shelves or drawers. This versatile piece not only provides additional storage but also serves as a stylish accent in a modern kitchen. It can be effortlessly moved around to adapt to your changing needs and can even double up as a prep station or a serving trolley when required. The flexibility and elegance of such a freestanding storage unit makes it a valuable addition to any contemporary kitchen.'
Material: Plywood
Price: $87
Consider this freestanding unit on wheels that offers versatile storage options: a space for pots and pans, baking tools, and a place to prep meals.
8. Add a pantry cupboard for style and storage
Pantries are the thing of kitchen dreams, right? But, as this pantry idea proves, you don't need copious amounts of space to incorporate one into your design. Pantry cupboards can provide all the food storage you need and fit seamlessly into your kitchen design. This is the perfect approach if you want a more minimalist look, where your pantry essentially just looks like a kitchen cabinet from the outside.
'The good thing about pantries is that these can be stand-alone spaces, and are not bound to being the same color as the kitchen,' says Donna DuFresne, principal at Donna DuFresne Interior Design. 'For example, if using a different cabinet color on the pantry, using the same tile or countertop material as the kitchen will unify the spaces.'
9. Opt for a breakfast cupboard to conceal appliances
Smaller than a classic walk-in pantry, but still with all the room you need for storage and 'breakfast' appliances, a breakfast pantry is the perfect kitchen storage for hiding away the clutter and freeing up surface space.
A pocket door would work wonders here and build-in lighting too that automatically turns on and off when you open and close the doors. You could also add your microwave as seen in this gorgeous white kitchen to rid your space of one more piece of essential, but let's face it – a bit of an eye-sore, tech.
'A breakfast cupboard is a dedicated storage space specifically designed to house breakfast essentials such as cereals, bowls, mugs, and coffee makers,' says Ajay. 'By having a designated area for breakfast essentials, you can prevent kitchen counters from becoming cluttered and maintain a clean and tidy look. To enhance the overall aesthetic of your kitchen, it's advisable to employ clean lines, minimalist design elements, and a consistent color palette. These design principles not only contribute to an organized and efficient space but also create a sleek and contemporary ambiance in your kitchen.'
10. Make the most of cupboard space
If you just want to add more storage to your current space, organizing your kitchen so it works harder could be all it takes. Dedicate a whole weekend to it, and get everything out so you can see what you have to store. Have a cull before you even think about putting things back too. Then just get clever with making the most of the space you have got. It's not glamorous stuff, but drawer dividers, shelf inserts, racks, hooks, jars, etc. all will help your space function better and you'll find you can fit more in too.
'I always recommend pull-out drawers or trays below eye level so you see what's in the back of the cabinets,' says Jennifer Morris, founder of JMorris Design. 'And there are clever, above-head pulls-outs that get to the deep back areas above the fridge.'
11. Break up banks of cabinetry with glass doors
You want your kitchen storage to be aesthetically pleasing where possible, especially when it comes to the main component – cabinetry. As with most design decisions in the kitchen you want there to be a balance between form and function and we think this pretty pink kitchen gets it spot on.
The mix of solid and glass-fronted cabinetry works perfectly, no storage space is compromised but the wall cabinets add so much more than just storage – light, texture, shape, it's all there.
'When all the cupboards in a kitchen have solid fronts, it can sometimes feel a little imposing,' says Irene. 'To break up the monotony – as well as lighten the overall look of the kitchen – we design wall cupboards with a variety of glass fronts. To maximize the flow of natural light, I suggest keeping it simple with transparent glass. If clients prefer not to have the contents of their cupboards on display, I recommend smoked glass. Keep in mind that whatever is on display will need to look pretty, so be prepared to do some styling when specifying glass-fronted cabinets.'
12. Use hanging rails to keep everything accessible
Hanging rails look cute and add some really handy extra kitchen storage, which works especially well if you are tight on space. What we love about a hanging rail is that it add an instantly rustic, slightly farmhouse charm to any kitchen and is a really quick, easy, and affordable update too that you can easily do yourself.
In terms of where to hang a rail, they always work well above a cooker to keep utensils close at hand. They also look lovely running along the top of a backsplash or underneath the bottom of wall cabinetry.
'For this space, the copper pots added a beautiful patina to the room that complemented the beautiful old-world-inspired kitchen,' says designer Marie Flanigan. 'Further, in small spaces and kitchenettes, racks are a great way to save storage for other items while still being visually pleasing.'
Material: Stainless steel
Price: $12
Hang this rack in your kitchen to store pots and pans and keep all the utensils and other knick-knacks organized.
13. Bring back the plate rack
The plate rack is making a strong comeback. Once a reserve for stuffy, stately kitchens, we are now seeing them being incorporated into every style. It's the color used here that turns this simple piece of storage into a focal point. The deep rich red stands out against the pale putty pink, creating this lovely warming, tonal effect.
You'll find most kitchen companies will make a plate rack that can be incorporated into your design, but we think for the best look go for the real deal; something vintage with texture that's not only going to provide a handy space to store your crockery but will add character to the room too.
'We love to use wood for plate racks; it has an organic feel to it and can also be oiled repeatedly to keep it looking fresh,' says Donna DuFresne, founder of Donna DuFresne Interior Design.
Steelbody Horizontal Plate Rack
Material: Steel
Price: $77
Keep your large and small plates organized with this sturdy plate rack. To give it a more prominent look, consider painting it the same tone as the cabinet.
14. Clear clutter into cute baskets
Easiest kitchen storage idea out there? Store any clutter in stylish storage baskets. If you have a gap between your cabinets and the ceiling, this is prime real estate for filling up baskets with your lesser-used kitchen equipment and storing them out of sight.
The baskets will add a rustic touch, and don't worry about them all matching. It looks more characterful if they don't in fact. 'When using kitchen baskets, we prefer to place them away from any water or heat sources,' says Donna. 'If the kitchen has an island, that is often a great place to store baskets as it is both a safe and visually appealing space.'
Material: Wicker
Price: $30
To increase storage in your kitchen, consider this wicker basket, and place it atop shelves or atop the island.
15. Use narrow shelving for easy-to-reach ingredients
Wondering what's the best way to organize spices? Narrow racks that run between a worktop and wall cabinets can be used to store spices, tea, coffee, sugar, oils, etc. Turn it into more of a feature by decanting your dried goods into storage jars, or picking out the most colorful packaging for your essentials so the shelf adds something to the room too. Depending on how narrow the shelf needs to be to still be practical, you could also use it to house a few houseplants, some bud vases, or a selection of leaning prints.
'Alternatively, we love pull-out drawers that feature spices,' says Donna. 'Putting the drawer next to the range makes cooking an ease as everything you need is right there.'
How can you add more storage to a kitchen?
The best way to add more storage to a kitchen is to really make every cupboard, every drawer, every shelf work hard. That means investing in pieces that are going to make these spaces more efficient – drawer dividers, shelf insets, hooks, rails, jars, canisters, bins, boxes, baskets. It's all these small accessories that are going to really max out the storage space in your kitchen.
Now in terms of design, if kitchen storage is really key to you and your lifestyle it should dictate all of your design decisions. You should always be thinking – will that compromise on storage? Is there a way this layout can add more storage? You might want to consider going floor-to-ceiling with your cabinetry or at least taking your wall cabinets all the way up the ceiling so you aren't wasting space. Adding an island will also provide you with plenty of storage and surface space which can mean you can forgo worktops elsewhere in the kitchen and add full-height cabinets.
For style leaders and design lovers.
Hebe is the Digital Editor of Livingetc; she has a background in lifestyle and interior journalism and a passion for renovating small spaces. You'll usually find her attempting DIY, whether it's spray painting her whole kitchen, don't try that at home, or ever changing the wallpaper in her hallway. Livingetc has been such a huge inspiration and has influenced Hebe's style since she moved into her first rental and finally had a small amount of control over the decor and now loves being able to help others make decisions when decorating their own homes. Last year she moved from renting to owning her first teeny tiny Edwardian flat in London with her whippet Willow (who yes she chose to match her interiors...) and is already on the lookout for her next project.