Modern small kitchen ideas – 10 clever design tricks to make a compact kitchen appear bigger
From clever contrasting of colors to eye-catching flooring, our experts reveal how to enhance the size of a modern small kitchen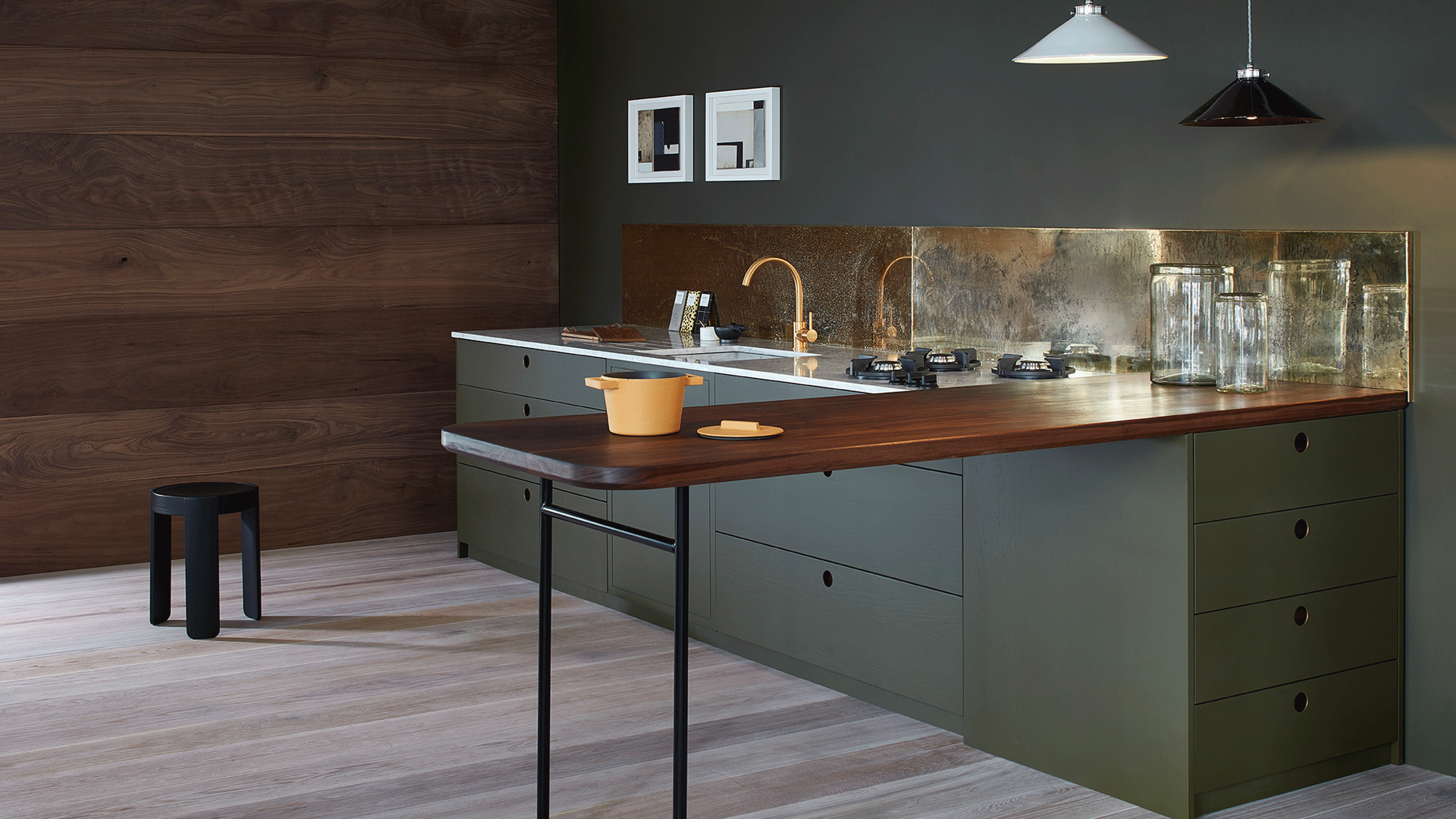 (Image credit: Naked Kitchens)
A small kitchen can often be seen as a big disadvantage but there are many things that can be done to enhance its size so it is just as effective as a kitchen twice the size. There are many modern small kitchen ideas to play with so you can be spoilt for choice. Having a more compact kitchen can be an opportunity to introduce a more considered layout, clever storage and a more effective use of color.
'In a small kitchen, colours and materials are incredibly important,' says Melissa Klink, creative director of Harvey Jones. 'If space is limited, avoid choosing strong colors for the cabinetry, as they can give the illusion of an even smaller room. Paler and neutral shades will help to open up the scheme, but don't be afraid to incorporate confident color and strong patterns in the form of splashbacks, soft furnishings or other accessories to add your own stamp to the kitchen.' Here are 10 design tricks is you're looking for small kitchen ideas.
1. Contrast the countertop with the flooring
The colors and materials in this kitchen were chosen to contrast with the smoked wooden floor to give it more interest and make the space look bigger. It is important to explore countertop ideas.
'We opted to use light color worktops to prevent the kitchen being too dark,' says Richard Atkins, design director, DesignSpace London. 'The worktop material has a light background but also has silver, blue and green elements to the patterns - the slabs look like pieces of art in their own right.'
'The worktops are a natural quartzite called White Macaubus which is a light but interesting natural stone - we love using this material because it is harder than a marble but still has beautiful patterns within it. We made a number of visits to stone yards with the clients and the interior designer to find the perfect pieces that were large enough for the size of island that we had designed.' Creating a countertop with a waterfall effect that goes all the way to the ground gives a luxurious touch and takes the eye upwards, again giving the illusion of a bigger room.
2. Create a shelf between the hob and the wall cabinets
It is a common design with modern small kitchens to have wall cabinets on either side of the hob. But with space at a premium, many people are missing a crucial trick when it comes to small kitchen storage ideas.
'A good idea is to make use of the space between the hob and the wall cabinets,' says Irene Gunter, founder of Gunter & Co. 'In this Chelsea townhouse we added a shelf. It's not very wide, but it allows for a few prized pieces. Don't forget that it needs to serve a purpose, so make sure it's deep enough to be useful.' A great functional idea is having a 'chef's shelf' which keeps essentials for everyday cooking close to hand so keeps constant movement to a minimum.
3. Use glass fronts instead of solid doors
As much as many of us love open kitchen shelving ideas, it sacrifices storage in smaller kitchens. However, when all the cupboards in a kitchen have solid fronts, it can sometimes feel a little imposing. So what is the answer? 'To break up the monotony – as well as lighten the overall look of the kitchen – we design wall cupboards with a variety of glass fronts,' says Irene Gunter, founder of Gunter & Co.
'To maximize the flow of natural light, I suggest keeping it simple with transparent glass. But if clients prefer not to have the contents of their cupboards on display, I recommend smoked glass, as shown in this contemporary Chelsea townhouse. Keep in mind that whatever is on display will need to look pretty, so be prepared to do some styling when specifying glass-fronted cabinets.' In small kitchens, glass has the additional advantage of bouncing light around so the space looks bigger and airier.
4. Have a large, patterned floor to trick the eye
A smaller kitchen requires careful thought and consideration to give the illusion of a larger space and the impact kitchen flooring ideas can have is often forgotten.
'Contrary to belief we often find a larger tile can work well at achieving the illusion of a larger space,' says Isabel Fernandez, Director at Quorn Stone. 'A smaller tile results in lots of grout joints which can enclose the space and detract the eye from the tile.
We often suggest a 900 x 600 tile as it is a versatile size that works well in both smaller and larger areas. Alternatively, wood effect porcelain is becoming increasingly popular in tighter spaces due their long and narrow format – if you choose a complementary grout color it makes the grout less noticeable which again helps to open the space out.'
5. Keep wall cabinets to a minimum for an airy look
While good and effective storage is a genuine concern when designing a modern small kitchen, this does not mean having long banks of wall cabinetry. This can make the kitchen feel claustrophobic and uninviting. In fact, there are many smarter ways for how to get more storage in a small kitchen.
'When designing a small kitchen, I try not to fill every space, surface, or wall with cupboards,' says Lauren Wright, Designer at Roundhouse.
'Less can be more, and clever storage solutions to cater for what you actually need will give you a more effective kitchen than cramming a space with cabinets for the sake of it. At the entrance to the kitchen, I try to avoid tall furniture or deep wall cabinets as this can crowd the space. A wider more welcoming entrance can be achieved by reducing the amount of cabinets and grouping tall cabinets together toward the back and away from the windows.'
6. Choose light colours and reflective materials
There are a plethora of smart ways to make your kitchen feel spacious – one way is to take a considered approach to the paint and materials that are used in the design, like putting thinking about your modern kitchen backsplash ideas.
'To keep an open feel, choose light paint colors and reflective materials such as bright quartz or a mirrored splashback,' says Tom Howley, design director of the eponymous brand.
'Utilise every inch of space from the full height, awkward nooks, and the use of islands if you have room. Even though an island will take up floor space, it will benefit your kitchen by ensuring more storage, prep space, and a place to gather and socialize.'
7. Install a multi-functioning island
'An island unit is often thought of as an aspirational furniture option, suitable for only the largest of kitchens, but that's not necessarily the case,' says Daniel Bowler, Director for Eggersmann UK. So contrary to what you may think there may be a suitable small kitchen island idea for your small kitchen.
'There is a need to ensure there will be enough room to move around an island, with the general rule being to make sure there is at least a meter's worth of space all the way around.' However, the island itself does not need to be overly big in order to be multifunctional, so can be designed to fit the space available.
'Think about what you would like to use the island for; as well as an additional work surface it also doubles up as extra storage space, as a dining or breakfast area, as a homeworking space and can even have integrated appliances which can be hidden away beneath sliding worktops. Try to get as much out of the island as you can and it certainly won't be a waste of space.'
8. Embrace the space with black cabinetry
You do not always have to go light and bright in a small kitchen to create the illusion of a bigger space. Sometimes it can be just as effective to have darker walls and cabinetry which gives a cozier and more intimate feel which detracts the eye from the size of the space. In this kitchen by deVOL, having black cabinetry and black island gives a more harmonious look and compliments the putty-colored walls which add to a warm, inviting space.
'Dark cabinets are always used to create mood and drama, so small or big, you will achieve this look with dark cupboards,' says Helen Parker, deVOL's creative director. 'There is a sense that big is better, but in actual fact, a small richly colored kitchen can be the most alluring of spaces, holding a certain charm and beauty that is hard to achieve in a large space. Small means intimate, it means cozy and glamorous and petit, these all conjure up something quite special and not a feature to be disappointed by.' So how about exploring more cool black kitchen ideas.
9. Match the cabinetry color to the wall to visually expand the space
You may not be able to change the actual size of a modern small kitchen but a clever use of small kitchen paint colors is a relatively easy and cost-effective way to make it appear larger.
'Matching your kitchen fronts to your wall color helps to camouflage the units and in turn creating the illusion of more space,' says Katy Thompson, senior designer at Naked Kitchens. Using the same color for both elements blurs the lines and visually makes the cabinets recede into the walls, visually expanding the room. 'Using a light-reflecting backsplash and white or neutral worktops helps to add depth to the room.'
10. Introduce a freestanding island
'When optimizing space in a small kitchen, I often suggest to clients that the island could be a freestanding unit, on the condition that all the appliances are housed elsewhere,' says Adrian Bergman, design manager at British Standard by Plain English. 'This not only allows you to move the island in case of a big party, but it also means the kitchen feels 'lighter', as furniture on legs — like an oversized butcher's block — tends to add a sense of space as you can see the floor underneath.'
Another benefit of using a freestanding piece in your small kitchen island ideas is that you can wait until all the other units have been installed to decide how large you want it to be. This is something you don't have the benefit of with fully built-in kitchens.
How do I add enough storage in a small modern kitchen?
In a modern small kitchen, storage is key and there are many ways to get all the solutions you need. 'Incorporating enough storage in a small kitchen is a challenge faced by many,' says Melissa Klink from Harvey Jones. 'If you are lucky enough to have high ceilings, make the most of them by building multiple runs of cabinets stacked on top of each other. I'd recommend leaving a gap between the ceiling and the cabinetry, as this will help to create the illusion of a wider room.
What is the best storage for a small kitchen?
You can find plenty of storage suggestions in our kitchen organizers guide, from pretty plate storage to items that make use of every inch of your cabinets.
The best storage for a modern small kitchen is ideally added at the early stages of design. 'Built-in storage such as pull-out larder units and drawer inserts mean that kitchen utensils and crockery are hidden away, preserving clean lines, and reducing clutter – ideal for kitchens of a more modest size." says Richard Davonport, managing director, Davonport, who knows a thing or two about small kitchen storage ideas.
'Hidden internal drawers, where one drawer front opens to reveal multiple drawers within, work especially well in small kitchens because they provide accessible storage without complicating the exterior design of the cabinet. Clever storage solutions such as tall cupboards with pull-out wire baskets and corner carousels make effective use of limited space whilst also reducing unnecessary bending and stretching, enhancing the ergonomics of the space.'
The Livingetc newsletter is your shortcut to the now and the next in home design. Subscribe today to receive a stunning free 200-page book of the best homes from around the world.
As the Deputy Editor of Livingetc, Busola Evans works across both print and digital and specialises in kitchens, bathrooms and projects. She is an expert at explaining how to improve, extend and convert your home. Prior to her current role, she was Associate Editor on both Livingetc and Homes & Gardens. A journalist for more than 20 years, she has written for a number of newspapers and magazines including The Guardian, The Sunday Times Magazine and Grazia, and was an interiors columnist for the London Evening Standard's ES Magazine.