10 pantry ideas to suit any style and any size of kitchen
Let these pantry ideas prove you don't need a ton of space to add a place to store your pasta collection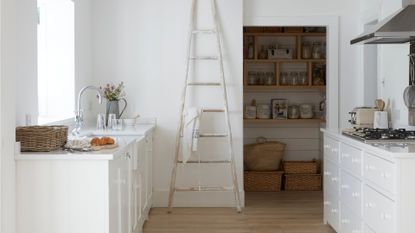 (Image credit: Paul Massey)
Pantry ideas may conjure images of manor houses, huge kitchens with walk-in larders filled with towers of glass jars, and gorgeous groceries. But actually, all a pantry really is a cupboard you use to store dried goods, technically even a tiny kitchen could incorporate a pantry. As Charlie Smallbone, founder of Ledbury Studio, says, 'The pantry used to be thought rather old fashioned, but in recent years it has become a modern kitchen essential. This is down to its flexibility. It can be anything from pull-out storage or a freestanding cabinet, to a walk-in storage space that's a second prep kitchen. It can also perform a number of functions in one.'
Tom Howley, Design Director of Tom Howley kitchens agrees – 'Multifunctional living has become a necessity as we have spent so much more time in our homes. But also the little luxuries such as a separate boot room or a walk-in pantry – where space permits. Over the years, people have become braver, not only with color but with statement design choices in their own homes.'
So there you go, banish those images of Downton Abbey esque spaces and let these kitchen storage ideas prove that you don't need a copious amount of space to add a pantry. And if you are blessed with another room for a walk-in setup, we have plenty of ideas to inspire you too...
1. Divide your pantry with chic glass doors
Adding a walk-in pantry can be an option for small kitchens, you just have to be clever about how you do it. Blocking off a section to dedicate to storing your ever-growing pasta collection, isn't really an option as that's only going to make a tight space feel even more squeezed, but you can still get that separate, walk-in effect by using glass doors or a glass screen instead.
This gorgeous deep green kitchen is far from huge, and yet has a really spacious pantry that feels like its own zone and yet doesn't break up the room. Crittall doors create that translucent divide, and as all Crittall doors do, add a heap of bang-on-trend style.
2. Design a pantry that's room of its own
We'll cover many pantry ideas that don't need that luxury of space, but as Alex Main, director of The Main Company says 'it can also be beneficial to consider a pantry that is completely separate from the rest of the kitchen. While you will need to ensure that it is still within a convenient distance for cooking, there can be many pros to having a detached and dedicated area, away from the hustle and bustle of the main kitchen.'
'When planning a separate pantry, if you have plenty of space, then you can design a space that is more flexible and really works for you, rather than something that just fits into the existing cabinetry design. In addition to creating a more tailored and bespoke space, this also means that you've freed up more room for your direct 'onsite' kitchen needs, such as more worktop and appliance space'
If you're a minimalist, this white kitchen is sure to fill you with glee. And it's that roomy separate pantry that allows for this space to be so clutter-free and also means it can afford to forgo wall cabinets too, keep the space so light and open. So if you want your kitchen space to be pared back and purely aesthetic, it might be worth sacrificing some space to add a larger walk-in pantry.
3. Organize your pantry so it works for you
Pantry organization is key to them being an asset to your kitchen, rather than becoming a dumping ground where tins of chickpeas go to die. So consider how you want to use the space? How regularly will you reach for things in there? Will it be solely for food or will baking equipment and spare appliances be stored in there too?
See our kitchen organizers guide for handy buys to maximize storage space in your pantry, as well as inside your kitchen cabinets and drawers.
'Getting the shelf spacing right can maximize the room you have for storage. Large, deep cupboards with integrated workspace are ideal for storing appliances you may not want on your kitchen work surface.' explains Tom Howley.
'The easy-to-reach middle section of your kitchen pantry is perfect for tins and jars. Use dividers or shorter spacing to keep foodstuffs separate so you can see everything you need at a glance. A handy storage basket at the bottom of your kitchen pantry is ideal for storing fresh bread or veg. If you have space, include a rack for spices on the inside of the door – it's convenient if you're cooking and need to go straight to the ingredients you need.'
'Think about the weight of the items you're storing as well as height. Lighter racking is perfect for cereal and bread while sturdy oak shelving is a good option for holding the weight of jars and tins.'
And went it comes to aesthetics, you can't go wrong with storing everything in glass jars, looks lovely and is a practical option too.
4. Alway maximize vertical space
When space is tight in a pantry, making the most of vertical space is a must. Don't stop with your shelving until you have reached the ceiling and even make use of the ceiling too. As designer Katie Thomas advises, 'Don't forget to utilize your vertical space. For example, you can hang pots and pans from the ceiling or add floor-to-ceiling storage which could be accessed by a chic step ladder. It is best to try and store any less used items nearer to the top, such as seasonal items like Christmas ingredients.'
Take home tip: before putting anything in your pantry, lay it all out in order of what you will reach for most and what you need to access the least, and then put it back in with that order in mind.
5. Add a narrow pantry that's slimline and functional
If you have an awkward nook or alcove in your kitchen, turn that dead space into something really valuable, like a pantry. It doesn't have to be huge, just add in some alcove shelving, and if you have the floor space add doors, or if it makes more sense, opt for a sliding door so you really aren't taking up any room in the kitchen to add a pantry.
'If you don't have large areas to play with incorporate slimmer, tall pantry cupboards around the room.' says Tom Howley. Position narrower designs in key areas of your kitchen, for example, frequently used appliances and ingredients in main prep zones and dishware or glasses close to social spaces.'
6. Blend a pantry into your cabinetry
'If you have enough space, a walk-in larder is the ideal choice and will provide you with an abundance of valuable storage.' advises Alex Main. 'To ensure a cohesive design scheme, opt for a continuation of the same cabinetry and worktops into the larder as the rest of the kitchen.'
This is the perfect approach if you want a seamless look, where your pantry essentially just looks like a kitchen cabinet from the outside. Then you open it up and voila, a storage space Nigella herself would be envious of. You could even add pocket doors so you have the option to have your storage open when you need easy access but then can hide away the clutter when you want.
7. Go bold with your pantry colors
Because pantries don't always have to be purely practical, they can add so much more than storage to your space. If you are a bit wary of going really brave with your kitchen color ideas, a pantry is an excellent space to experiment with bolder hues – as can be seen in this joyful pink pantry.
'Make a statement with your pantry by using bold colors on the walls. Instead of hiding it away, make a feature of the space and a loved part of your kitchen. Add glass doors so that the organized and stylish décor can be appreciated. It also makes it easier for you to see exactly what you have 'in stock'.' advises designer Katie Thomas.
8. Add character with a vintage find
As this gorgeous rustic kitchen renovation designed by Lisa Staton demonstrates, sourcing a secondhand pantry cabinet can be such a lovely way to add character to a new kitchen. Bringing in those more natural textures and worn materials is what gives a kitchen personality.
'Rather than filling your walls with cupboards, it's the pantry cupboard we love the most. So for a quick solution, we would always recommend a proper classic pantry cupboard, vintage or new they are perfect.' says Helen Parker deVOL's creative director.
'If budget is tight, then have a hunt on eBay or at an antique fair, it may take a while to get the size you want but it's worth the wait. Paint it inside and out in your favorite color, you can be a bit daring with a pantry, try something bright and bold. Source some beautiful old knobs or use the same as in your existing kitchen to give a link. Then attach some run-of-the-mill spice racks on the door, even cheap ones look better painted. Then spend some time finding old boxes, cutlery trays and baskets to put on the shelves and on the top of the cupboard, a satisfying way to create a whole new place to store things.'
9. No room for a walk in pantry? Add a breakfast pantry
'Smaller than a walk-in pantry, a breakfast pantry is a great place to hide all the everyday chaos.' explains Tom Howley. 'The doors bi-folding action gives neater, more usable access to the contents of the cupboards without blocking other cabinets. The space inside is expansive, often with work surface space for smaller appliances such as your kettle and toaster. It's also a great place to store your cereals, crockery, tea, coffee and cookbooks.'
So you can add a breakfast pantry to any sized space, making it an amazing small kitchen storage idea as you don't have to sacrifice floor space it's simply part of your cabinetry. This is also a nice idea for freeing up surface space as you can store those often annoying items like you toaster and kettle within the cabinetry for a more clutter-free space.
10. Box off a corner to create a pantry
Glazing is proving to be a real winner when it comes to adding a pantry. To create this small but incredibly stylish pantry, a corner of the kitchen has been encased in this beautiful fluted glass. It's a really seamless addition, that adds to the kitchen but doesn't take it over. The cabinetry matches that of the rest of the space and the countertop and marble backsplash just flow into the pantry space. The shelving is what really makes it feel pantry-like and adds the perfect storage space for the pantry essential – glass jars.
What we really like about this pantry idea is that is could be added to a current space without having to reconfigure another or add anything more than wall shelves. We can image this look glorious with Crittall windows too.
How do you style a pantry?
Pantries can be such easy and enjoyable spaces to style as you have so much to work with. Rather than see you dried goods you mixing bowls as just that, see them as decor. Treat your pantry as you would any other shelving idea in your home and curate it where you can, rather than just pile in the stuff.
'Why not decant dried goods into stylish containers? This is a great option if you have glass-fronted or open storage as it keeps everything looking beautiful as well as being easy to find. Storing items in containers allows you to throw out bulky packaging and free up some room. Stackable square containers are the most space-efficient.' suggests Charlie Smallbone.
'To create a kitchen pantry that is both functional yet aesthetically pleasing, organize your foods into labeled, glass jars to create a uniform and elevated look that makes it easy to find what you are looking for. Then, incorporate plants and artwork to break up the rigidity of the containers, keeping it fresh and stylish.' says designer Katie Thomas.
Where should pantry cabinets be placed?
This will ultimately come down to your kitchen layout, but pantries work best in corners where you can really make the most of dead space. But they can also work at the end of galley kitchens or built into a bank of cabinetry.
Hebe is the Digital Editor of Livingetc; she has a background in lifestyle and interior journalism and a passion for renovating small spaces. You'll usually find her attempting DIY, whether it's spray painting her whole kitchen, don't try that at home, or ever changing the wallpaper in her hallway. Livingetc has been such a huge inspiration and has influenced Hebe's style since she moved into her first rental and finally had a small amount of control over the decor and now loves being able to help others make decisions when decorating their own homes. Last year she moved from renting to owning her first teeny tiny Edwardian flat in London with her whippet Willow (who yes she chose to match her interiors...) and is already on the lookout for her next project.