Pantry shelving ideas – 10 ways to add style and storage to a pantry
Pantry shelving ideas are not only the most efficient use of space but will turn a practical pantry into a thing of beauty too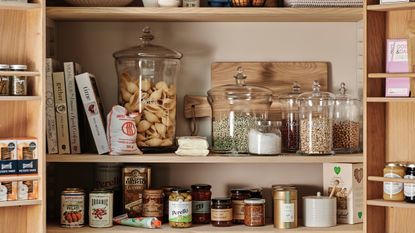 (Image credit: Neptune)
Pantry shelving ideas really are a thing of beauty when done right. Just envision rows on rows of neatly labeled glass jars, stacks of beautiful crockery, perfect organized spices, well-loved cookbooks piled in between. Sure your pantry right now might just be a place tins of chickpeas accumulate and your ever-growing, ever-overflowing pasta collection is stored but it doesn't take much to take pantry shelves from cluttered to curated.
So to whether you are tackling a current pantry or looking to add one to your new kitchen remodel, we've got loads of lovely pantry ideas that add both storage and style.
As says Allison Lynch, Senior Design Consultant at Roundhouse, rightly says 'A larder is more relevant now than ever before, as the need for compact, coherent storage space where all dry goods can go is necessary, to keep today's often open-plan kitchens clutter-free.'
'Think of a larder in the same way you would your utility room, an area where all relevant foodstuffs, and kitchen equipment such as food mixers are grouped together. Consider what is to be stored/kept out of sight and/or what needs easy access. It can be as large as your space will allow or tucked in and hidden in a run of cabinetry.'
Stylish pantry shelving ideas to help organize your space
1. Organize your shelves in a way that make sense for you
Before anything else pantry shelving ideas need to be practical, they need to work for you and how you want to use the space. It's all well and good creating shelving that makes for a great Instagram post but if it doesn't bring anything to the kitchen then it's really just wasting great storage potential.
As Alex Main, director of The Main Company says, 'Kitchen storage is personal. Every household will differ so it's important to firstly consider what you will be storing before you design your larder or pantry. If you need space for wine, for example, think about integrating some dedicated wine shelving into your larder. If you would like to keep your small appliances out of sight, consider space for your toaster, kettle and/or coffee machine to be neatly tidied away.'
'When it comes to pantry organization it's important to consider looks as well as ergonomics. It makes sense for those things you use maybe once or twice a year or certainly less often, to be placed up high. However, if they're heavy, this can make getting them down again hazardous. It's safer to store these on the floor and build in storage and shelving that is floor to ceiling to really maximize space.' explains Rob Lessmann, founder of Design'd Living.
'Working with heavy items from the floor up, then gives you space at eye level for those everyday items. Group things together and use great built-in storage with pull-down racks or baskets'
2. Break up shelves and add character with vintage storage pieces
So once you have a shelving system down, then you can start thinking aesthetically. But still, always have practicalities in the back of your mind. One of our favorite ways to bring character into a pantry while still keeping things functional is to bring in some vintage storage pieces. Cute wire baskets, retro tins, and jars can break up rows and rows of foodstuffs and add a pop of color or contrasting texture.
'Just because you're storing lots of items doesn't mean it can't be aesthetically pleasing.' says Rob.'Invest in good-quality boxes and baskets that work around one color theme and group items together.'
'And don't forget to label things. There's nothing worse than not being able to see or read what's on a shelf or in a basket. Make it super clear and remember when restocking to always bring from the back forward so nothing goes out of date.'
Also if you can afford to, include some negative space so you're shelves aren't packed to the brim. Shelving ideas that look clean and inviting are always going to work better and you'll be more likely to keep them organized when you aren't totally overwhelmed by overflowing dried goods.
3. Decant dried goods into glass containers for a cohesive look
Don't get us wrong, we love that rustic, homely, slightly cluttered look of pantry shelving and by no means does everything needs to be neat and matching. But really what does a bag of flour add to a shelf? Or a bag of supermarket pasta? These less aesthetically pleasing dried foods can be decanted into glass jars to create a more cohesive look. And jars make for better storage too, so no more spills as you reach up for the baking stuff and you can really clearly see what you have and what you are running low on.
'Get organized by decanting dry goods into glass storage jars and canisters, from pasta, rice to nuts and popcorn. Next, give each category its own destination according to height. We like to keep sauces, cans, and junk food away from eye level, making sure you're always greeted by the well-organized and stylish glass jars. Group together root vegetables in handy baskets at the bottom of the pantry. They work best here as it tends to be the cooler part of the pantry.' explains Jen & Mar, Co-founders of Interior Fox.
'Give your glass containers an upgrade with customized labels, this will help to streamline the whole look of the pantry while adding an extra element of style. Always remember to keep your labels facing forward for an easy-to-find process.' And put on sell-by dates too.
4. Add extra shelving to the doors
In a small pantry, whether it be just a cupboard or a tiny walk-in pantry, you really need to make the most of every inch of space, and that includes the doors. Spice racks make for great slimline shelves and don't get in the way. Plus, you can use them for more than just spices, of course, they are great for keeping items you reach for most close to hand. Jams, spreads, condiments, nuts, seeds, etc. can all find a space on the door and then don't get absorbed into the all the food storage on the main shelves.
5. Opt for shallow shelving to keep everything accessible
Despite offering more storage space, don't be tempted to go too deep with your shelving. You want to avoid giving things too much space to get lost into a pantry abyss. Choose a depth that allows you to store no more than two or three items and always arrange shelving with the most used items front and center and work backward from there.
Ideally, with pantry shelves, you want to open the doors and immediately be able to see everything in there. You want to be able to know how much you have of everything, what might need replacing, what's going out of date in the near future. Narrow shelving is going to help with this.
6. Choose shelving that contrasts the exterior of your pantry
If you have a pantry cupboard that's part of your kitchen design, it's important it looks beautiful as well as functions. Unlike a walk-in pantry, you can't hide cluttered shelves behind closed doors, so consider how your pantry will look inside and how that will work with your overall kitchen colors and style.
Tom Howley's suggestion is to go with a contrast. 'From a decorative perspective, choose finishes for the external and internal cabinetry that work together to create a contrast, whether subtle or striking. If your cabinetry is deep green or soft black, choose a smoky wood finish for the internal shelving for a stylish edge. If your cabinetry is crisp white or cream, you could opt for a contrasting warm oak finish for the racks and shelving within.'
We like this idea as it does make the pantry feel like its own zone, separate from the kitchen, despite being built into the kitchen cabinetry. And just as Tom talks of using woods for pantry shelving, you could also paint the inside a bold hue bringing a splash of unexpected color into your kitchen every time you open the pantry door.
7. Or blend your shelving in to allude to more space
As with any small space, sticking with a monochrome color scheme and taking it over the majority of the space is a sure-fire way to make it feel bigger. And the same goes for pantries too. Rather than breaking up the space with shelving that contrast the walls, paint them the same shade so they just blend into the background.
This white pantry makes a strong case for using paler colors but actually dark hues can have similarly space expanding effect, blurring the edges of the pantry so it looks deeper.
And another tip to take from this compact pantry is to really make the most of space and fill all of the walls with shelving. 'By going floor to ceiling with your storage you can really maximize space.' explains Rob Lessmann. 'If there's room, having a built-in ladder will certainly make it easier to reach those higher shelves or a handy slim cabinet will allow for those awkward tall items like a step ladder, ironing board, and mop.'
8. Create interest with lots of varying shapes and sizes
The key to curating the perfect shelf, whether that be living room shelving, kitchen shelving, or in this case pantry shelving, is to have plenty of different shapes, textures, and layers. The best pantry shelving has zero clear lines – and by that, we mean nothing sits neatly on the same level, there's no symmetry or way for the eye to understand the space easily and quickly. There's depth and intrigue and you're drawn into looking closer.
And while that all sounds perfect for a purely aesthetic shelf, how do you create that same interest in shelving that has such a practical function? Easy. Use what you need to store as decoration. Glass jars, baskets, crockery, chopping boards, cookbooks, these can all make for lovely displays.
This pantry by Neptune is the perfect example. There's nothing in here that's just purely decorative, it's just the way everything has been curated feels so decorative. The mix of heights in the jars, the layering of the chopping boards, the different textures and shapes all work to create a shelf that's pleasing to look at but still works practically too.
9. Build appliances into your pantry shelving
There's such a kitchen trend at the moment for concealed kitchens. Kitchens that don't look too... kitchen, with all the appliances seamless built-in or hidden behind doors and the pantry can be the perfect clear some of the small appliances off the worktops.
Be inspired by this pantry shelving idea and build a microwave into your design and use the shelving to create a bit of breakfast cupboard to house your toaster, kettle, etc. This is where going bespoke rather than just hanging standard wall shelves can be a benefit and we'd definitely recommend if you are working with a smaller space or want to get a bit more out of your pantry than just a space to save food.
10. Make use of even the narrowest of spaces
In a really narrow pantry, often the best option is to just totally fill the space with shelving. Take them all the way across the space length-wise and fill the depth, so you can just reach in and grab what you need, much as you would with a standard cupboard just on a bigger scale.
Another thing to take from this teeny pantry is don't worry about making all the shelves the same distance apart, go with a layout that makes sense to what you want to store. For example, it makes sense to make the bottom shelf taller as that's where you'll more likely be storing bulkier, heavier items and get smaller as you get nearing the ceiling. Draw up a bit of plan before you hang or rearrange your shelving so you have a clear idea of what's going where and what's going to need the most room.
And think practically about how high you take your pantry shelving too. As Rob Lessermann says 'Ergonomics should not be ignored while planning kitchen storage. Look at the height of those using the space, there's no point having floor to ceiling runs if you can't reach the top shelves or there's no way of pulling down the shelving to a manageable height. This also depends on the age of the owner, a young family may be able to climb a ladder, an older couple, not so much.'
What can I use for shelves in a pantry?
This will depend on whether you want to go wall-mounted or freestanding. There are loads of lovely wall shelves to suit all styles, and you can get creative with using things like reclaimed wood for a rustic, homespun look.
Freestanding options come in many forms too, and it all just depends on the look you are after. Wire shelving units are really practical choices for a pantry, especially when space is tight as they don't add too much visual bulk to the room, and they add a stylish industrial vibe too. And if it's the industrial style you are after, look into getting steel shelving units, as you would find in a professional kitchen – super practical and hardware but on-trend too.
What size should shelves be in a pantry?
As a general rule, the size of pantry shelves should be somewhere between 16 inches - 20 inches. But really the size of a shelf in your pantry will come down to the size of your space, but as we mentioned we'd try and avoid going too deep with your shelving. Maybe add a couple of deeper shelves lower down if you plan to store bigger bulkier items and appliances, but keep the majority shallow so you can see the majority of what you are storing in there.
The Livingetc newsletter is your shortcut to the now and the next in home design. Subscribe today to receive a stunning free 200-page book of the best homes from around the world.
Hebe is the Digital Editor of Livingetc; she has a background in lifestyle and interior journalism and a passion for renovating small spaces. You'll usually find her attempting DIY, whether it's spray painting her whole kitchen, don't try that at home, or ever changing the wallpaper in her hallway. Livingetc has been such a huge inspiration and has influenced Hebe's style since she moved into her first rental and finally had a small amount of control over the decor and now loves being able to help others make decisions when decorating their own homes. Last year she moved from renting to owning her first teeny tiny Edwardian flat in London with her whippet Willow (who yes she chose to match her interiors...) and is already on the lookout for her next project.