Walk-in pantry ideas – 10 stylish ways to add extra storage to your kitchen
Let these walk-in pantry ideas inspire you to make the most of your kitchen, adding extra storage, extra space and of course, extra style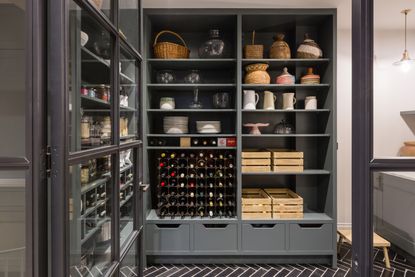 (Image credit: Mowlem & Co)
The Livingetc Newsletter
For style leaders and design lovers.
Thank you for signing up to LivingEtc. You will receive a verification email shortly.
There was a problem. Please refresh the page and try again.
Walk-in pantry ideas are what kitchen dreams are made of. Imagine, a whole separate room to house your pasta collection, all those tins, and every baking dish you own. And while yes, walk-in pantries were once reserved for large stately homes, times have changed and if you are clever with layout and savvy with space, that walk-in pantry dream can easily become reality.
In fact, pantries are fast becoming a must-have kitchen essential as the way we design and use our spaces is changing. Open-plan living is only increasing, so there's more need to clear the clutter, not to mention we are all making an effort to shop more sustainably, reduce waste and cook more often, and pantries, of course, make those a whole lot easier too.
As Jane Stewart, Design Director, Mowlem & Co explains, 'Open-plan living has its advantages, but for those with tidy sensibilities, it can also present challenges, especially when it comes to the 'kitchen zone.' Even before the pandemic – and a new desire to live less day-to-day and to keep a greater stock of non-perishable goods – the walk-in pantry (or its various iterations from generous larder unit to the in-demand 'breakfast- cupboard') had become the well-heeled homeowner's must-have.'
'At one extreme these spaces can become design features in themselves, celebrated and framed by fluted, frosted, or Crittal glass doors, while at another they can be the most discreet of cornucopias, only revealed when handle-less pocket or folding doors are effortlessly tucked away. Although, of course, one can always add a bold pop of background color within a larder to bring its inner beauty to life.'
Feeling inspired? We have pulled together all our favorite pantry ideas to suit all styles and all spaces to prove a walk-in larder might be more achievable than you think.
1. Carefully consider how you will use the space
The key to a successful walk-in pantry and it not being just a place where tins and jars go to die, is ensuring you make it work perfectly for you. A pantry should be a totally personalized space, a reflection of your lifestyle and how you use your kitchen. Ask yourself how much are you planning to store? Is it a space just for items you reach for every now and then or will this space be used daily? Will it be filled with ingredients and dried goods or more for storing crockery and less-used appliances?
Kitchen designer Tom Howley suggests that 'the first port of call when planning a walk-in pantry is to consider how much space can be allocated to it. This will determine the overall layout of the design – straight line, L-shape or U-shape. If you're tight for room, opt for pocket or sliding doors, this will maximize floor space and create easy access to essential zones. Walkway and appliance clearances should also be considered to ensure there's plenty of room to maneuver.'
And as well as size, shape, and layout, also consider location. If this is going to be a space you will constantly be reaching for spices, then consider keeping it close to where you cook and prep. If it's going to be just more extra kitchen storage, look to see if you can tuck into an awkward corner or alcove to make the most of that dead space.
2. Get your walk-in pantry storage spot on
And of course, walk-in pantry storage is key. Again, how to organize a pantry is a very personal thing and will be dedicated based on what you store in there. 'Walk-in pantries are perfect for storing non-perishables. From cereals and herbs to biscuits and dried pasta, a larder can hide away a multitude of products and leave your kitchen countertops clear of any clutter.' says Alex Main, Director of The Main Company.
'But kitchen storage is personal. Every household will differ so it's important to first consider what you will be storing before you design your larder or pantry. If you need space for wine, for example, think about integrating some dedicated wine shelving into your larder. If you would like to keep your small appliances out of sight, consider space for your toaster, kettle and/or coffee machine to be neatly tidied away.'
Allison Lynch, Senior Design Consultant, Roundhouse, offers great advice in saying, 'Think of a pantry in the same way you would your utility room, an area where all relevant food stuffs, and kitchen equipment such as food mixers are grouped together. Consider what is to be stored/kept out of sight and/or what needs easy access. It can be as large as your space will allow or tucked in and hidden in a run of cabinetry.'
See our roundup of kitchen organizers for advice on where to buy kitchen pantry storage to help maximize the space you already have.
3. Divide a walk-in pantry with a Crittal partition
Unless you have a huge kitchen, with plenty of space to play with, you might find when adding a walk-in pantry a solid wall in between is just going to make the kitchen feel smaller, so instead, keep the room feeling open and airy by opting for a glazed partition instead.
Crittal doors are of course always on trend and add a lovely industrial vibe to any space and can work with any style too, even more traditional, Shaker-style kitchens – in fact, this mismatch and blending of styles are often what gives a kitchen character and personality.
4. Or keep clutter hidden behind closed doors
However, if you are after a more minimalist look and would prefer for your walk-in pantry to sit behind closed doors, opt for pantry doors that work cohesively with the rest of the kitchen. As Alex Main explains, 'A larder can be easily integrated into a kitchen design scheme so that it blends seamlessly into the cabinetry design. This is ideal for those who want to create a continuation of style and keep storage to the inside of cupboards.'
You could always choose pocket doors, that slide back into the pantry, so you have the option for the space to be open or closed. Plus, pocket doors are great space savers as you don't need to worry about having enough room for doors to swing out into your space.
5. Hang open shelving for style and practicality
Savvy shelving ideas are a must in walk-in pantries. They ensure that everything is as accessible as possible and mean you can always keep tabs on what goes into your pantry. 'Open shelving is definitely a current trend - walls of shelving dividing spaces or mixed in with concealed storage to enable curated collections to be displayed with the nitty gritty working items cleverly tucked away.' explains Allison Lynch Senior Design Consultant at Roundhouse.
We'd always recommend going as high as you can with your pantry shelving, within reason, in order to really maximize storage space. Just be sure to have a sensible system so you can have easy access to things you reach for most often, with lesser-used items stored in the least accessible places.
Just be careful with weight too, never store anything too heavy on those higher-up shelves, they are perfect for lighter items like cake tins and hampers. Add don't forget to keep a stool in your walk-in pantry for when you need it.
6. Ditch the doors so everything is accessible
If you want to include cabinets as well as shelving, they are ideal for bulkier items. We'd always recommend keeping your cabinets open though, as then, much like shelving, you have a clear few of everything you are storing and nothing gets lost or forgotten. Create a system within your cabinets with everything you reach for regularly front and center and things you don't use as often can be kept further back.
If you do want to add in some closed storage, baskets that slide into the cabinets will give the smarter, less cluttered look and can be great for grouping smaller items together too.
7. Make a pantry a continuation of your kitchen
So much inspiration to be taken from this walk-in pantry idea, and note how it's not a huge space either, the perfect example of how pantries can work in small kitchens.
The glazed sliding door of course helps the space remain light and open, but there's also that seamless transition between kitchen and pantry as the same kitchen cabinets and worktops run through both spaces. There's that feeling of zones without the total break-up of the space.
'How a pantry will look can sometimes become a secondary thought. Yet, there is much that can be done to ensure it flows as a chic extension of the surrounding kitchen design, providing style as well as substance.' explains Ruth Lavender designer at Benchmarx. 'For a streamlined and tidy look, carry through the same cabinets and work surfaces from the surrounding space, as this will blend the kitchen and pantry together seamlessly.'
8. Make even the small space feel like a walk-in pantry
We can't pretend that walk-in pantries don't take up space, and while you don't need the largest of kitchens to add one, you do need the luxury of spare space. However, there are ways to create that walk-in feel without having to dedicate a substantial proportion of your kitchen to it. Glazing will be your friend yet again here.
For this small, but gorgeous, walk-in pantry, a small corner of the kitchen has been encased in this beautiful fluted glass. The doors create that real walk-in pantry feel despite the small size and the shelving only adds to that, providing the perfect storage space for the pantry essential – glass jars.
What's ingenious about this walk-in pantry idea is it can be an addition to a kitchen, rather than something that has to be considered from the beginning of the design process. All you need is a corner of cabinetry to encase in glazing to make it feel like its own separate space.
9. Make a walk-in pantry a luxurious feature
Pantries don't have to be all function and no form, they can be every bit as beautiful as your kitchen and they should be, especially if they are going to be on show. We'd say treat a pantry like designing a kitchen, it should reflect your style and have personality too, not just be a place for storage.
In this stunning marble kitchen, the walk-in pantry really is the focal point of the whole room. As well as storage, it doubles up as a breakfast cupboard, a lovely spot to make coffee, and it means space can be freed up elsewhere as smaller appliances can be stored in here too.
Note the flooring too, the difference between the wood and the marble distinguish the two spaces, making the pantry feel more like its own separate space within the wider kitchen.
10. Go bold with your color schemes
When it comes to kitchen colors, we all have a tendency to play it safe – creams, whites, greys, muted is always on-trend. However, behind closed doors you can be bolder and a walk-in pantry offers the perfect opportunity to add a splash of something bright – as can be seen in this joyous pink pantry.
You can be clever with it too and take the color over the entire space, shelves and all as this will not only make the color a real focal point but can also help the space feel bigger.
What should be in a walk-in pantry?
What you should include in a walk-in pantry will come down to how you want to use the space. But the main thing you'll want to include is of course storage – shelving, baskets, jars, etc will all ensure an organized pantry.
'Pantries and walk-in larders have seen a big resurgence recently. There are so many iterations and designs, both traditional and contemporary. The design is highly personal too and can be designed with your interests at the heart of them: spice racks for meals, deep shelves for pickling jars ordered by size and hidden worksurfaces for food prep.' says Graeme Smith of Life Kitchens. 'Careful use of lighting means that these are no longer dark recesses for hiding unsightly Tupperware and tins but are incredibly useful and intuitive storage.'
Does a walk-in pantry add value to the home?
Whether a pantry will add value to a home will depend on the size and style of the pantry and the size and style of your property. The likelihood is yes a pantry will add value you your home, if you stick to a budget that ensures you get some return. Plus, walk-in pantries are one of the most desirable features for potential buyers and are therefore increasingly becoming a standard in new homes.
For style leaders and design lovers.
Hebe is the Digital Editor of Livingetc; she has a background in lifestyle and interior journalism and a passion for renovating small spaces. You'll usually find her attempting DIY, whether it's spray painting her whole kitchen, don't try that at home, or ever changing the wallpaper in her hallway. Livingetc has been such a huge inspiration and has influenced Hebe's style since she moved into her first rental and finally had a small amount of control over the decor and now loves being able to help others make decisions when decorating their own homes. Last year she moved from renting to owning her first teeny tiny Edwardian flat in London with her whippet Willow (who yes she chose to match her interiors...) and is already on the lookout for her next project.