10 pantry organization ideas to maximize even the smallest of spaces
These pantry organization ideas will ensure you always know exactly where everything is at all times (plus they look incredibly satisfying too)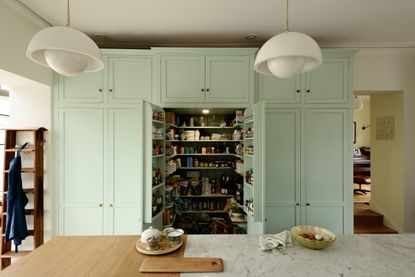 (Image credit: devOL)
A well-organized pantry is a thing of beauty. We could happily scroll through pantry organization ideas for hours, taking in the rows of labeled jars and satisfyingly filled shelves, and as it's the start of the year we are extra keen to get all our storage looking lovely and working effectively.
And when it comes to an (admittedly rather early) spring clean, the kitchen, and more specifically, the pantry is a great place to start. 'There is nothing much in the world that is more agreeable, useful, or underrated than a pantry cupboard. Keeping it stocked with everything you need, in an orderly and appealing fashion is the simplest of chores that will bring you joy every time you open its doors.' rightly says Creative Director of deVOL Helen Parker.
'Our love of food, good ingredients, and a desire to be ethical and sustainable and cut down on packaging and plastics makes the idea of a much larger space for food a very sensible option. Bulk buying, hoarding your jars of preserves, fermented foods and bottled vegetables from the summer garden are all things that become much more achievable with a pantry.'
What a lovely thought. But to get yourself a step closer to fermenting your own delicious delights, you need to have a good New Year clear-out and incorporate plenty of pantry ideas that will get your space organized. So we have brought together all our favorite ideas that are not only practical but look stylish too.
1. Come up with a pantry storage system that works for you
The key to a really efficient pantry is a really efficient pantry storage system. It's a personal decision, how to organize a pantry, and one that comes down to how you use the space and what you need to store in there.
'A well-organized kitchen pantry is not only pleasing on the eye, but will allow you to shop smarter and prevent from unnecessary rummaging in an attempt to reach the long-lost herbs stuck at the back of the cupboard.' says Jen and Marr, interior designers and founder of Interior Fox.
'We recommend starting from the beginning, pulling everything out to assess what you really need and use regularly. Get rid of items that haven't seen the light of day for some time, they are taking up valuable room and the reality is, you probably didn't even know they existed.'
'Get organized by decanting dry goods into glass storage jars and canisters, from pasta, rice to nuts and popcorn. Next, give each category its own destination according to height. We like to keep sauces, cans and junk food away from eye level, making sure you're always greeted by the well-organized and stylish glass jars. Group together root vegetables in handy baskets at the bottom of the pantry. They work best here as it tends to be the cooler part of the pantry.'
'Give your glass containers an upgrade with customized labels, this will help to streamline the whole look of the pantry while adding an extra element of style. Always remember to keep your labels facing forward for an easy-to-find process.'
2. Keep things accessible with open shelving
Open shelving is a given in most pantries, and they are the best kind of kitchen
storage for keeping everything visible and accessible, however, they work best when they are well organized. So rather than just throw everything at your shelves randomly, consider dedicating each shelf to a use or a category.
For example, you might have a baking shelf that not only contains ingredients but also cake tins, mixers, muffin cases, cookie cutters, etc. Or a condiments shelf that's purely for spices and oils. Just ensure it's a system that works for you and keeps your most-used things within easy reach.
'I view a well-stocked larder as the secret to kitchen calmness.' says Georgie Prowse, Development chef for Neptune's café, The Provenist. 'I live in London, and have very little space, but have prioritised room for the larder. Separate drawers for spices, a shelf for beans and pulses, another for anchovies and dried mushrooms – the ingredients I know add massive flavour hits. It makes me relaxed to have everything at my fingertips because I know I can create food in an instant.'
3. Make use of vertical space and organize according to use
If you are dealing with a small pantry or a space your ever-growing cake tin collection can't handle, making use of all of the vertical space you have going is a must. Don't just have your shelving ideas floating in the middle of the walls, take them all the way up, and all the way down too, go floor to ceiling.
'Don't forget to utilize your vertical space. For example, you can hang pots and pans from the ceiling or add floor-to-ceiling storage which could be accessed by a chic step ladder. It is best to try and store any less used items nearer to the top of your pantry cupboards and shelves, such as seasonal items like Christmas ingredients.' advises designer Katie Thomas.
And don't worry about the shelving being out of reach, add in a chic stool or even a ladder so everything is still accessible. We will say be sensible about what you store high up. Firstly don't keep anything you use regularly at a height you can't just grab and go from and avoid anything too heavy too – cake tins, hampers, spare utensils, and special crockery would all work on a high shelf.
4. Utilize glass containers to keep dried goods on show
Easiest pantry organization idea to ensure your space is not only functional but looks lovely? Glass jars. Fill your shelves with jars of all shapes and sizes for an invitingly rustic look, or go for a more simple approach by sticking with the same design.
'To create a kitchen pantry that is both functional yet aesthetically pleasing, organize your foods into labeled, glass jars to create a uniform and elevated look that makes it easy to find what you are looking for. Then, incorporate plants and artwork to break up the rigidity of the containers, keeping it fresh and stylish.' suggests Katie.
'This is a great option if you have glass-fronted or open storage as it keeps everything looking beautiful as well as being easy to find.' agrees Tom Howley. 'Storing items in containers allows you to throw out bulky packaging and free up some room. Stackable square containers are the most space-efficient.'
5. Get labelling
And to ensure your jar system isn't just aesthetically pleasing but actually works, labels are a must. Of course, you want to be sure of what is in each jar, and it will help you see clearly what needs a restock too. And label any baskets or bins too, you could always tie a stylish tag to your pull our baskets if a sticker won't work, or go for a more industrial look with a label maker.
In pull-out drawers, remember you look down onto any jars or tins, so ensure you can see the label clearly from above so you aren't having to pull everything out to see what's what. And if you don't feel the need to label each jar, or you don't use jars as storage at all, instead label the shelves by category.
6. Make use of the doors
Whether you have a pantry cupboard or a spacious walk-in, the backs of the doors can be invaluable spaces to add extra storage. They are ideal for keeping small items like spices and oils to hand. Small shelves or racks will provide the most storage, but if space is tight, hooks or peg rails can be used to hang bags and baskets from which you can then fill with your most-used items and just grab what you need with ease.
Depending on the size of your pantry, you could also use the door space to hang bulkier items that may not neatly fit onto shelving, like pots and pans. This makes them really accessible too, no more having to pull out every pan to get to the size you need.
7. Group items in baskets
This is one of our favorite pantry storage ideas, and it works when organizing kitchen cabinets too. Rather than have all your items stored separately, group things together by category in bins or baskets. That way rather than searching all over your pantry for the various things you need for baking, you could have a baking basket with everything you need in one place.
Baskets can also be ideal for storing more miscellaneous items like seasonable tableware, tablecloths, or napkins.
8. Switch shelving for deep drawers
While pantry shelves look lovely and cant be practical, having a mix of both shelving and drawers can maximize your space. Unlike shelving, with drawers everything is accessible and nothing can be lost in a back corner or out of reach.
'With a pantry you can usually see everything in one go – deep drawers that hold a huge amount help facilitate this, as you can view everything from above.' explains Allison Lynch, Senior Design Consultant at Roundhouse. 'Typically, they'll be in the same finish as the rest of the kitchen and may contain spice or bottle racks in the doors, open vegetable racks, wine storage or deep drawers for dry goods.'
9. Ditch the cabinet doors
Cabinets are a great addition to a pantry and they allow space for bulkier, heavier items that either don't get frequently used in the kitchen or will just take up too much space.
If you do opt for cabinets in your pantry, our top tip would be to keep them open. Unlike perhaps in a kitchen, you don't need to hide anything behind doors, you want everything to be on show and easy to access.
Plus, doors give you the excuse to hide clutter, and items will just get lost and ignored in the depth of the cupboards, keeping things on show will encourage you to keep things organized. Again, go for a system of your most used items at the front and lesser-used things can be stored further back.
Adrian Bergman, Design Manager, British Standard by Plain English agrees that, 'When organizing a pantry it is generally best to keep everything visible. In smaller spaces simple wall shelves floor to ceiling are very effective. In larger rooms a mix of floor cupboards and shelving can provide extra worktop space, plus the inclusion of drawers and perhaps a prep or utility sink. Identifying how you would like the space to function will inform your decisions on the type of storage and layout that suits your requirements.'
10. Shop second hand to add character (that's still practical)
Pantries lend themselves so well to that rustic, country kitchen style and even if your main space is more contemporary, consider adding some character to your pantry by incorporating some vintage storage pieces. Retro canisters, old jars, vintage crockery for storing food will add a ton of personality and texture into this practical space.
Helen Parker, Creative Director of deVOL says, 'At deVOL we are passionate about keeping storage in one place, rather than filling your walls with cupboards, it's the pantry cupboard we love the most. So for a quick solution, we would always recommend a proper classic pantry cupboard, vintage or new they are perfect.'
'If budget is tight, then have a hunt on eBay or at an antique fair, it may take a while to get the size you want but it's worth the wait. Paint it inside and out in your favorite color, you can be a bit daring with a pantry, try something bright and bold. Then attach some run of the mill spice racks on the door, even cheap ones look better painted. Then spend some time finding old boxes, cutlery trays and baskets to put on the shelves and on the top of the cupboard, a satisfying way to create a whole new place to store things.'
How do you organize a small pantry cupboard?
Take a browse of our shopping guide on kitchen organizers — for the best buys to help free up cabinet or drawer space.
Listen to advice from the experts, too. 'Every household is different, so the first step is to sit down and consider what you want to store. This might result in racks in the doors at varying heights to store spices, jars, and bottles, and drawers – as well as shelves – inside to keep loose items organized.' explains Charlie Smallbone, founder of Ledbury Studio.
'From experience, I suggest organizing your food into sections – for example, keeping spices, pastas, baking ingredients, and other dry goods together. A scattered approach makes it more difficult to find what you're looking for while cooking. Another tip is to keep foodstuffs you use most regularly at eye level. This comes down to the individual of course, but as a cook myself I like my herbs and spices within easy reach.'
How do you maximize pantry space?
In terms of general design decisions that will help maximize pantry space , kitchen designer Tom Howley recommends, 'Getting the shelf spacing right can maximize the room you have for storage. Large, deep cupboards with integrated workspace are ideal for storing appliances you may not want on your kitchen work surface.'
'The easy-to-reach middle section of your kitchen pantry is perfect for tins and jars. Use dividers or shorter spacing to keep foodstuffs separate so you can see everything you need at a glance. A handy storage basket at the bottom of your kitchen pantry is ideal for storing fresh bread or veg. If you have space, include a rack for spices on the inside of the door – it's convenient if you're cooking and need to go straight to the ingredients you need.'
'Think about the weight of the items you're storing as well as height. Lighter racking is perfect for cereal and bread while sturdy oak shelving is a good option for holding the weight of jars and tins.'
The Livingetc newsletter is your shortcut to the now and the next in home design. Subscribe today to receive a stunning free 200-page book of the best homes from around the world.
Hebe is the Digital Editor of Livingetc; she has a background in lifestyle and interior journalism and a passion for renovating small spaces. You'll usually find her attempting DIY, whether it's spray painting her whole kitchen, don't try that at home, or ever changing the wallpaper in her hallway. Livingetc has been such a huge inspiration and has influenced Hebe's style since she moved into her first rental and finally had a small amount of control over the decor and now loves being able to help others make decisions when decorating their own homes. Last year she moved from renting to owning her first teeny tiny Edwardian flat in London with her whippet Willow (who yes she chose to match her interiors...) and is already on the lookout for her next project.