Living room shelving ideas – 10 ways to add character and color
Whether you want to create a display that's purely decorative or add some extra storage, these living room shelving ideas are sure to inspire...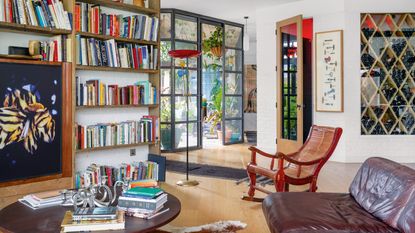 (Image credit: James Merrell)
Out of all the shelving, living room shelving ideas are some of our favorite to style. Unlike in a kitchen, or a bathroom, or even bedroom, living room shelves don't have to get that balance between form and function, you don't need them for storing crockery or toiletries, they can be purely aesthetic.
'Living room shelving can be a great way to display your treasured items and create a striking focal point.' says designer Susie Atkinson. 'You can display them with a mix of larger statement sculptures with smaller objects such as vases and prints; shelves full of interesting artefacts offer an opportunity to add colour and texture to a room, and it's also interesting to mix contemporary pieces with vintage or antique finds.'
Although curating the perfect shelving is tricker than it sounds, you want to create displays that feel effortless and characterful but not overly cluttered nor overly curated. So we've asked the experts for their top shelving ideas to get your shelving right no matter what your style or what you want to display...
1. Consider what you want from your living room shelves
As with any addition to your home, the first thought should be practicalities. If you are adding new shelving to your living room, consider first how you want them to be used, what will you display? This can dictate the size, shape, style and the positioning of your shelving.
'I'm always mindful when it comes to shelving, of what it's going to be used for; un-curated, dusty shelving just looks bad so the first thing to consider is what you'd like your shelving to show off and plan it accordingly.' says designer Benji Lewis.
'Books are a thing that clients often say they'd like to showcase on their shelving so I try to plan for the sizing of these before the shelving is constructed; a line of small paperbacks stacked on a shelf that's made for taller books looks badly thought through. Similarly, if you've got a collection of glass that you'd like to showcase then measure each piece out and plan where it's going to sit, then you can show things off to their best advantage.'
So an obvious place to start it to an idea (even if it's vague) as to what you want to display and take it from there.
2. Display pieces that reflect your style and add character to a room
So what are the best things to display on living room shelves? Well of course this will come down to personal style, but as with all living room wall decor we'd advise ensuring that what goes on your shelving really reflects your life and is a joy to look at – filled with memories and pieces that really mean something.
'When it comes to the art of display, you should set the look before you begin so that it is styled randomly, but isn't just a whole host of objects that you have plonked into position.' explains Emma Deterding, Founder and Creative Director, Kelling Designs. 'You want to achieve a beautiful and balanced look so always plan, test and if you feel like you have one thing too many, then you're probably right and should remove something. ALWAYS use uneven numbers and group things in threes or fives - odd numbers help to add balance and are much easier on the eye.'
'Think about your finest pottery, vases, and ornaments as well as personal items such as photographs, prints, and art. The shelving should be filled with items that spark memories that you treasure. Be sure to use objects and ornaments of different sizes across the shelving so you have movement - grouping a larger item with a medium and smaller item will not only keep the grouping, but will create a flow for your eyes to travel with.'
'Books are another element to always include in your shelving too, after all, books make a house a home. The different colors, textures, and prints on the covers will also add eye-catching detail - just be sure to group them by color to create an easy-on-the-eye rainbow effect.'
'Remember plants and greenery will add life to your shelving, so be sure to include them to bring a sense of the outdoors in and help ground the space.'
3. Go for built in shelving to maximize space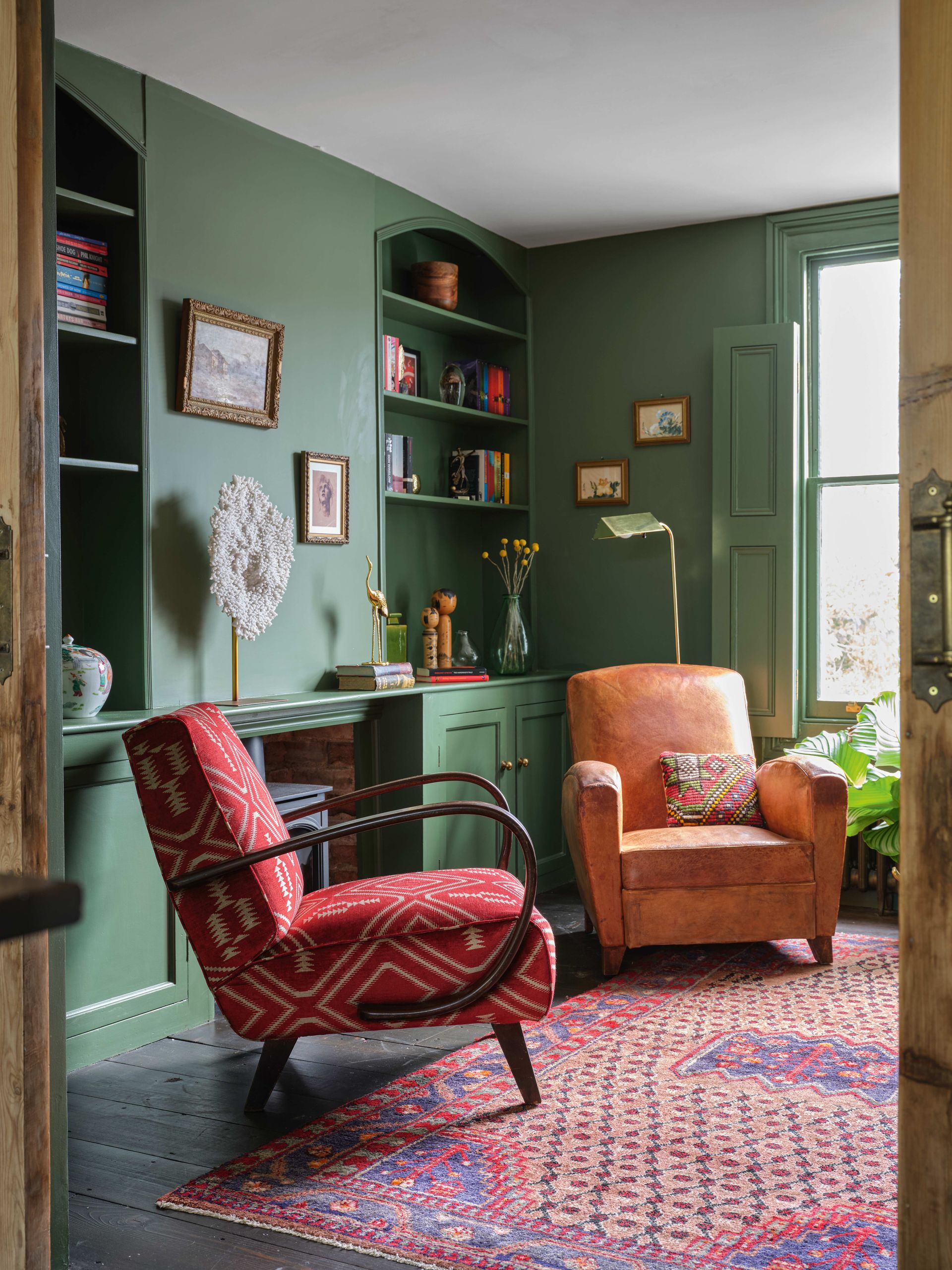 If you are dealing with an awkward space or small living room, or just want more of a bespoke look when it comes to your shelving, going for a built-in option will make the most of space, adding plenty of living room storage too.
'When it comes to living room design, storage is one of the most important factors to consider, in order to keep your living room organized and a place in which to relax and spend time with loved ones. Built-in joinery in the form of shelving is ideal for making the best use of oddly shaped rooms, alcoves, and recesses as not only does it use the space to its best potential, but it also gives you ample storage for everyday items, as well as decorative elements too.' advises Emma Deterding.
'From a style perspective, I always recommend choosing a beautiful color for your joinery that complements your interior design scheme and use suedes and velvets in the back to add depth and interest. Be sure to include LED lighting to allow you to highlight key accessories and personal mementos too, whilst adding a warming glow to the room.'
4. Give your shelving depth with a patterned backdrop
This fabulous blue living room is making a real case for animal print, and see how the brighter wallpaper really gives to deep teal shelving unit a lift. Plus, it adds depth and you don't need to worry about cramming your shelves with stuff to make them feel characterful because the bold backdrop already adds all the personality and decor you need.
'All-over patterned and textural wallpapers are a great backdrop for open shelving, they add an extra layer and depth to the space.' says Kate French, Creative Director of Dado. 'The most successful displays are usually curated from collections of treasured finds and art pieces, that have been collected over time so have sentimental value. Give each item space to breath, so you can appreciate its form and ensure the shelves have a curated and considered feel.'
5. Make living room shelving double duty
The last few years we've really stretched the meaning of 'home office', working from sofas, beds, kitchen tables, you name it. However, as working from home becomes more of a permanent set up, it's worth carving out somewhere in your home to dedicate to working, even if you don't have the space for a whole room.
These living room shelves designed by Dee Murphy of Murphy Deesign for her own home, incorporate a desk space too. 'The built-in bookshelf sits in a spot where one big, blank wall used to be, with absolutely no function.' explains Dee. 'As a designer who works from home, I needed to create a workspace, a storage area for my kids' art supplies, and a drop zone for all of my beautiful books and accessories! The curved details elevate the design and make it feel as if the piece has always been there.'
You could also use clever alcove shelving ideas to create something similar on a smaller scale, just wall mount shelving or a wall-mounted desk, slide under a chair, and instantly you have a small office space to call your own.
6. Play with scale
The best way to create striking shelving is to display items that really vary in height and scale. You want to avoid any clear lines that make it easy for the eyes to take in the display – mix and match sizes to avoid anything feeling too clean and curated.
'You can elevate living room shelves in a nanosecond by always adding in a few larger objects. It's so easy to fall into the trap of adding loads of small decorative bits but that tends to read as quite messy so in a nutshell think big like a large vase with botanicals, sculpture, big mirror, and then accessorize around that with small pieces.' suggests designer Abigail Ahern.
Sabrina Albanese says, 'Take the time to collect and showcase things that you love, and you want to ensure things are not perfectly symmetrical or matching, you want it to feel a little random, so the eye travels from place to place.'
7. Contrast shelving to the walls
Make your living room shelving even more of a focal point in the room by painting them in a contrasting color to the walls. We love the combination of blush pink and deep navy used here, they balance each other so well. And in general dark colors make for a great backdrop for displays as colors really pop, far more than a neutral backdrop would do.
Take home tip: we couldn't get through a shelving ideas piece without mentioning the all-important rule of three. Note how on these living room shelving, the majority of pieces are grouped in odd numbers – it's an ancient design trick, but the rule of three approach works as it takes the brain longer to register odd numbers, so you spend longer focusing on the display.
8. Create a balanced color scheme
When decorating your shelving, do consider your overall living room color scheme. You might want to go bolder with your shades, as shelving is naturally a focal point in a room, but as Sabrina Albanese suggests, 'You also want to create balance with your color scheme, by replicating pops of color throughout the shelving. For example, if I'm putting a colorful abstract art on one shelf, I'll pick up a color from that artwork and place another similarly-colored item on the other shelf so the eye naturally moves from item to item.'
9. Allude to height by adding shelves above eye level
Shelving needn't always be floating around at eye level, if you want to accentuate high ceilings or make a room feel loftier, try hanging shelving at a height. This works particularly well in alcoves when you perhaps want to free up the space lower down for a cabinet or built-in closed storage.
If adding shelves slightly higher, we'd recommend blending them into the walls by painting them the same color. You don't want to be adding too much bulk near the ceiling with darker or contrasting shades as it could have the opposite effect and make the room feel cramped. And incorporate plenty of negative space, so as not to add too much visual clutter.
10. Opt for freestanding shelving
We've covered a lot of floating and built in options here, but freestanding shelving can add an instant storage solution and a spot for decor. And they are the best option if you are renting too. In terms of design, that will be determined by personal style, but we will advise to pick the right size unit for your space – too large and it will swamp the room, too small it will shrink the room. So decide on the spot and do your measurements.
Also consider a design that fits in some closed storage too so you have space to hide away clutter as well as having items on display.
Where is the best place to position living room shelving?
The best place to position living room shelving will be decided based on the shape and size of your room. The main thing is that wherever the shelving is it won't prevent you from moving easily around the space and that they don't block too much light. If you have alcoves these are prime spots for adding shelving, or any awkward nooks lend themselves to built-in designs.
How can you style living room shelving?
Our biggest tip for styling living room shelving is variation. Variation in heights, shapes, sizes, and colors will create displays that have real depth. And use that old-school hack of grouping in odd numbers, this will always create more interest than going symmetrical.
Layering is also a good way to add that depth, interest, and intrigue, start with a backdrop of larger pieces like prints and add in your small decor in front. Essentially just experiment with your pieces, play around with your shelves until you're happy with the results.
The Livingetc newsletter is your shortcut to the now and the next in home design. Subscribe today to receive a stunning free 200-page book of the best homes from around the world.
Hebe is the Digital Editor of Livingetc; she has a background in lifestyle and interior journalism and a passion for renovating small spaces. You'll usually find her attempting DIY, whether it's spray painting her whole kitchen, don't try that at home, or ever changing the wallpaper in her hallway. Livingetc has been such a huge inspiration and has influenced Hebe's style since she moved into her first rental and finally had a small amount of control over the decor and now loves being able to help others make decisions when decorating their own homes. Last year she moved from renting to owning her first teeny tiny Edwardian flat in London with her whippet Willow (who yes she chose to match her interiors...) and is already on the lookout for her next project.