15 small living room storage ideas to clear the clutter and make your space feel bigger
Get that calm and clutter-free space you've always craved with these savvy small living room storage ideas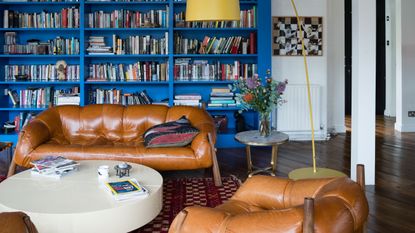 (Image credit: James Merrell)
The Livingetc Newsletter
For style leaders and design lovers.
Thank you for signing up to LivingEtc. You will receive a verification email shortly.
There was a problem. Please refresh the page and try again.
Investing in savvy small living room storage ideas can be a real game-changer for bijou spaces, whether that's serious wall-to-wall cabinetry, or coffee tables and ottomans with secret storage to stash all those 'miscellaneous' items.
Finding the right pieces can be a balancing act between practicality and personality, and just because you've got a small space, it doesn't have to mean frugality. You can still have fabulous statement pieces and shelfie-worthy displays, it's just about being more discerning with your storage options. Slim-line, wall-hung, built-in and multifunctional buys are your allies in a small living room.
1. Maximize space in a small living room with built in storage
Generally, built-in is best when it comes to storage in a small space. If you're blessed with tall ceilings, capitalise on the height and go all out for floor-to-ceiling cabinetry.
'My preference is always wall-to-wall and floor-to-ceiling on storage,' says David Conlon, founder of En Masse Bespoke. 'Visually, it's less disruptive than a wall with separate shelves, the odd cabinet and stand-alone furniture. The storage you gain from going full height allows you to use the floor space for things the walls can't hold like the sofa or coffee table. Hiding storage with touch-open doors also ensures you don't really know it's there.'
2. Don't ignore your alcoves
Make the most of every nook and cranny and add bespoke storage to recesses where you can.
'Awkward corners and alcoves are considered the most impractical and tricky areas to work with and are often left unused, but these can be great storage opportunities,' says Neville Johnson's senior furniture designer Simon Tcherniak. 'Fitted furniture can be built directly into the apex to ensure that no space is wasted, creating floor-to-ceiling storage that truly maximizes your room's potential.'
3. Add a storage bench
Clutter, be it TV remotes, tech or toys are the nemesis of small living rooms so custom storage benches are a god-send for family living rooms. 'We designed this seating nook to store the kids' toys and everyday 'stuff' at a height that was accessible for the little ones,' says Jordan Russell of 2LG Studio. 'It's made from Valchromat – a clever composite that has the color running all the way through it so it won't chip or scratch like a painted surface might in a high-traffic area.'
4. Raise storage furniture off the floor
A media unit is often low-slung, but by picking it up off the floor it suddenly becomes the perfect height for a desk, too. Not only that, it means you can get away with squeezing a larger piece of furniture in next to it as the exposed floor underneath provides visual breathing space.
5. Swap formal fitted furniture for eclectic pieces
If formal fitted joinery leaves you feeling a bit meh, choose vintage pieces with bags of character for your small living room storage. Go for similar-style designs to create the same symmetrical vibe as bespoke units, but with a bit more dynamism and flair.
'The industrial-style shelving and mid-century sideboards were chosen to fit the recesses perfectly, with the long hairpin legs leaving plenty of room underneath to keep it airy and spacious,' says Leah Chisnall of Absolute Project Management.
6. Frame a fireplace
If you don't have the obligatory pair of alcoves either side of your chimney breast don't fret – you can still get your small living room storage fix. 'By installing wall-to-wall storage around the mantelpiece we created a deliberately framed view of the stunning fireplace,' says Becky Russell of Kingston Lafferty.
'Installing coving in front of the joinery made it look like it's always been there, and matching the joinery color to the surrounding walls keeps it subtle. The routered lines in the joinery echo the shapes of the tiles and add a contemporary twist.'
7. Source multifunctional pieces
'Multifunctional pieces are key to smaller living rooms – here the trunk doubles up as a storage solution and a coffee table,' says interior designer Emilie Fournet.
Vintage pieces can also add a lot of character to smaller spaces and are an easy way to bring in plenty of character and interest but still keeping it practical.
8. Turn an awkward corner into a clever small living room storage idea
Slice into an awkward angle to create useful storage rather than let it go to waste. Even better, use mirrored doors to bounce light around, like in this reconfigured London home designed by Rees Architects.
9. Keep it streamlined
If you've got a small living room but you still want a minimalist vibe, keep clutter at bay with a slim-line shelf that's strictly for displaying key pieces. Installing faux paneling underneath will add volume, creating the illusion that it's deeper than it actually is.
10. Incorporate a mini home office
This cool bespoke living room storage unit designed by Studio Ben Allen for a Barbican flat has a snazzy drop-down desk that can be folded away at the end of the working day.
11. Make a disused fireplace work hard
Who needs a bookcase when you can turn a disused fireplace into your own mini library? Take a leaf out of Jersey Ice Cream Co's book and copy this small living room storage ideas, stuffing an empty fireplace with your favorite tomes so you've always got a page-turner to hand on lazy or rainy afternoons.
12. Bring in an ottoman for extra storage and steating
Look for smart seating that can double up as storage to stash away odds and ends. Ottomans are perfect for this, and even in a small living room, we say go big. Choosing an oversized piece to sit in the center of the room, rather than a small pouffe floating in a sea of floor.
13. Use freestanding small living room storage too
'Freestanding storage is an incredibly useful and inexpensive alternative to a built-in or wall-mounted piece of joinery,' says Petra Arko of Bergman & Mar. 'Large open shelving gives a sense of grounding and depth, and looks best when it's not completely overfilled. Allow for some empty space and use the remaining shelves to curate your own home gallery, displaying favorite ornaments and artworks, ensuring a mix of different shapes and textures.'
14. Wrap around for extra coziness
Make the most of the wall space around your sofa by cocooning it with built-in shelving. Not only do you get oodles of extra small living room storage, you also create a cute reading nook – paint it a dark shade like designer Elizabeth Lawson has done here for maximum coziness.
15. Look out for any unused space
Door frames are prime real-estate for small living room storage yet they're often overlooked. Paul Archer Design snuck a skinny bookcase into the space behind a pair of period bi-fold doors between a reception room and snug room, extending the joinery to fill the whole wall with large sliding panels to keep it calm and uncluttered.
What types of storage are best for small living rooms?
'Use a mix of open shelving and cabinet styles to create a display unit that is flexible enough to hide the things you don't want on show,' says Peter Erlandsson, co-owner and director of String. 'Also make sure your shelving is deep enough to store your belongings, but narrow enough that it doesn't compromise your precious square footage.'
Don't be afraid to play with proportion either. Often one gorgeous large-scale piece will have more wow-factor and make a compact living space feel bigger and more luxurious than cluttering it with loads of smaller items.
Whatever you choose, the trick is to make it multifunctional where you can. 'There are many pieces on the market nowadays that are specifically designed for compact living,' says Emma Deterding, founder of Kelling Designs. 'From coffee tables with lifting tops that allow you to eat dinner or work from home with ease, to clever footstools with built-in storage and even pull-out guest beds, you can really make sure your small living room is tailored to your lifestyle.'
For style leaders and design lovers.