What is Scandinavian design and how to achieve this ever on trend style
As warm as it is cool, Scandinavian design makes interiors look effortless. Our experts decode this movement in modern interior design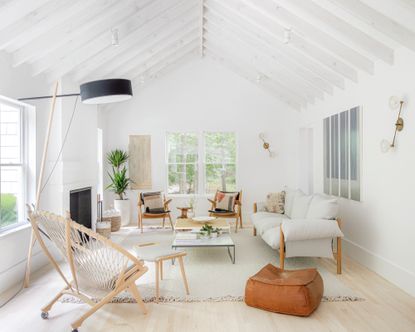 (Image credit: Matthew Williams)
If you've glossed over any style magazine in the past decade or so — heck, even glanced over someone's shoulder who's scrolling Instagram — you've seen Scandinavian design. Although it first reached international appeal in the 1950s, its influence still inspires today's interior design trends, and the inimitably sleek-yet-cozy aesthetic continues to enamor those of us with a soft spot for minimalism.
Outside of the Nordic countries, you'll often find Scandinavian design in spaces where craftsmanship carries weight — a third-wave coffee shop, for example — or those where clutter is contraband, like home kitchens. These spaces are luxuriously spare, thoughtful, and warm. They are just right.
Scandinavian design explained
Great Scandinavian design is nothing new, but its principles are arguably more valued today than ever. To get an idea of what makes Scandinavian design resonate, we spoke with experts to help define the movement and where it stands today.
How would you describe Scandinavian design?
Scandinavian design emerged from the Nordic countries in the 20th century. Although it's a contemporary of modernism, it's noted for a pared-back aesthetic and Nordic sensibility.
'Clean, simple, and most of all functional,' says Maija Rasila, the interior architect at Finnish Design Shop, which specializes in Scandinavian furniture. 'Scandinavian design is hardly ever based only on aesthetic matters, instead it's the function that leads the design process.'
Can't picture it? Like transitional style, the hallmarks of Scandinavian design ease into interiors like a wooden spoon through milk. Think of an airy, open space with white walls, clean lines, and minimal clutter. There are streaks of minimalism here, no doubt. But while minimalist interiors border on severe, Scandinavian interiors err on the side of serene — an appreciation for organic materials and natural light brings a human touch.
'The winter here is long, and it's dark a good part of the year — which results in us putting a lot of energy into our homes as we spend a lot of time indoors,' says Nina Bruun, a designer and trend forecaster based in Copenhagen who runs the eponymous Nina Bruun Design Studio. 'We try to create a cozy (you all know the expression hygge, and that's what I mean here) light and airy atmosphere.'
Nordic countries spend so much of their time indoors, which means their environments have an overwhelming effect on mood and well-being. Those white walls you've seen in Scandi-Cool spaces? They have a purpose. White surfaces amplify light in places where natural light is a limited resource (where winters are long and days are short). The overall brightness brings warmth to every corner. This translates to airy spaces where function is key and clutter is nowhere to be seen; lighter furnishing and flexible layouts bring a level of ease and comfort that rises to any occasion.
What are the key elements of Scandinavian design?
'The basic element that defines the whole Scandinavian design style is unquestionably wood,' says Maija Rasila of Finnish Design Shop. 'Used especially in light colorways such as oak, birch and pine, it is an essential part of Scandinavian interiors and design pieces.'
In traditional Scandinavian design, you'll find native wood used for bare floors and clean-lined furniture, adding contrast to neutral and bright walls. Culturally, the emphasis on organic material is characteristic of a Nordic appreciation for nature and the outdoors: naturally, the sentiment folds into Scandinavian interiors.
'In addition to [wood], Scandinavian design is also strongly inspired by other elements from Nordic nature: calming earthy tones and materials such as linen, wool and stone. It's all about the genuine materials and discreet aesthetics,' adds Rasila.
What is Scandinavian interior design style?
'If we think of the Scandinavian interior in a classic sense I think that simplicity is key — surrounding yourself with well thought through items,' says Nina Bruun.
You won't find clutter in Scandinavian homes. Decor and knickknacks are spare and subtle, allowing a sense of calmness to permeate open layouts. This doesn't mean Scandinavian interiors are empty or barren; they simply leave room for cozy materials that bring life to a space.
'A typical Scandinavian interior is airy and light, however, wooden floors and furniture, soft colours and rough textures make sure the atmosphere stays warm and cozy,' says Maija Rasila of Finnish Design Shop. 'The color palette is light and soft — simple white walls are accompanied with muted tones of mud, sand, and pale grey. Nature is an essential part of the decoration: wool rugs, linen cushions and branches in a vase complete the style.'
Of course, Scandinavian layouts almost always come back to light, and how an interior design can maximize light in any given layout or space.
'[There's] special attention to how to use light, in various ways,' say Ebba Thott and Nina Hertig, owners of Sigmar, a London-based interior design firm that's also a Scandinavian furniture dealer. 'Adapting to the need to adjust light, from the light sources to the type of light offered, as well as the placement of [light] in relation to furniture and movement.'
What about Scandinavian furniture?
In order to achieve a flexible space that functions beautifully, an adherence to simple lines and natural materials in mid-century furniture made the Scandinavian aesthetic a benchmark of craftsmanship.
'The Scandinavian design identity is strongly based on our prestigious heritage of furniture designing,' says Maija Rasila, interior architect at Finnish Design Shop, which specializes in Finnish and Scandinavian furniture. 'Our pioneers and designer icons — e.g. Hans Wegner, Børge Mogensen, Arne Jacobsen and Alvar Aalto — have played an important role in this: they combined craftsmanship and classic natural elements with clean, simple lines in a way nobody had before.'


The prevalence of Scandinavian design, especially mid-century designs that made their mark in Europe and the United States, influences furniture design even today. Surely, you've seen the Hans Wegner's Wishbone Chair, a nimble number with an achingly beautiful curved back, a huggy bentwood armrest, and a paper cord rope seat woven in an envelope pattern. Then there's Finnish architect and designer Arne Jacobsen, whose Stool 60 is a marriage of form and function (often used as both a stool or side stable) with three revolutionary "L" legs that allowed it to be stackable. And who could forget the iconic Egg Chair by Danish-born architect and designer Arne Jacobsen, the first piece of furniture made from a strong foam inner shell?
'A lot of architects were involved in designing furniture as well as building in the 20th century, creating a bridge from the ideas in architecture to the final pieces of furniture,' say Sigmar's Thott and Nina Hertig. 'The idea of the building and [its] content as a combined work of art was very strong and helped define the role of furniture — and other pieces — within the new architecture emerging.'
What is Scandinavian design called?
Scandinavia, the subregion, includes Denmark, Norway, and Sweden. But in the design world, Scandinavian style folds in the Nordic countries of Finland and Iceland, who've all contributed to the Scandinavian cannon.
There are many Nordic terms associated with Scandinavian design meant to capture its characteristic good, healthy vibes. You may have heard "hygge," a Danish word that most approximately means "cozy," used to describe the specific quality of warm coziness and comfort of their interiors. In Sweden, the concept of "lagom" essentially means "not too much, not too little," which often translates to the country's balanced interiors (less clutter and just enough comfort). Modern catchalls like Scandi-Cool, too, capture that almost effortless sense of pared-back fashions and interiors that Nordic countries seem to inhabit like second nature.
Other words pop up from time to time, too, all aiming at a similar idea: Scandinavian design resonates, even if you can't sum it up in one word.
Why is Scandinavian design so popular?
You can't knock Scandinavian furniture's role in keeping the movement relevant for years on end — certainly, IKEA had its own impact on introducing an updated version of Scandinavian style to a worldwide market (the megabrand has a penchant, too, for collaborations with star Scandinavian designers like Ilse Crawford of Studioilse. But even today, designs from the mid-century are used to lend a Scandinavian touch to interiors, and certain Scandinavian designs are still some of the most worthy investment furniture pieces you'll find.
'I believe that we create a lot of our designs and interior by combining elements that are easily recognizable to the eye — so we "read" them easily and we connect with them,' says Nina Bruun. ;I'm thinking about simple shapes such as circles, squares, lines etc. Besides that I believe that because we work with these recognizable shapes and a simplistic form language combined with minimalism we don't get tired of looking at it so easily. I can recognize it in my own work, ex. art prints from Paper Collective and Rugs for Menu design. Looking back, Scandinavians have always been curious and tried to challenge techniques and materials and I believe that that has made people look towards Scandinavia.'
Considering that Scandinavian design started making its mark in the 1950s, it's had plenty of time to evolve. In the decades following, designers embraced a bit more color, a change seen even today that keeps it a counter — and complement — to some of the more maximalist interior designs currently making their mark.
'I find contemporary Scandinavian design more playful and colourful than it used to be in earlier years,' says Maija Rasila. 'We have young talented designers who have developed the scene and shaken the traditional expectations while still managing to preserve the Nordic identity. One good example of that is Danish design brand Muuto: their collection represents the new Nordic style resulting in a fresh, playful, and yet so simple outcome.'
How can you incorporate Scandinavian design into a room?
'Maybe my best advice is to surround yourself with things you love — aim for simplicity and hide away or give away things that don't make you happy,' says Nina Bruun. 'Spend your money on good quality things that you'll keep for a long time and if you're up for following short trends buy items that have a big visual impact but don't eat your budget.'
Of course, you don't need to go full Scandinavian. The aesthetic's minimal tendencies make it malleable, and other movements have embraced its sensibilities to create new forms.
Take the Japandi style, for example, a bridge of East and West aesthetics that injects Japanese interior styling with Nordic minimalism. One easy way to pull this off is to layer two different styles of objects. Owen Pacey, the Founder of the antique specialist Renaissance London, suggests: 'One of the best ways to explore Japandi style is through looking for vintage pieces in Mid-century silhouettes, combining wood with harsher materials like stone, and layering up the scheme with soft furnishings, throws and cushions to create a warm atmosphere.'
A Scandinavian touch goes a long way, after all (in fact, incorporating the aesthetic might even increase the value of your home), which means a simply accessory here or there can bring that hygge feel by sticking to natural materials (a jute rug or a chair with paper cord rope) or textures (toss in a cozy throw). For the latter, you can't go wrong with wool. 'Wool is a key material in the textiles we surround ourselves with and a classic in the Scandinavian design and interior universe," adds Nina Bruun. "Wool is an amazing strong natural material and a great way to stay warm — it's one of my favorites.'
The Livingetc newsletter is your shortcut to the now and the next in home design. Subscribe today to receive a stunning free 200-page book of the best homes from around the world.
Keith Flanagan is a New York based journalist specialising in design, food and travel. He has been an editor at Time Out New York, and has written for such publications as Architectural Digest, Conde Nast Traveller, Food 52 and USA Today. He regularly contributes to Livingetc, reporting on design trends and offering insight from the biggest names in the US. His intelligent approach to interiors also sees him as an expert in explaining the different disciplines in design.