Modern interior design – a guide to modern interior styles and design
Modern interior design explained, and how to create the look in your own home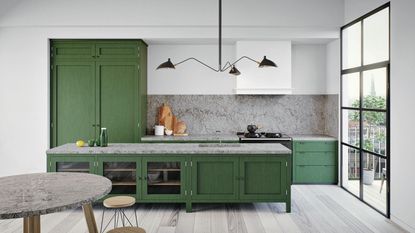 (Image credit: Caesarstone)
Modern interior design has its roots firmly planted in the soils of the early 19th century developing throughout the 20th century.
The modernism movement began to unfold as it moved away from using traditional building and design materials like wood, stone and brick and instead began to focus on industrial materials including glass, steel and concrete. The most recognised and influential design philosophy was created by the German Bauhaus school of design in the 1920s, whose design aesthetic was centred on the belief that form should combine with function.
This principle saw the emergence of modern design and a style that we recognise and continue to use today. From the stark white look of minimalism, industrialism and Scandinavian interiors to the richer, bolder forms of rustic modern, maximalism, mid-century and glamour.
Modern interior design is shaped by a heritage of clean lines, geometric form, clear spaces, function and storage. Below we explore some of the concepts behind modern design style, how to distinguish each approach and how to create the look in your own home.
Experienced journalist Hannah has not only written about and researched all these design styles for years, she has also set up Newton and Worthy, a content agency based around interior design.
Combining the disciplines of photography and writing, Newton & Worthy grew out of a shared desire to capture bold style. Documenting in words and pictures the ingenuity, creativity and individuality found at the heart of original interiors. 'We seek out genuine homes, to inspire and delight,' Hannah says, and it's through this understanding of design she was able to create this article.
Minimalism
Based on the concepts of simplicity, with influences taken from Japanese gardens and Scandinavian design, minimalism can often seem austere, however, the idea of this design is to streamline the components of living.
Minimalism provides a clear lifestyle for the homeowner to enjoy by creating a room in which every piece of furniture, shelf, cupboard or work of art has a distinct and necessary function within the space.
With its roots in modern interior design, form is also an essential element at play in minimalist interiors, pieces are chosen because they connect with each other, the space they are in and the exterior they look out and onto, altogether they provide the perfect edit of a calming aesthetic.
One of the great examples of modern minimalist design and architecture is of course the Frank Lloyd Wright houses whose approach to design was to create modern homes that offered both functionality and simplicity.
Interior designer Ula Burgiel specialises in minimalism, and explains:
"Minimalism allows our mind to focus, it is easier to think and observe the world around us. Especially when we are distracted with social media and busy schedules, we need homes that help us unwind with clarity, this design helps achieve that."
To create a minimalist space in your home, consider these rules; uncluttered rooms with designated storage, clean lines and natural or monochrome colours. Everything in the room must have a purpose and a place. Unnecessary decoration, frills, artworks or extras should be removed, consider the details and architecture of your home and honour this instead. Minimalism is perfect for smaller spaces and remember, less, ultimately, is more.
Industrial
Industrial interior design takes its cue from the distinct look and feel of factories, warehouses and manufacturing structures of the 20th century. As globalisation changed the way we lived and worked, materials and objects were produced elsewhere in the world, major cities such as New York, London and Berlin were left with vast abandoned warehouses and factories – these old technical buildings informed the foundation of this particular school of design.
The aesthetic of industrial design shines a light on the former architectural structure and form of these spaces. The interior design style is found in the use of salvaged materials; revealing the details within a building, including brick walls, exposed pipes, ducts and wooden frameworks, concrete flooring, steel framed Crittall windows and doors and opening up living spaces to create lofty ceilings and large open plan rooms.
To recreate this in your own home consider the following when thinking of industrial design. Open plan living is almost de rigueur to this look, grand, breath-taking spaces that celebrate the original structural frames of the building. Use exposed stone or brick walls, concrete floors and floor to ceiling windows and doors to take advantage of the architecture. Having a large space to work with allows you to display generously sized and striking pieces of furniture, rugs and artworks. Warmth is vital in these big spaces, so choose a natural palette and organic textures like wood and leather. Include soft furnishings, plenty of light fittings from large chandeliers and freestanding lamp stands to create comfort.
Scandinavian
Alongside other modern design schools of thought Scandinavian design ensures functionality and simplicity are at its core. Traditionally hailing from the countries of Denmark, Sweden and Norway, Scandi design was in part a rejection of the old world, as colonialism and aristocratic power began to wane following the first and second world wars. Democracy, wealth and the attainment of beautiful things were no longer just the preserve of the elite but becoming available to all. Following a series of design conferences across Scandinavia in the 1940s and championed by, the then editor of House Beautiful, Elizabeth Gordon, across Canada and the US in the 50s, the Scandi movement become a major interiors force. Thanks to designers such as Alvar Aalto, Arne Jacobson and the founder of Ikea, Ingvar Kamprad, Scandi design is now well recognised and enjoyed by millions.
Scandi design reflects its Northern European heritage, exploiting the cold, sunlit, forestry regions by drawing in as much light as possible and reflecting it inside. This is created using white flooring, walls and neutral palettes. Emphasis is placed firmly on light and comfort, specifically, hygge. Which essentially means cosiness and is a core component of Scandi design. Warmth is brought into the space using natural materials; wood, stone, wool and linens and spaces are uncluttered and simple. Furniture is sleek, often made from wood and leather and modern. Excessive decoration and ornaments are not encouraged, simplicity, practicality and comfort are key to honing hygge at home.
Modern rustic
This genre works on the principles of modern interior design; incorporating clean lines with practical living in terms of function and storage, the addition of natural textures and antique details is fundamental. Old buildings can work beautifully with this design as ancient structures provide a beautiful backdrop, but modern buildings are also able to lend themselves to the rustic look by fusing antique and vintage furniture and furnishings. Wood is an important material here for its beautiful organic nature and raw allure; stripped back floorboards either reclaimed or original, exposed beams, panelled walls and raw untreated wood, work handsomely.
Antiques are another important element in a rustic environment, adding depth, story and character to a space. Interior designer Patrick Williams of Berdoulat has worked with old buildings for many years and has a passion for their history and craft, based in the World Heritage city of Bath he pursues craftsmanship over commercialism both in his interior design and in the products he crafts and sells. He explains:
"There's no question that Georgian buildings lend themselves to modern interior design. With their well-proportioned elegance and clean lines, they provide the perfect backdrop for simple, sparse interiors, but at the same time can take a bolder approach, with dramatic colour and pattern."
Maximalism
As with all fashions and styles everything comes and goes over time and maximalism is seen as a push back to minimalism. The quiet whites, minimal decorating and less is more philosophy of minimalism is tossed out completely with maximalism, as colour, décor and more is more, are the go-to aspects of this design school of thought. However, furniture, colour, pattern, textiles and collections are not added without clear thought and clarity.
Maximalism takes time to create, it is a curation of layers and this organisation is absolutely critical to the overall effect, producing colourful comfort and curiosity. By slowing building up collections, be it houseplants, antique books or ceramic sculptures, you will eventually create an organically layered effect.
Maximalist queen, and founder of Shoreditch interiors store WA Green, Zoe Anderson advises:
"Being a maximalist is all about going with your gut, not being afraid of making mistakes but taking your time. Remember colour loves colour so layer up and go for it.To avoid things looking too contrived, allow things to happen naturally. We maximalists are like magpies, we're collectors, we can't stop ourselves when we see something that screams: 'you need me'. Most recently I fell in love with some plates but the only wall space was above a door frame. They look ace there which just shows where there's a will there's always a way."
Using multiple colours and patterns is key, but consider using one colour or tone as a connecting theme throughout, it will provide a sense of balance in the room. Scale and type of furniture is fluid in a maximalist space, mixing modern with mid-century or antique is absolutely fine and in fact, encouraged, each piece adds to the bold richness of a maximalist home.
Interior designer Hubert Zandberg explains the styling in his Berlin apartment: "Perhaps the best illustration of 'modernism' used in an 'eclectic conversation' is my Berlin apartment. I very deliberately created this environment to examine the relationship between Bauhaus, Brazilian modernism and African cubism. I believe the clarity, simplicity and structure that modernism/Bauhaus brings, forms a robust corner stone whereupon one can layer to any degree. The strong skeleton that carries any amount of 'fleshing out'...even 'carrying' the most maximalist interior!"
Mid-century
Mid-century style has gathered pace in the last few decades, not least because the furniture of this period can still be picked up at an affordable price, and this, essentially is what mid-century furniture design was created for: the masses.
Following two world wars the proliferation of urbanisation and home-ownership, amid suburbanisation began, and the demand for modern furnishings grew with it.
Iconic names such as Charles and Ray Eames, Herman Miller, Ercol, Florence Knoll and Hans Wegner flourished on the scene. The typical design of the era, which spans approximately across the 1920s to the 60s and 70s, was to embrace the modern technologies of the day, the look was unembellished but sleek and clean, think fine legs on a piece of wooden furniture. As advances in production took hold materials including plywood, fibreglass, metal and laminate were utilised, adding to the abiding genre which was practical, affordable and casual.
Mid-century is very adaptable for 21st century interiors, comfortable sofas, alongside tables and chairs from this era sit easily in today's homes. The colours are inviting, soft warm tones of orange, yellow, green or grey, and natural elements like wood, exposed brick and stone work beautifully with the sleek lines and furniture of the mid-century.
Modern glamour
Modern Glamour is an expressive interiors style with roots in Art Deco and the old-world allure of Hollywood. The decadent styles of the 20s, 30s, with rich golds and colourful infusions, sumptuous soft materials and fluid lines. Interior designers, including Jonathan Adler and Maddux Creative imbue ideas from this era combined with modernism influences and architecture to create visionary spaces with a narrative steeped in colour, artistry, comfort and luxury.
Scott Maddux of Maddux Creative explains the origins of his design process.
"Many of the key principles of Bauhaus philosophy have an influence on our design work: form follows function; material integrity; streamlined aesthetics; a preference for balanced composition over symmetry. However, the fundamental principle of designing buildings harmoniously in their entirety, from structure to finishes to ornamentation and furnishings is surely the most influential."
To create a space to reflect a modern glamour aesthetic, choose curvy contemporary pieces of furniture, bold colours, alongside pastel or soft tones. Make grand gestures with your choices of furniture, lighting or art and consider adding an alchemy of metallic in the form of bronze or gold.
Your modern interior design questions answered
What is modern interior design?
Modern interior design is based on the principles of the modernism movement of the 19th and 20th centuries, Bauhaus philosophy and architecture and the development of affordable and practical design. Furniture, art and decoration moved away from ornate styles only available to the wealthy elite, to more practical, minimal styles for the masses.
What is the difference between modern and contemporary interior design?
Contemporary design is a reflection of arts, interiors and design that is happening currently, literally right now. Modern design is from the previous century.
What are the main interior design styles?
Interior design styles are fluid and constantly evolving but include, minimalist, maximalist, industrial, Scandinavian, mid-century, modern glamour and rustic modern.
What are the main 2020 interior design trends?
Influential design trends this year include fringing, bold monochromatic colours, luxurious textiles, wallpapers, patterns and texture, sustainable materials, layered interiors using pieces from across eras and styles, natural tones and organic elements.
Who are the most famous interior designers?
The most famous interior designers currently include Hubert Zandberg, Susan Deliss, Jonathan Adler, Rita Konig, Colefax & Fowler, Harding & Read, Studio Ashby, Maddux Creative, Sigmar London and Berdoulat.
How much do interior designers cost?
Interior Design is not cheap, and a professional interior designer can cost anywhere from £1,000 to £10,000 and beyond, and these figures may not include the furnishings or furniture. However, there are a proliferation of designers and brands who are bringing interior design to more people by offering affordable services online including, Homewings, John Lewis and Decorist.
Interior design is an ever evolving process and this century will see new concepts, materials and thinking revolutionise the way we live in our homes.
Hannah studied a Bachelor of Arts in Literature at Bath Spa University before working in London for ten years for national and consumer magazines. She has worked as a freelance lifestyle content writer, editor and copywriter in Canada, Costa Rica, Barcelona and southern France before settling in Bath to focus on interiors and arts content.