Modern interior design – trending decorating styles explained by the experts
This modern interior design guidebook will introduce you to all the major decorating styles designers are embracing, and help you become more adept at designing your home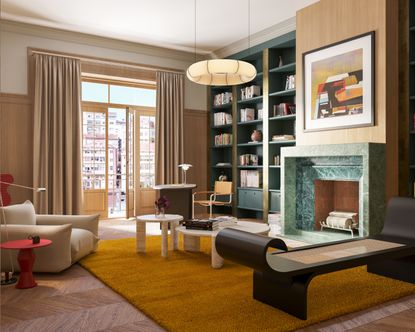 (Image credit: Folio Studio)
Modern interior design is made up by a multitude of styles, and the list is ever-evolving. From the timeless classics that stand the test of time, to more contemporary looks and even fusion styles; there's a lot to know about.
'Currently, it seems that people are paring back elements to what's essential, and seeking out the chic design style found in high-tech minimalism of the 90s,' says Shannon Niehenke, founder of Narrative Design Studio.
From the stark white look of minimalism, industrialism, and Scandinavian interiors to the richer, modern, maximalist, mid-century, modern farmhouse, and glamour, there are many concepts to know. Below we explore some of the major ones.
1. Minimalism
Minimalism provides a clear lifestyle for the homeowner to enjoy by creating a room in which every piece of furniture, shelf, cupboard, or work of art has a distinct and necessary function within the space. With its roots in modern interior design, form is also an essential element at play in minimalist interiors. Pieces are chosen because they connect the space they are in, and the exterior they look out and onto, altogether they provide the perfect edit of a calming aesthetic. This concept has been so popular lately, Livingetc has found a brand new emerging trend of minimaluxe, that wonderfully blends minimalism with quiet luxury.
'Minimalism was born in the 1960s in reaction to consumer society,' says Guillaume Coutheillas, founder of frenchCALIFORNIA. 'It advocates a return to basics, purity, and functionality. Today, minimalism is more popular and relevant than ever. Today, peoples' homes function as their offices, entertainment space, and more, and a minimalist design helps to organize these spaces in intuitive, yet aesthetically pleasing ways. Minimalism also allows people to embed technology into their spaces in more subtle ways.'
'I think there are three main reasons why minimalism is so in right now,' says Candace Shure, founder of Shure Design Studio. 'First, there's a heavy influence on social media and from celebrities who saturate our feeds with neutral, monochromatic, and pared-down aesthetics that people try to emulate. Second, we're all collectively a little overwhelmed with work and the general state of the world right now so it makes sense we'd want our homes to be void of more disorder and chaos. And third, generally speaking, I think people believe it's easier to pull off a minimalist interior. I love a good minimalism-moment, but I try to warn people to be careful not to remove all character or soul from their spaces in their quest to achieve that picture-perfect interior.'
'To incorporate this look in your home, go for 'an open plan layout, ample light, and simple, well-constructed, and comfortable furniture,' says Guillaume. 'While the minimalist design may seem simple, achieving this type of simplicity can be complex. The color scheme should be typically monochromatic, with color used as an accent. Minimalism and functionality often go hand in hand.'
Rooks 1 - Light Single Pendant
Material: Metal and glass
Price: $90
Use this clean, sleek, and minimalistic indoor pendant that pairs the artful allure of sculpture with the function of a light fixture.
2. Industrial
Industrial interior design takes its cue from the distinct look and feel of factories, warehouses, and manufacturing structures. As globalization changed the way we lived and worked, materials and objects were produced elsewhere in the world, and major cities such as New York, London, and Berlin were left with vast abandoned warehouses and factories – these old technical buildings informed the foundation of this particular school of design.
'This style has been popular over the last few years as it reaches to the very core of what a building looks or feels like in its raw state,' says Jane Lockhart, founder of Jane Lockhart Design. 'The flavor of this style has morphed beyond downtown lofts in old urban manufacturing brick buildings with vintage elements. Nowadays, the industrial style celebrates key building pieces that have a heritage and long-lasting quality to them like metal doors, trim work, wood beams etc. Furniture in this style includes weathered wood tops or even natural edge wood tabletops. Fabrics are natural, charcoal, or black to provide stability to spaces. And, the Edison light bulb with the exposed filament is a key piece to these spaces that should be visible in at least several key decorative lights. '
'Wide plank rough wood flooring in a weathered, natural tone, iron detailing such as metal brackets around beams, iron rivets, iron hardware or sliding doors, and open or dark ceilings with exposed piping and heritage brick define this style,' says Jane. 'Large baseboards, skylights, or warehouse-style paned windows with black frames too are a part of the look.'
To recreate this in your home consider an open plan living, which is almost de rigueur to this look. Use exposed stone or brick walls, concrete floors, and floor-to-ceiling windows and doors. Having a large space to work with allows you to display generously-sized and striking pieces of furniture, rugs, and artwork. Warmth is vital in these big spaces, so choose a natural palette and organic textures like wood and leather. Include soft furnishings, plenty of light fittings from large chandeliers and freestanding lamp stands to create comfort.
3. Scandinavian
Alongside other modern design schools of thought, Scandinavian design ensures functionality and simplicity are at its core. Traditionally hailing from the countries of Denmark, Sweden, and Norway, Scandi design was in part a rejection of the old world, as colonialism and aristocratic power began to wane following the first and second world wars.
Democracy, wealth, and the attainment of beautiful things were no longer just the preserve of the elite but becoming available to all. Thanks to designers such as Alvar Aalto, Arne Jacobson and the founder of Ikea, Ingvar Kamprad, Scandi design is now well recognized and enjoyed by millions.
'Scandinavian design originated in the Nordic countries of Denmark, Sweden, Norway, Finland, and Iceland,' says Prashant Chauhan, founder of Zero9. 'It's a subset of minimalism with an influence of Nordic heritage. Scandinavian designs usually include more warmer and cozier elements with a strong emphasis on craftsmanship. The design staples are natural materials; mostly wood, leather, wool, and stone incorporating clean lines and uncluttered forms. Light colors, functional furniture, minimalistic decor, and most importantly Hygge - a Danish term that translates to coziness and a feeling of contentment.'
Scandi design reflects its Northern European heritage, exploiting the cold, sunlit, forestry regions by drawing in as much light as possible and reflecting it inside. This is created using white flooring, walls, and neutral palettes. Emphasis is placed firmly on light and comfort, specifically, hygge, which essentially means coziness and is a core component of Scandi design. Warmth is brought into the space using natural materials; wood, stone, wool, and linens and spaces are uncluttered and simple. Furniture is sleek, often made from wood and leather, and modern. Excessive decoration and ornaments are not encouraged, simplicity, practicality, and comfort are key to honing hygge at home.
Light Montey Linear Pendant
Material: Iron and glass
Price: $129
Consider these sleek and liner lights in a clear cylindrical glass shade, ideal for a Scandi-style home.
4. Modern rustic
This genre works on the principles of modern interior design; incorporating clean lines with practical living in terms of function and storage, the addition of natural textures, and antique details is fundamental. Old buildings can work beautifully with this design as ancient structures provide a beautiful backdrop, but modern buildings are also able to lend themselves to the modern rustic decor look by fusing antique and vintage furniture and furnishings. Wood is an important material here for its beautiful organic nature and raw allure; stripped back floorboards either reclaimed or original, exposed beams, paneled walls, and raw untreated woodwork handsomely.
Antiques are another important element in a rustic environment, adding depth, story, and character to a space.
'There's no question that vintage buildings lend themselves to modern interior design,' says interior designer Patrick Williams of Berdoulat. 'With their well-proportioned elegance and clean lines, they provide the perfect backdrop for simple, sparse interiors, but at the same time can take a bolder approach, with dramatic color and pattern.'
5. Maximalism
Maximalism in interior design takes time to create; it is a curation of layers and this organization is critical to the overall effect, producing colorful comfort and curiosity. By slowly building up collections, be it houseplants, antique books, or ceramic sculptures, you will eventually create an organically layered effect. Maximalist queen and founder of Shoreditch interiors store WA Green, Zoe Anderson advises:
'Being a maximalist is all about going with your gut, not being afraid of making mistakes but taking your time,' says Zoe. 'Remember color loves color so layer up and go for it. To avoid things looking too contrived, allow things to happen naturally. We maximalists are like magpies, we're collectors, and we can't stop ourselves when we see something that screams: 'you need me'. Most recently I fell in love with some plates but the only wall space was above a door frame. They look ace there which just shows where there's a will there's always a way.'
Using multiple colors and patterns is key, but consider using one color or tone as a connecting theme throughout, as it will provide a sense of balance in the room. Scale and type of furniture are fluid in a maximalist space. Mixing modern with mid-century or antique is fine, and, encouraged, as each piece adds to the bold richness of a maximalist home.
6. Mid-century
Mid-century modern look gathered pace in the last few decades, not least because the furniture of this period can still be picked up at an affordable price, and this, essentially is what mid-century furniture design was created for the masses.
Following two world wars the proliferation of urbanization and home ownership, amid suburbanization began, and the demand for modern furnishings grew with it. Iconic names such as Charles and Ray Eames, Herman Miller, Ercol, Florence Knoll, and Hans Wegner flourished on the scene. The typical design of the era, which spans approximately the 1920s to the 60s and 70s, was to embrace the modern technologies of the day. The look was unembellished but sleek and clean; think fine legs on a piece of wooden furniture.
'Mid-century style is a furniture and design style that developed in Northern Europe in the late 1950s/1960s; essentially the middle part of the last century,' says Jane. 'It embodies the soft curves and hard-crafted nature of wood. Wood often used was teak, given its warmth and tight grain. Mid-century furniture styles often lean towards shapes popularized by space travel such as ovals, disks, or rounded edges. Space travel was a goal during this time and the potential of it influenced multiple facets of home life. It also leans towards the residential architecture of the newly formed and expanding American suburbs of this time that showcased bungalows and ranch style homes with long, low roofs and natural materials such as orange brick and large fireplace columns.'
Want to create this look in your home? 'Without a doubt, teal or a warm walnut are the key wood color to use for this style,' says Jane. 'Shapes such as long linear cabinets or pencil legs are essential on furniture such as dining chairs or cabinets. Interior spaces are not over-scaled in mid-century design and reflect the more cozy nature of homes with 8' ceilings. Sloped roofs, wide rectangular fireplaces, and metal details as space dividers all contribute to a mid-century space, but furniture is the defining element of this era and easily recognizable.'
7. Modern glamour
Modern glamour is an expressive interior style with roots in Art Deco and the old-world allure of Hollywood. The decadent styles of the 20s, and 30s, with rich golds and colorful infusions, sumptuous soft materials, and fluid lines. Interior designers, including Jonathan Adler and Maddux Creative, imbue ideas from this era combined with modernism influences and architecture to create visionary spaces with a narrative steeped in color, artistry, comfort, and luxury.
Scott Maddux of Maddux Creative explains the origins of his design process. 'Many of the key principles of Bauhaus philosophy influence our design work: form follows function; material integrity; streamlined aesthetics; a preference for balanced composition over symmetry,' says Scott. 'However, the fundamental principle of designing buildings harmoniously in their entirety, from structure to finishes to ornamentation and furnishings is surely the most influential.'
To create a space to reflect a modern glamour aesthetic, choose curvy contemporary pieces of furniture, and bold colors, alongside pastel or soft tones. Make grand gestures with your choices of furniture, lighting, or art, and consider adding an alchemy of metallic in the form of bronze or gold.
Recommended Primer & Undercoat: Mid Tones
Price: $40 for 0.75 liters
This color is bright and deeply pigmented, and is ideal for living rooms or passageways; and in homes where you love going maximalist.
8. Transitional
With changing times, where the old is still loved and the new is embraced, a fresh design style has come up, known as transitional interior design. This is a mixture of traditional and modern styles, and it brings together pieces from various eras and creates a singular theme that refreshes the classics with a cohesive, modern feel.
'Transitional style combines elements of both classic and contemporary design,' says Reena Sotropa, founder of Reena Sotropa In House Design. 'This style can be used to great advantage in the design of a modern home where style and utility are at constant odds.'
'Although transitional design style seems like the perfect style for the non-committal, it is much more than a random combination of classic and contemporary elements,' says Reena. 'This style comprises a well-curated space that requires as much if not more careful consideration to achieve the balance between the old and the new.
Some of the elements that define a transitional bathroom, living room, kitchen or bedroom are muted tones, the use of natural materials, shaker style storage, shiplap, sleek fixtures, large format tiles, and patina.
9. Modern farmhouse
Modern farmhouse may sound like an oxymoron but this has been a trending look in interiors for a while. The interiors are bright, light, and airy, and feature earthy, nature-inspired tones and textures. In terms of color palette, the modern farmhouse style comprises whites, natural browns, and muted greys, with the occasional pops of bold hues like blues and greens.
'I do think farmhouses are a major part of the American vernacular, and that history makes them immediately familiar and relatable to a lot of homeowners,' says New York designer Robert Stilin, who modeled his own home after a barn about two decades ago. This style has a lot of humbleness and simplicity attached to it. 'The farmhouses lend themselves to comfortable, easy living. I imagine a lot of homeowners find themselves especially attracted to that as well.'
The style is inspired by barns, with the use of linen, Venetian plaster, untreated wood, salvaged materials, and a simple palette, with the inclusion of touches of luxury like gold-leaf ceilings, copper taps, and large vintage lights.
Bluff Park Round Wood Coffee Table
Material: Wood
Price: $250
Designed with Studio McGee, this piece with crisscross legs and a sturdy top is ideal for a modern farmhouse look. Use this round coffee table with a coordinating accent table for a lively look.
What is modern interior design?
Modern interior design is based on the principles of the modernism movement of the 19th and 20th centuries, Bauhaus philosophy and architecture, and the development of affordable and practical design. Furniture, art, and decoration moved away from ornate styles only available to the wealthy elite, to more practical, minimal styles for the masses.
What is the difference between modern and contemporary interior design?
Contemporary design is a reflection of arts, interiors, and design that is happening currently, literally right now. Modern design is from the previous century.
Interior design styles are fluid and constantly evolving but include, minimalist, maximalist, industrial, Scandinavian, mid-century, modern glamour, and rustic modern.
What are the big interior design trends for 2024?
'I think the emergence of the Grand Millennial aesthetic will be important when we look back at this period of time in design,' says Candace. 'It's both a reaction to stark minimalism and very much shaped a lot by celebrity designers like Joanna Gaines and Amber Lewis who have popularized their own interpretations of this style. It's a more eclectic and sentimental contemporary design style that I think can be accomplished in many renditions and on a broad spectrum, which is why it's so endearing to so many.'
I'm also noticing that the Gen-Z influence is beginning to slowly dominate the design world in the reimagining of these post-modern styles that feature lots of bold, irreverent colors and heavy use of squiggles and organic shapes,' says Candace. 'I believe this will only become stronger and more relevant as they continue to shape the trends we see in fashion and home design and people eventually move away from the Grand Millennial style.'
The Livingetc newsletter is your shortcut to the now and the next in home design. Subscribe today to receive a stunning free 200-page book of the best homes from around the world.
Hannah studied a Bachelor of Arts in Literature at Bath Spa University before working in London for ten years for national and consumer magazines. She has worked as a freelance lifestyle content writer, editor and copywriter in Canada, Costa Rica, Barcelona and southern France before settling in Bath to focus on interiors and arts content.
With contributions from