Industrial interior design - how to get it right
Industrial interior design is a look that always feel cool and edgy. This expert guide explains what it is, and how to put it into practice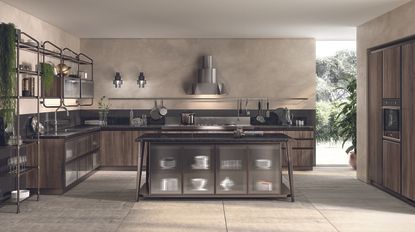 (Image credit: Diesel Scavolini)
The Livingetc Newsletter
For style leaders and design lovers.
Thank you for signing up to LivingEtc. You will receive a verification email shortly.
There was a problem. Please refresh the page and try again.
A true melding of function and form, industrial interior design is quite simply about displaying building materials that are usually concealed, be it cracked concrete, lengths of ducting or unshaded lightbulbs. This is a look that celebrates practicality, doesn't shy away from the imperfect and embraces signs of wear and tear, ranging from warehouse style rugged and unfinished, or taking on a cozier, more soft aesthetic with the addition of textiles and splashes of color.
Industrial interiors seemed to rise out of nowhere, and are now a staple style on our decorative menu of modern interior design. While you may not be surrounded in exposed brick and piping, ceiling beams, and raw cement at this exact moment, chances are you'll be able to think of one space in your life that is fairly swiftly. It's not hard to see where these materials originated – just take a visit to a nearby production facility – but what is it about unfinished, factory-esque floors, distressed walls and pipe-covered surfaces that have such grand appeal? How did they become so entrenched in the home? Why? Here we discover the story behind the style's development, and talk to the experts about the meaning behind the look.
Industrial interior design explained
What is industrial design in interior design?
The term 'industrial' has been applied to interiors for decades, used to describe rooms perhaps with a brick wall, with bare bulb lighting, or with a concrete floor. It's a, overused term that sits alongside words like 'retro' and 'vintage' which have begun to almost lose all meaning, widely applied to anything more than a few decades old. But what exactly define industrial style homes? Surely, the style has some specific characteristics that mark it out as unique?
'Industrial design in residential interiors is the use of materials and details that would originally have been found in industrial settings such as factories and warehouses,' explains Richard Atkins, Director of architectural interiors brand DesignSpace London. 'This generally includes the use of slightly more "raw" materials which are generally less "polished" than some other materials that would be found in the home'.
'The industrial look is defined by exposing the internal structure of the building and its construction materials, and is also characterized by large open plan spaces with an unfinished yet cohesive feel,' says Sabina Miller, Head Buyer at Heal's. 'In a wider sense, modern industrial style refers to a stripped back look which exposes some architectural details of the building even in settings that are not strictly a refurbishment of an industrial or warehouse building'.
'Industrial interior design can be described as a style that glorifies function over form by embracing the characteristics of the materials used for the "skeleton" of the building,' explains Anamaria Paraoaru founder of architecture practice The Thames Studio. 'Features that would normally be hidden become conscious design choice and the space is then designed around them.
'To me it's where the function of a space becomes its form. You can think of it like a room or building showing its soul. Nothing is concealed, the function becomes its elevated aesthetic, a celebration of the work and design behind it,' say Massimo Buster Minale, founder of design brand Buster and Punch. 'There's no hiding with good industrial design'.
'It's all about achieving a raw, edgy style that looks unfinished, yet cohesive and unique,' concludes Marketa Rypacek, Managing Director of Industville, which reproduces industrial and vintage style products for the home. 'Practicality and versatility are what gives industrial interiors their unmistakable flavor'.
What does industrial interior design look like?
OK, so it's about exposing the room down to its structural core. What does that actually look like on a day-to-day basis?
'Associated with large warehouses, dark lofts, and materials such as such as metal, brick, concrete and wood, the design combines slick modernism and rustic charm with an organic, lived-in feel,' sums up Sabina Miller of Heal's. 'There's often a focus on the functionality of spaces and the objects within them. Industrial designs will stick to paired back yet bold look, where raw and clean backdrops can be accessorized with splashes of color and character introduced through smaller details'.
'Industrial style combines old world charm with modern simplicity, and creates a lived-in feel, explains Anamaria Paraoaru of The Thames Studio. 'The beauty of the industrial style lies in its unrefined and incomplete look – exposed structural elements like bricks walls, steel beams or concrete floors and columns are visible everywhere. The smooth metal finish contrasts with the grainy texture of the wood, creating a beautiful combination. The furniture is low profile with simplistic features, adding to the impression of high ceiling and ample space. The windows usually have black metal frames with no soft treatment. The flooring is concrete, wood or even vinyl – something easy to maintain – and the elements of the building set the color scheme so you will find neutral greys, whites, browns and blacks, as well as shades of burned orange from the exposed bricks, which results in a bohemian feel'.
What materials are usually found in industrial interiors?
Picture an industrial interior, and you'll quickly realize it's all about combining rugged, textured surfaces and objects with neutral tones which nod to the materials around them. There's a lot going on in an industrial room – and it all starts with specific surfaces, each full of character, history, narrative and practicality. While there's no tick list to create an industrial space, start with the below materials, and you can't go far wrong.
From expansive poured concrete floors, to walls and ceilings, kitchen worktops and accessories formed from the gray mixture, concrete is key when it comes to industrial design – and don't be afraid of cracks, stains or other signs of wear and tear, they all add to the authenticity and historic feel of the space.
Beams
Those ceiling have to be supported by something – liberate those structural beams (metal, wood, whatever!) for the full this-used-to-be-a-factory feel. Leave them with their aged marks if you like a historic feel, restore them to their pristine former glory, or paint them in a vivid color for a more modern, statement take on industrial.
Duct and vents
Welcoming routinely hidden (or crawled through in action films) ducts and vents into the home makes for an almost decorative addition to the ceiling or wall, their bending, twisting shapes often stretching over long lengths of space. Who needs statement pendant lighting to draw the eyes upwards?
Brick
The epitome of industrial style, free brick walls from paint, wallpaper and plaster and celebrate their iconic texture indoor as well as out. The natural earthy tone they bring to a space will add warmth to a space, their rugged good looks contrasting monochrome and neutral tones in the space.
Reclaimed wood
Timber in an industrial space is about ruggedness – think roughly sawn slabs and wood covered in dents and signs of age. The older the better for floorings, furniture, kitchen worktops and objects, just think of any markings as telling a story and making them all the more usable.
Metal
From gleaming stainless-steel surfaces and shining golden handles to deep black tones and the multicolored tarnish that comes with age and a touch of rust – metal finishes of all types have a home in the industrial space. The finish you go for can really affect the overall mood of the room – as good as new makes for a slick, fresh, modern feel, while a natural patina speaks of a practicality, and the material's journey through many hands.
Where did the industrial interiors look come from?
Industrial style has a vague vintage vibe to it, sure, and it seems to hark back to somewhere between the Tudor times and the invention of Pinterest, but where exactly did it spring from? And what story does it tell?
'The vogue for industrial interiors began as a nod to the style of many 19th and 20th century commercial factories, hence their stripped back aesthetic and open plan interiors,' explains Gary Singer, Founder and Creative Director of joinery brand Eggersmann Design. 'The aesthetic often refers to New York City where loft style apartments have become very popular – these spaces were previously for industrial/warehouse use, and since been converted into residential use'.
'Industrial style in interior design takes inspiration from the factories built in the 19th and 20th centuries, which were constructed from iron, concrete and bricks, with large, uncluttered spaces to fit big machinery and large number of workers. These were buildings built to last, focusing on durability and practicality rather than aesthetics. After the second industrial revolution hit and factories shut down, and as the population increased, it became common to transform these large empty buildings into living spaces,' explains Anamaria Paraoaru of The Thames Studio. 'When artists in 1950s America were looking for large, light-filled spaces to live and work, they began converting warehouses, factories and mills into open plan live-work spaces where creativity could flourish. These visionaries were able to see beyond the building's coarse appearance, and set the trend in transforming massive utilitarian spaces into the residential – what started as a necessity resulted in the creation of a new interior design style, which continues to this day'.
'Rather than concealing the raw elements such as the rough bricks, exposed metals and pipework, artists and then interior designers decided to embrace them,' continues Marketa Rypacek, of Industville. 'People loved this new honest and authentic look with its clean lines and open spaces, which has proven to stand the test of time'.
'Through the 1980s and 90s mainstream architects and interior designers really started to get into the industrial style, and it appeared everywhere from restaurants to hotels, boutiques – it was different and refreshing' adds Massimo Minale of Buster and Punch. 'Over the past century you could argue that the main architectural movements, or stylistic looks, have emerged from the creative classes – artists and creatives are always forced to move fast and occupy cheaper spaces and areas, that then become gentrified (hello East London, hello New Cross, hello Deptford, hello Williamsburg) –these sub-cultures of creatives were catalysts for the industrial look'.
'From 2010 onwards, our homes have been filled with industrial-style furniture made from iron, wood and leather, inspired by the trend for New York loft living,' says Jane Rockett, Co-founder of quirky homeware emporium Rockett St George. 'Exposed brickwork became the ultimate feature of envy, and the demand for open plan spaces with that warehouse feel continues to rise. There is something seriously cool about exposed brick walls and pipes, metal and wood surfaces and vintage, functional furniture that makes industrial living so inspiring'.
How does industrial decor make a space feel?
While of course every home is different and forms its own unique atmosphere, what type of vibe does a raw, warehouse-inspired, exposed space create? And is it something you can actually live with?
'An industrial space can bring an edginess and rawness, which is great to play with in an interior,' explains Massimo Minale of Buster and Punch. 'Modern industrial style has evolved to encompass the curves and softness needed to humanize the expression with its signature cold, crisp and sharp detailing – now we're much better at creating that balance of hard and soft within the spaces'.
'Industrial styling can help to achieve a simple and minimal look, while simultaneously building interest throughout the scheme,' explains Sabina Miller of Heal's. 'With its no-nonsense, functional approach, the aesthetics' features of clean lines, reclaimed furniture, and a neutral color palette, layered against wood, metal and exposed brick creates a spacious feel with plenty of character, working particularly well in open-plan schemes, but equally expanding the space within smaller rooms'.
'Industrial décor achieves a feeling of spaciousness and is often paired with a more minimal approach to decorating, which creates a calm and quiet atmosphere for relaxing at home,' says Jane Rockett of Rockett St George. 'Nothing detracts from industrial style more than clutter, so storage is vital in making sure your industrial décor maintains that effortless, airy feel. The beauty of industrial design is the focus on materials and natural light – steer clear of heavy curtains and blinds that stop of sun from streaming in and be mindful of your choice of color palette. Industrial style is all about muted, natural tones, think matt blacks, deep browns, soft greys and off whites, and it's important to bring balance through texture'.
'The clean lines and statement elements of industrial decor blend seamlessly with any style, and industrial spaces act as a perfect contrast to whatever they counterpoint, helping to strike the perfect balance,' says Marketa Rypacek of Industville. 'The juxtaposition of modern vs. vintage makes for a beautiful, layered and considered living environment with the opportunity to customize the look using furniture and decor that are completely unique'.
'Rugged materials and utilitarian objects create a laid-back atmosphere, unpretentious and edgy but with a lot of thought going into every little detail,' says The Thames Studio's Anamaria Paraoaru. 'The practical and casual atmosphere perfectly meets the modern societal needs for multifunctional spaces, from living to working and entertaining, and is also easily paired with technology for warm and inviting spaces, which still retain a vintage feel'.
How can I make my room look industrial?
Not living in a converted warehouse or 1950s factory, surrounded with patina-covered metals, scarred concrete floors and crumbling brick? Fear not, there are tricks to turning even the most pristine space into an industrial haven (although it does help if you start planning during construction if you can).
'When creating an industrial style interior, 'raw', 'exposed' and 'unfinished' are key themes, and if you keep these in mind you won't go far wrong,' tips Marketa Rypacek of Industville. 'A neutral toned-down color palette works best for this look, but don't be afraid to add in the odd splash of black or dark grey which look great when set against metallics. Leave walls naked, keep the layout as open as possible and stick to functional materials such as metal, timber, bricks and tiles found in the industrial era'.
'Practicality and creativity can be brought together to create industrial interiors,' affirms The Thames Studio's Anamaria Paraoaru. 'Elements of weathered wood, exposed metal, stripped floors, distressed leather and linen, and caged metal light fittings with bare bulbs will create the relaxed feel of the industrial style. Include metal elements like shelves, bar stools or coffee tables which add to the industrial feel. Keep the space as clutter free as possible – the furniture and decorative elements will need to be both functional and add aesthetic value'.
'It's hard to mention industrial style without exposed brick walls, yet there are many other incredible features that epitomize this design trend,' says Jane Rockett of Rockett St George. 'Making a statement of steel beams is one trick that brings a warehouse-inspired atmosphere to your home, and tin tiles also translate the industrial trend into a home, conjuring visions of New York lofts and a sense of urban cool. Materials such as stainless steel, concrete or resin are also key in evoking an industrial design style with ease. Finally, you can't go wrong with metal and leather furniture, from leather bar stools in the kitchen to vintage storage cabinets, metal windowpane mirrors and iron bed frames, these statement pieces of furniture bring an industrial look together'.
'Making a space look industrial depends where you are beginning in terms of your project and how this relates to the building,' agrees Richard Atkins of DesignSpace London. 'In an existing space, use industrial furniture or materials such as freestanding pieces that are made from steel or raw timber, or glazed brick tiles work well when considering modern bathroom ideas or kitchen splash backs. For extensions or new build projects consider leaving any steel supports exposed, using lighting that has exposed track or cabling, opting for a poured concrete floor, leaving timber joists exposed on the ceiling and walls with exposed brick'.
'As an architect I'd say that the space has to be right to begin with – you can't force a look into somewhere it's not going to work, and it's not a look you can do halfway, you need to commit, but if you have a good space such as a loft or a building with an industrial heritage, then you're in business,' says Massimo Minale of Buster and Punch. 'It's also a style that can be affordable – imagine yourself as one of these original creative inhabitants with a shoestring budget and let the restrictions set the tone'.
How has industrial style evolved?
While it's true that the industrial style is a prominent interiors aesthetic, we're certainly not all living in discarded warehouses and abandoned factories. The industrial style of today is welcoming, warm, beautiful and expressive, a fine balance of texture and material. So, what exactly does 'industrial' mean these days, how has it changed to suit a tech-driven, modern age, and why?
'Industrial style has evolved over time due to its flexibility to mix well with other interior design styles,' explains Industville's Marketa Rypacek. 'We often see industrial elements being brought into different, sometimes contrasting looks, for example, blending industrial elements with a Scandinavian interior design works seamlessly as they both have common traits such as neutral tones, mixing textures and functionality. Japandi interiors also blend well with the industrial style, as raw materials such as brass help to create that tranquil feeling that Japandi is renowned for'.
'Similarly with other aspects of life, the industrial style has changed and evolved to accommodate our lives, this transition allowing for fresh elements to be incorporated and a great opportunity for more individual and eclectic spaces to be created,' confirms Anamaria Paraoaru of The Thames Studio. 'Designers have found ways of softening the stark and bare appearance of industrial interiors by moving towards a warmer and elegant look to enhance the qualities of the space'.
'Industrial design is being increasingly used in residential settings, now more commonly mixed with softer materials and more refined elements to make it suited to a comfortable home' agrees DesignSpace London's Richard Atkins.
'Since rising to popularity, industrial style has evolved to become a subtler trend that combines the practical functionality of industrial design with a mix of other styles,' adds Jane Rockett of Rockett St George. 'This more eclectic approach to combining design styles also allows individuals to bring their own distinctive style to an industrial interior, be it combining industrial metal storage with vintage upholstered furniture, delicate accessories or Mid-Century lighting, the contrast of textures and materials helping create an impactful interior'.
'The industrial style has become increasingly popular and moved towards a more stylized version of its original self,' says Massimo Minale of Buster and Punch. 'Many architects and interior designers have made it their bread and butter, so the looks are now more livable and Insta-friendly. The good thing is that today you probably won't give yourself tetanus by snagging your thigh on a rusty nail'.
How do you soften an industrial look?
With its origins in 1950s factories, it's no surprise that industrial interior design has something of a hard edge – based on materials such as metal, concrete and brick it's not exactly comforting. With coziness now key, it's time to loosen up those harsh materials, inject a sense of softness and create a welcoming environment. But is that really achievable in an industrial space that's based around such practical materials?
'The simplest way to relax an industrial look is through the addition of soft furnishings and splashes of color with statement rugs and cushions,' says Sabina Miller of Heal's. 'Go large with rugs, art and statement lighting for a bolder look, particularly in an open plan scheme, to create focal points through the room and ensure it doesn't feel empty or disjointed'.
'The stark, clean lines, exposed steel or timber beams or even unfinished walls of an industrial interior can be softened by including elements from other trends, adds Anamaria Paraoaru of The Thames Studio. 'A comfortable sofa and vintage rugs add contrast and at the same time create a relaxed and inviting space. Adding a bold wall art piece to the interior brings pops of color and makes the space feel cozy. Soft furnishing in bright colors or a chandelier adds personality, and the starkness of a metal framed window can be softened by adding roller blinds in natural fabrics'.
'When combining rough textures with the hard lines of metal furniture, it's important to soften the edges – something as simple as a trailing plant on top of a metal cabinet can have huge impact,' says Jane Rockett of Rockett St George. 'Equally, using foliage of different heights on industrial sideboards or tables creates a gentle tumbling effect that softens the overall look. Often by design, industrial materials and furniture will have slight imperfections so try embracing this and introduce other organic shapes and textures to create a softer approach to the traditional industrial look'.
'One of the biggest design elements that can be used to add warmth to a space is lighting. All too often with interior design, the lighting is an afterthought, but it is important (especially in harsh industrial spaces) to do your research and invest in quality lighting,' highlights Marketa Rypacek of Industville. 'To accomplish a warm, welcoming room, vary the lighting types to create little pockets and pools of illumination. The number one consideration has to be a dimmer switch – they set the tone and change the atmosphere of a room instantly'.
Is industrial design going out of style?
Industrial interiors have long dominated homes, restaurants, magazines and social media accounts. It seems like everywhere we look there's a bare brick wall, rough metal-legged table or piece of battered wood furniture. But is the sun setting on this design style, or has the day barely begun? Is the look here to stay (after all it is an aesthetic based on embracing wear and tear), or will is soon be consigned to mere memory?
'Although the industrial style has changed over the decades to fit the needs of modern society, it's still a style that is current and used a lot in interiors today – now more than ever people are looking to surround themselves in raw materials and man-made furniture and objects,' says Anamaria Paraoaru of The Thames Studio. 'The simplicity, functionality and worn qualities of the industrial interior are highly important in our current hyperactive lifestyles. As it proved over the years, this unadorned and rugged style has become more fluid and inclusive, pairing perfectly with elements from other eras and trends while remaining true to its origin and keeping its core elements. By lending itself to being reinvented over and over again I don't see the industrial interiors going out of style any time soon'.
'Industrial design is timeless and will never go out of style – but it is constantly evolving,' sums up Marketa Rypacek of Industville. 'Today, there is less emphasis on the rusty and rough, with a clear shift towards the premium, luxurious and high-quality materials that will stand the test of time'.
'Industrial interiors are still very much in style but are now more commonly being mixed with other styles and materials to create an eclectic look, adds DesignSpace London's Richard Atkins. 'You will see industrial materials being mixed with metals such as bronze, copper and brass, and with terrazzo and marble'.
'Industrial interiors have evolved through the decades, thanks to their simple and refined characteristics,' concludes Sabina Miller of Heal's. 'They have an enduring and timeless aesthetic that shows no signs of going out of fashion'.
For style leaders and design lovers.
Amy Moorea Wong is a freelance interior design journalist with a decade of experience in contemporary print and digital editorial, previously News Editor at Livingetc. She writes on a broad range of modern design topics from news and interior zeitgeist to houses, architecture, travel and wider culture. She has a penchant for natural materials, surprising pops of colour and pattern and design with an eco edge.