A complete guide to Mid-century modern furniture – how to source the best pieces to nail the trend
Stylish, versatile and adored by many, we take you through everything you need to know about Mid-century modern furniture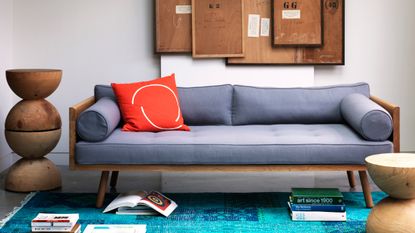 (Image credit: Damien Russell)
Mid-century modern furniture is often the go-to interiors choice of those in the know, but when the TV show Mad Men hit our screens back in 2007, a new wave of fans fell in love with its alluring aesthetic. Since then it has become an ever-present sight in homes and commercial spaces across the globe.
If you're wondering what this ever-popular interior design style is exactly, it started as a design movement, which originated in America, and its furniture blueprint is characterized by clean, curved lines, tapered legs, and the use of both natural and man-made materials. The color palette is cool: teals, greys and dusky blues paired with color pops of mustard, burnt orange and olive green, while geometric prints add a smart yet bold hit of pattern.
What era does mid-century modern furniture come from?
It's generally accepted that it spans from the late-1920s to the mid-1960s. Others condense that down to the much smaller window of 1947 to 1957, but that disregards such iconic pieces as Ludwig Mies van der Rohe's Barcelona chair and some of Eames's famous designs (more on those later). However, the movement really took off in the post-war era.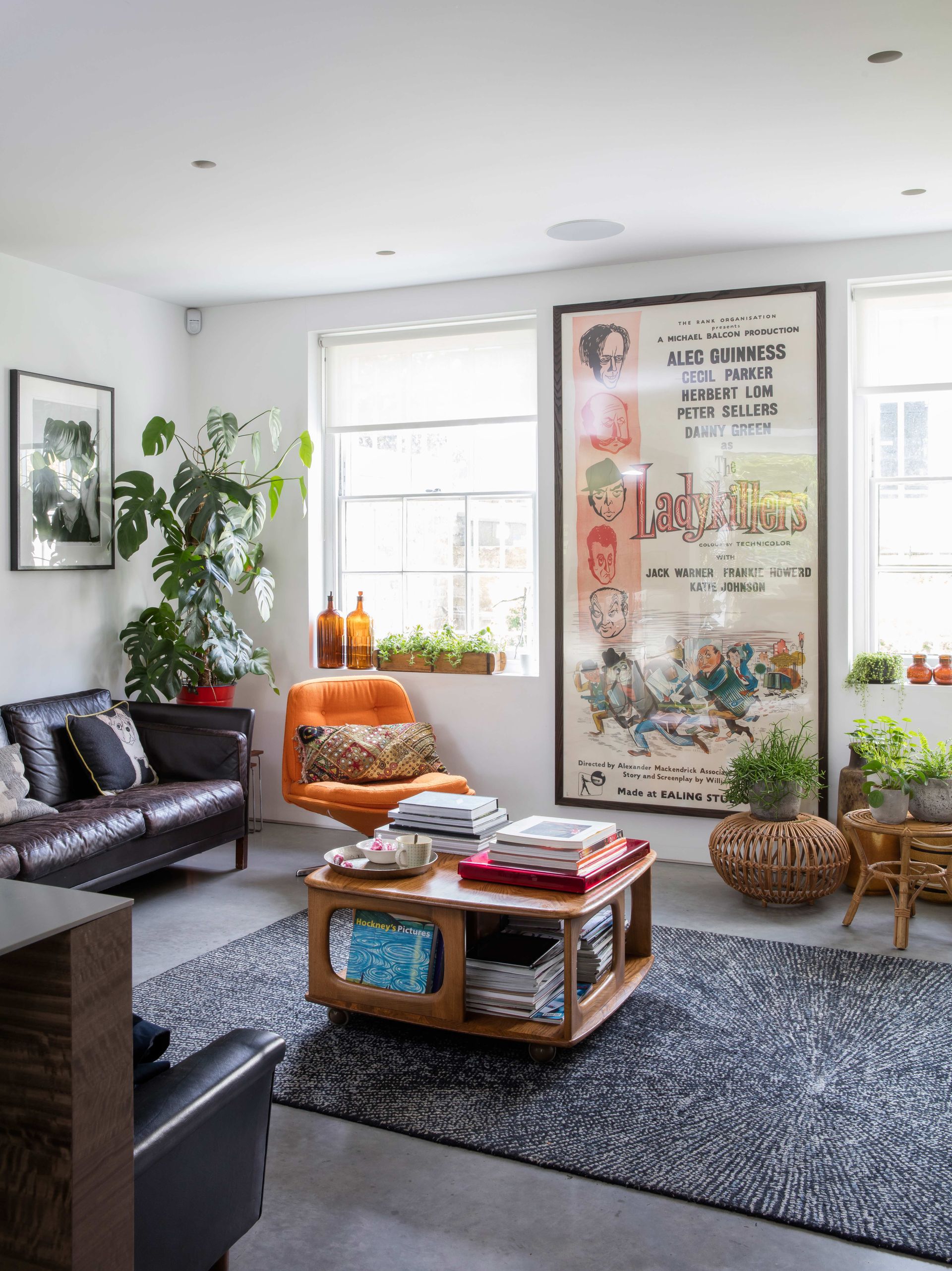 The end of World War II coincided with a raft of new ways that wood was being used, which designers and manufacturers turned to their advantage by updating furniture from the purely functional to functional, comfortable, and aesthetically pleasing. This new modern design movement felt fresh without being showy, streamlined without being dull. It tapped into the optimistic mood at the time and became an accessible way for people to express that feeling in their homes.
Who are the main designers of mid-century modern furniture?
One of the first people to kick off the mid-century modern design movement was Ludwig Mies van der Rohe, with his most iconic piece being the Barcelona chair from 1929. He was principally an architect, but his will for structural integrity and function to be just as important as aesthetics migrated to his furniture designs.
More like sculptures than furniture, Harry Bertoia's furniture is instantly recognizable due to its fluid, sweeping lines and chairs that, quite frankly, don't look like chairs. His Diamond chair is perhaps his most famous piece and is still manufactured by Knoll today. As Knoll historian Brian Lutz once said: 'Bertoia's paintings were better than his sculptures. And his sculptures were better than his furniture. And his furniture was absolutely brilliant.'
When most people think of mid-century modern furniture, they think of Charles and Ray Eames, the husband-and-wife duo whose goal was to create comfortable chairs that were affordable. They created such iconic pieces as the DCW chairs and their style is recognized by its molded plywood or plastic construction and use of vibrant color.
Danish designer Arne Jacobsen was another architect who moved into furniture design, and in designing the SAS Royal Hotel in Copenhagen and every detail inside, introduced the world to his futuristic-looking Egg chair and footstool in 1958. The Swan and Ant chairs followed and have been staples in homes, hotels and commercial spaces ever since.
What's the difference between mid-century and mid-century modern?
Mid-century and Mid-century modern are often used interchangeably in the interior design world, however, there is a slight difference. Mid-century modern refers to the movement that became popular post World War Two in 1945, while Mid-century is a style that developed earlier in the 1930s.
While the two are similar in terms of shapes and styles, the main difference can be found in the use of color. Pre-war and the few years following, furniture was purely functional, shapes would be chosen in order to use as little wood as possible and colors were a purely practical decision, hence all the deep greens and browns used in those eras. Post-war the need for functionality remained, but designers began to be more playful with colors and fabrics and drew from influences from Danish and Scandinavian countries.
Is mid-century modern furniture still popular?
Yes, Mid-century modern furniture and the overall look still remains one of the popular interior design trends to date.
Mid-century modern furniture is appealing to the masses mainly due to its versatility and ability to marry form with function. 'Perfectly balancing comfort, style and functionality have been key to maintaining mid-century design's popularity,' says Elena Paparozzi, Senior Furniture & Brands Buyer at Heal's.
The shapes of mid-century modern furniture are timeless, so it goes with anything. There's nothing in your face that could jar with other decor styles, rather its simple, gently curved, and elegantly tapered lines are subtle enough to blend in with every style.
That mid-century modern furniture is easy to find and available at all price points is also a testament to its popularity. Whether you want original, vintage pieces from the likes of Eames, Ercol, and Arne Jacobsen, genuine modern-day articles from approved retailers, replicas, or new takes on original designs, they're easy to come by.
What wood is used for mid-century modern furniture?
The wood most synonymous with mid-century modern furniture is teak. Rich, dark, durable, and recognized as a sign of quality, teak paired well with the bold colors associated with the era and was often used for tables, desks, and storage.
Oak was another commonly used wood and, like teak, is strong and durable. Its paler color makes it feel slightly less overbearing than teak, and as a result, it works better with the paler, cooler shades of mid-century modern design.
Lighter still than oak is beech, most often used to make the frames of chairs and sofas due to its strength and high shock resistance. Being a paler wood, the use of beech in mid-century modern furniture is a definite nod to the movement's Scandinavian influences.
Most chairs, such as Eames's Lounge chair, were made using molded plywood, a relatively new process at the time. This enabled designers to create the iconic shapes so intrinsically entwined with mid-century modern furniture and keep pieces affordable.
Where can you find mid-century modern furniture?
It really depends on your budget, but mid-century modern furniture is offered by many retailers.
If you want an original, vintage piece from the 1940s, 50s, and beyond, you'll need deep pockets. But they are out there, and good places to start your search include Panomo, Vinterior, MCM Interiors and The Old Cinema. Prices start in the hundreds for smaller examples and lesser-known designers and can go up to tens of thousands of pounds for the larger and most famous pieces.
Genuine articles, manufactured to the original design and sold via a retailer, are easy to find in department stores such as John Lewis and Heal's, as well as furniture stores including Knoll, The Conran Shop and Nest. Prices start from less than £200 to upwards of £10,000 for large pieces.
For those on a more modest budget, Cult Furniture, Swoon, West Elm and Rose & Grey are good places to start your search, all offering their own original mid-century modern designs and extremely good replicas, too. For example, you can pick up a copycat version of Carl Hansen's Wishbone chair for less than £100, rather than the £400+ price of the real thing.
How to style Mid-Century Modern furniture
1. Use colors that compliment Mid-century modern furniture
Choosing a hero piece of mid-centurt modern furniture, such as an armchair, in yellow (probably the most famous mid-century modern color) is the quickest, most impactful way to nail this look. If such a bold choice isn't for you, accessorize with yellow vases and bottles, but keep the rest of the scheme neutral to let the color really sing.
2. Choose bold artwork
Abstract and eye-catching, artwork that echoes the colors in your scheme will tie everything together. Offsetting it from the center of a wall adds another layer of interest while hanging it against a white backdrop ensures it stands out and gets the attention it deserves.
3. Add texture with rugs
Highlight the clean, flowing lines of your mid-century furniture with textural touches. Adding a rug under a dining table or coffee introduces a warmer, cozier feel to your room that's practical too. Keep it plain and simple so as not to detract from your show-stopping furniture.
4. Mix different timbers
The combination of dark and mid-toned wood will add an informal, lived-in feel to your scheme. Keep walls and accessories fairly muted to allow the different types of wood to make their mark.
5. Create interest with cushions
Choosing a colorful sofa is a big commitment, so go for something neutral if it feels too daunting and jazz it up with vibrant cushions. Geometric patterns mixed with blocks of plain color in mid-century yellows, blues, greens, and oranges will do the trick. Plus, they're easy and affordable to change regularly if you fancy an update.
6. Accentuate with lighting
Starburst lighting is a key component of mid-century modern design, so add a wow factor above a dining table or coffee table with a statement shade. If your furniture has a high metallic component and is predominantly cool in color, go for a silver finish for your lighting; if it's mainly wood with warmer tones in the fabric, choose gold to complement your scheme.
7. Incorporate pattern with wallpaper
Geometric patterns are a hallmark of mid-century modern design, so frame your hero piece of furniture with a striking wallpaper. Keep accessories to a minimum to let your furniture and walls take center stage.
8. Pick funky vases
Along with abstract artwork, mid-century modern design had a penchant for quirky vases. Designs in mixed colors, and those with abstract faces, are a perhaps unexpected but playful addition to a scheme. Choose a mix of different heights and pop on an unfussy side table for maximum impact.
The Livingetc newsletter is your shortcut to the now and the next in home design. Subscribe today to receive a stunning free 200-page book of the best homes from around the world.