10 dining room wallpaper ideas – modern murals, quirky prints and subtle styles tp update your space
Adding pattern, texture, and personality, these dining room wallpaper ideas are sure to impress your guests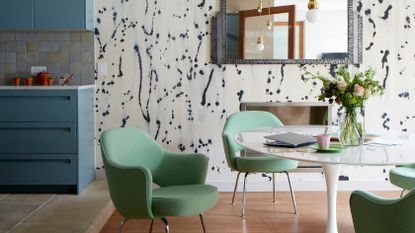 (Image credit: Future)
Dining room wallpaper ideas are a really easy way to bring pattern, color, and texture into a space where you spend a lot of time hosting and socializing. It's a room your guests are guaranteed to see, so it deserves to be treated with as much thought as a bedroom or a living room when it comes to design. And what we love so much about decorating dining rooms is that because these rooms are for having fun and entertaining you can approach the decor in the same way – make it fun and entertaining.
If you have a more informal dining space in your kitchen, meaning your dining room is mostly used only for festivities, you don't need to worry about going too bold, you can really get creative with the space as it's not like you need to sleep in it or watch TV in it, it's purely a space for socializing. And wallpaper is a guaranteed way to add in those bold colors and prints...
1. Play with pattern and color
How gorgeous and fresh is this dining room color scheme? Despite the very vivid, very busy print of the wallpaper, the space has a really calming quality to it. The pale sky blues used on the ceiling and matching chairs, combined with the crisp white of the floor and the woodwork really tones down the print, making it much more liveable.
Be inspired by these dining room wallpaper ideas and once you have decided on your print, choose a single color (pick the lightest one if you want to really lift the space) from the design and bring that into the rest of the room to create a cohesive scheme.
'Any wallpaper can be used in the dining room, as it's a space to entertain and show off your personality, so don't be afraid to go all out.' says Paula Taylor Stylist and Trend Specialist at Graham & Brown.
'The best choice is the one that creates the atmosphere that you want in that particular space. Out of the starting blocks from confinement we are desperate to entertain and break bread with our friends and families. Pre-pandemic we were seeing a rise in supper clubs that will undoubtedly continue now that we have all spent our confines honing our culinary skills. Travel-inspired patterns will be key for starting conversations over the dining table as will organic botanical imagery with the desire to tap into the sustainable trend. The rich warmer shades of terracotta and pomegranate that are on the rise are also perfect colors for dining rooms as these colors are thought to aid digestion.'
2. Expand a small dining room with wall to wall pattern
We think it's a total myth that small spaces should be kept light and simple in order to feel larger, filling a room that's lacking in square footage with pattern and color can have just the same space-expanding effects. Case in point with this small dining room.
Going all over with an intricate print can actually blur the boundaries of the room and trick the eye into thinking that the space is in fact bigger. If you are feeling brave you could even take the wallpaper onto the ceiling too to really maximize the effect. Also note how in this awkwardly shaped dining room, the pattern might not be as obvious as striped but the design does have a vaguely vertical repeat pattern which again can really help make the room feel loftier.
3. Wallpaper the ceiling
Speaking of wallpapering the ceilings, this fabulous dining room is a lesson in mixing prints. However you want to do it – whether you want to go with one print on the walls and a different one on the ceiling, one below a dado rail and one above, or have three walls in one pattern and a single feature wall in another – pick a color scheme first and ensure that each print has some cross over of color with the other.
And think about scale too, pair a busy print with something larger and simpler as can be seen here with the intricate pattern on the walls and the bold stripes on the ceiling.
4. Zone a dining space with wallpaper
If your dining room is part of an open-plan space with your kitchen, wallpaper is a really easy way to zone the space and make it feel slightly separate from the main cooking space. Use color from the kitchen to inspire your wallpaper choice so the space still feels connected – as you can see here with the blue of the cabinetry and the deeper blues in the contemporary design of the wallpaper.
Also, can we just appreciate the blue and green combination? This is a pairing we just don't see enough of but it's such a fresh, calming color scheme that's perfect for kitchens and dining rooms.
5. Pick a whimsical print
As we have already mentioned, dining rooms can be places decorated just purely for fun. If you tend to only use the space for hosting and the occasional family meal, then go bold with the decor, creating a space filled with quirk and intrigue. Use your favorite bars and restaurants as inspiration, pick a whimsical theme and shop second-hand for eclectic pieces.
And of course the wallpaper. Wallpaper can add an instant touch of whimsy – think flamingos, stars, clouds, foliage, animals. Cole & Son is always our go-to for quirky prints.
6. Keep it minimal and let the wallpaper be the focus
And wallpaper doesn't always have to be bold, if you are after a more minimalist vibe just opt for something simple but striking with a minimal color palette. This dining room has a more subtle approach, with a simple, but striking line print covering the walls. However, as the rest of the room is kept very minimal, mirroring the exact colors of the paper, the print does overwelm the space.
7. Make it pretty with oversized florals
Another lovely, subtle dining room wallpaper idea. You just can't go wrong with florals, especially oversized contemporary designs like Farrow & Ball's Hellborous. Fussy florals can make any room feel a bit cramped and can clash with modern furniture, but simple, large-scale patterns work wonderfully in a more contemporary dining room, adding a softness and a rustic touch to the space.
8. Bring in some subtle texture
Wallpaper isn't just for bringing in pattern or color, it can also be used to add some subtle texture and depth to your walls. Pick a paper that's tactile like grasscloth or go for a print that has an almost 3D effect in tonal colors as can be seen in this dining room with the barely-there checkerboard print. Bare painted walls might risk looking too harsh against the black ceiling, but the slight pattern makes the contract less stark.
9. Use a simple wallpaper as a backdrop for color
If you have a large dining room, white walls can make the space feel clinical, whereas you want it to feel welcoming even if you like an all-white scheme. So instead of opting for just plain white walls, add some depth by choosing a simple wallpaper that adds pattern to a white background.
In this dining room, the subtle grey and white print is the perfect backdrop for making those bold yellows and oranges really pop. It still feels very fresh and crisp but that hint of grey to break up all the white just adds a touch of much-needed pattern.
10. Go for a delicate botanical pattern
We love everything about this dining room, the hexagonal tiles, the striking dark wooden furniture, the Crittall doors, not sure we can get on board with the polar bear, but the wallpaper that seems to almost grow from the ceiling is the finishing touch in this room. This kind of dainty, botanical print that's either busy at the top or bottom and trails off into a solid color is perfect for adding height to a room.
Should you put wallpaper in a dining room?
Wallpaper is a good choice for a dining room as it can add a load of visual interest to a room that's potentially the most seen by your guests. Plus, you can usually be a bit braver with your dining room decor as it's a room that's reserved for entertaining rather than having to be a practical space you use daily, so wallpaper is ideal for adding an instant statement.
How do you pick the best dining room wallpaper?
Picking the best dining room wallpaper is similar to picking paint. You want to think about the size and aspect of your room, and of course your personal style too. For rooms that don't get much natural light, you would automatically think to go for lighter colors and larger prints that aren't going to make the room feel darker, however, think about when you mostly use a dining room, it's usually at night. We'd therefore recommend embracing the darkness and picking a wallpaper with a deep and dramatic color scheme and taking it over all the walls for a really atmospheric dining space.
In smaller dining rooms the same rule applies, rather than try and make the space feel open and airy with lighter shades go for something more daring. Of course wallpapers with a more neutral scheme are lovely too if you do want to go for a lighter look – this might be a better idea if you use your dining room daily and for every mealtime, you don't want to be eating your breakfast in a cave of dark wallpaper. Just be sure to order samples so you can see how the pattern and colors look in your space.
Hebe is the Digital Editor of Livingetc; she has a background in lifestyle and interior journalism and a passion for renovating small spaces. You'll usually find her attempting DIY, whether it's spray painting her whole kitchen, don't try that at home, or ever changing the wallpaper in her hallway. Livingetc has been such a huge inspiration and has influenced Hebe's style since she moved into her first rental and finally had a small amount of control over the decor and now loves being able to help others make decisions when decorating their own homes. Last year she moved from renting to owning her first teeny tiny Edwardian flat in London with her whippet Willow (who yes she chose to match her interiors...) and is already on the lookout for her next project.