14 small dining room ideas – chic and clever ways to make the most of your space
These small dining room ideas prove that limited square footage needn't limit your style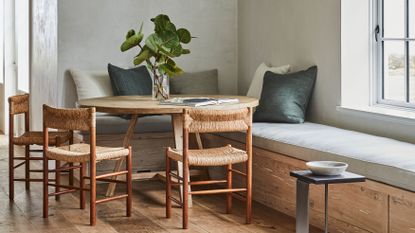 (Image credit: Ti Archive)
Whether you've got a dedicated dining room or a dine-in kitchen, they often aren't the largest of spaces, so we have rounded up the best small dining room ideas to prove just how much you can do with even the tiniest of space.
As Devol's creative director Helen Parker says: 'Space, I don't think it is about having loads of it, big rooms, big gardens, big houses, I think it is about creating room to live simply and comfortably in the space you have available. Big spaces can be great of course, room for huge sofas, beds, family dining tables and oodles of storage, but the most important thing is creating spaces that work.'
The most important thing to consider when designing a small dining room is of course the dining room furniture – the tables and chairs that are essential to a dining space. We'd recommend choosing these first and basing the layout and decor of your rooms around them and we have covered plenty of seating choices to get you inspired, from cozy breakfast nooks and wrap-around banquets and to tiny (but stylish) dining tables that can still host a feast.
You'll want to consider colors, patterns, themes, and decor too. Dining rooms can the perfect spaces to have some fun and be a bit braver with your decoration, especially if you have a separate, more casual eating space in your kitchen. This room, no matter what the size, can be the perfect space for entertaining, so be inspired by some of your favorite bars and restaurants and really go all out with your dining room ideas.
1. Go bespoke
When space is tight, you can't beat bespoke. You can design something that perfectly fits your space, making the most of storage and seating. A built-in banquet is a nice option if you have a nook or a really compact space, but if you are adding a dining table to a narrow kitchen or in an open plan space be inspired by this dining room idea in a small studio apartment.
The clever bespoke dining table acts as a wall too, in that it separates the kitchen from the living space. Display shelving runs right through the middle of it to provide extra storage for both the living room and kitchen.
'There has been a huge increase in the popularity of the open plan kitchen and dining room especially with so many homes having been remodelled or extended in some way.' explains Ben Burbidge of Kitchen Makers. 'Dining areas should primarily be a social space, simply and elegantly designed, easy to spend time in and free of clutter.'
2. Build in a bench
If you want to really maximize seating in a small dining room, switching out traditional tables and chairs for a built-in bench that hugs the wall, saving on space and creating an instant cozy nook.
In this small dining room, the classic 'Les Arcs' octagonal table by Charlotte Perriand can be pulled right up to the custom-made banquette bench. It creates a cozy and informal breakfast nook in this bijou Paris apartment. A striking grey lacquered vintage stool by Philippe Starck makes a style statement too and contrasts the softness of the upholstered bench.
Note the fun color scheme of this dining room too. When it comes to dining toom color ideas, be bolder than you would in other rooms. As Sacha Berger, founder of Honeybee Interiors advises, 'Go a little braver with color in a dining room as its not a room you'll be in all the time and should feel a bit more special. Bring those bright hues in with either bolder dining chairs or even moodier colored walls or ceilings.'
3. Add a small dining space to an alcove
Got an alcove in the kitchen going unused? Copy this small dining room idea and turn it into an informal dining spot. This tiny breakfast nook takes up barely any space at all, but is still wonderfully stylish, with a trio of Lee Broom pendant lights – accentuating the ceiling height – and a buttoned back banquette that also lifts up to reveal hidden storage.
4. Pick a round table in a small kitchen diner
This Notting Hill apartment had no space for a separate dining room, so architects at De Rosee Sa created this eat-in kitchen diner instead. A round table gives a softer look than a bulky square one, and a wall of built-in storage for table linens and glassware frees up as much floor space as possible. The dining area is illuminated by wall lights instead of any bulky floor lamps, further maximizing space.
5. Turn a window seat into a small dining room
Take a window seat to the next level by transforming that empty space into a small dining area. See how a wall of windows in this modern kitchen has been transformed into a lovely, light-filled small dining area that feels separate from the kitchen.
U-shaped banquette seating wraps around this dining table like a hug, utilizing every inch of space, while also incorporating handy under-bench storage. This casual dining nook features a sculptural bleached wood table and striking leaf-shaped wooden chairs. The built-in banquette seating is deep and generous, and plump cushions make it extra inviting.
6. Don't always think small
Ironically, sometimes a smaller room can be made to feel bigger and grander by larger furniture. In this dining space by Lance Thomas of Room Service, a round table was placed in the centre, surrounded by upholstered chairs that tuck neatly under. A striking ceiling pendant and artwork help make this small room feel grand and chic.
7. Float your furniture
Floating banquette seating reveals the floor underneath, while the dining table and two chairs also feature a streamlined, minimalist design. And by getting the bench up and off the floor it frees the floor of too much visual clutter and allows for more light to flow around the space, this making the room feel larger.
8. Think about lighting
'Functionality is key when it comes to lighting in the dining room, but that doesn't mean you need to compromise on style.' says Natalie Mann, New Product Development Co-ordinator for Iconic Lights.
'An industrial pendant or a statement ceiling light will create a real wow factor that is both practical and stylish. For added ambiance, install a dimmer switch so you can set the tone for a family dinner or an evening of entertaining.'
This small dining room is illuminated by single overarching wall light, which can stretch away from the wall and position over the table. Opting for dining room lighting that can be moved around the space allows for flexibility, you can pool the light where you choose and yet design wise it has a similar effect as a statement pendant.
9. Make a small dining room extra intimate
Designers at X+Living sectioned off this tiny corner in this small Shanghai apartment and turned it into the dining space. It may look more like a breakfast nook, but the table extends out to double its length, and the nearby sofa can be separated into individual seats and pulled up to the table. Genius.
10. Choose slimline dining room furniture
In an open plan space, dining 'rooms' can act as dividers between the kitchen and the living space. But if space is tight you don't want that divider taking up too much valuable floor space, so take some tips from this elegant Victorian apartment and pick really slimline pieces.
In this compact dining area, a single pendant hangs above a super skinny dining table, framed by two slimline benches. But despite being compact, this table can still comfortably seat six.
11. Pair a circular table with a built in banquet
A circular table and a banquet that wraps around two walls is a classic combo for a small dining room – because it works. It maximizing the seating while not taking up loads of room. Here a banquette bench was created to make the most of a long kitchen wall, and wraps right around the corner towards the back door. Under-seat drawers create additional storage.
12. Don't just stick to the walls
So yes, banquets and built-in benches are popular options in small dining rooms, but equally, don't think you have to push everything up against walls in order to make the space feel larger and more functional. Floating a small dining room table in the center of the room, as you can see in this small space, can make the room feel loftier and more elegant.
Just make sure you get the size of the table right, don't go too big as you still want to be able to easily move around the room, but don't go too small either as the last thing you want is a tiny piece of furniture floating in a sea of floor.
13. Add storage under the seating
Aside from being space-saving by often incorporating storage within the seats, bench seating also adds comfort and coziness, and helps transform cold corners into something snug and inviting. Again, mix with slimline chairs to sit opposite.
14. Anchor a small dining room with a rug
If your dining room is part of your kitchen or an open plan living room, use a large area rug to anchor the area and zone it off from the rest of the space. Not only will a rug add a coziness, and pattern, and texture it can make the space feel larger if you ensure you invest in a rug that's big enough for the majority of your furniture to sit on top of.
How can you make a small dining room look bigger?
There are plenty of design tips and tricks that can make a small dining room feel bigger. The most obvious one is to keep the space free of too much clutter, don't try and cram in too much furniture and decor – when it comes to small dining rooms, usually less is more. So keep it simple, think about what you really need in your space, a dining table, some seating and maybe some storage. You want to try and have a fair bit of floor space freed up so light can easily flow around the space and there's not too much visual bulk to break up the room.
Color schemes can help make a small dining room feel bigger too. Lighter colors are a go-to for small spaces and are a fail-safe way to make rooms feel larger and loftier, so try whites, pale greys, and light blues for 'space expanding' effects. But don't be afraid to experiment with dark colors either. Going all over with a deep hue can make a space feel larger as it blurs the boundaries of the room.
What is the best layout for a small dining room?
When deciding on the best layout for a small dining room, also think about the best dining room table for your space as this is likely to dictate the layout. If you are opting for a circular table, these can work well tucked in the corner of a room as the soft curves don't protrude into the room. Pair this with a bench along one or two walls to maximize the seating. If you have chosen a square or rectangular dining room table consider floating it in the center of the room. Use a large rug in the same shape to ground the table.
The Livingetc newsletter is your shortcut to the now and the next in home design. Subscribe today to receive a stunning free 200-page book of the best homes from around the world.
Lotte is the Digital Editor for Livingetc, and has been with the website since its launch. She has a background in online journalism and writing for SEO, with previous editor roles at Good Living, Good Housekeeping, Country & Townhouse, and BBC Good Food among others, as well as her own successful interiors blog. When she's not busy writing or tracking analytics, she's doing up houses, two of which have features in interior design magazines. She's just finished doing up her house in Wimbledon, and is eyeing up Bath for her next project.